"I pledge allegiance to the flag of the state of Louisiana
and to the motto for which it stands:
A state, under God, united in purpose and ideals,
confident that justice shall prevail for all of those abiding here."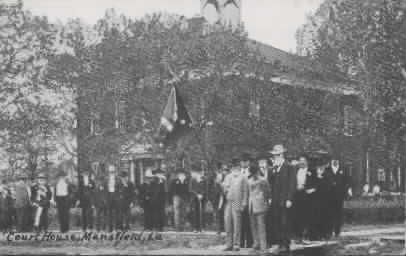 DeSoto Parish LA
& the War For Southern Independence

Some of the links on this page will take you away from the DeSoto Parish website.
To return, use your browser's 'back' function.

Camp Mouton #41, UCV, Mansfield, LA, est. 1891
photo abt. 1900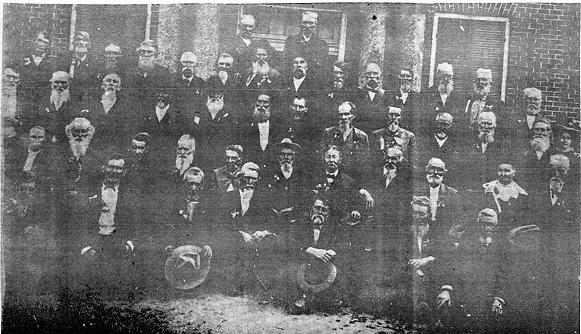 Photo above is reproduced in Slawson's 1967 History of DeSoto Parish, with names as shown below, but it's hard to tell whether the "rows" indicated run vertically or horizontally. There appear to be 48 people therein. Forty-seven names are shown below, but "Greenings" may indicate that the seated lady is Rebecca [Bullock] Greening, wife of Camp member Swepson W. Greening. The young lady on the far right is probably Lucille Williams, daughter of Camp member Boling Williams. If you can identify others in this photo, please E-MAIL ME.
Row- #1 Abington, Thomas, Youngblood, G Jackson
Row #2- B illingsley, T. S. Sligh, R. H. Jay, Marshall, McClanahan
Row #3- McMullin, A P Reeves, Harwell, Sample, Franklin
Row #4- Taylor, Rogers, Hamilton, Peyton Rascoe
Row #5- W W Hunt, J Williams, Powell, Brownfield, John J Vascoe
Row #6- J O Beck, McKinney, Cunningham, A F Jackson, W R Jackson,
Row #7- H A Jenkins, J Yarborough, J J Gardner, J W Pitts, T. G. Pegues
Row #8- B. Williams, Stribling, Marshall, B F Jenkins, L Williams
Row #9- A P Harris, Greenings, J T Smith ( J P ), J M Parsons, S F Walker
Row #10- Andrew Hoy, James H Hunter, A DeValtz, L M Rambin
NOTE: I think the man 4th from left (in my photo he is 4th from right) is my gg grandfather, John Abernathy Dixon (1830-1901). Although he wasn't in the Battle of Mansfield, he did live at Longstreet/Grand Cane until his death in 1901. The sword is a possible clue also as he was Major of the 12th Infantry Regiment at the end of the war under the command
of Joe Johnston. He was also paroled at Vicksburg.
David Dixon


DeSoto Parish Military Links
---
Other Military Links

Copyright © 1997- present by Jane Keppler This information may be used by individuals for their own personal use, libraries and genealogical societies. Commercial use of this information is strictly prohibited without prior written permission from Jane Keppler. If material is copied, this copyright notice must appear with the information and please email me and let me know. Neither the Site Coordinators nor the volunteers assume any responsibility for the information or material given by the contributors or for errors of fact or judgment in material that is published at this website.

Page Modified: 24 June 2020

DeSoto is part of the LAGenWeb Project, State Coordinator: Jo Branch bjcb.xx@gmail.com