Some Files require
Adobe Reader

The Woman Pictured
on the American Dollar
From the Virginia Ford
"Charles B. Stewart Collection"
Houston Daily Post,
Sunday morning Apr 23, 1905, page 6
The woman pictured on the American Dollar is a member of an old and well known Texas family. Miss Anna Willes Williams was a niece of R. S. and P. J. Willis.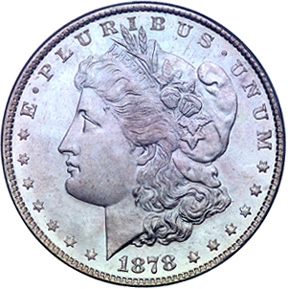 How She Came To Be Selected As Substitute for Goddess of Liberty on Coin
The woman whose face appears on the American Dollar is a member of one of the oldest Texas Families, and which was connected with Houston from the earliest days. It was the family of the late Peter J. and Richard S. Willis.
The Willis family was Scotch and came to the United States from Edinburgh, Scotland, in the Eighteenth century and settled in Maryland. They spelled their name Willes in Scotland, and so did the family while they were in Maryland. But Peter Willis, a young man of the old family, with that intrepid Scotch spirit of adventure that has made he canny Scots a conquering and an empire building race, came out to join his fortunes with those of the young Western Republic immediately after Houston's epochal victory at San Jacinto proclaimed to the world that another nation had joined the universal sisterhood of human progress and civilization. He came out and settled in old Nacogdoches in 1836. The next year his younger brother, Richard S., came out and joined Peter, walking all the way from Baltimore, except when he would be overtaken by an immigrant wagon coming along the road he traveled, as he himself told the writer many times. These two brothers joined forces, went to work doing anything that came to hand, and before many years had established a reputation for integrity, industry and intelligence that brought them the respect of their neighbors, made them many and lasting friends and built up their business when they went into mercantile pursuits. They were quick to catch on to that spirit of independence and freedom from conventionality among the early settlers that despised any word or act that smacked of affection. So when they found that people in writing their name would spell it "Willis" and never "Willes," and when their neighbors indicated that for a man to spell his name one way and pronounce it another was putting on too many airs for Texas, they promptly changed the spelling from the final "e" to an "i" in the last syllable. That is how an old family became Willis instead of Willes. The brothers moved from Nacogdoches to Montgomery in the early 40s and prospered greatly, both in business and in lands, and after the war moved to Houston and established the great wholesale grocery house of P. J. Willis & Bro., with a branch in Galveston.
Galveston Headquarters
This latter, after the failure of A. Sessums, Rountree & Massie, became the headquarters, and they withdrew from Houston and the old firm went out of business with the death of R. S. Willis, one of its founders, in 1892, P. J. Willis, the senior, having died in 1876. The older son of the latter, who has his father's name, is now resident of Houston, where he attends to the estate that was left to him. Back in old Maryland a sister was left. Their father was Dr. Arthur H. Willes, who was a wealthy planter and slave owner until heavy financial reverses in the early thirties made it necessary for the members of the family to make their own way in the world. His daughter, soon after the brothers, came to Texas, married a Philadelphian named Henry Williams. He became wealthy, but about the beginning of the war, he lost all he had through some financial reverses. Anna, his youngest daughter, the youngest of nine children, was born during the civil war under very adverse circumstances, and she was still very young when her father died. This left the mother dependent upon her own exertions, and she determined to educate the younger children. So it was through the exertions, of her mother, who though in delicate healthy herself, but buoyed up by that Scotch determination she inherited from her father, that Anna received a good education.
A Teacher and Writer
Miss Anna Willes Williams became famous as a teacher. She is well known both as a teacher and a writer, being especially gifted and successful as an instructor in philosophy and kindergarten training. The great success which she enjoys has been the result of her own untiring energy and studious habits and natural ability. She has been an enthusiastic advocate and helper in the university extension movement, and her literary talents have been recognized by the leading periodicals of current thought. Carylyle being her choice, as essayist and William Dean Howells her favorite novelist, it may be imagined that her bent is decidedly philosophical. She is a devotee of the fine arts also. Of a decidedly religious nature, she is a devoted member of the Baptist church. It was in 1876, early in that year, that the treasury department secured the services of Mr. George Morgan, a talent and expert engraver and designer, who was to get up the design for the new dollar to be soon minted at the United States mint in Philadelphia.
Mr. Morgan was previously connected with the royal mint of England. After much thought and many experiments, he made the design of the eagle for the reverse side of the dollar hoping for an inspiration to suggest a design for the obverse side. His idea was, then to have the American Goddess of Liberty as the principal feature on the new coin, as in keeping with the traditions of this country. Then it was decided to have the head of an American girl – a living person's head if possible.
During his efforts Mr. Morgan had become acquainted with an artist of considerable reputation names Thomas Eakins. They became friends. Mr. Eakins was a friend of Mr. Williams family, and had the greatest admiration for the ability and character of Miss Anna Williams, and had frequently remarked on the singular classic purity of the lines of her face. He suggested her to Mr. Morgan as the living American girl whose head should adorn the American dollar. Mr. Morgan was introduced to Miss Williams without, of course, her being aware that she was being scrutinized with any view of perpetual fame. Mr. Morgan became enthusiastic at once, and in his mind, at least, was ready to exclaim: "Eureka!"
Informed Miss Williams
When it was decided upon to use Miss Williams' head, if she would permit it, she was told of the idea. It took much persuasion and promises of secrecy, for many years, at last to gain her consent Then, at the residence of Mr. Eakins, on Mount Vernon Street, Philadelphia, below Eighteenth street, the sitting took place in November 1876. After the profile was completed, it took some time to decide upon the cap as an ornament for the head. The secret of the identity of the model was kept for about two years after the first minting of the Bland dollar – the one on which it first appeared – and then an energetic and shrewd newspaper man found out and gave it to the public. This was the summer of 1879. Then the peace of mind of Miss Williams departed for a time. She was besieged on the streets, at home, at her school, everywhere, which made life almost a burden to her. She was only spared the agony of the snapshot fiends because no such thing was possible hen, only the old, slow wet plate being known.
At that time Miss Williams was very attractive in appearance, even when you first met her, with that poise, that dignity, that indescribable sensing of strength of mind and purpose and superiority that impresses itself upon a deep observer. She was medium of stature, fair complexion and bonny blue eyes of her Scottish ancestry, with a face worthy – in its beauty of outline and intellectual, clear-cut, Grecian mold – of the honor that came to her. Her hair was golden tinted, an is her crowning glory, being, as one who knew her says, "wonderfully sort of texture and abundant in its becoming coil."
Her Life Story
Miss Williams life story is one to encourage young American womanhood. Her success is due to her own devotion to high ideals. Her greatest honor is not hat she is looked upon by more people every day than any other woman who ever lived in the world, but that her life has been lived for a purpose that has touched and quickened other young lives and begotten in them a purpose to live to high and noble ends. And well may her Texas cousins be proud of a line of ancestry that bequeaths such characters to their country. Houston has been honored by her presence in the years that are gone; but, like the prototype of the "Great Stone Face," the people knew it not as the one whose kith and blood, and who herself for a time, dwelt among them.
Miss Williams is refined and gentle in manners and attractive in her character and entirely free from self-consciousness. She is said, in special sense and great degree, to combine wonderful strength of character and steadiness of purpose, with great gentleness and modesty. These characteristics, with her rare beauty of form and face, combine to make her most worthy of the honor bestowed upon her representing the American Goddess of Liberty.
| Home | Top | Morgan Dollar | Willis |