Preserving and Educating-----Since 1962 December, 2012, -- February, 2013
Heritage
Publication of the Shelby County Historical Society Celebrating 48 Years of Continuous Service
BLACK HISTORY CELEBRATION IN SHELBY COUNTY
Our Shelby County Historical Society features the celebration
of Black History in our County. A parade to honor Martin Luther King Day was held in Center. It began in East Center and ended at the Historic Shelby County Courthouse.
We have two Black Cemeteries that have been designated as Historic Texas Cemeteries. McWilliams Cemetery, near Todd Springs, had their ceremony in 2008 and Westview, in East Center, will have theirs in the near future when the marker arrives.
WESTVIEW CEMETERY
The Westview Cemetery in Center, Texas is an integral part of the history of Shelby County, in the East Texas Hills.
In the early 1800s, newly arriving inhabitants of Shelby County were families desiring land. They were mostly from the eastern states of the country. Many, but not all, brought black slaves with them. These people worked hard for their owners and helped develop the land for farming, not out of love, but necessity. They also raised families.
After the Civil War, the slaves were set free from ownership. Many moved far away, while others stayed in the county and worked for pay, small though it was. Many became tenant farmers and share-cropped. At the end of the year they kept about one third of their crop and were hardly able to feed and clothe their families. Others worked at different jobs as available, in the country or in the towns.
The first black family to purchase a farm in Shelby County was in 1870. Later many bought government land and developed farms.
One night in 1866, following an election to locate all county seats in the middle of each county, County Clerk R. L. "Bob" Parker, with the aid of several Negroes, loaded the county records into two oxcarts and moved them to the temporary shelter that he had built in the geographical center of the county. Thus, the settlement of Center began. The next morning indignant residents of Shelbyville followed the tracks to the spot where they saw a sign: SHELBY COUNTY CLERK'S OFFICE. These residents agreed that it would be unwise to shed blood over the incident and returned to their homes. This temporary courthouse later gave way to a wooden structure which was destroyed by fire in 1882, including the records. A new brick courthouse was finished in 1885.
Today, Center is the artery through which the life blood of Shelby County pulses. It is the county seat, and now the largest city. It was incorporated in 1893.
One freed slave was Steve Miller, previously owned by Mr. Lee Miller in San Augustine County. He married Jane Chumley, who belonged to Tom Chumley from San Augustine County. They moved to Shelby County. Their daughter, Agatha, asked her dad what was the highest price ever paid him, and he said $1,100. Agatha (uh GAY thu) was later given a nickname that stuck…Bob. She married Steve Osby and they lived in and around Center. Steve worked for Bob Parker and was one of the back men who "stole" the court records in Shelbyville and moved them to Center. Others were: Ossie Cartwright, Sam McCowan, Bob Collins, Edward Matlock, Jube Myrick, Bill Dysart and Washington Flournoy.
Southeast Center became the area in town where most black families settled. They were referred to as "Quarters". Of the three different sections the one called "Quarters" on Neuville Road was the largest, and eventually their community expanded. They started businesses, churches, and a school. There was not an official cemetery for the black citizens. Earlier they were probably buried where their former owners were buried. Others were buried near a black church. Markers were not lasting…so, many graves were lost. Some began burying their loved ones on some land that eventually became Union Graveyard.
Agatha Miller Osby told Dr. Charles Tatum, a native of Shelby County, Professor, and Author of many books on East Texas, that her mother, Jane Miller, was the first person buried at Westview. The date is not known, neither is the place of her burial, but it was before 1909, when Naze Carroll's son, Charlie, was buried there. Charlie has the oldest remaining marker.
No one knows how many were buried there before 1912, when an official cemetery committee made up of W. B. Brown, V. G. Greer, Press Roberts, N. Beckett, Henry Pilot, Dan Smith, Edmund Pilot, Calvin Parks and Aaron Fountain bought 4 acres of land ¾ mile S. E. of Center from A. R. Chandler for $160 to be paid out in four years. The trustees were to be W. B. Brown, Jim Hicks, Naze Carrol. They called the cemetery Union Grave Yard.
More land was added to the cemetery in 1977. One and one fourth acres was purchased from J. D. Bush, J. E. and N. C. Bush for $1,000.00 by trustees Perry Sampson, Jesse Williams, Mary Greer, Mildred Johnson and T. L. Richards. The final addition was in 2006, when Ruby Mae Bolton gave 2 acres for $10.00. The cemetery now contains 7 ½ acres.
The cemetery was renamed after Lee Ella Hicks and others had a discussion with Aunty Liz Lister, a pioneer of the area. They decided that because of its location from the surrounding churches: West from Mount Zion Christian Methodist Episcopal Church, Southwest from Saint Paul Baptist Church; Bright Morning Star Baptist Church, Triumph Church of God, and the Lily of the Valley Church of God in Christ, and South from the Greer Street Church of Christ, the Old Union Cemetery would now be called Westview.
Mangum Funeral Home records showed sales to Center Colored Cemetery, as well as the references Amason/Armer, the meaning of which is not known. The original land grant was to Jesse Amerson, sometimes pronounced Armerson, so it could mean they were using his land.
Grave markers are placed to remind the inhabitants that once fellow citizens lived, toiled, and prayed where people frequently pass today. Cemeteries tell many stories.
This resident for the dead with the remains of persons of Afro-Texas descent tells many stories. The cultural pluralism of the past is evident here. The Old South's clichés are in abundance—the trees, mossy stones, the serenity, and humility as well as racial segregation. Each generation has left a clear record of racial, economic, social and religious discrimination.
Within these boundaries rest the mortal remains of the dead, the known and the unknown, the great and the humble who were among those who served in American wars, former teachers, preachers, deacons, stewards, deaconesses, stewardesses, carpenters, merchants, business people, barbers, beauticians, and people from all chimes of the good life on planet earth.
The late Garfield Richard is buried at Westview. He told Dr. Tatum many times that he was General John Joseph "Black Jack" Pershing's personal cook while serving as a soldier in World War I. Garfield is one among many of the soldiers buried at Westview who have served militarily in our country. The late Chatman H. Daniels, former Principal of Center Colored School (later named C.H. Daniels High School) is buried here. The late Professor, R. M. Brown, who once served as Principal of the Center Colored School, had his remains returned here from Seattle, Washington for burial at Westview. The late Agatha Miller Osby (Aunt Bob) is buried at Westview. Marcellus White, first African-American to serve on the Citizen Council in Center, is buried at Westview. Robert L. Hicks, who organized the first funeral home for Negroes in Center. His brother, Willie B. Hicks, later became the first African-American Funeral Director in the County. Both are buried at Westview. Persons named are only a small note of the many notables buried at Westview. Records show 565 persons with markers. An estimated seven hundred-seventeen are buried at Westview. All were history makers while living on planet Earth."
In the past, friends and relatives carried their hoes and rakes and kept the lots at Westview clean in the gardenia and rose scented air in the spring time. This cemetery is now maintained by a cemetery committee. The City of Center helps with regular mowing schedules. Gates and fences are well taken care of. Rows of houses on the east and west sides of the cemetery help keep vandalism from happening.
The oldest graves are located in the northern section of the cemetery. Others are found scattered on either side of the dirt road that goes through the middle of the cemetery. In many areas there are expanses of sod where possibly many burials were made without stones to mark them. It has been said that when digging a new grave, some have found it to be occupied already. Help with finding the places already occupied would be a good project in the future, perhaps with the help of the RIP program from the Texas Historical Commission.
There are some large trees on the grounds and some smaller shrubs. Noteworthy features are slab-like covers over some graves. Some graves have religious decorations and synthetic flowers to decorate the grave. The newest addition to the cemetery is being cleared as needed.
The Westview Cemetery is historically significant because it provides a visual record of our black citizens, many being former slaves, and many of their children, all being equally important to this settlement. Five with markers were born during the slavery time. It is important to our citizens that they have a nice place to bury their loved ones. It is important to be able to read about their cemetery and its history. Having been designated as an historic cemetery, it is important that they have a marker to tell their story to future living residents.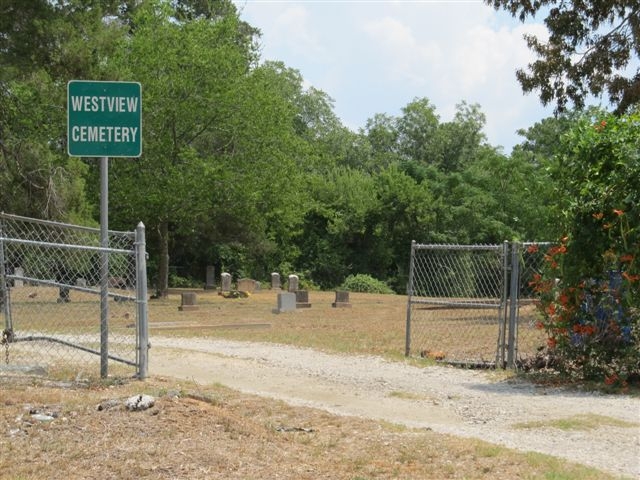 In Memory of
Wilburn Worsham Carolyn Bourque Edith and Vivian Ray Warr
Donated by Donated by Donated by
J. C. & Venorah McSwain Reecie Stanley Diane Warr
Donated by Memorials given in memory or honor of an individual or family benefit the Shelby County Historical Society, the Museum, and the Genealogy Library. Memorials are published in the Heritage newsletter and a recognition card will be sent to the respective family or individual per your instruction.
Please send Memorials to: Shelby County Historical Society
P. O. Box 1542
Center., TX 75935