site search
by

freefind
Welcome to
Shelby County Texas

Bounds-Estes Cemetery
Myron Bounds and Walter "Buster" Bounds are the contact people for further information. The cemetery is on private property and is accessible by appointment only. Contact either Myron or Buster.
Cemetery is located south and west of Shelbyville Texas on land once owned by the Francis Bird Bounds (as best as I can so far determine) in the late 1840's and the early 1850's. First burial likely was Sarah Elizabeth Bounds in 1855 and the last burial was Mary L (Carroll) Bounds in 1900.
Thomas R. Bounds and wife Mary L (Carroll) Bounds are next to the graves (not shown- , marked but no stones) of Francis Bird Bounds (Jr.) and wife Sarah Elizabeth Beaird Bounds (our ancestors). Myself, my Brother Don, my son Steven, First Cousin James Yancy Bounds, and distant cousin Walter "Buster" Bounds and a distant relative Freddie Franke (his mother was a Bounds) have spent some considerable time cleaning up the mess...The current land owner, Mr Joe Biggar, has also been of considerable help...
Thank you Myron for sharing the information and the pictures.
I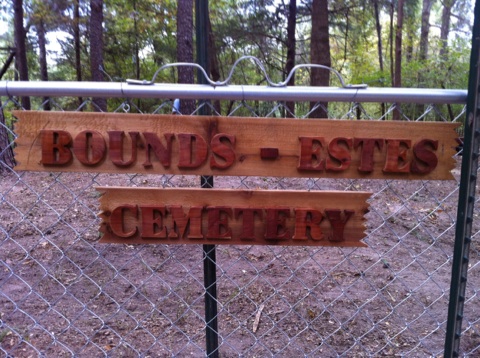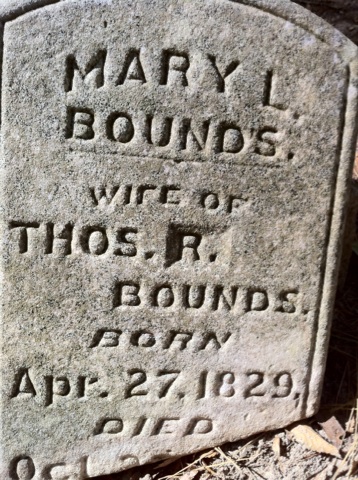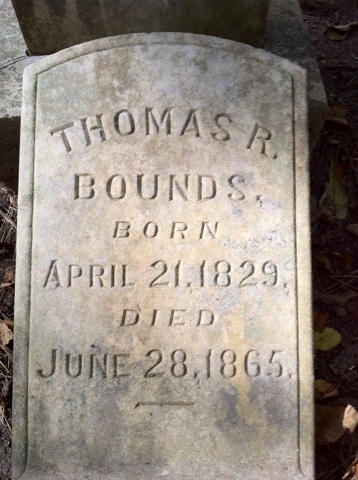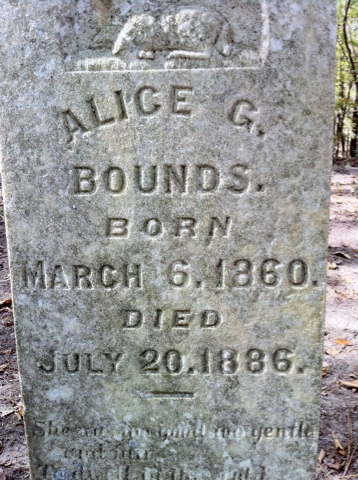 Alice G. Bounds
03/06/1860
07/20/1886
dau of Thomas R. Bounds
Francis Bird Bounds
20-Jan-1826
2-Aug-1858
aka Franklin B. Bounds or Frank
Mary L. Bounds
04/27/1829
10/25/1900
wife of Thomas R. Bounds
Sarah Elizabeth (Emma) Beaird Bounds
c1828
1855
wife of Francis Bird Bounds.

Sarah Elizabeth Bounds

is recorded as having died in childbirth of

Francis Bird Bounds

III in 1855. She may have lived longer than that (1858) according to some deed records I have just today uncovered...more research into that.
Thomas R. Bounds
04/21/1829
06/28/1865
husband of Mary L. Bounds
Eliza T. Courtney
06/21/1810
03/31/1861
Wife of M. W. Courtney, also wife of Dr. William Echols
Dr. William Echols
05/28/1800
02/22/1855
Born in Wilkes County, Georgia
Noland A. Estes
12/06/1883
06/04/1884
infant grandchild of Thomas R. Bounds
Mary A. Estes
09/01/1879
10/03/1880
infant grandchild of Thomas R. Bounds
Roland Estes
10/06/1883
06/14/1884
infant grandchild of Thomas R. Bounds

Do you enjoy "surfing" the TXGenWeb county websites and have a few extra hours available each month? Then contact Shirley Cullum for more information on joining the surfing committee.

If you are interested in adopting a county, please check out the Orphan page.

If you or your genealogy group would like to sponsor a county, please contact Gina Hefferman.


Copyright © 1997  present by Jane Keppler.. This information may be used by individuals for their own personal use, libraries and genealogical societies. Commercial use of this information is strictly prohibited without prior written permission from Jane Keppler. If material is copied, this copyright notice must appear with the information and please email me and let me know. Neither the Site Coordinators nor the volunteers assume any responsibility for the information or material given by the contributors or for errors of fact or judgment in material that is published at this website.





Page Modified: 25 July 2021