Golden Gate Cemetery
Montgomery County Texas
Golden Gate Cemetery is located 1.0 miles west of the intersection of Hwy 2854 and Interstate 45, just south of Conroe, Texas. Follow Hwy 2854 west from the I-45 intersection 1.0 miles then turn left (south) on Southwest Dr. and cross the railroad tracks. After crossing, immediately turn right (west) on an unnamed road and go 0.1 miles where the road ends at the entrance to the cemetery. The oldest headstone in the cemetery is February 29, 1952. It is owned by the West Tabernacle Church in Conroe, Texas.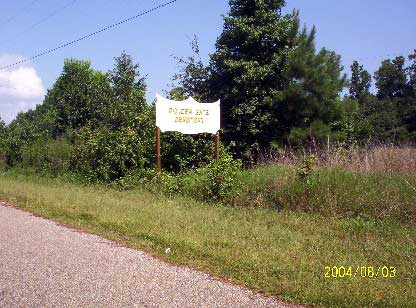 Golden Gate Cemetery Road Sign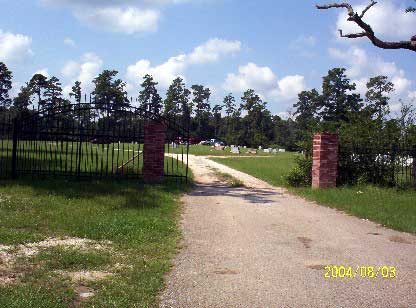 Entrance to Golden Gate Cemetery
Check out William T. Beauregard's Transcription of this Cemetery
Transcription of
Golden Gate Cemetery
by Tom Vinson
Headstone numbers were enumerated as the inscriptions were recorded. Sequential numbers generally indicate the headstones are adjacent to each other. Letters appear after numbers when inscriptions are on the same headstone or in some cases when headstones are very close together indicating a possible kinship.


Name

Born

Died

Comments

Head-stone

Cemetery

Number

Location

Lacey, Abby Ann
March 6, 1998
August 4, 2000
Asleep in Jesus
1
North side
Richardson, Shareea
March 15, 1999
March 15, 1999
2
North side
Grimes, Jaeda A
February 9, 2001
April 23, 2001
3
North side
Fulton, David
February 6, 1963
January 29, 2001
In Loving Memory "Big Dave"
4
North side
Beloved husband & Father
McWashington, Lincoln A
January 27, 1918
November 2, 1999
Father
5a
North side
McWashington, Mable H
April 29, 1920
November 6, 2000
Mother
5b
North side
Hicks, Andy
August 5, 1922
December 12, 1999
6
North side
Kennard, Roberta
June 10, 1897
October 24, 2000
7
North side
Terry, George
March 4, 1911
November 25, 1998
Loving Father
8
North side
Black, Robert
December 6, 1923
September 16, 1999
9
North side
Utley, Nellie Louise
December 2, 1945
July 26, 1999
An Inspiration to all that knew her
10
North side
Cornelious, William T
January 24, 1937
August 8, 1997
11
North side
Gibson, James T
WW2 marble stone, dates below ground
12
North side
Black, Mozelle
May 23, 1924
January 9, 1997
13
North side
Hubbard, Dora
June 8, 1958
January 4, 1997
Lot 91 Space 2
14
North side
Edmond, Iona Delica
January 19, 1959
August 3, 1999
15
North side
Skinner, Edward
June 14, 1919
December 8, 1997
16
North side
Moore, Curtis J
February 14, 1932
December 16, 1996
17
North side
Carle, Mattie
September 15, 1938
May 7, 1997
18
North side
Reed, J
August 13, 1919
December 29, 1995
Lot 13 Space 1
19
North side
Williams, Farlirr M
April 26, 1905
June 17, 1905
20
North side
White, Elizabeth
March 7, 1906
May 24, 1996
21
North side
Taylor, Arthur L
April 12, 1930
June 14, 1996
22a
North side
Taylor, Leola
June 6, 1931
22b
North side
Mendez, Jesus
September 13, 1929
May 4, 1997
Con Amor: En Memoria de Su Esposa Hijes
23
North side
Mendez, Guadalupe LeDezma
Marzo 10, 1933
May 19, 2000
24
North side
Spencer, Green Thomas
May 1, 1926
December 23, 1997
25
North side
Knight, Florence
July 15, 1903
January 25, 1992
26
North side
Lee, Diane Taylor
January 24, 1955
March 31, 1998
27
North side
King, Henry D
July 25, 1931
July 31, 1999
28
North side
Taylor, Kenneth R
February 29, 1952
December 18, 1998
29
North side
Taylor, Kenneth Ray
February 29, 1952
December 18, 1998
"Pretty Boy" Precious Lord take my hand
30
North side
Howard, Haze
December 9, 1908
November 8, 1998
31
North side
Taylor, Eddie
June 1, 1931
April 27, 1998
32
North side
Jackson, Bertha
November 14, 1924
June 23, 2000
33
North side
Silas, Robin
August 12, 1959
November 4, 2000
34
North side
Anderson, Eula Mae
April 21, 1906
December 22, 2000
In Loving Memory
35
North side
Williams, Leon A
March 26, 1929
June 29, 1991
36
Center
Willaims, Willie Mae
August 31, 1900
September 5, 1988
37a
Center
Williams, Charlie D
August 26, 1893
January 11, 1995
37b
Center
Tolbert, J D
July 27, 1905
38a
Center
Tolbert, Mamie
March 2,1909
March 14,1976
38b
Center
King, Charlie B
March 12, 1901
May 21,1987
39a
Center
King, Ollie E
October 22, 1900
November 19,1970
39b
Center
Sneed, Albert
October 21, 1910
April 13, 1988
Father
40
Center
Sneed, Dorothy Nell
October 27, 1943
April 13, 1999
Sister
41
Center
Sneed Eric
May 25, 1980
June 1, 1999
Age 19 years
42
Center
Harrell, Joe
August 20, 1901
February 17, 1964
Shriner?
43a
Center
Johnson, Virginia Harrell
June 30, 1906
November 6, 1993
43b
Center
Yates, Beatrice McPherson
February 14, 1934
wife married August 27, 1953
44a
Center
Yates, James Earl
April 15, 1932
May 8, 1994
husband married August 27, 1953
44b
Center
Yates, James Earl Sr
April 15, 1932
May August 1944
Cpl U S Army Korea
45
Center
Anderson, Harold
September 29, 1935
February 28, 1998
46
Center
Gipson, Elmer
February 28, 1933
August 26, 1998
47a
Center
Gipson, Portia
April 9, 1934
47b
Center
Watson, Annie E
July 19, 1910
September 30, 1999
Mother Sweet dreams my sweet mother
48
Center
Harrell, Elizabeth McDonald
September 26, 1895
May 25, 1983
The Lord is my shepherd I shall not want
49a
Center
Uncle Sammie James
November 18, 1889
April 5, 1982
49b
Center
Lewis, Richard Samuel
March 8, 1928
May 23, 1982
US Air Force WW2
50
Center
Deveveaux, Ophelia N
April 13, 1900
October 22, 1984
In Loving Memory
51a
Center
Deveveaux, J B
cannot read
cannot read
Difficult to read inscription
51b
Center
Barefield, Emma Lucile
August 31, 1926
February 13, 1990
52
Center
Dennis, Kelton
April 20, 1954
May 11, 1977
53
Center
Dennis, Nettie L
July 30, 1921
September 13, 1984
54
Center
Dennis, Ike
May 8, 1925
February 27, 1991
Matt3 US Navy WW2
55
Center
Moaning, Marry (boot)
February 24, 1923
January 6, 1998
56
Center
Quiroga, Anastacio Sr
October 7, 1959
July 3, 1996
Recuerdo de sus Familiares D E P
57
Center
McCloud, Audry
December 13, 1956
April 12, 2000
58
Center
Deary, Emmit
September 9, 1920
December 13, 1996
PFC US Army WW2
59a
Center
Deary, Eaenestine
October 10, 1923
59b
Fance, Lillian Mae
May 20, 1909
April 18, 1996
Mother in loving memory
60
Center
Whidby, Milven
February 2, 1920
May 21, 1991
Husband
61a
Center
Whidby, Margaret
December 17, 1924
Gone home to be with the Lord
61b
Center
Henry, Jennie
August 14, 1909
July 16, 2000
Rest in peace
62a
Center
Henry, Charles Edward
September 18, 1938
August 25, 1996
US Army Lot 52 Space 3
62b
Center
Van Brown, Charles
April 1, 1949
May 19, 1996
63
Center
Talford, Edgar
August 24, 1929
August 17, 1996
We will miss you, love brothers and sisters
64a
Center
Talford, Dora
July 27, 1954
July 3, 1997
We will miss you, love brothers and sisters
64b
Center
Collins, Humphrey Jr
September 25, 1951
January 11, 1991
Resting on Jesus knee my dearest son
65
Center
Thompson, Earline
May 21, 1940
May 13, 1988
Loving daughter, wife and mother
66
Center
Ateman, Eunice L
November 11, 1937
November 11, 1996
67
Center
Vinson, A C
July 2, 1915
Father In loving memory
68a
Center
Vinson, Ida Mae
September 1, 1921
July 8, 1998
Mother In loving memory
68b
Center
Daviss, John P Rev
March 27, 1905
June 21, 1905
69a
Center
Daviss, Harriett
March 27, 1905
69b
Center
Barnaby, Essie Faye
January 18, 1954
October 12, 1997
In loving memory
70
Center
Whidby, Mary M
November 9, 1948
April 22, 1991
Mother
71
Center
Williams, Vernetta
April 15, 1905
May 28, 1905
72a
Center
Williams, Cossie Sr
March 16, 1905
72b
Center
Williams, Lucille
March 26, 1905
June 10, 1905
72c
Center
Bennett, Calvin
May 5, 1905
May 29, 1905
73a
Center
Bennett, Lauretta
May 8, 1905
73b
Center
Williams, Irene
March 19, 1905
73c
Center
Addison, Linda M Lewis
July 6, 1959
September 17, 1978
Gone but not forgotten
74
Center
Norman, Jessie C
February 11, 1915
March 24, 1968
75a
Center
Norman, Bertha Mae
November 29, 1907
January 7, 1996
75b
Center
Sells, Everett
May 21, 1918
June 17, 1997
Cpl US Marine Corps WW2
76
Center
McLemore, Ben Rev
March 24, 1905
June 21, 1905
Our father which art in heaven
77a
Center
McLemore, Vernelle
April 5, 1905
Our father which art in heaven
77b
Center
Traylor, Lestor Hue
November 25,1948
July 6, 1998
US Air Force
78
Center
Traylor, William Jr
January 31,1926
May 14, 1999
Cpl US Army WW2
79
Center
Traylor, Barbara Ann
May 12,1953
January 5, 1986
80
Center
Lewis, Eddie
March 17, 1905
May 12, 1905
81
Center
Harris, Elsie M
August 27,1922
October 21, 1995
82a
Center
Harria, Acia
March 26,1916
January 28, 1999
82b
Center
Lillie, Justin
August 5,1996
August 21, 1996
83
Center
Holmes, Urley Jr
January 23,1957
October 11, 1998
Forever loving you Gwen
84
Center
Tolbert, Leon Jr
January 21,1944
April 19,1999
Your beloved family Mary, Tea, Darryl & Tyke
85
Center
Manning, Ilay
July 27, 1900
January 28, 1969
Beloved husband
86
Center
Cleveland, Dorothy
April 13, 1905
87a
Center
Cleveland, Walter
April 18, 1905
June 11, 1905
Bubba
87b
Center
Cleveland, George Jr
August 7, 1933
Husband, father, granddaddy & brother
88a
Center
Cleveland, Aubrey Jean
May 3, 1937
January 30, 1989
Wife, mother, granny & sister
88b
Center
Cleveland, George G Rev
July 9, 1905
February 8, 1992
Loving husband, father, grandfather & friend
89a
Center
Cleveland, Willie Darnell
May 13, 1981
November 12, 1999
"Lil Willie" Remembering you always
89b
Center
Whitmore, Ruby
May 7, 1920
August 24, 1990
90
Center
Weir, Alton
April 8, 1916
In God's care
91a
Center
Weir, Elma Lee
November 19, 1923
April 5, 1992
In God's care
91b
Center
James, Ernest
December 20, 1931
August 12, 1985
92a
Center
"Blank"
92b
Center
West, Alethea Denise
October 18, 1968
December 24, 1968
Our beloved daughter Rest in peace
93
Center
Rodeo, Joe
May 9, 1924
January 28, 1981
94
Center
Surgers, Betty
April 7, 1953
April 14, 1992
95
Center
Blake, Alice Rodeo
June 23, 1929
January 14, 1997
Mother In God's hands
96
Center
Kellow, Toliver Sr
June 12, 1912
January 10, 1981
97
Center
James, Eldridge D
June 14, 1926
October 27, 1979
98a
Center
"Blank"
98b
Center
James, Eldridge D
April 9, 1905
June 1, 1905
Tec 5 US Army WW2
99
Center
James, Eddie Jr
February 24, 1924
November 4, 1966
100a
Center
James, Doris Louise
March 22, 1931
November 4, 1966
100b
Center
Bolden, Blanche P
December 4, 1911
April 25, 2001
Metal Marker
101
Center
Johnson, Clara Lee Clay
October 6, 1913
September 14, 1991
A tender mother & faithful friend
102a
Center
Johnson, John B
February 11, 1911
July 2, 1979
In Loving Memory
102b
Center
Johnson, Demetri Ann
January 9, 1954
February 2, 1900
In Loving Memory
102c
Center
Jamis, ?uoille
March 21, 1905
October, 1971
Gone but not forgotten (inscription very unclear)
103
Center
Smalley, Clarence J
February 11, 1927
May 21, 1979
Husband
104
Center
Williams, Emma L
May 12, 1924
August 18, 2000
Mother
105a
Center
Lott, Cleo M
July 23, 1942
February 28, 1988
Daughter
105b
Center
Columbus, C B
March 24, 1905
June 2, 1905
S2 US Navy WW2
106a
Center
Columbus, Willie Mae
March 12, 1918
January 15, 1988
106b
Center
Ford, Helen Marie
April 18, 1938
May 26, 1997
Mother we love you
107
Center
Vinson, Albert Jr
May 5, 1928
December 20, 1990
In loving memory
108
Center
"Missing name tag"
March 24, 1905
June 6, 1905
109a
Center
Bonner, Beatrice D
March 6, 1905
May 31, 1905
109b
Center
Richard, Morris
October 17, 1911
February 21, 1965
110
Center
Rucker, Earnest
April 3, 1921
May 27, 1987
Tec 5 US Army WW2
111
Center
James, Laura Lee
March 2, 1909
December 10, 1989
112
Center
Baltrip, Lou Etta
March 2, 1902
April 5, 1995
Beloved mother & grandmother
113
Center
McWashington, Efrem A
February 14, 1966
February 18, 1997
We love you
114
Center
Blachshear, Eddie Emanual
June 23, 1958
May 3, 1995
115
Center
Castleberry, Thomas R
September 27, 1930
September 27, 1993
PFC US Army Korea
116
Center
Little, Gladys Spear
December 19, 1942
December 17, 1994
117
Center
Densman, Billy G
April 27, 1905
June 17, 1905
US Army Vietnam
118
Center
Kelly, Sandra E
July 5, 1957
December 7, 1979
119
Center
Amerson, Ruth
December 9, 1922
January 25, 1994
Mother
120a
Center
Amerson, Rheade
March 22, 1905
Father
120b
Center
Johnson, Frank
March 22, 1905
June 8, 1905
Tec 4 US Army WW2
121
Center
Davis, Willis
September 15, 1894
October 10, 1960
Texas Pvt 69 Co 165 Depot Brigade WW1
122
Center
Jackson, Lula
January 27, 1954
123
Center
Haynes, Lorinda J
November 3, 1917
May 6, 1994
Father
124a
Center
Haynes, Lillie M
March 3, 1926
Mother
124b
Center
Harris, Callie Lee
September 11, 1907
September 25, 1997
An inspiration to all that knew her
125
Center
Johnson, Mattie K
June 15, 1920
July 9, 1981
126a
Center
Durden, Evelyn
March 17, 1905
June 6, 1905
126b
Center
Carter, Joe Wiley
April 18, 1906
Father
127a
Center
Carter, Joe Winston
February 1, 1953
June 22, 1986
Son
127b
Center
Davis, Lucille
March 1, 1907
October 3, 1971
Gone but not forgotten
128
Thomas, Pink
Obscured
Obscured
TX Pvt US Army WW2
129
Center
Baldwin, Quincy
April 2, 1905
May 29, 1905
A5 US Army WW2
130
Center
Tryon, Lela
November 12, 1892
April 3, 1974
131
Center
Miller, Allen Jr
June 5, 1912
August 10, 1974
Sweetly hid soul shall rest
132
Center
Burth, Robert Jr
February 25, 1925
September 7, 1985
He was an inspiration to all who knew him
133
Center
Clay, Norman
February 3, 1898
November 13, 1979
134
Center
McLemore, Robert A
August 15, 1945
April 18, 2001
135
Center
McWashington, Hattie
October 25, 1909
July 8, 1977
Asleep in Jesus
136
Center
McWashington, Ammon
July 31, 1900
September 14, 1974
Asleep in Jesus
137
Center
McWashington, Bennie
February 4, 1931
June 24, 1982
Asleep in Jesus
138
Center
Williams, Thelma Marie
1022, 1957
October 5, 1994
139
Center
Davenport, Osie Davis
February 24, 1900
August 8, 1993
In Loving Memory
140
Center
Jones, Nurohor
141
Center
Jones, Ada
142
Center
Gambell, Annie F
September 9, 1901
June 8, 1993
Mother
143
Center
Taylor, George Jr
July 21, 1953
September 27, 1985
US Air Force
144
Center
Owens, Nell
January 24, 1895
December 3, 1985
145a
Center
Deary, Nannie
April 16, 1889
July 31, 1983
145b
Center
Deary, Jessie
January 5, 1888
August 2, 1970
145c
Center
Deary, Arthur
August 21, 1918
August 2, 1974
145d
Center
Haynes, Arthur W
December 15, 1952
146
Center
Anderson, Charlie
Obscured
Obscured
Texas
147
Center
Smith, Willie H III
August 17, 1953
August 18, 1973
148
Center
McLemore, Mildred
April 1, 1911
April 20, 1974
149
Center
Smith, Willie Hardy
May 1, 1932
June 1, 1985
S2 US Navy Korea
150
Center
Jacques, Draper Dee
May 26, 1912
August 26, 1995
In Loving Memory
151a
Center
Jacques, Luida W
October 8, 1914
May 13, 1979
In Loving Memory
151b
Center
Burth, Josephine Jacques
May 10, 1908
July 5, 2000
152
Center
Burth, Robert Sr
February 11, 1904
January 8, 1971
153
Center
Hubbard, Archie Lee
June 13, 1940
May 22, 1970
May thy will be done
154
Center
Cole, James
January 7, 1923
October 20, 1968
California STM1 US Navy WW2
155
Center
Bullock, George
June 6, 1892
July 25, 1968
Texas Pvt 7 Eng Service Co WW1
156
Center
Wright, Robert
July 20, 1888
September 9, 1971
Texas Pvt US Army WW1
157
Center
Brown, Jimmie
July 7, 1890
June 9, 1971
158a
Center
Brown, Mellissa
February 8, 1902
158b
Center
Dennis, Jeff Ann
July 30, 1899
November 30, 1974
159a
Center
Dennis, Wesley
June 6, 1894
159b
Center
White, Joseph
February 17, 1896
April 3, 1980
160
Center
Pool, Prince Jr
September 14, 1953
October 21,1997
In Loving Memory
161
Center
Tarrance, Vera
May 16, 1917
June 28, 1996
In Loving Memory
162
Center
Oliver, Geneva
December 24, 1894
June 9, 1970
In Loving Memory
163
Center
Denals, Clyde L Sr
December 10, 1915
September 13, 1967
Texas PFC Co, A 318 Eng BN, WW2
164
Center
Talford, Ben
February 8, 1905
March 18, 1970
165a
Center
Talford, Addie Mae
November 21, 1907
November 23, 1987
Loving Mother and Grandmother
165b
Center
Talford, Lewis Edward
December 21, 1927
June 29, 1982
Brother
165c
Center
Talford, William D
August 9, 1932
January 15, 1998
Brother
165d
Center
Talford, Curtis J
August 5, 1940
December 4, 1977
Brother
165e
Center
Lee, William Tramaine Jr
February 28, 1987
February 28, 1991
Our son
166
Center
Scott, Edward "Ba Ba"
December 16, 1918
June 11, 1989
167a
Center
Stone, Ruda
167b
Center
Page, John Jr
January 14, 1921
September 13, 1986
Sonny
168
Center
Skinner, Mrs Dorothy M
July 20, 1930
June 2, 1985
169
Center
Gipson, Paul T
March 12, 1946
January 16, 1985
170
Center
Stewart, Sara Odell
June 7, 1925
November 8, 1984
171
Center
Stewart, George E "Bo Bo"
February 24, 1948
February 27, 1993
In loving memory of our brother
172
Center
Ellis, Dave
May 7, 1919
October 27, 1984
173
Center
Jones, Jessie Lee
August 26, 1921
October 15, 1984
In Loving Memory
174
Center
McHenry, Lester Jr
March 31, 1937
September 16, 1984
175
Center
Page, Elsie
November 22, 1952
June 25, 1982
176
Center
Black, W B
April 3, 1905
June 4, 1905
Pvt US Army Korea
177
Center
Clark, Simon
March 14, 1905
June 5, 1905
Pvt US Army
178
Center
Scott, Mattie Lee
October 13, 1928
March 22, 1984
Love Always
179
Center
Parker, Vernon Lee
October 2, 1972
February 4, 1990
180
Center
Watson, Mildred Roberta
January 23, 1924
March 20, 1998
181
Center
Lee, Goldie P
September 16, 1895
May 3, 1989
Evangelist in Gods care
182
Center
Lockett, Clarence
February 10, 1910
July 15, 1972
183
Center
Lockett, Joe Rufus
May 13, 1916
April 11, 1998
Sgt US Army Korea
184
Center
Epps, LeRoy
March 29, 1905
Tec 5 US Army WW2
185a
Center
Epps, Louisa Moore
April 29, 1917
June 19, 1990(?)
185b
Center
Price, Annie B
June 6, 1918
June 10, 1993
186a
Center
Price, James Reverend
March 9, 1912
June 24, 1967
Husband & Father
186b
Center
Taylor, Frank Jr
February 18, 1926
February 5, 1996
PFC US Army WW2
187
Center
Baltrip, Annie J
November 21, 1913
June 22, 1981
188
Center
Harper, Shirley Wright
February 8, 1944
August 4, 1981
189
Center
Johnson, Pleas Jr
March 31, 1946
January 7, 1982
190
Center
Johnson, Ruby L
September 19, 1916
February 22, 1984
191
Center
Cunningham, Coriena
February 22, 1905
June 1, 1905
192
Center
Cartwright, Richard Earl
March 8, 1960
January 3, 1980
Our son
193
Center
Cartwright, Manuel Artez
May 27, 1970
July 11, 1994
194
Center
Cartwright, Richard Jr
October 14, 1968
April 13, 1997
195
Center
Bagby, Ottis T
August 14, 1913
October 24, 1997
196a
Center
Bagby, Ottis T Jr
February 1, 1955
May 1, 1980
196b
Center
Johnson, William James Jr
June 7, 1954
August 15, 1981
197
Center
McWashington, Oscar Rev
September 7, 1887
March 30, 1977
198
Center
Johnson, O Z
March 16, 1914
November 5, 1974
PFC US Army
199
Center
Cartwright, George Jr
October 14, 1914
January 30, 1996
200
Center
Steele, Gregory Allen
August 17, 1955
December 23, 1973
201
Center
Cartwright, L M
October 15, 1914
December 17, 1973
Mud Dear
202
Center
Pruitt, Jesse E
May 16, 1895
May 16, 1955
203a
Center
Pruitt, Beatrice
December 6, 1900
February 19, 1990
203b
Center
Pruitt, Beatrice T
March 11, 1905
June 12, 1905
Small metal marker next to 210b
203c
Center
Thomas, Annie
March 26, 1905
October 30, 1968
203d
Center
Campbell, Frank
August 15, 1907
June 8, 1972
204
Center
Fergeson, Linda Renee
April 14, 1956
January 3, 1992
205
Center
Williams, Dearis Jr
June 30, 1937
November 14, 1991
206
Center
Henry, Nola
August 20, 1910
January 10, 1994
My Trust in God
207
Center
Johnson, Minnie
September 15, 1915
January 19, 1997
208a
Center
Johnson, Wil'tae Diayun
January 13, 1983
May 28, 1983
208b
Center
Johnson, Oran
October 12, 1906
January 21, 1996
208c
Center
Menefee, John D Sr
March 23, 1927
March 11, 1986
209
Center
Scott, Jeff III
June 7, 1949
January 111, 1986
May he rest in peace
210
Center
Richardson, Ernest Jr
September 14, 1943
November 2, 1994
Husband married January 5, 1971
211a
Center
Wilder, Glenda Faye
February 16, 1953
Wife
211b
Center
Richardson, Rendell
August 12, 1919
November 10, 1994
Asleep in Jesus Love children
212
Center
& grandchildren John25:11
Shavers, Mable
January 25, 1916(?)
December 20, 1994
213
Center
Richardson, Ernest Jr
September 14, 1943
November 2, 1994
SP4 US Army Vietnam
214
Center
Richardson, Ernest
November 17, 1917
June 2, 1987
Pvt US Army WW2
215
Center
Smith, Allie Byrd
November 30, 1907
April 7, 1994
216a
Center
Smith, Melvin
November 18, 1910
March 30, 1986
Gone Home
216b
Center
Carey, James Nod
September 21, 1950
November 29, 1988
A loving husband & father
217
Center
Thomas, Memphis Jr
February 17, 1955
August 4, 1991
PV1 US Army
218
Center
Blair, George
August 5, 1894
August 15, 1974
219
Center
Johnson, Audrey Jean
March 16, 1950
March 8, 1997
220
Center
Paterson, Climmie Anderson
July 18, 1923
July 3, 1992
In loving memory
221
Center
Gray, Lee Jr
May 17, 1950
July 5, 1992
PVT US Marine Corps
222
Center
Taylor, Donna Holmes
December 19, 1958
July 29, 1992
223
Center
Henderson, Alberta
November 13, 1929
October 31, 1992
224
Center
Williams, Minerva
March 27, 1898
September 9, 1991
Rest in peace
225a
Center
Williams, Doris Mae
July 3, 1920
March 18, 1991
Beloved sister
225b
Center
Johnson, Emmett E Jr
April 28, 1924
226a
Center
Johnson, Eva LaFern
November 22, 1926
March 20, 1991
226b
Center
Blair, Earnest
January 20, 1902
August 28, 1968
227
Center
Blair, Sandy
May 25, 1868
March 2, 1960
228
Center
Wilson, Sadie Lee
September 7, 1916
January 22, 1998
Mother
229
Center
Anderson, Milton Ray
July 16, 1949
May 15, 1996
230
Center
Miller, Samuel
December 14, 1914
September 22, 1990
231
Center
Smith, John F
March 4, 1912
September 5, 1990
MM2 US Navy WW2
232
Center
Smith, Robert Lee
March 22, 1939
September 23, 1988
233
Center
Evans, Ada Abner
May 31, 1908
August 6, 1988
Of gentle hands
234
Center
Scott, Jeff Jr
March 22, 1928
June 29, 1988
235
Center
Woodlay, Jimmie Dean
September 9, 1957
February 9, 1987
236
Center
Wilson, Tell
October 21, 1932
July 28, 1988
237
Center
Haynes, Luther Daniel
July 16, 1920
November 24, 1988
STM2 US Navy WW2
238
Center
Wright, Leola B
November 1, 1900
September 30, 1989
239
Center
Williams, Dorothy
March 31, 1904
February 28, 1990
See now that even I am he and there is no
240
Center
God with me I kill and I make alive, I wound
and I heal, neither is there any that can deliver
out of my hand
Ford, Tom
December 6, 1958
November 11, 1988
Baby Tom
241
Center
Williams, Cossie M
obscured
obscured
242
Center
Blackman, Alma Grant
July 24, 1942
October 26, 1989
May God keep you in his arms "AG on stone"
243
Center
Cartwright, Bettie Joyce
February 20, 1937
June 24, 1990
Betsy Ross
244
Center
Smith, Mary
October 11, 1941
March 25, 1996
245
Center
Hightower, Eldress Cettie
November 13, 1913
March 20, 1986
246
Center
Henry, Fred Alfred
June 18, 1956
June 21, 1986
PVT US Army
247
Center
Thompson, Nevada
February 1, 1919
May 14, 1985
248
Center
Williams, Willie
October 16, 1895
August 6, 1977
249
Center
Spears, Nora Lee
September 23, 1909
August 4, 1977
Here lies a good woman
250
Center
Williams, Booker T
April 9, 1905
May 30, 1905
AS US Navy WW2
251
Center
Ellis, Allie
April 18, 1922
February 2, 1996
252
Center
Ellis, Raymond
February 5, 1968
February 13, 1977
253
Center
Ashford, Herman
April 7, 1905
May 30, 1905
254
Center
Rose, Ed
July 6, 1906
November 7, 1975
255
Center
King, C L
July 1, 1919
December 26, 1976
256a
Center
King, Brunette G
December 2, 1910
March 12, 1979
256b
Center
King, C L
July 1, 1919
December 26, 1976
PFC US Army WW2
256c
Center
Williams, Jeff Sr
257
Center
McCloud, Warren Douglas
November 13, 1932
October 5, 1976
CPL US Marine Corps Korea
258
Center
Brown, Phillip L
October 27, 1956
October 18, 1976
PFC US Army
259
Center
Fergeson, James D
February 13, 1922
November 20, 1977
Tec 5 US Army WW2
260
Center
Glenn, Charlie Jr
March 30, 1905
May 28, 1905
S1 US Navy WW2
261
Center
Cotton, Lonne H
January 1, 1895
May 8, 1968
262
Center
Stepney, Melbaline
May 19, 1919
September 4, 1991
263a
Center
Stepney, Jesse Parker
March 5, 1921
November 9, 1990
263b
Center
Terry, Joe
May 22, 1907
264
Center
Spivey, James Jr
April 13, 1905
265a
Center
Spivey, Annie Mae
April 23, 1905
June 18, 1905
265b
Center
Matson, Terre Eugene
May 25, 1956
June 29, 1990
266
Center
Matson, Thurston
February 10, 1934
December 28, 1975
A1C US Air Force Korea
267
Center
Williams, Charles Ray
April 2, 1964
March 29, 1990
1st LT US Army
268
Center
Johnson, Willie Mae
December 13, 1929
July 20, 1980
Here lies a good woman
269
Center
McGrue, Cleo
June 6, 1909
May 1, 1978
270
Center
Clay, William Lee
February 27, 1904
June 28, 1986
271a
Center
Neal, Ronnie Lee
February 16, 1954
December 4, 1994
271b
Center
Clay, Lenora
June 1, 1913
August 21, 1981
271c
Center
Clay, William Lee Jr
July 19, 1935
May 8, 1957
271d
Center
Butera, Carrie
August 2, 1882
February 25, 1976
271e
Center
Roberts, Elsie
May 6, 1908
August 18, 1984
272a
Center
Smith, Frank
May 22, 1909
June 27, 1988
272b
Center
Royal, Bettie Pearl
June 19, 1900
November 21, 1984
273a
Center
Royal, Roosevelt
May 17, 1909
273b
Center