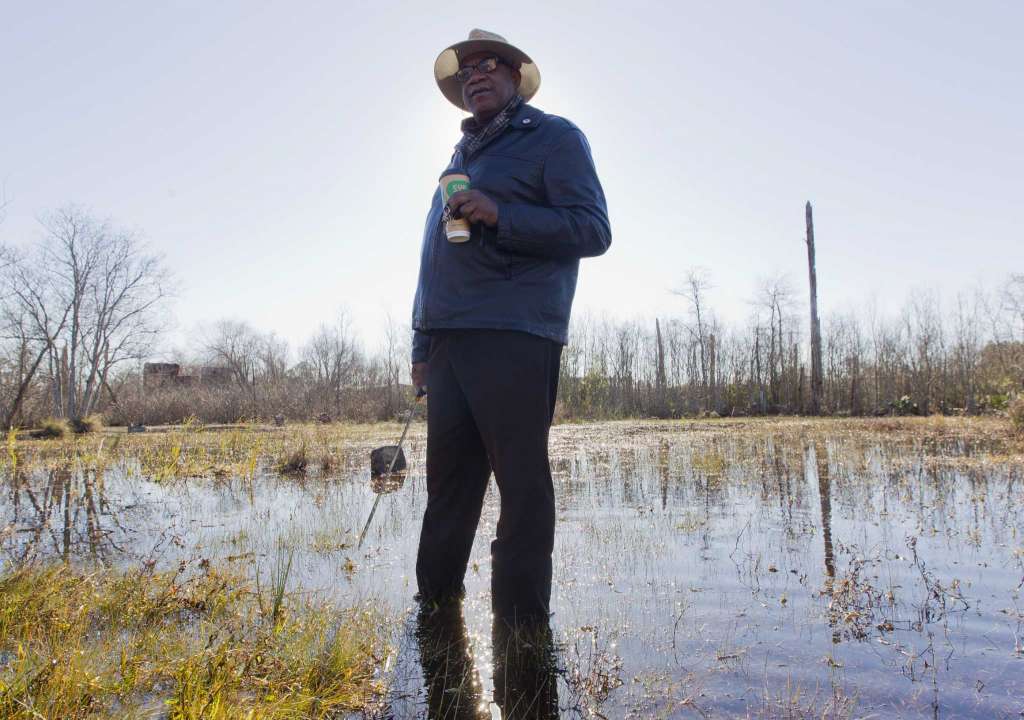 Jason Fochtman, Staff Photographer
Elijah Easley, chairman of the Tamina Cemetery Project Community Development Corporation, wades through the flooded Sweetrest Cemetery, Saturday, Jan. 13, 2018, in the historic Tamina community. The 12-acre cemetery is the resting place for approximately 261 members of the founding Montgomery County community founded by freed slaves near The Woodlands
Beneath ice, mud and at least a foot of water, the headstones of former slaves, native Americans, veterans, law enforcement officials and original settlers of the Tamina community peeked through the surface of the now-submerged Sweet Rest Cemetery Saturday morning.
"It literally brings tears to my eyes to see this condition in 2018 as if it was 1918," said 52-year-old Tamina resident Elijah Easley as he waded through the cold, murky water and growth where his father, mother and maternal grandparents and great grandparents were laid to rest.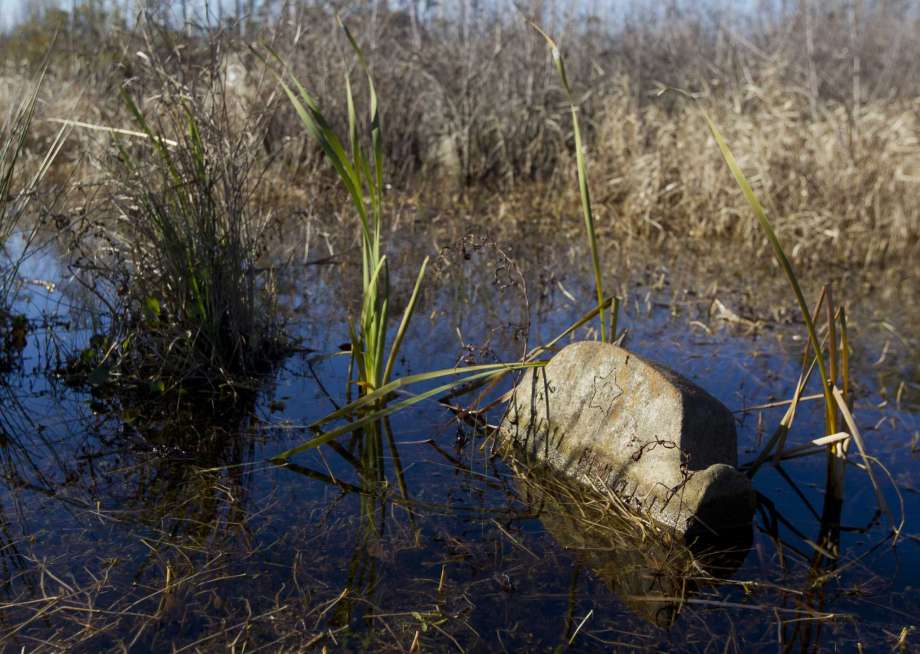 Jason Fochtman, Staff Photographer
A headstone is seen partially submerged by water in Sweet Rest Cemetery, Saturday, Jan. 13, 2018, in the historic Tamina community.
Easley's family is among an estimated 261 buried in graves now covered in water. The grave sites date back to 1870, including those of Tamina's founding fathers, such as Easley's grandfather, Romie Hollins Sr., whose names can be found on street signs of the post-Civil War Freedman's settlement. Tamina's history can be traced back to R. B. Smith, an educator from the city of Montgomery, and John Nilor, a Houston-area businessman; and to 1871 when freed slaves who had moved to the area helped build the railroad in the area. Many past Tamina residents worked for the Grogan's Mill.
For the past 10 years, the roughly 12-acre cemetery, which does not have an owner, has been left dormant and exposed to the elements without a caretaker aside from the occasional volunteers who try to help. Some of the graves are inaccessible due to the standing water and grassy growth, which Easley believes may be because the natural water flow has been blocked on various sides.
An effort to save the cemetery came to light after the tragic loss of 13-year-old Terrance "TJ" Mitchell, 6-year-old Kaila Mitchell and 5-year-old Kyle Mitchell in a nearby fatal house fire before sunrise May 12, 2017.
According to family members who survived the tragic blaze, the children's grandfather and pastor of Thergood Memorial Church of God in Christ in Willis, Bobby Johnson Jr., broke out a second floor window of his home and was able to get most of the family out, but they were unable to get through the flames to save the children, who were trapped in their bedroom on the other side of the second floor.
The 59-year-old Johnson, his wife, 65-year-old Carrie, and their son, 34-year-old Jarvis Johnson, were all hurt in the desperate rescue attempt, although they were able to save a fourth child, Adrian. The Johnsons are descendants of an original settler of Tamina and lived on a road named for one of their ancestors.
The late Mitchell children have several family members buried in Sweet Rest Cemetery; however, no one has been laid to rest in the cemetery for nearly a decade due to the poor conditions.
Easley is the board chairman of a new nonprofit called the Tamina Cemetery Project Community Development Corporation, which includes other relatives of the Mitchell children on the board. The corporation is comprised of descendants from Tamina's forefathers, churches, and other members of the community and even some members who are from outside the community, such as the Chair Lady for Hundred Hands Alliance Georgia Carroll.
"We have (descendants) of forefathers that are here in this community some 90 almost 100 years old that would have a desire to be buried here but they can't be because of these current conditions," Easley said. "If we can get that corrected, I have an uncle (Romie Hollins Jr.) who's 88 years old whose father is one of the founding fathers of this community, the Hollins family. I know if my uncle was given the opportunity, he would care to be buried there."
The 501(C)3 nonprofit, which began meeting three to five months ago, is on a mission to collaborate with elected officials, community leaders and others to fix the drainage issue.
"It's about honoring our ancestors," board treasurer Victor Harris, 34, said. "It's about honoring our legacy."
Community leaders believe drainage and environmental issues are contributing to the flooded cemetery, which still has not recovered from the rainfall during Hurricane Harvey's storms in late August.
"I don't even know where Uncle Will is at," said advisory board member Vanesta Davis, 55, as she pushed through mud. "It's because they covered up the lake. The natural water flow has been disrupted."
Easley and board members are asking for support, including from the county.
Advisory board member James Leveston, 75, said the board feels like the county should put a lot of attention to this project because they believe illegal dumping is a cause of the environment issues.
During the Montgomery County Eagle Forum with Precinct 4 Commissioner candidates Jim Clark and challenger Bob Bagley in Shenandoah Thursday, the board members and several Tamina residents discussed the cemetery with the candidates.
Easley said he felt there was a genuine response from the community, nonresidents of Tamina and both candidates in attendance (candidate James Metts did not attend the forum).
"The candidates committed to assist the civic and humanitarian cause, not with taxpayer dollars, but with their time and talent," Easley said.
The board also has an interest in connecting with the Texas A&M Army Corps of Engineers as the first step to solving the drainage problem.
"This is our start," Vanesta Davis said. "First, last and everything. We want to pass this on to future generations. We want this to be something to be proud of not to have this go on and keep repeating itself."
Tax deductible donations can be mailed to the new nonprofit at the following address: The Tamina Cemetery and Community Project CDC at 29526 Legends Line Drive, Spring, TX 77386. For more information, contact Elijah Easley at Easley.elijah@gmail.com or 832-342-0404.