Buildings of Montgomery County Texas
by Jane Keppler & Jean Smoorenburg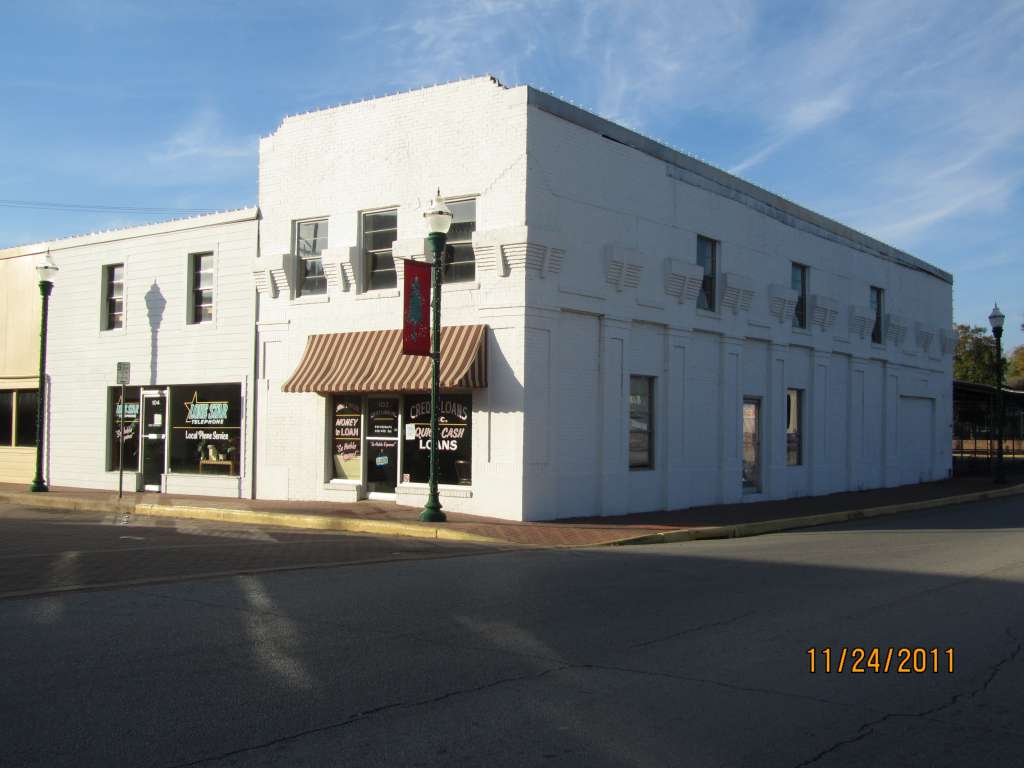 Old First State Bank of Conroe torn down May 2019

Photo: Michael Minasi, Staff Photographer
The Isaac Conroe house, originally built in 1885 and recently bought and undergoing renovations by Carl and Lyn Howard, is pictured on Friday, Jan. 5, 2017


Photo: Michael Minasi, Staff Photographer
A picture of the original Isaac Conroe house built in 1885. Notice the buggy step in front of the home. The home is located at 202 Ave. A, in Conroe.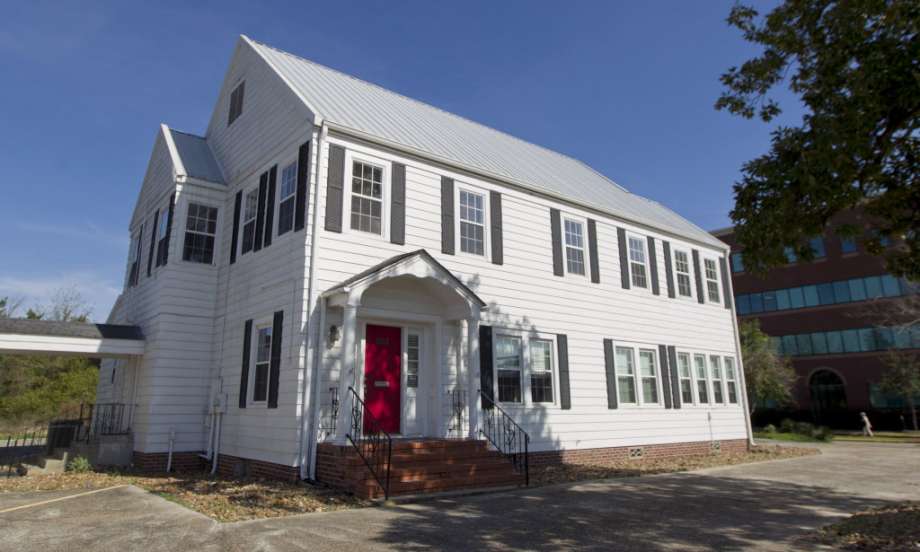 Photo: Jason Fochtman, Staff Photographer
CARTER HOUSE / STEWART LAW OFFICE
402 West Phillips

Montgomery County officials are hoping a community member will relocate a historic house located at 402 West Phillips Street as seen Feb. 7. The residential home was built in the 1920s and purchased by Robin and Hattie Cater, who owned Carter Drug Store in downtown Conroe. It was later the Stewart and Stewart Law Office from 1976 to 2013 before being purchased by the county in June 2016. County officials are planning to use the property to benefit the Montgomery County Tax Office, but no formal action has taken place to decide the property's future


Photo Courtesy of the Montgomery County Historical Commission
Carter Drug store is pictured at Main and Davis Street in downtown Conroe. Its owners Robin and Hattie Carter lived nearby in a home at 402 West Phillips

Photo courtesy of Sue Ann Cargill Powell
The Bower/Cargill home at the corner of N. Thomason and Martin Luther King Blvd in Willis. It was purchased in 2015 by the First United Methodist Church in Willis, which is across the street. Discussions are still underway as to what to do with the home. it was constructed in the late 1890s.


Michael Minasi

The Moran Building, a historical building built in the 1920s in downtown Willis, is pictured on Friday, Jan. 8, 2016, at the southwest corner of Texas 75 and FM 1097.

The Moran Gas Building at 75 and 1075 in Willis was built by Charles Johnson. Johnson built his service station and grocery store in 1923 for a cost of $17 ($11 for bricks and $6 for labor.


Courtesy Photo / Frank Johnson
The Arnold-Simonton House is the only structure in Montgomery County that is on the National Registry of Historic Places. It was built in 1845 by Dr. E. J. Arnold, a prominent Montgomery citizen. After serving as Montgomery City Hall for a time in the late 1900s, it was moved to Fernland Historical Park where it now resides with other historic structures and serves as a museum.


The Addison-Gandy House at 104 Prairie Street in Montgomery. The home was built in 1892 for John Britton Addison and his wife, Martha Bowe Davis Addison.


Courtesy Photo / Fernland Park
The Arnold-Simonton home was recorded as a Texas Historic Landmark in 1964 and entered in the National Register of Historic Places in 1979.


The Addison-Gandy House in 1899


The Bay Evans home at 118 W. Pauline Street was built in 1934 for William Arthur "Bay" Evans and his wife, Garnet. The building has been used as a bed & breakfast, an Italian restaurant and a boutique store. It currently houses the Hopkins Law Firm.


The N. H. Davis Law Office pictured from the side, circa 1870. T. J. Rucks, left in the door way, and Willis Davis, right in the window, are pictured.


Courtesy Photo from Montgomery County Historical Commission
The Davis Law Office prior to its renovation by the
Montgomery Historical Society.


The Davis Law Office and Davis Cottage circa 1986 in downtown Montgomery


The Oaks, residence of Nathaniel Hart Davis on
202 Prairie in Montgomery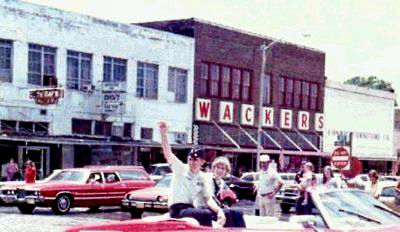 Wackers Five & Dime & Conroe Furniture in 1979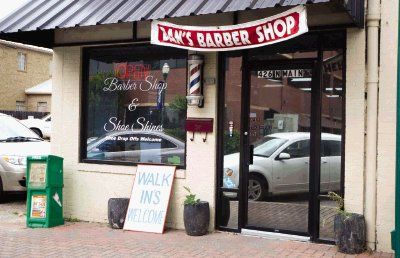 Staff Photo Jason Fochtman
Dan's Barber Shop - 426 N Main St., Conroe, 2015
s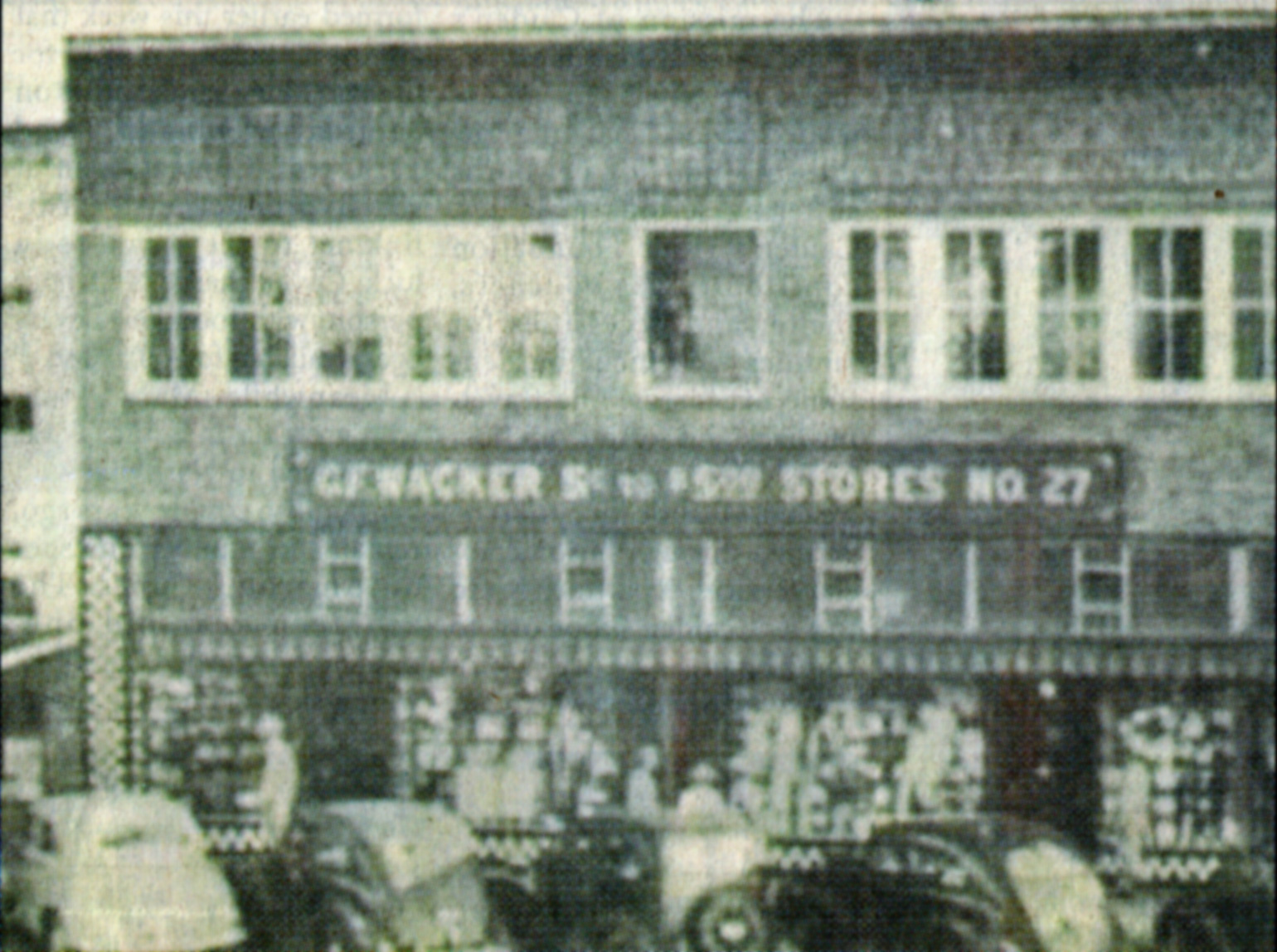 Wackers Five & Dime ca 1945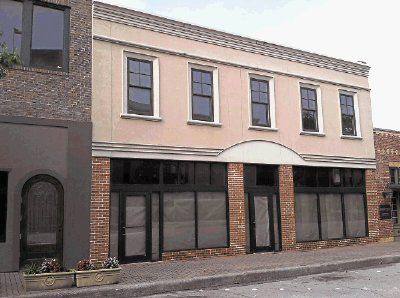 Conroe Furniture - 2014

Thomas Chapel United Methodist Church in Willis is one of the oldest Afro-American churches in Montgomery County—founded by freed slaves soon after the Civil War will be celebrating its 146th Anniversary August 18, 2013 at 512 Martin Luther King Blvd. in Willis.


Montgomery County Jail in Conroe Texas


Joe Corley Detention Facility Opened August 1, 2008


First J Wahrenberger Store before the Fire


Postcard of First Methodist Church
Conroe Texas

The First Methodist Church as torn down in 2002 and the new annex to the courthouse is now located on its site. The new First Methodist Church is now located on Highway 105 West. The following photos were taken by Jean Smoorenburg just before they began demolition of the church in 2002.


First Methodist Church


First Methodist Church


First Methodist Church


First Methodist Church


First Methodist Church


First Presbyterian Church ca 1955






Picnic at CC Harbin Store in Dobbin Texas


Boarding house in Willis owned by Wooldridge


William H. Wood house ca 1850 – son of Dr. John Wood

Subject: photos - buildings

J

ane:

WILLIAM HILLMAN WOOD was married to ELIZABETH ANN IRVINE, b. 16 Oct 1825 in KY, m. 12 Apr 1846 in TX and d. 1909. Elizabeth Ann was daughter of Benjamin Fielding Irvine and Mary "Polly" Belles, early settlers of Danville, Montgomery Co., TX from Kentucky. She was a sister of my ggg gf, Peter Belles Irvine. The Irvine family arrived in Montgomery Co. 1837 - 1839 and had land along the area of West Danville Rd. This would have been their home after they married and I find them on the 1850 census, but I am not sure exactly where this would have been. I'll check for deeds at the courthouse and maybe can determine the location of this home in 1850.

Grogan-Cochran Home

The Grogan-Cochran Home, where the Heritage Museum of Montgomery County is now located, was originally built by J. G. Grogan and was located in downtown Conroe. He and his family moved into it in 1924. A year later Mrs. Grogan died and Mr. Grogan sold the house to his sister and her husband, Terrell Cochran.


Four generations of Cochran's occupied the home until the last descendant/owner, Carolyn Walker and husband Andy, donated it to be used as Museum. The home was moved to the Candy Cane Park in Conroe in 1987 to create the Heritage Museum of Montgomery County.


These two families owned and operated 25 sawmills for over the years. Their first to open in Montgomery County was in 1917, where The Woodlands is located today.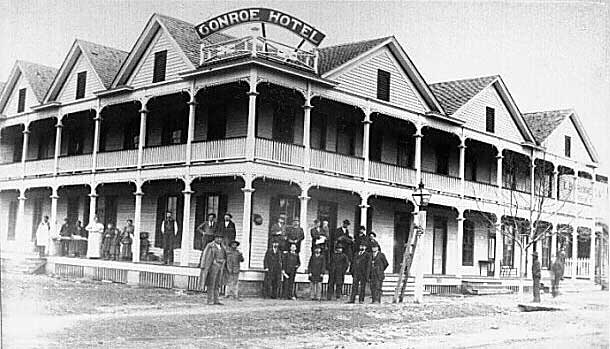 Conroe Hotel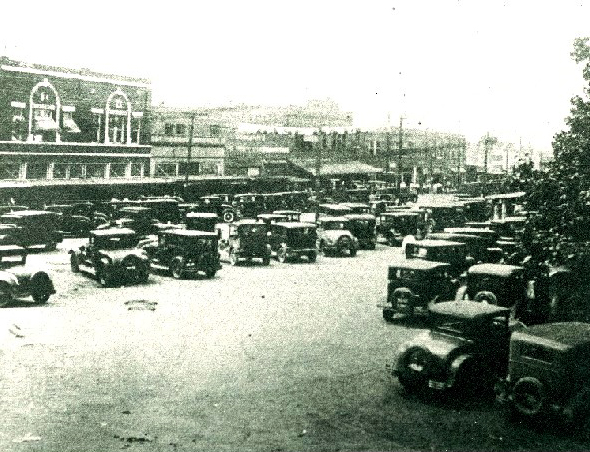 Downtown Conroe During Black Gold Rush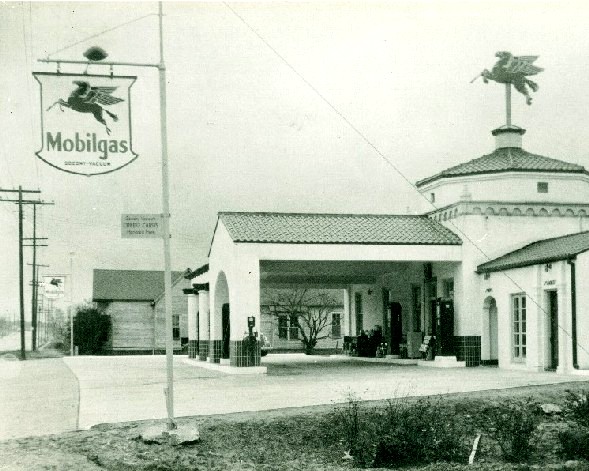 Mobilgas
The building is gone but Pegasus is alive and
well in its new home at the Heritage Museum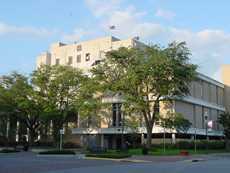 Montgomery County Courthouse Today
Built in 1936 & Remodeled in 1965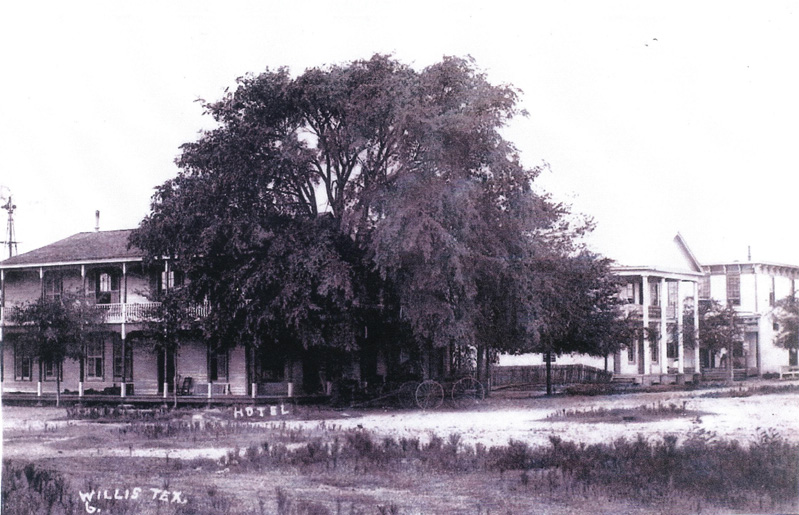 Willis Hotel 1097 Mont St ca 1900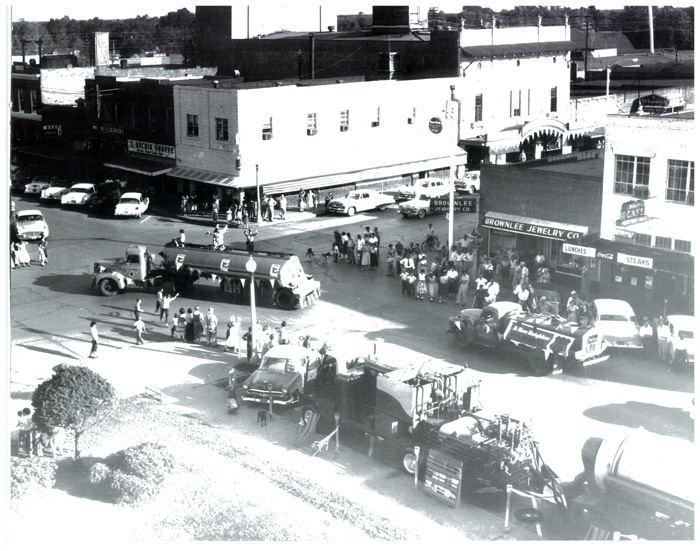 Brownlee Jewelry and Downtown Parade ca 1958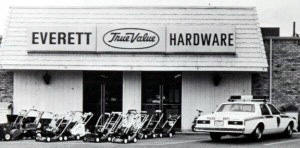 Everett's Hardware 108 Simonton ca 1980

Former Location of Everett's Hardware
at 108 Simonton in 2011

The old Corner Drug Store (Collier Building) is found in the background as a white corner building with a second-floor balcony. Old Conroe on the east side of the tracks can be seen in the top of this photo taken from the top of the old Courthouse. This photo was taken prior to the big fire that destroyed much of downtown in February 1911


J. L. Hicks Building Next to Crighton Theatre


Former Location of Talley's Domino Hall


Collier & Harris Building ca 1911

The wooden Corner Drug Store was consumed by the large fire that destroyed downtown Conroe in February 1911. The new Collier & Harris Building was constructed on the site in brick in 1911 to comply with the new city downtown construction ordinance.

Collins & Harris Building at Pacific & Simonton streets in 2012 after restoration. It houses the law firm of Price and Price.

This photo of the Laura Grogan Cochran House shows the screened in front porch about the time Fred Cochran Sr. moved into Laura Grogan Cochran's home (his mother). The house was built for Nancy Lewis Grogan, widow to Richard Grogan, in about 1918 soon after the Grogan Cochran Lumber Company was established near Conroe. Today it is used for the Villa Italia restaurant at the corner of Thompson and Cochran streets. When the house was built, it was on the edge of Conroe, so the story goes that the street was called Cochran. Photo courtesy of Larry Forester.
See Cochran House Delicious Link to Past


Carter Drug and Capital Drug Store 1940's


The State Hotel was constructed in 1932 when Conroe
was a "boom town" because of a major oil find.


The Etheridge Building in 2006 before the brick facade had been restored by the City of Conroe


Shepard's Barbershop in 2006 originally known as
"Little Jack West Building"


Shepard's Barbershop on Simonton in November 2011


Madeley Building in 2012
Now the Conroe Art League
125 Simonton Street


Constructed in 1938, the Wahrenberger Funeral Home
was the first structure in Conroe at 105 West Phillips
specifically designed as a funeral home. It now (2013)
is occupied by the legal firm of Linebarger, Goggan,
Blair & Sampson


The building at 428 North Main Street was the first
structure used as a commercial funeral facility in the
Conroe area.


Conroe Ice Company 1934 from Heritage Museum


Sparkle Ice House at 101 Metcalfe Street in the 1940's


Became Owen Theatre in 2008,
aka Weisinger Pontiac/GMC Dealership,
White's Auto 1976, and Elections Central
located at 225 Metcalfe, Conroe


502 North Frazier, Conroe, was formerly Weisinger-Buckalew Dealership in 1975 was a Western Auto and now in 2013 a Tire & Collision Shop.


Judge Williams House at 709 San Jacinto Street in Conroe circa 1920.

Judge Williams house at 709 San Jacinto Street in Conroe was constructed in 1904. At the time, building a stately residence in a wooded area three blocks from the center of downtown Conroe was considered odd because it was so far from all the community had to offer. Born in 1863, Williams was a highly successful lawyer in Montgomery County. The home has been a restaurant and several law offices. Today the Jim Knez Law Office is housed there.


The Conroe Federal Savings & Loan Association in November 1961. The facility was a great source of pride for the downtown Conroe area. In 1996, the property was purchased by Woodforest Bank and renovated to serve as a downtown Conroe branch for the bank.

The Woodforest National Bank and the Law Offices of Bill Adair in present downtown Conroe located at the corner of San Jacinto and Davis Street. The buildings were formerly the Conroe Federal Savings & Loan Association that was established in the 1960s. (Staff photo by Ana Ramirez)

Conroe National Bank, located at the corner of Simonton and San Jacinto streets in downtown Conroe, was created around 1951

Conroe National Bank building, now (2013) known as LAWVEST Professional Building – short for lawyer investment – is owned by Micky Deison and associates. It houses offices for a lawyer, a dentist, a professional firefighters group and other professional organizations.


Conroe Normal & Industrial College on 10th Street


Residence of Thomas S. Falvey – 505 Main St.


Birch Hotel on the corner of Phillips & Thompson in downtown Conroe


Falvey-Holland Building on West Street housed
J C Penny on first floor


Muse Building - 2014


Muse Building - 1940

The Foster Building when Southwestern Furniture was doing business in the spot in December 1965.

The Foster Building and Quinn Drug Store as the space looks today (2014) along West Davis Street across from the Montgomery County Courthouse
| Home | Top of Page | Montgomery Buildings |