Lucille Hopkins Hodge, age 92, passed away peacefully on Wednesday, the 3rd of April 2013, at The Forum in Houston. After a lifetime in Baton Rouge, she moved to Houston in 2009 to be with her three daughters.

Lucille was born on the 23rd of October 1920, in Natchez, Mississippi, to Fenton McCullough Hopkins and Lucille Gibson Hopkins. She grew up on Oakwood Plantation in Tensas Parish.
Lucy graduated from Louisiana State University where she was a member of Pi Beta Phi fraternity.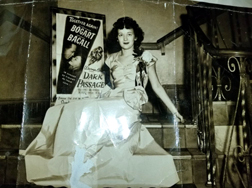 "My best friends Mom at age 17"– Jane Keppler
She is preceded in death by her late husband, Benjamin Edward Hodge. She is survived by her daughters and their husbands: Virginia Hodge and Bruce Nichols, Shelby Hodge and Shafik I. Rifaat, Cathy Hodge and Len Kowitz; grandchildren: Ben Nichols, Catherine Nichols, Jeffrey Kowitz and wife Laurel and Kendra Kowitz Lee and husband Mike Lee; and great-grandchildren: Max Lee, Henry Lee and Eleanor Kowitz.

The family would like to thank the loving care of Ruby Johnson and Sharon Stewart and to the nurses of Hospice Compassus for their heartfelt compassion.

The family gathered for an interment service yesterday morning, Saturday, the 6th of April, at Greenoaks Memorial Park in Baton Rouge.

In lieu of customary remembrances, contributions in memory of Lucille Hopkins Hodge may be directed to The UT Health Science Center at Houston, School of Nursing, P.O. Box 203366, Houston, TX, 77216-3366 (for scholarships); or to Trees For Houston, P.O. Box 270477, Houston, TX, 77277.


Published in Houston Chronicle on Apr. 7, 2013