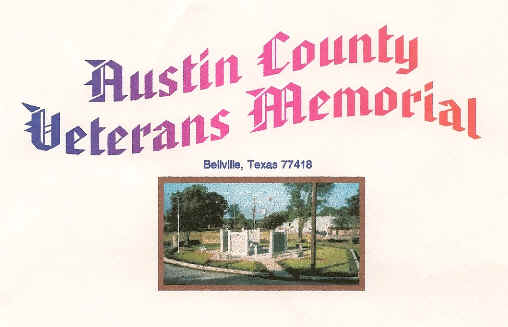 Our appreciation to the Austin County Veterans Memorial Committee for supplying the following records, and to Joy and Dr. Bob Neely for long hours preparing the files for this website. This was done before Jane Keppler took over as CC for the county so records may not be up to date.
However, our deepest appreciation goes to all the veterans who served their country; they served all of us who are living today, our ancestors and our descendants. Thank you.
Veterans are listed by surname.
If you are aware of other records or can provide us with such records, please contact Jane Keppler .
More information on Veterans:
https://www.archives.gov/veterans

Website maintained by Jane Keppler, Austin County Coordinator.
Gina Heffernan- TX State Coordinator

Assistant State Coordinators: Jane Keppler, Laura Gregory Roberts and Carla Clifton


.


Copyright © 1997-present by Jane Keppler. This information may be used by individuals for their own personal use, libraries and genealogical societies. Commercial use of this
information is strictly prohibited without prior written permission from Jane Keppler.
If material is copied, this copyright notice must appear with the information and please email me and let me know. Neither the Site Coordinators nor the volunteers assume any
responsibility for the information or material given by the contributors or for errors of fact or judgment in material that is published at this website.

Page Modified: 27 March 2022