Austin County Veterans who served during World War I 1914-1919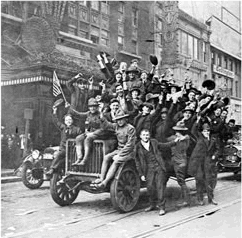 Most of the Information provided here was collected and supplied by Joy Neely. Our sincere appreciation for her ongoing efforts to supply genealogical data to us all! Much of the information was taken from "A HISTORY OF AUSTIN COUNTY, TEXAS IN THE WORLD WAR" a thesis written by Ruby Grote Ratliff, B.A. in August, 1931 for "Partial Fulfillment of the Requirements For the Degree of Master of Arts." That entire thesis is available for patrons use in the reference section of the Bellville Public Library but may not be removed from the library.
Veterans are listed by Surname
If you are aware of other available military records or can provide us with such records, please contact Jane Keppler .

Website maintained by Jane Keppler, Austin County Coordinator.
Gina Heffernan- TX State Coordinator

Assistant State Coordinators: Jane Keppler, Bunny Freeman and Laura Gregory Roberts
.


Copyright © 1997-present by Jane Keppler. This information may be used by individuals for their own personal use, libraries and genealogical societies. Commercial use of this
information is strictly prohibited without prior written permission from Jane Keppler.
If material is copied, this copyright notice must appear with the information and please email me and let me know. Neither the Site Coordinators nor the volunteers assume any
responsibility for the information or material given by the contributors or for errors of fact or judgment in material that is published at this website.

Page Modified: 25 August 2021