Welcome to Newton County, Texas
Addresses and Contacts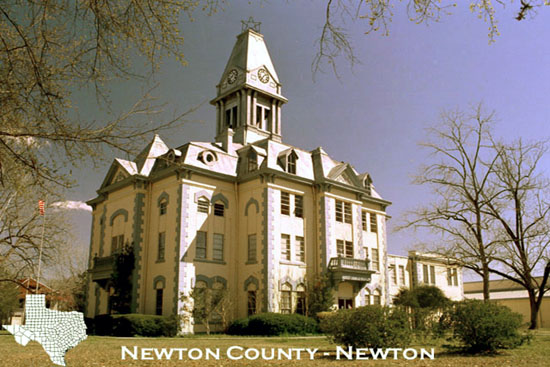 Courthouse Photo Courtesy of TexasCourthouses.com
History Center , Museum and Genealogy Library
Newton County Historical Commission Museums
Newton County Historical Commission on FB
Newton County News
112 Rusk
Newton, TX 75966
(409) 379-2416
THE SAM HOUSTON REGIONAL LIBRARY AND RESEARCH CENTER
LIBERTY, TEXAS
A part of the State Archives Division of the Texas State Library, it serves as the Regional Depository for Southeast Texas which is defined as the ten counties of Chambers, Hardin, Jasper, Jefferson, Liberty, Newton, Orange, Polk, San Jacinto, and Tyler. Primarily a research facility for the general public, the Center collects items that document the history of Southeast Texas. Its holdings include local government records, manuscripts, artifacts, books, maps, photographs, oral history tapes, newspaper, microfilms and archives of individuals, families, businesses and social organizations. Even though Shelby County is not included in this, this is a great resource for genealogy research. Your library can interloan any of the above counties records that are available. Please check with your local librarian.
For more information call 409-336-8821 or write P. O. Box 310 Liberty, TX. 77575
The center is located 3 miles north of Liberty on FM 1011, off of State Highway 146. It is open to the public, Monday through Friday, 8:00 AM to 5:00 PM and Saturday, 9:00AM to 4:00 PM. Additional hours are available for groups by appointment. Group tours must be made two weeks in advance. Free admission.

WE NEED YOUR HELP! Newton County TXGenWeb Project needs your records.
Please submit anything which maybe of value to other researchers: Bible records, marriage records, wills, pension records, land records, death and obituary records, photos, and old letters. County, community, church, and school histories. Your help in helping other researchers is vital to the success of the TXGenWeb Project.
Just contact Eleanor Colson with your information or questions.

Do you enjoy "surfing" the TXGenWeb county websites and have a few extra hours available each month? Then contact Laura Gregory Roberts for more information on joining the surfing committee.

If you are interested in adopting a county, please check out the Orphan page.

If you or your genealogy group would like to sponsor a county, please contact TXGenWeb State Coordinator: Gina Heffernan .




Assistant State Coordinators:
Jane Keppler, Laura Gregory Roberts and Carla Clifton

Copyright © 1997-present by Eleanor Colson. This information may be used by individuals for their own personal use, libraries and genealogical societies. Commercial use of this information is strictly prohibited without prior written permission from Eleanor Colson. If material is copied, this copyright notice must appear with the information and please email me and let me know. Neither the Site Coordinators nor the volunteers assume any responsibility for the information or material given by the contributors or for errors of fact or judgment in material that is published at this website.

Page Modified: 17 September 2023