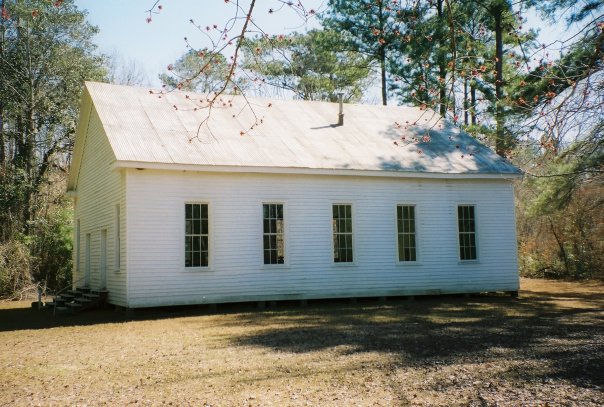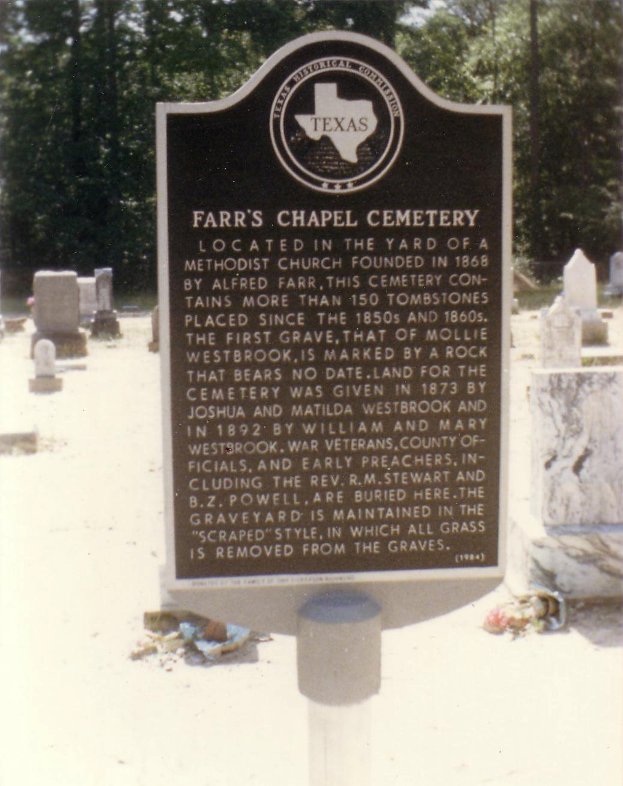 Click here for historical information.
Do you have transcriptions or data you can add? Email me.
Family and friends have gathered for more than 100 years, on the 2nd Sunday in June, to sing hymns in the chapel, lunch under the trees and walk the grounds of our Texas Historic Cemetery. This year's Homecoming is scheduled for Sunday, June 10, 2018.
At 10:30am we will gather in the chapel for a brief business meeting and singing of hymns, followed by a covered dish lunch on the picnic tables under the trees.

NEED MORE INFO?

Please email FarrsChapel@gmail.com and include your phone number if you want a call back.
Visit us on our facebook page: https://www.facebook.com/farrschapel , listed as Farr's Chapel, Newton County, Texas.

Surnames of original settlers in the Farrsville TX area:
Farr
Westbrook
McMahon
Powell
Stewart
Holmes
Hardy
Starks
Langham
Gilchrist
Ford
Due to summer heat and no facilities ( no power , a/c, water) we keep the reunion brief. We have a short business meeting in the chapel about 10:30 am, with Dinner on the Grounds (covered dish lunch) immediately after. The cemetery is also open for visiting.
The homecomings have been held regularly since the early 1900's. We do welcome visitors - please have them contact me at FarrsChapel@gmail.com
Find Farr's Chapel Cemetery on Facebook NEW pictures added for 2015.
Farrs Chapel added a photo to Farrs Chapel Homecoming 2015
Donations can be mailed to:
Farr's Chapel Cemetery Association
c/o Richmond
1410 West Walton Road
Lumberton, TX 77657

WE NEED YOUR HELP! Newton County TXGenWeb Project needs your records.
Please submit anything which maybe of value to other researchers: Bible records, marriage records, wills, pension records, land records, death and obituary records, photos, and old letters. County, community, church, and school histories. Your help in helping other researchers is vital to the success of the TXGenWeb Project.
Just contact Jane Sanford-Hogan Keppler with your information or
questions.

Do you enjoy "surfing" the TXGenWeb county websites and have a few extra hours available each month? Then contact Shirley Cullum for more information on joining the surfing committee.

If you are interested in adopting a county, please check out the Orphan page.

If you or your genealogy group would like to sponsor a county, please contact Shirley Cullum.

Copyright © 1997-present by Jane Keppler. This information may be used by individuals for their own personal use, libraries and genealogical societies. Commercial use of this information is strictly prohibited without prior written permission from Jane Keppler. If material is copied, this copyright notice must appear with the information and please email me and let me know. Neither the Site Coordinators nor the volunteers assume any responsibility for the information or material given by the contributors or for errors of fact or judgment in material that is published at this website.

Page Modified: 16 January 2019