Welcome to
Shelby County Texas

Joaquin Community Cemetery
This cemetery is located just off Highway 84 in Joaquin, just across the railroad track by the Baptist Church. If you would like to submit information or pictures, please email me. Help preserve Shelby County history.
In the past we have had our Cemetery home coming on the second Sunday in June but that will be changed for the 2017 and future ones to the second Saturday in June.
JUNE 8, 2019
Fellowship Hall of First Baptist Church, Joaquin.
11:00 AM songs, business, meeting and speaker.
Bring a covered dish. Food will not be sold as in the past.
The committee will furnish the tea and ice and paper products.
Custom T-shirts will be door prizes and if folks want to purchase on, they will try to accomodate orders.
Have any photos of people, places or events, please email: websterfarms@windstream.net
To donate to help with the upkeep of the cemetery mail check to:
Joaquin Community Cemetery Associate
P O Box 236
Joaquin TX 75954-0236
To be put on mailing list for cemetery email: Harold Irish <haroldirish@hughes.net>
I got to go to the 2019 reunion and was so blessed to be there. Several of the older people remembered my grandparents or my Mother or her siblings. I haven't been to one in over 40 years. We used to go with Grandma when I was young......Jane Sanford Keppler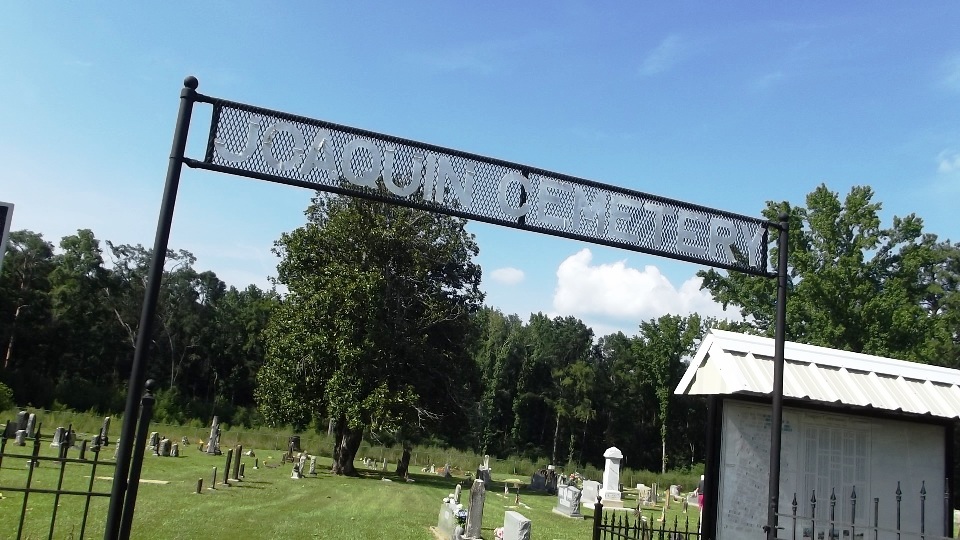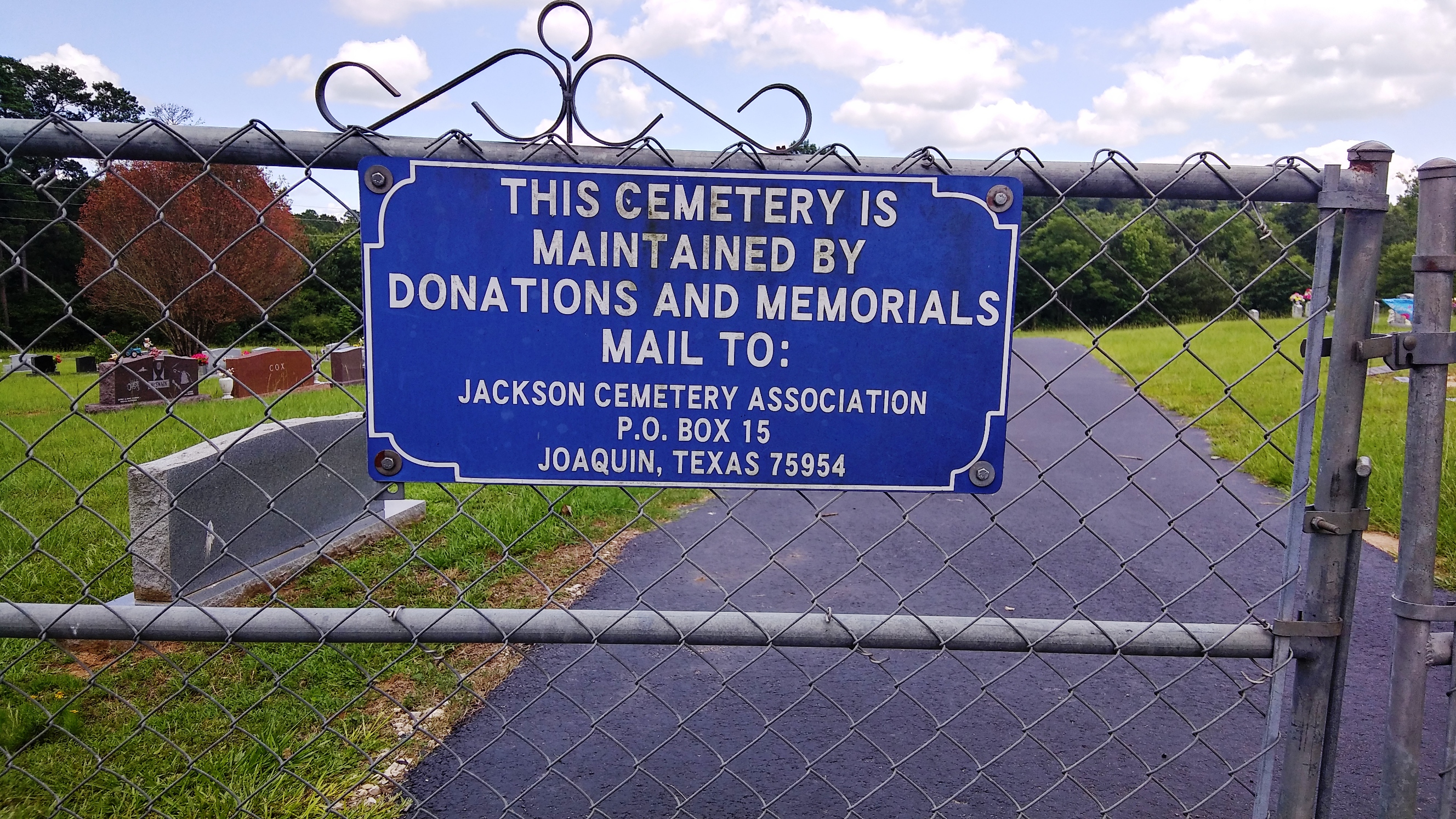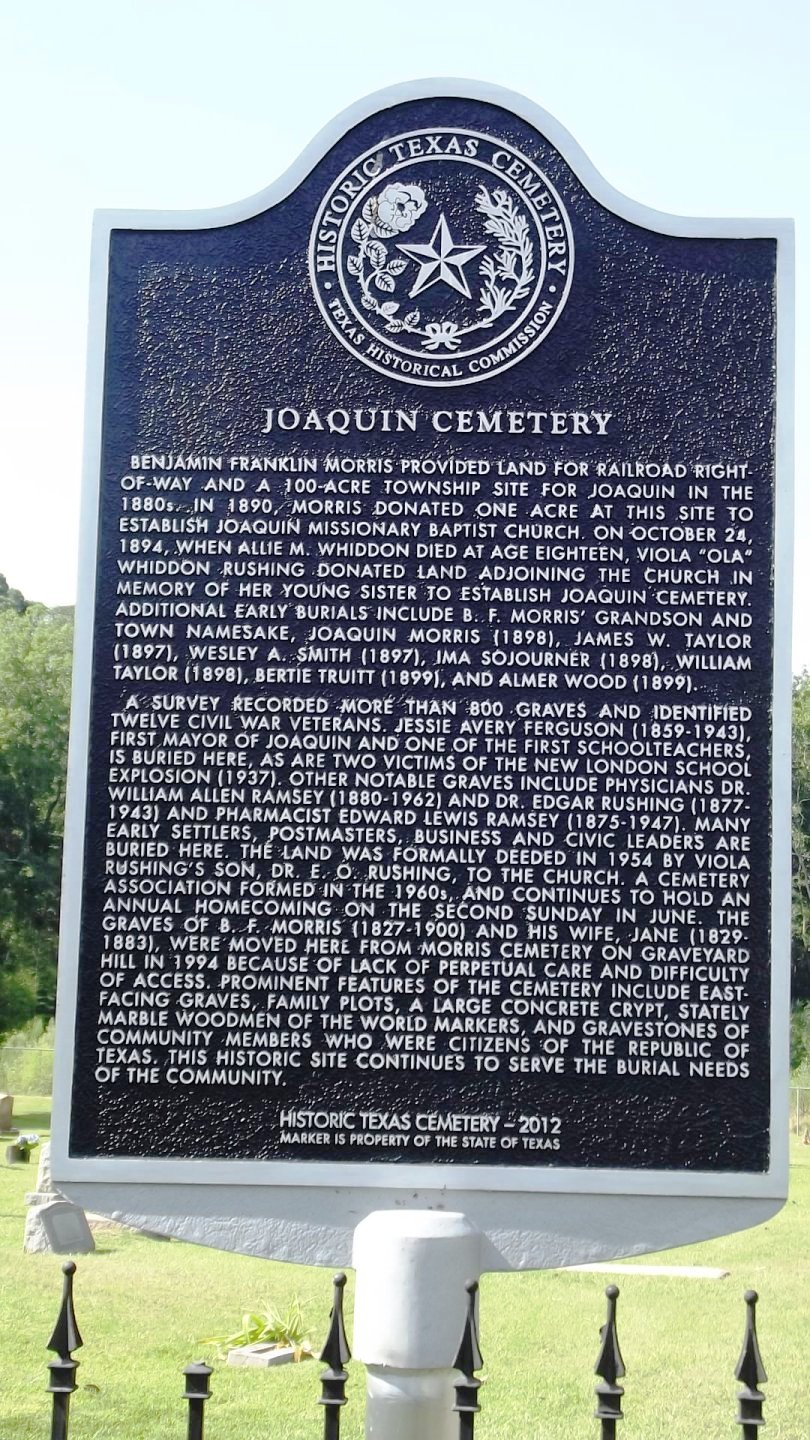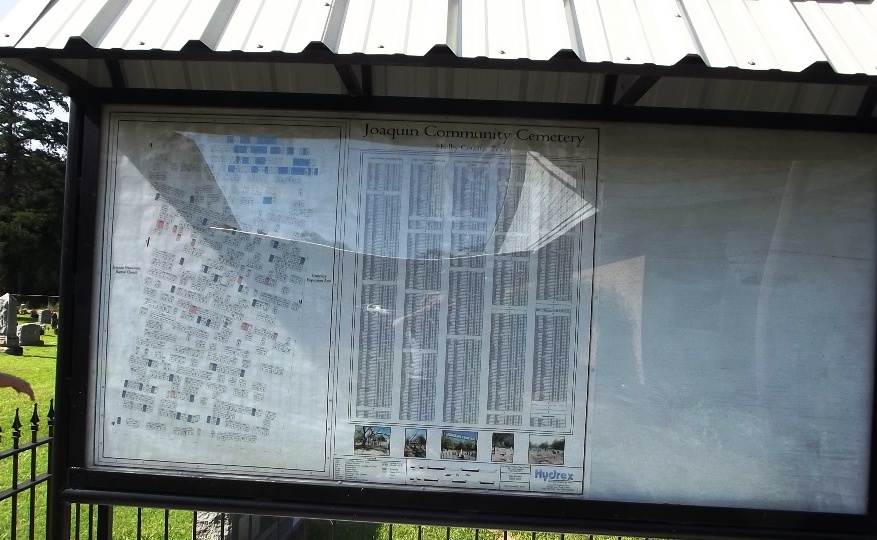 Be sure and check out the Museum's website for more transcriptions.
| | | | | | |
| --- | --- | --- | --- | --- | --- |
| Veteran | Last Name | First/Maiden | DOB | DOD | Notes |
| | Adams | Senetti Powell | Feb 1890 | 25-Nov-1922 | Daughter of Richard & Sarah, spouse of Coleman Adams. (picture) |
| | Bridges | Hettie | 1896 | 1982 | Spouse of John Wesley. |
| | Bridges | John Wesley | 17-Sep-1897 | Aug 1979 | Son of James & Nina Bridges, spouse Hettie Durham. |
| | Powell | Bobbie Swanzy | 1891 | 1979 | Wife of George M. |
| | Powell | Chester Lamar | 26-Feb-1912 | 31-May01987 | Son of George M. & Bobbie. Tec. Sgt., U.S. Army, WW II |
| | Powell | Cyril Augusta | 28-Mar-1897 | 18-Apr-1977 | Grandfather of Jane Keppler (picture) |
| | Powell | Fred Leroy | 15-Aug-1928 | 17-Aug-1957 | Son of Cyril & Mamie Powell, uncle of Jane Keppler |
| | Powell | George M | Jul-1882 | 1951 | Son of Richard & Sarah, spouse of Bobbie Swanzy. |
| | Powell | Mamie Louise Bridges | 22-May-1904 | 22-Jan-1987 | Wife of Cyril, grandmother of Jane Keppler (picture) |
| | Powell | Richard Benjamin | 14-Dec-1855 | 10-Oct-1930 | Father of Cyril Powell, ggrandfather of Jane Keppler (picture) |
| | Powell | Sarah E. Hart | 19-Oct-1852 | 9-Jul-1944 | Wife of Richard Benjamin, ggrandmother of Jane Keppler (picture) |
| | Purcer | Jennie Bridges | 20-Mar-1870 | 24-Oct-1942 | Daughter of Pinkney & Susan Bridges, wife of John. |
| | Purcer | John | 23-Jan-1864 | 31-Mar-1952 | Husband of Jennie Bridges. |
| | | | | | |

Do you enjoy "surfing" the TXGenWeb county websites and have a few extra hours available each month? Then contact Shirley Cullum for more information on joining the surfing committee.

If you are interested in adopting a county, please check out the Orphan page.

If you or your genealogy group would like to sponsor a county, please contact Shirley Cullum.


Copyright © 1997  present by Jane Keppler. This information may be used by individuals for their own personal use, libraries and genealogical societies. Commercial use of this information is strictly prohibited without prior written permission from Jane Keppler. If material is copied, this copyright notice must appear with the information and please email me and let me know. Neither the Site Coordinators nor the volunteers assume any responsibility for the information or material given by the contributors or for errors of fact or judgment in material that is published at this website.





Page Modified: 19 June 2019