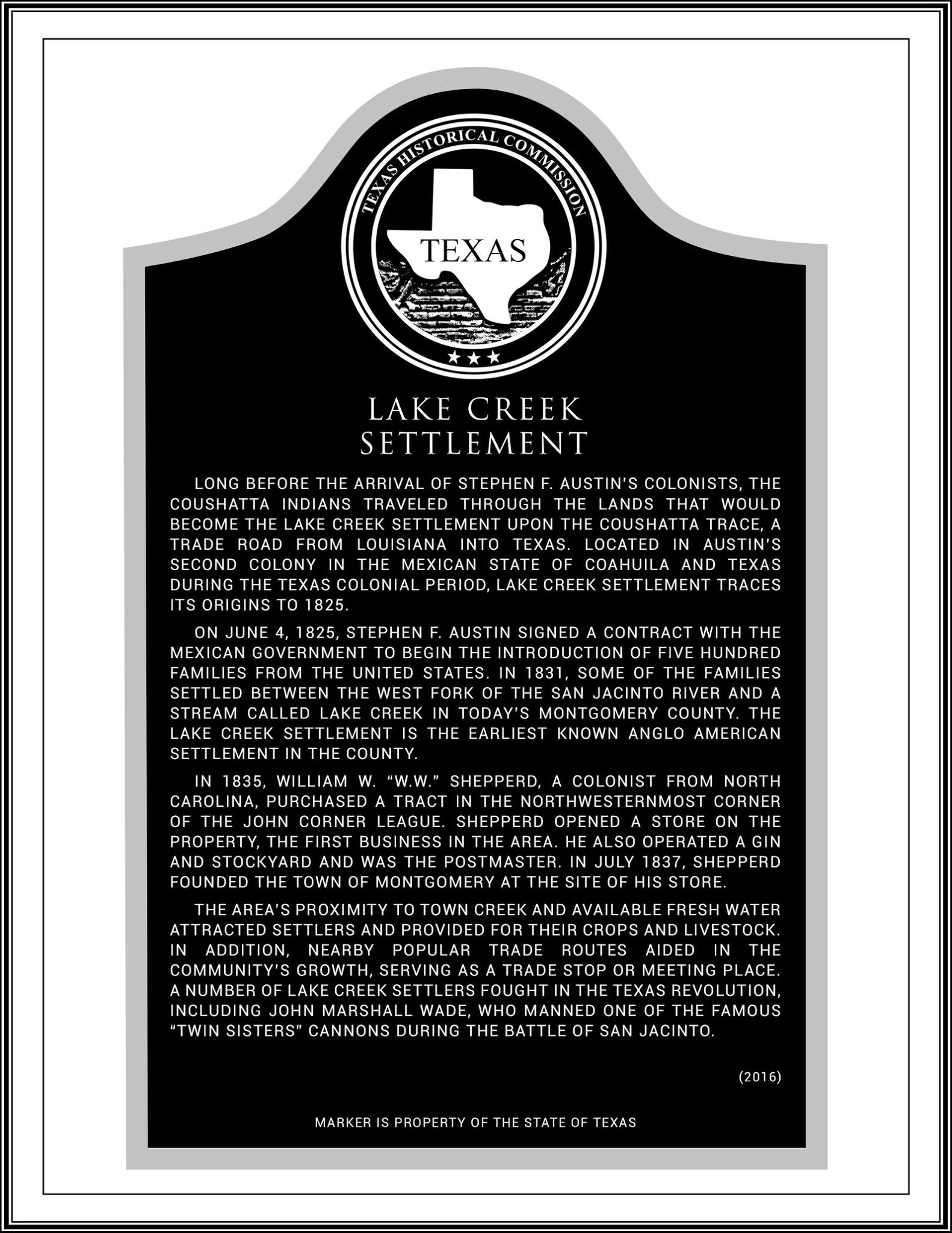 Just wanted to let you know that the dedication ceremony for the Texas Historical Commission marker for the Lake Creek Settlement will be held on Saturday, February 25, 2017, at 11:00 a.m. in Montgomery, Texas in front of the Nat Hart Davis Museum located on Liberty Street near the intersection of Texas 105 and Liberty Street (FM 149).
I was the marker historian for this marker and did more than a decades worth of research on the Lake Creek Settlement before applying for the marker with the Montgomery County Historical Commission and the Texas Historical Commission.
The marker process alone took almost two years.
By the 1920s, the Lake Creek Settlement had been completely forgotten to Texas historians as well as local historians.
Empresario Stephen F. Austin had gotten permission to settle 500 more families in Texas in his second contract with the State of Coahuila y Tejas in 1825 (Austin's Second Colony).
Under this contract, he settled colonists between the west fork of the San Jacinto River and the stream called Lake Creek.
By 1833, this settlement had become known as the Lake Creek Settlement.
In 1835, W. W. Shepperd, a colonist originally from North Carolina, established a trading post/store near the intersection of the Coushatta Trace, the Grimes Road and the Contraband Trace in the center of the Lake Creek Settlement.
Shepperd's store quickly became the community center of the Lake Creek Settlement.
During the Texas Revolution, a number of men from the Lake Creek Settlement fought in the Texas Revolution in the Battle of Concepcion, the Grass Fight, the Siege of Bexar and the Battle of San Jacinto.
In the Battle of San Jacinto, men from the Lake Creek Settlement fought in the infantry, the cavalry, and one, John Marshall Wade, manned one of the famous Twin Sisters cannons during the battle.
In 1837, Shepperd founded the town of Montgomery at the site of his store, and about 5 months later, the Montgomery County was created by an Act of the Congress of the Republic of Texas which was signed into law by President Sam Houston.
The town of Montgomery became the first county seat of Montgomery County and served as such for several decades.