History, culture and technology have changed a lot in the last century – and one of Conroe's leading citizens has been here almost the entire time to see the impact time has had on the community.
Conroe was a far different place when Whitson Etheridge was born back in November of 1917. For much of his youth, the now-vibrant city filled with economic and recreational opportunities locals call home was a small, rural community well beyond the outskirts of Houston.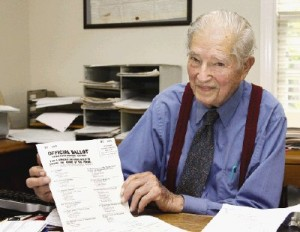 Native Conroe resident Whitson Etheridge, 95, displays a Democratic primary ballot from 1960 when he was party chairman.
Because his family owned The Courier, Etheridge, 95, was raised in a newspaper environment – often exposed to both the news of the day and the story behind those events. He set type, took pictures and was trained as a reporter.
"I learned very quickly that I'd probably starve as a journalist," quipped Etheridge. "So I headed to the University of Texas and then law school in Houston to become a lawyer."
But the Conroe native was a keen observer of his hometown – and the changes that time brought over the ensuing years. His reflections provide an interesting perspective on the evolution of Conroe and Montgomery County.
Transportation
Prior to World War II, most of the streets in Conroe were dirt roads – a few topped with gravel. The roads were "washboarded" and very bumpy. After a heavy rain, it was common for cars — still sharing the road with horse and buggy operators – to get stuck to the rims in mud and have to be pulled out by mule teams. Few sidewalks existed, though a few upscale areas had walkways constructed of timber or boardwalks.
Recreation
Without television of the Internet, youths of the day went hiking and fishing on a regular basis. Conroe had two theaters – the Gem and the Liberty Theatres – that provided silent movies accompanied by a piano player who doubled as a linotype operator at The Courier.
Striking Oil
The discovery of oil in late 1930 turned Conroe into a boom-town overnight. Every hotel and boarding house for miles around was filled and everyone with a spare room rented it out to the influx of wildcatters and oil field workers. By 1938, with the wells dug and operational, the boom declined and the population began to dwindle.
Electricity
Electrical power became available in the 20s, but it was only on a few hours a day until 1928. Prior to that, refrigerators were, quite literally, iceboxes – relying on blocks of ice to keep foods cool. In 1931, the first radio station – the "Voice of Conroe" – came to town.
Television
An early version of television was available in Conroe in 1928, Etheridge said – but the round-screen medium was plagued by technical difficulties and a distinct lack of accessible programming. Television didn't become common or popular until the late 1940s. Store owners would put televisions in the window to draw crowds of residents dazzled by the new technology – though Etheridge said he didn't care for television when it first came on the scene. Homeowners who actually owned a set – black and white only – were very popular and could anticipate receiving a lot of company during the evening hours when programming was broadcast.
Politics
Texas was strongly Democratic up until the 60's, but the elimination of the poll taxes and the influx of minority voters resulted in a shift of many influential political figures and their followers to the Republican Party.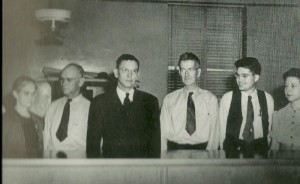 A very young Whitson Etheridge, second from right, in 1940 with Tax Assessor Virgil Cochran and Joe B. Stinson and other important officials of the time.
Moon Landing
Conroe's proximity to Houston made landing on the moon an important event – though as many as a third of local residents dismissed it as a hoax and a justification for higher taxes.
Lake Conroe
The Army Corps of Engineers justified construction of Lake Conroe on the basis of conservation and flood control. No one considered its possible recreational benefits to the community, Etheridge said. Experts at the time said it would likely take 3-6 years to fill once the dam was finished – and many were of the opinion the lake would never completely fill. A severe storm shortly after construction nearly filled the lake in a few weeks – surprising everyone, including the construction crews that lost several pieces of heavy equipment when the water began to rise rapidly.
While Etheridge acknowledges Conroe offered a much simpler lifestyle "back in the day," he remains largely positive about the area – with the exception of traffic and the decline of the downtown area.
"Traffic is horrible these days," he said. "I don't know what you can do about it, but it can be difficult getting around town."
He's also disappointed in the demise of downtown Conroe and the central business district. He believes city officials have done a poor job of fostering diversified growth in the area – especially with regard to the availability of free parking.
"They should be offering tax incentives to get businesses downtown to draw people," he said. "And they should have free parking. All of these parking garages were built for city and county workers with public tax money – the public should have free parking."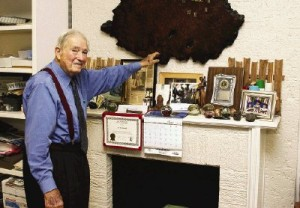 Still a practicing attorney at age 95, Whitson Etheridge's office is filled with mementos and keepsakes from his life and work in Conroe and Montgomery County.
Despite his age, Etheridge continues to maintain a regular schedule at his law office in Conroe. For more information on his law practice, located at 118 West Pauline Street, call 936-756-4341.