Some Files require
Adobe Reader

70th Anniversary Mr. and Mrs. Nick Peet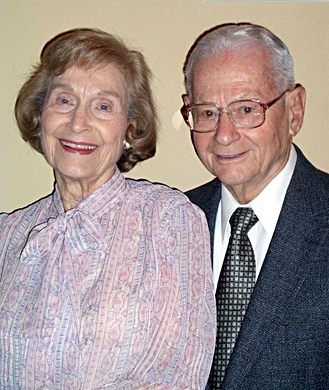 Ruth and Nick Peet

Nick and Ruth Peet of Conroe are celebrating their 70th wedding anniversary on March 28, 2012. They were married at First Baptist Church of Baytown, TX on March 28, 1942. For many years they lived in Baytown and were active at First Baptist Church.
In 1962 they moved to Houston and were there until Nick retired from Exxon Mobil. In 1983 they came to Conroe and joined First Baptist where they are still active today.
God blessed them with three wonderful children...Carol, John, and Alan. They also have six grandchildren and ten great-grandchildren. Currently Carol and Russ live in Las Vegas, NV, Dr. John and Betty in Conroe, and Alan and Sandra in Huntsville, TX.
On Sunday, March 25 First Baptist Church will recognize their anniversary at the 11 am service with many of their family and friends present. On Wednesday, March 28, their actual anniversary, cake will be served to the evening prayer group at the church.
To God be the glory!
The Courier
March 25, 2013
| Home | Top of Page |