Some Files require
Adobe Reader

Spring Creek County, Montgomery County, Texas
There was a nice article in The Woodlands Lifestyle & Homes, March 2016 on Spring Creek County, p 39. Included also is my correspondence with Trevia Beverly in 2010 on the location of the boundaries of Spring Creek County using the Atlas of Historical Boundaries from Newberry Library in Chicago. An awesome resource. The interactive maps are currently unavailable as of January 2017 but should be back on line soon.

Back When … Spring Creek County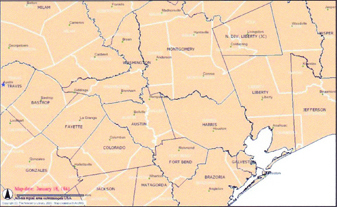 Texas, as of Jan. 18, 1841 before creation of judicial counties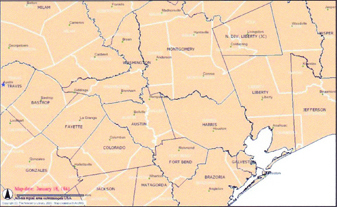 Texas, as of February 2, 1842 (after creation of all judicial counties) Newberry Library (Atlas of Historical Boundaries Project).
http://historical_county_newberry.org/website/Texas/viewer.htm
(accessed Aug. 9. 2013) The black lines and county names are as of February 2, 1842; the white lines and names are the current boundaries.

Judicial counties established early in 1841, and at least partially organized during their one-year existence, include (in order of creation) Trinity, Ward, Spring Creek, Menard, Paschal, Burnet, and Panola.

Judicial Counties established on paper early in 1842,less than three weeks before they were abolished by the Supreme Court, include Burleson, La Baca Guadalupe, Waco, Neches, Smith, DeWitt, Madison and Hamilton.
Spring Creek County, Texas
© Trevia Wooster Beverly and Bernice Mistrot
Harris County Historical Commission
October 17, 2013
On Nov. 17, 2015, a forgotten part of Texas history was brought to light and honored with a Texas Historical Commission Marker. Spring Creek County was one of 16 "Judicial" counties established between 1840 and 1842 to provide better access to citizens when conducting government business, such as recording deeds, paying taxes, court proceedings, and other business activities. In the early days of Texas, the County Courthouse was where the real business of government took place.

Harrisburg County was created in 1836 and in December 1839 it became Harris County, with the city of Houston as the county seat. Montgomery County was established by the act of Dec. 14, 1837 and the city of Montgomery was declared the county seat. The county seats of Houston and Montgomery were 30 to 45 miles away from the Spring Creek area depending on your location. The people living in the Spring Creek area were farmers, doctors, merchants, ministers, blacksmiths and veterans of the Battle of San Jacinto. At the time the only transportation was a horse, and people living on the outer edges of the counties would need a day or two to reach their county seat. It was too far away and inconvenient to serve on juries or conduct business. On Nov. 4, 1840, 130 male residents residing around the Spring Creek area signed a petition to the Congress of the Republic of Texas to create a new county comprising portions of Harris and Montgomery counties along Spring Creek.

Congress established Spring Creek County on Jan. 21, 1841 to give the residents better access to county offices and officials. The centrally located county seat would be a new town to be named Greenville. It was to be located on a high ridge one-quarter mile south of Spring Creek near today's Rose Hill west of Tomball. The Republic of Texas Constitution stated that each county would have at least one representative in Congress, and the Congress was limited to 40 representatives until the population of the Republic reached 100,000 residents. So the new Spring Creek County, as well as 15 others, were established as "judicial" counties, meaning that all court and government services would be supplied by the new county, but the congressional districts would remain the same, covering parts of multiple counties, as they do today.

William Pierpont, Isaac Decker, James Cooper, George W. Cropper, Abram Roberts and Archibald Smith were named County Commissioners. James Cooper was appointed Chief Justice (County Judge), and on May 8, 1841, the following officials were elected: District Clerk William B. Reeves, County Clerk Thomas M. Hogan, Coroner Jason Whitney, Sheriff Alexander F. Barron, Surveyor Eugene Pillot, and Justices of the Peace Henry T. Mostyn, Claude N. Pillot, Nathaniel J. Carrol, Samuel Davis, James Dickson and John Simmons.

On February 4, 1842 the Republic of Texas Supreme Court ruled that the 16 judicial counties, including Spring Creek County, were unconstitutional because they did not have separate representation in Congress. The areas of these counties were then returned to their respective parent counties. Many former judicial counties were recreated after statehood in 1845. Spring Creek County is the only one whose territory remains almost entirely within its parent counties.

Both Harris County and Montgomery County officials as well as members of their respective Historical Commissions participated in the historic marker dedication ceremony at Spring Creek Park in Tomball. We want to thank Trevia W. Beverly and Bernice Mistrot for their dedication and countless hours of research in writing the narrative for the Texas Historical Commission Marker and in granting us permission to use their research in this article.

¯¯¯¯¯¯

treviawbeverly <treviawbeverly@comcast.net>
to: Jean Smoorenburg <jsmoorenburg@gmail.com>,
Mike & Jane Keppler , <relppek91@gmail.com>
Barbara Franz <bfranz@countylibrary.org>
date: Sun, Nov 7, 2010 at 11:56 AM

Do I understand that someone is writing a new history of Montgomery County? Name & Contact?

----- Original Message -----
From: Mark Lambert
To: 'treviawbeverly' Sent: Wednesday, May 19, 2010 1:23 PM
Subject: RE: Spring Creek County

Folks:

This is the second time in a year this question has come up. Attached is the statute from Gammel creating Spring Creek County in 1841.

We have an unprocessed collection which we received in 2002 that includes a photocopy of a map of a part of Spring Creek County. The donor was a Mrs. Ann Q. Wilson, who at one time was researching the Atascosito Road.

The attached map is entitled "Part of Spring Creek County taken from Harris County." We have nothing showing the full dimensions of Spring Creek County, but I guess you could start with the attached two items and make it yourself!

Full information on the attached map is below.

No one knows where the original of this map resides, though I would check Harris County Surveyor Records!

Subject: County Maps
Title: Part of Spring Creek County taken from Harris County
Region: Gulf Coast
County: Harris, Spring Creek
Creation Date: January 1, 1842
Author/Creator: George H. Bringhurst, County Surveyor of Harris County.
Publisher:???
Size: 11 x 17.
Scale: 4000 varas to the inch.
Format: photocopy negative
General Features: [land holdings?,] roads, rivers, creeks
Named Features: ????
Collection: Ann Q. Wilson Collection

Comments: Archives also has a positive image of this same map, minus the top left corner. The location of the original of this map is not known. The map shows three roads in the northern part of Harris County believed to not be shown in any other map. The map shows the Grimes Road and the fork in that road on the Abraham Roberts Survey (Harris County Abstract #63) where the southern route to Harrisburg was taken by the Texas Revolutionary Army under Sam Houston on the way to the battle of San Jacinto in 1836. The map also shows the Groce-Rankin Road and the eastern extension of the Atascosito Road.

One of my staff says we do have a record of one person registering their county of residence as Spring Creek County in our records, but I wouldn't know how to search for it in our online database since the county does not exist, but can figure it out if you need it.

That's all!

Good luck!
Mark Lambert

~~~~~~~~~~~~~~~~~~~~~~~~
Mark Lambert, MLIS, MA, CA
Deputy Commissioner
Archives and Records
Texas General Land Office
1700 N. Congress Ave., Suite 130
Austin, TX 78701
(512) 463-5260
(512) 475-4619 fax
mark.lambert@glo.state.tx.us
Visit our website: http://www.glo.state.tx.us/archives/archives.html
There is nothing new in the world except the history you do not know. Harry Truman
2 Attachments

Preview attachment Spring Creek County Negative.pdf
PDF
Spring Creek County Negative.pdf
Preview attachment Gammel Spring Creek County Creation Act 1841.pdf
PDF
Gammel Spring Creek County Creation Act 1841.pdf

Jean Smoorenburg <jsmoorenburg@gmail.com>
Attachments 11/7/10

to treviawbeverly
Kameron Searle, Kameron K. Searle" <ksearle1@pdq.net>, http://texashistorypage.com/

Kameron's research is excellent and well sourced. Have known him for a few years now. He challenged MCG&HS and anyone else for that matter to prove his research in error since it contradicts Robin Montgomery's history. Robin admitted his History of Montgomery was based on family stories & lore and not on historical fact at a meeting in Montgomery a year or two ago that Kameron, Barbara Franz and I attended. I think Robin's book should have been entitled "The History of the Montgomery Family".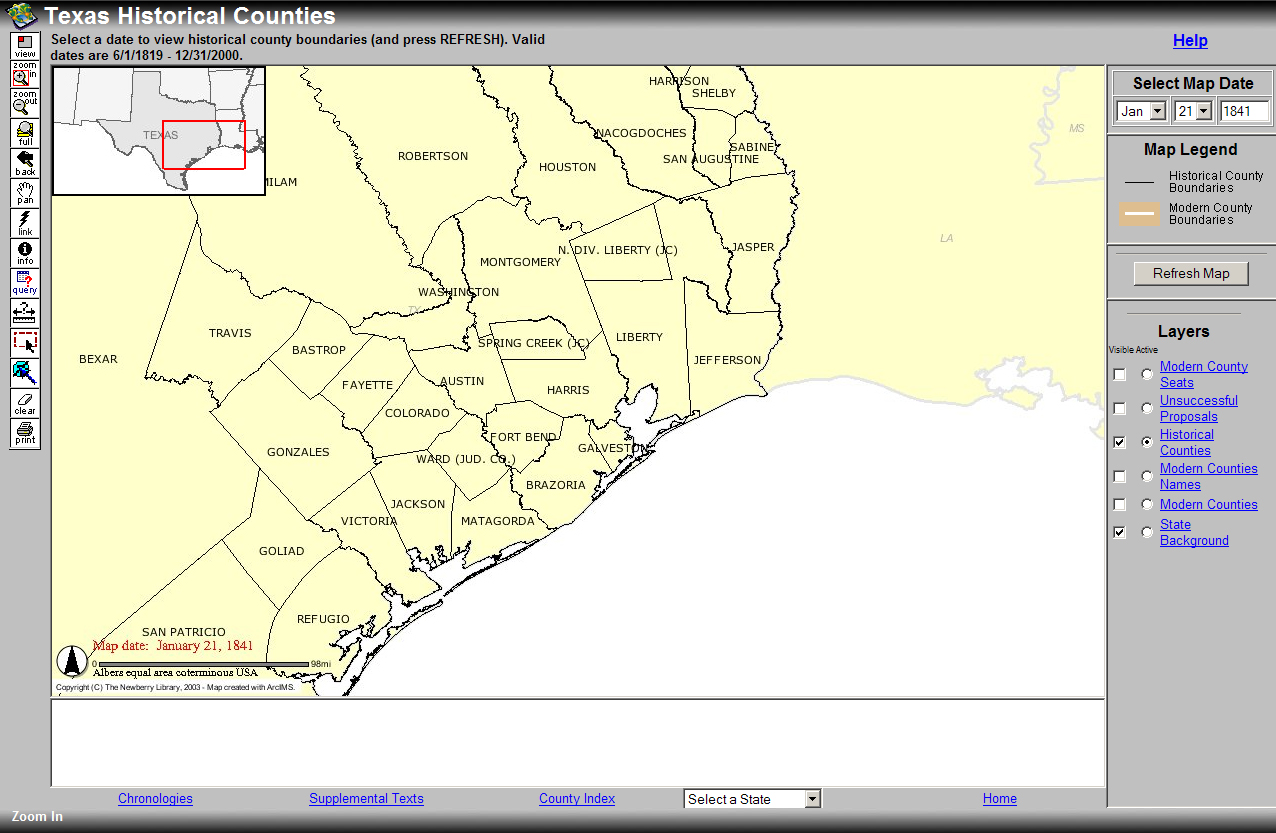 Interactive Map showing Spring Creek County
Hope the map of Spring Creek from the Newberry Library in Chicago http://historical-county.newberry.org/website/Texas/viewer.htm helped you.
I took a screen shot and imported it into photoshop and
crop[ped] it. You might contact Newberry Library to see where they got the parameters.

Use the interactive map. Just put in the date Jan 21, 1841 and Spring Creek shows up. Note put in Jan 20, 1840 and no Spring Creek. So it corroborates your Article from Gammel.

Jean Smoorenburg

Attachments area
Preview attachment spring_creek_county.jpg
Image
spring_creek_county.jpg