Conroe may be the namesake of lumberman pioneer Isaac Conroe, but many would say it's oilman and philanthropist George Strake who put Conroe on the map.

Photo from "Montgomery County, Texas: Picture of a Dream Coming True" (Caroline Cryar)

George Strake, top, left, ad Wilt Pfiffner, owed thanks
to this drilling crew which brought in Strake No. 2 Well.
The Strake oil strike in 1931 and beyond earned the wildcatting entrepreneur a massive fortune and propelled Conroe and Montgomery County to the third largest oilfield in the nation during the height of the Great Depression.
"Conroe changed from a sleepy little town to bustling boomtown almost overnight," said lifelong resident Whitson Etheridge, 95. "People came from around the state and across the country looking to make their fortune in Conroe."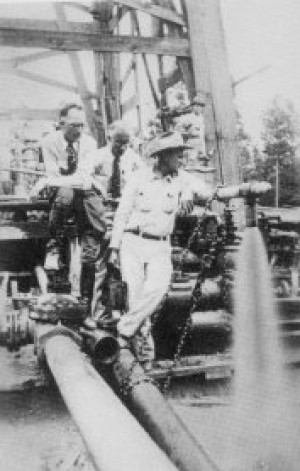 Photo from "Montgomery County, Texas: Picture of a Dream Coming True"

George Strake, left, his brother-in-law, Wilt Pfiffner and
driller Harvey Lee as Discovery Well Strake No.1
But before there was success, there were challenges in the life of George William Strake. Born in St. Louis in 1894, he attended public school and earned a bachelor's degree from St. Louis University in 1917. He served in the U.S. Army Corps of Engineers during World War I.
Strake earned a reputation and a fortune working in the oil industry in Mexico from 1919 through 1925. After amassing a quarter of a million dollars in Mexican oil profits, he went to Cuba in search of greater wealth – but lost most of what he made.
Two years later, Strake came to southeast Texas as an independent oil man. His South Texas Development Company controlled 8,500 acres of land – the largest area of land leased for oil exploration at the time.
While many geologist at the time said there was no oil in the area and most wildcatting operations were drilling west of Conroe, Strake continued to drill just east of town.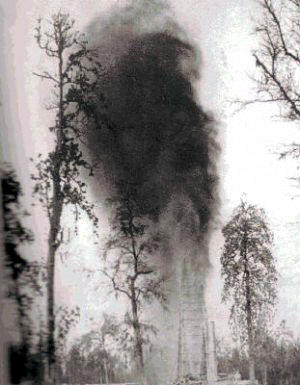 G from "Montgomery County, Texas: Picture of a Dream Coming True"
(Caroline Cryar)
The blowout of a well. this one was at Crater Hill in the Conroe Field which is southeast of Conroe. Because of experience with these frequent blowouts, famous Houstonian, Red Adair, because a world famous firefighter.

This was a tough time for Conroe. The lumber industry was in severe decline, the bank in Conroe had failed and schools were under funded. A once thriving economy was not going well for community residents and those seeking work.
Things began to change almost immediately when Strake struck oil in December 1931. More drilling led to even bigger strikes and an influx of more wildcatting in Texas, Louisiana and Mississippi.
"So many people were coming to Conroe there was no place for them," said Etheridge. "The hotels and rooming houses were filled to the brim – a lot of people thought they could strike it rich in Conroe."
Strake expanded his own drilling operations, generating a net worth estimated to be in excess of $100 million. The Texas oil tycoon became a civic leader – sitting on the board of many companies, investing in the Houston Tribune newspaper and representing the state at the second inauguration of President Franklin Delano Roosevelt.
A deeply religious man and a devout Catholic, Strake was philanthropic with his wealth. He made significant donations to educational institutions, civic organizations and charities. Serving on the national executive board of the Boy Scouts of America, Strake donated more than 2,000 acres of land to the scouts – which was named Camp Strake in his honor. The property is at the corner of South Loop 336 and Interstate 45 in Conroe.
Strake donated $500,000 to the St. Joseph's Hospital Foundation in Houston and thus became a founding benefactor of that institution. He was also a generous contributor to the University of St. Thomas and a member of its board of trustees, and to Strake Jesuit College Preparatory School in Houston, which was named in his honor.
He was on the board of the University of Notre Dame in South Bend, Indiana, served Our Lady of the Lake College (now Our Lady of the Lake University) in San Antonio in an advisory capacity, and was a trustee of the Institute of Chinese Culture in Washington.
He was also on the board of governors of the American National Red Cross and the Southwest Research Institute and was a trustee of the National Foundation for Infantile Paralysis.
Strake was cited as the most generous contributor to the Houston-Harris County United Fund charities. He was a member of numerous professional and civic organizations.
In recognition of his gifts and support, Strake received several honorary degrees and four papal honors between 1937 and 1950, including two of the Vatican's highest honors for a layman-the Order of St. Sylvester and the Order of Malta.
On June 5, 1957, the citizens of Conroe honored Strake on the 25th anniversary of the discovery of oil in Montgomery County by dedicating a monument to him on the city hall lawn; Texas Gov. Price Daniel read a proclamation designating the day George W. Strake Day in Montgomery County.
He died on Aug. 6, 1969, in Columbus, while on a trip to San Antonio, and was buried in the Garden of Gethsemane Cemetery in Houston.
Some information from the Texas State Historical Association.