A large part of the history of Montgomery – and Texas – is now gone with the death of Narcissa "Cissy" Boulware, 93.
Boulware died late Sunday night when the mobile home in which she was living – located on Cissy's Lane, off FM 149 – caught fire. The Montgomery and Lake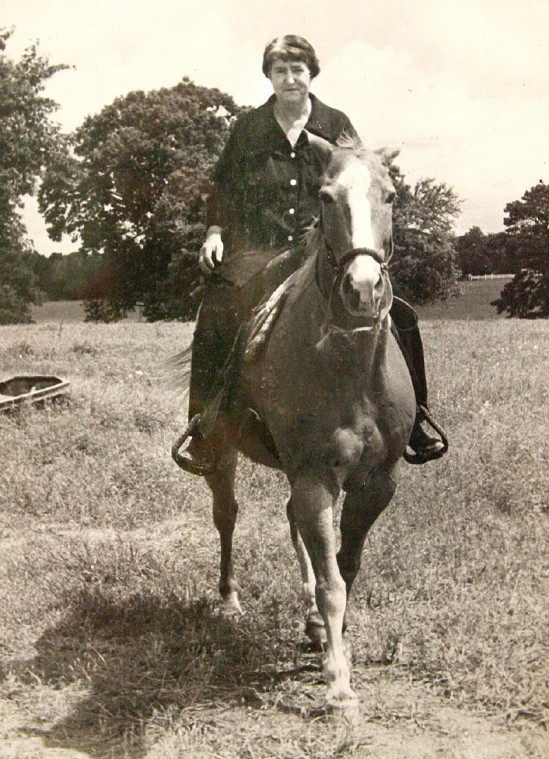 Conroe fire departments arrived at the home around 10:45 p.m. but by then, the home was fully engulfed in flames and the roof had collapsed, Assistant Montgomery County Fire Marshal Scott Burlin said.
"No rescue was possible," he said.
Boulware had lived in the home for years, on the same land granted to her family by Stephen F. Austin in 1831, said Boulware's granddaughter, Tanya Brown. The Texas Department of Agriculture's Family Land Heritage Program recognized Boulware in 2006 for being one of the few ranchers in Texas who had kept their family ranch in agricultural production for more than 150 years, The Courier previously reported.
"She is a piece of Montgomery history," Brown said. "That town was barely even a town when her family moved here. She's been here from the beginning."
Boulware, the eldest of six children, helped raise her siblings after their parents died young, Brown said. She was able to send three of them to college.
Not only did Boulware help herd and drive cattle – including one drive to Galveston with her father, when the two learned Boulware's mother had died, Brown said – she ran a dairy farm on her land and also became successful selling real estate.
"We spent our childhood with her taking us to horse shows all over the state," Brown said. "We lived a unique life in the summer. I lived with her until I was 5 and spent every summer and holiday with her.
"It was just a magical time."
But Boulware's real calling probably came in remembering and repeating the colorful history of the area and the people populating it.
"She was a masterful storyteller," said Sonya Clover, of Montgomery, herself an avid historian of the town and area. "One story would lead to another.
"She was a historical figure ... an historic character. She lived it."
Boulware's death is the "end of an era," said Monte West, owner of the Montgomery County News, for which Boulware wrote a column until about four to five years ago.
"A unique piece of Montgomery history just went away," West said. "She is the last of that great era of historians who loved the land. I recently called her up about a history question, and she knew all about it."
Even at 93, Boulware "still had it on the ball," West said. "A phenomenal resource is now gone."
Boulware didn't have a computer and wasn't technologically savvy, but she kept up on current events and was an avid reader of biographies, Brown said.
"She could tell a story like nobody's business," Brown said. "She could talk about dirt and make it interesting."
Boulware had two sons, four granddaughters, four great-granddaughters and two great-great-grandchildren, a boy and a girl, Brown said. Funeral arrangements had not been finalized Monday afternoon.
"She worked like a man, but she lived a simple, full life," Brown said about her grandmother. "She was a woman in a man's world, and she stepped up to the plate.
"She was unbelievable."
Nancy Flake can be reached at nflake@hcnonline.com.