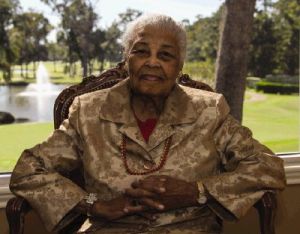 Lucille Bradley has lived in Conroe for more than 90 of her 99 years, taught Conroe ISD second-graders for 30 years and was born the same year President Woodrow Wilson was inaugurated. She will be 100 Nov. 16.

Bradley has served as an educator, church vocalist and musician, pastor's wife and a community leader.

She attended school in the 1920s and '30s at Conroe College, a private school for elementary to college level, where her foster father was a theologian.

"I grew up on the Conroe College campus," said Bradley, who started staying in the dormitory about age 12. "It was a big school back then. They had a dormitory for boys and a dormitory for girls.

"It was a school for blacks."

She was raised by Conroe College President Dr. William A. Johnson and wife Cora after both of her parents passed away.

There, she met her husband, the late Rev. Arthur Bradley, who came to the school to study theology.

She got married in her 20s and was married for 39 years.

The couple didn't have children of their own but raised her nephew like a son.

Students who attended second grade at Armstrong Elementary or Booker T. Washington School before integration in the 1960s may remember her.

"God has blessed her with good health, a good mind and wisdom," Leatha Moore, her niece, said. "We want to show our love to her by honoring her at a celebration."

Bradley said she starts every day about 9 a.m. and reads her Bible. She attends church every Sunday and enjoys being around people.

"I do my devotions every morning," Bradley said.

She finishes her time with the Lord just about the time that a hot breakfast is served to her by a former student.

Henry Calyen, now retired from the U.S. Postal Service, was in Bradley's second-grade class in 1957 at Washington School.

"She gave me inspiration to learn in class and was instrumental in planting a spiritual seed in my life," Calyen said. "She insisted that we learned all the songs about America: 'God Bless America,' 'America the Beautiful' and the 'National Anthem.'"

For the past six years, Calyen has taken a home-cooked, country breakfast to Bradley's house about five days each week.

"I really do it to give back," he said. "I asked her what she liked for breakfast and it started from there."

Beulah White has known Bradley for more than 60 years.

"She was my son's second-grade teacher and he's 56 now," White said.

These days, White takes Bradley to her doctor's appointments and they go to lunch together.

"She's a person who tries to help everybody. I look at her like a second mother," White said. "She's a very special lady to a lot of people in Conroe, one that is to admire."

Most everyone agrees that Bradley is known for always being nicely dressed.

Her pastor, Pete Rucker, of First Missionary Baptist Church, said she's always been one of the best-dressed ladies in town and she is a blessing to the church and to the community.

"She became a Christian at age 12 and has been walking with the Lord for 88 years," Rucker said. "It's very unusual to see someone walk with the Lord that long."

Friends and family who want to help Bradley celebrate her birthday can still purchase a banquet ticket until the day of the celebration.

"We are excited about what God has done and how he has blessed Ms. Bradley with longevity," Moore said. "To live a century is a gift from God."

The three-day birthday celebration will begin with a Friends and Family Fellowship at 5 p.m. Nov. 15, at Washington Junior High, located at 501 MLK Drive in Conroe.

Bradley will ride in a limousine during the Car Parade at 3 p.m. Nov. 16, beginning at 112 Belvedere St. She will caravan to River Plantation Country Club for the Celebration of Life banquet. Tickets are $30, and reservations are required.

At 10:30 a.m. Nov. 17, friends and family are invited to worship with Bradley at her church, First Missionary Baptist Church, located at 611 Ave. H, in Conroe.

To RSVP and purchase a banquet ticket, call 1-866-98PARTY or visit

www.socifellowship.com.