Some Files require
Adobe Reader

Calvary Cemetery
aka Lakeview or Plainview Cemetery
Abstracted Jan. 25, 2002
by Jane Keppler, Karen Lawless,
Darlene Lee and Bettye Pillbrow

Located north of Willis Texas on Calvary Road, approx. 3.5 miles west of IH45. The cemetery is on the right side of the road with the number 12896 on the fence by the gate. It is not easily visible from the road. It is listed as Lakeview or Plainview Cemetery in the Montgomery County Texas Cemeteries, Volume VI, page 6.

The cemetery is located within a fenced area with a gated entrance. The gate was locked at the time of the abstraction. We entered through a hole in the fence. It is overgrown, looking more like the surrounding woods that a cemetery. We were able to record grave marker inscriptions from 20 of the gravesites. There are many possible gravesites (sunken areas of the dimensions of a grave) as well as unmarked graves. It appears there is no established pattern for burials as graves are scattered throughout the area. The oldest burial was in 1883 and the most recent in 1999. There are Civil War veterans buried here as well the "Two Infant Babies of Mrs. and Mrs. W. A. Rigell". Two graves are located within wrought iron fences, one identified and one unknown.

Even though the day was beautiful (blue skies and chilly temps – meaning no snakes), there were four ladies in their glory rooting around a place that many other people might steer clear of, there was sadness, not because of being surrounded by death, but because here were people being forgotten. Their grave markers might be all that remain to tell the story of that person's sojourn on earth, or of parents' remembrances oat the passing of their daughter, Julia, "Our darling as sweet and fair as opening rosebud in the morning air". If we don't make a concerted effort to record these "lost" cemeteries, how many more lives will be forgotten and history lost.

Anyone knowing the history of this cemetery, please contact
Jane Keppler, Karen Lawless, Darlene Lee or Bettye Pillbrow.
Origin of Calvary Cemetery Property

From: Karen Lawless <klawss@mac.com>
Subject: Calvary Rd. Cem. property
To: relppek91@gmail.com, darmadlee@hotmail.com
Cc: "Anna Shepeard" <Marbil7164@aol.com>
Date: Thursday, January 22, 2009, 10:29 AM
From: Vol. 9:428-429, Montgomery County, TX Deed Records.

J. S. Collard to Trustees of Methodist-Episcopal Church South, 22 Jul 1878.


1 acre, Wm. R. Martin Survey (This is adjoining southwest corner of Joseph Lindley Survey and would appear to be the location of the Calvary Rd. Cemetery).

Beg. at SE corner near SW corner of Joseph Lindley League.

N15E 75 vrs. with West line of Lindley's survey.

N75W 75 vrs.

S15W 75 vrs.

S75E 75 vrs. to beginning.

Said premises to be used for a Church and School purposes provided that the house, now building, on said lot, a parcel of land, shall be free for every orthodox Minister of the Gospel to preach in and further provided that said house shall or may be used 5 days in each week for a Public School, and the said Trustees are to have and hold the property for the uses aforesaid free from all claim of myself or my heirs, executors, ...
Trustees:
W. F. Wood
J. D. Baker
J. A. Robinson
J. Sanders
Some Graves in Calvary Cemetery

FHM = Funeral Home Marker
Name

DOB

DOD

Notes

CRADDOCK, MRS. JOSEPHINE

9/20/1939

12/20/1999

age 60 FHM Collins & Johnson Contact Angela Solomon

CRADDOCK, TERESA ANN

10/18/1973

12/28/1973

FHM Huntsville - contact Angela Solomon

FERGUSON, MATTIE OLIVER

3/28/1845

6/2/1921

wife of J. L. Ferguson

FERGUSON, JOHN L.

-

-

CO.G 20 TX Inf CSA

FERGUSON, JOHN

1884

1929

-

MARTIN, SALLIE A.

2/14/1847

1/15/1886

wife of J. F. Hooks (next to this grave, unreadable marker with footstone marked, A.C.A. Inscription above name). Great grand mother of my husband. Contact Barbara Samuels

MYERS, HENRY

-

-

CO.B 6 Miss Inf CSA

RayChancellor@aol.com
great grandson

MYERS, LENA

12/13/1891

2/28/1918

MYERS was above Lena on stone.

KING, KATE

11/10/1880

1893

beside Lena Myers

MYERS, MATTIE J.

5/12/1846

12/14/1886

At Rest (MYERS above Mattie)

RAWLS SARAH Alice

5/20/1886

12/14/1886

memory of Sarah A. Rawls Asleep in Jesus blessed (unreadable) note: Inside wrought iron area Footstone –S.A.R.

RIGELL, LILLIAN V.

6/1901

12/17/1968

Gone But Not Forgotten contact Angela Solomon

Two infant babies of
Mr. & Mrs. W. A. Rigell

-

-

Contact Angela Solomon

RIGELL, JESSE RAY

5/10/1903

7/18/1984

Contact Angela Solomon

TADLOCK, ANNIE LEE

3/18/1883

5/27/1883

Contact Angela Solomon

TADLOCK, J. P.

7/13/1847

3/7/1915

Rebecca J. Tadlock, his wife on same stone. Gone Home after her dates. Also, footstones, R. J. T. & J. P. T.

Contact Angela Solomon

TADLOCK, REBECCA J.

11/9/1852

10/13/1914

Wife of J. P. Tadlock
Contact Angela Solomon

TADLOCK, JULIA DEAN

7/27/1885

11/16/1905

Julia our darling as sweet and fair As opening rosebud in morning air. Round her pure urn let darkest cypress(?) Youth could not save her from an earthly (/)
Contact Angela Solomon

TADLOCK VERA GERTRUDE

6/20/1908

8/29/1909

daughter of J. B & F. C Tadlock

WOOD, WILLIAM FRANK

1817

1889

Jeffrey Watson ggggrandson

Many unknown and unmarked as well as another area enclosed by a wrought iron fence.

Ones listed below were in book we probably were not able to read the stones

BENNETT, WILLIE

11/22/1868

12/171884

BAKER, ZONA LOUISE

-

06/14/1968

age 71 yrs 9 mo Metcalf Funeral Home

MELTON, MINNIE MAUD

03/18/1895

12/31/1895

daughter of W. M. & S. J. Melton

ANDERSON, CARRIE WOOD

-

-

Concrete marker/wooden post at foot

MARLIN, SALLIE

02/14/1847

01/15/1886

KING, BETTIE

05/26/1887

died young

CRADDOCK, MAXINE

09/30/1915

06/26/1970

Huntsville Funeral Home

KING, EFFIE

10/02/1882

died young
Additional Information added by Tanya on May 2007
JOHN L. FERGUSON 1884 1-15-1886
20 TEXAS INFANTRY CSA CO G
MATTIE OLIVER FERGUSON 3-28-1845 6-2-1925
WIFE OF JOHN L. FERGUSON
JOSEPHINE CRADDOCK 9-30-1939 12-20-1999
WILLIE LEE CRADDOCK 6-19-1924 9-14-2002
TERESA CRADDOCK 10-18-1973 12-28-1973
JOHN WALTER RIVES 10-04-1917 4-8-1994

ALSO AS YOU WALK INTO THE GATE GO ABOUT 1/2 WAY THRU
AND TO YOUR RIGHT JUST A BIT S ANOTHER STONE WITH:
EMERY L. BUCKHOLT FERGUSON AND BABY GIRL
WIFE OF JOHN FERGUSON
MR. AND MRS J M TADLOCK
BABY BOY
BORN 1-20-1920
THAT IS ALL IT SAYS. THEY MUST HAVE DIED THE SAME DAY OR STILLBORN
ONE OF THESE WAS MINNIE MAUD MELTON - I FOUND HER STONE AND A FENCED IN AREA THAT THE SCOUTS ARE GOING TO REPAIR
Below are the photos taken by Tanya on the
May 5th Cleanup Day she organized: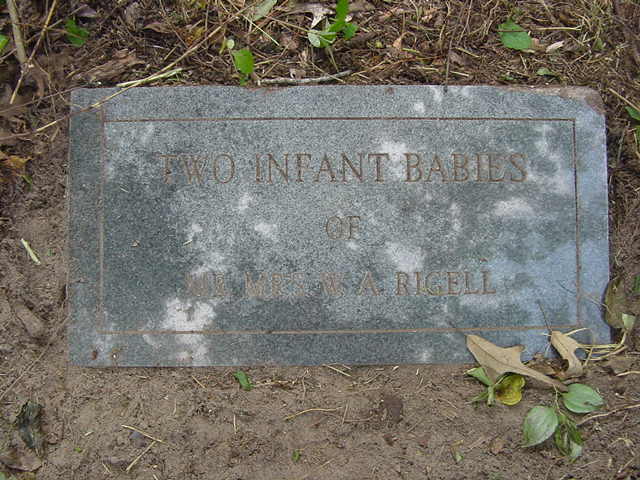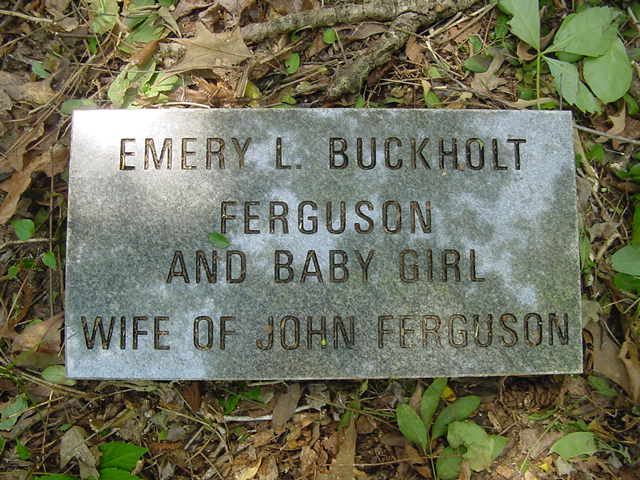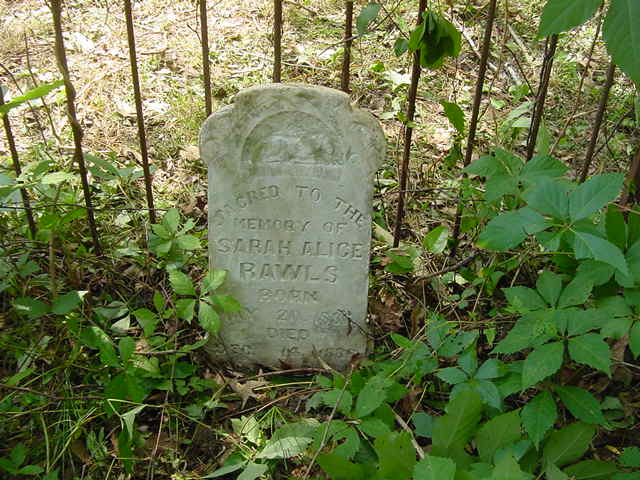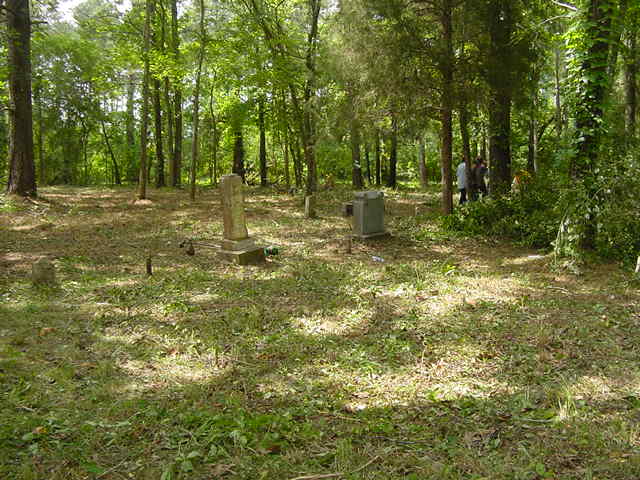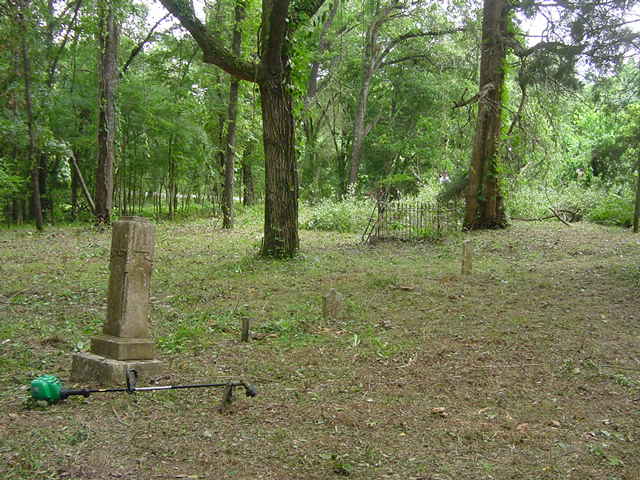 | Home | Top of Page | Montgomery County Texas Cemeteries |
| East Texas Cemeteries |