Cude Cemetery Montgomery County Texas
From Conroe take I45 North to FM 830 and exit and turn left. Go to Cude Cemetery Road and turn left. In Twin Shores Addition. Key Map 126W.

Photos of Cude Cemetery
taken May 16, 2004 by Jane Keppler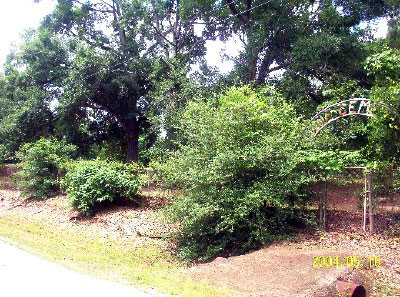 Cude Cemetery Entrance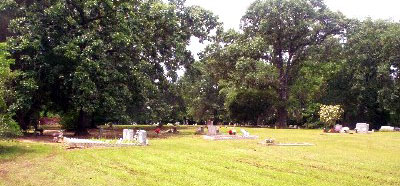 Cude Cemetery - Overview of Graves

This cemetery is listed in the Montgomery County Texas Cemeteries, Volume II . Please email for a lookup in the cemetery book Volume II.

Person authorized to make grave locations: Gary Calfee,
936-756-1516, Dick Calfee, 936-756-1235, Ed Parsley
936-856-2009, Tink Calfee, 936-756-5678, and Harry Calfee 936-756-1029.

Transcription of Cude Cemetery
by Kelly Berry

Check out William T. Beauregard's transcription for Cude Cemetery.

Cude Cemetery Lookup

Cheri Hargrave Chambers has volunteered to do lookups. She says she is related to most everyone there, and just lives a couple miles from the cemetery. Below is her work and comments.

William A. Cheatham
b.27 Dec 1837 d.4 Jan 1900 -
Unmarked grave (my great great grandfather)
Sara (Walker) Cheatham
b. 1849 d. 1905
Unmarked grave (my great great grandmother)
Louvinda (Cheatham) Golding Fooshe
Unmarked grave (mother of J. M. Golding)
George Washington Fooshe
Unmarked grave (2nd husband of Louvinda Cheatham)
Mattie Ferguson Sunday
Unmarked grave
Liddie Musgrove Sunday
Unmarked grave (wife # 3 of Jesse R. Sunday)
Jesse R. Sunday
Unmarked grave (brother of Nancy D. Sunday Golding)

Dannie Fooshe Golding
Unmarked grave (wife #2 of Jesse R. Sunday)
Edward Layfette Cheatham
b. 31 Jan 1890 d. 28 Dec1980 (my great grandfather,
son of William A. Cheatham and Sara Walker)
Claudia Mae (Besser) Cheatham
b.28 Jan 1900 d.15 May 1991 (my great grandmother, Edward Cheatham's wife)
Thomas Reid Hargrave
b. 9 Jan 1948 d. 3 Sep 1996 (my uncle, Edward's grandson)
Gertrude (Cheatham) Strebeck
b. 19 May 1918 d. 28 Oct 1979 (Edward's daughter)
Lonnie Strebeck (Gertrude's husband)
J. M. Golding
b. 6 Aug 1846 d. 18 May 1920 "Beloved One Farewell"
Nancy D. Golding
b. 1 Mar 1854 d. 13 Dec 1937
"Mother We Will Meet You In Heaven"
Emily E. Golding (& Infant)
b. 20 Feb 1854 d. 27 Oct 1878 (1st wife of J.M. Golding)
Albert Otis Sunday
b. 27 Feb 1902 d. 29 Oct 1962 (son of Jesse R. Sunday)
James Cleveland Sunday
b. 6 May 1893 d. 16 Mar 1950 (son of Jesse R. Sunday)
Alice Runnels
b. 5 Jul 1890 d. 30 Aug 1917 (daughter of J. M. Golding)
John E. Crooke
b. 17 Apr 1918 d. 4 Jul 1918 (son of Lela Bell Golding Crooke)
David T. Cheatham
b.1881 d.1957 (husband of Mary E. Golding)
Mary E. (Golding) Cheatham
b.1884 d. 1918 (wife of David Cheatham,
daughter of J. M. Golding)
Mattie E.(Golding) Parsley
b.1882 d. 1925 (wife of James Parsley,
daughter of J. M. Golding)
James M. Parsley
b. 1871 d. 1948 (husband of Mattie E. Golding)
Thomas J. Golding
b. 4 Feb 1894 d. 28 Nov 1933 (son of J.M. Golding)
Joseph W. Golding, Sr.
b.7 Sep 1880 d. 11 Jun 1945 (son of J. M. Golding)
Annie L. Golding
b. 18 Dec 1886 d. 24 Feb 1974 (wife of Joseph W.)
Submitted by Vickie Lawson Ward

My Grandfather was Joseph Worley Parsley and my Grandmother was Ruby Pearl Hill Parsley, all buried at Cude along with my Great-grandparents, Joseph P Parsley and Derinda Parliee Ship Parsley. My parents, Lamar L Lawson & Margie L Parsley Lawson are also buried at Cude.

My Great-grandfather Abner (A B) Hill & Grandmother Susan Fannie Hill are buried at Copeland Chapel.
Vickie Lawson Ward
936-594-9921
webekickers@aol.com
Trinity, Texas