Dry Creek Cemetery Montgomery County Texas
aka Crater Lake Cemetery
From the intersection of SH 105 and FM 3083, the cemetery is 4.9 miles south just pass Oyster Creek.
GPS 30° 16'.499" N 95° 21'.323" W
The person authorized to make grave locations is Mrs. Woodard at Grangerland Post Office 936-231-3441.

Dry Creek Cemetery is listed in the Montgomery County Texas Cemetery book, Volume I. Please email for a lookup.

Click for Dry Creek Obituaries

Check out
William T. Beauregard's Transcription
of Dry Creek Cemetery

Unmarked Graves Submitted
by Sue Mullins

JOHN NEALE
Great grandfather JOHN NEALE
Died in the year 1925. Ho/ R. Belle Hitchcock Neale.
R BELLE HITCHCOCK NEALE
Great grandmother
R BELLE HITCHCOCK NEALE
Unknown death date. (After 1900) Wo/John Neale.
RICHARD REAL
Great grandfather
RICHARD REAL. Unknown death date. (After 1900) Ho/ Lucretia Lewis Real.
LUCRETIA LEWIS REAL
Great grandmother
LUCRETIA LEWIS REAL.
Unknown death date. (After 1900) Wo/ Richard Real.
Notes from Betty
My father (Lang/Turner), grandparents (Lang/Smith) and great grandfather (Lang) are buried at Dry Creek Cemetery.

More Information on Koonce &
Dry Creek Cemeteries
from Vera Johnson
on August 3, 2008

Thank you so much for the transcription and pictures of the (Koonce) cemetery. I have some information on two of the people buried in Koonce cemetery:

Susan WIGGINS:
Susan A. (CARTER) WIGGINS was born in GA. She was the 1st wife of Uriah Jasper WIGGINS and they were married March 21, 1867 in Catahoula Parish, LA.

Wife of T.M. WIGGINS:
Mary Columbia "Lumbie" (MUSGROVE) WIGGINS, daughter of John Smith and Louisia J. (SIMMONS) MUSGROVE, was the 1st wife of Thomas Marion WIGGINS. Thomas and his 2nd wife –Margaret "Maggie" Ann (MEEKS) WIGGINS are buried in Dry Creek Cemetery near Grangerland just off FM 3083.

Thomas Marion "Tom" was the younger brother of Uriah Jasper so Susan and Mary Columbia were sisters-in-law.

My gg grandfather was William Grant Wiggins – buried in Dry Creek Cemetery – and he, Uriah Jasper and Thomas Marion were brothers, so I'm somewhat familiar with the Wiggins genealogy.
If further info is needed please contact me.
Vera Johnson
Photos of Dry Creek Cemetery
by Teresa Kelley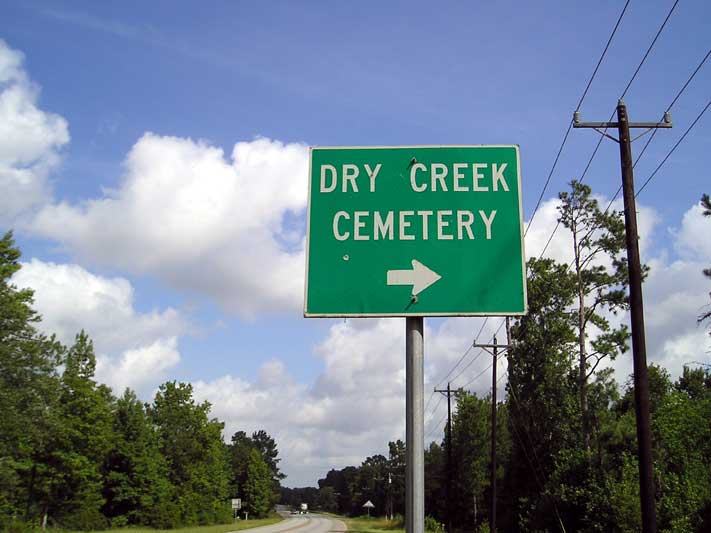 Dry Creek Cemetery Sign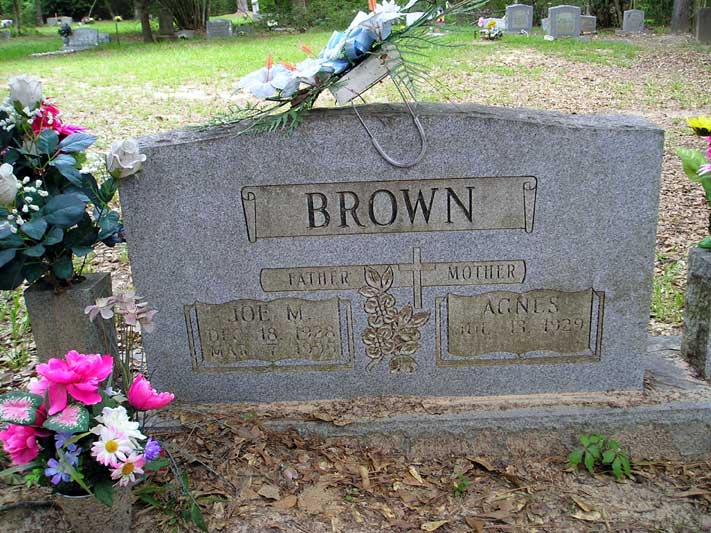 Father4
Joe M Brown
Dec 18, 1928
Mar 7, 1995
Mother
Agnes Brown
Aug 13, 1929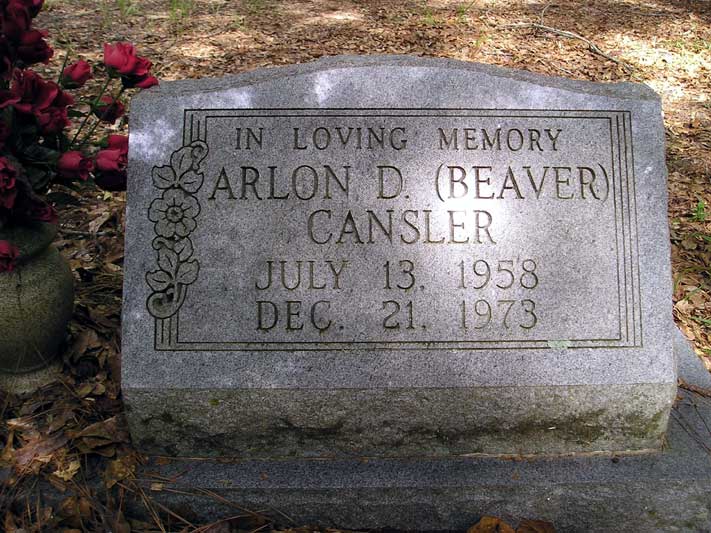 In Loving Memory
Arlon D (Beaver) Cansler
July 13, 1958
Dec 21, 1973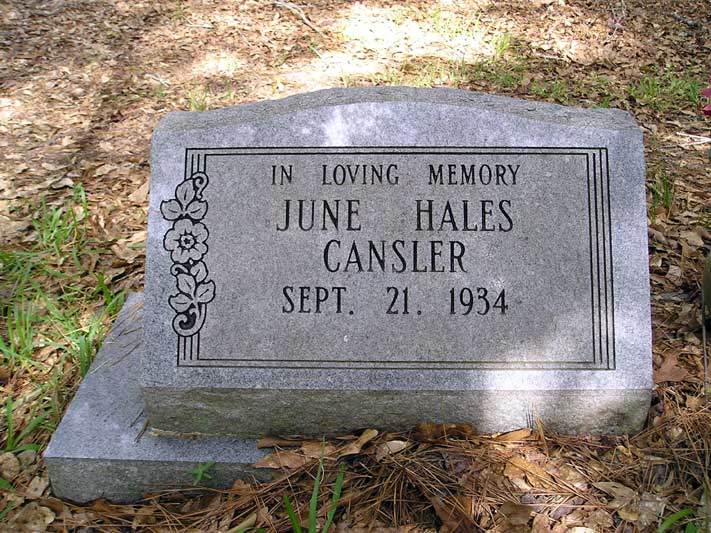 In Loving Memory
June Hales Cansler
Sept 21, 1934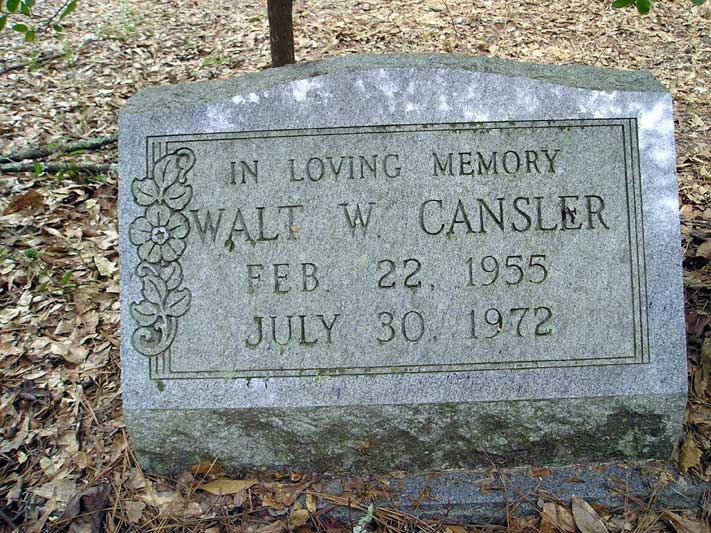 In Loving Memory
Walt W Cansler
Feb 22, 1955
July 30, 1972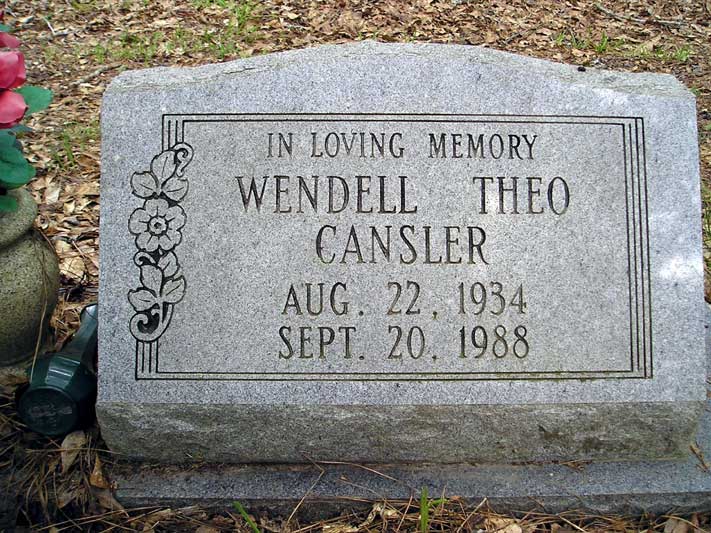 In Loving Memory
Wendell Theo Cansler
Aug 22, 1934
Sept 20, 1988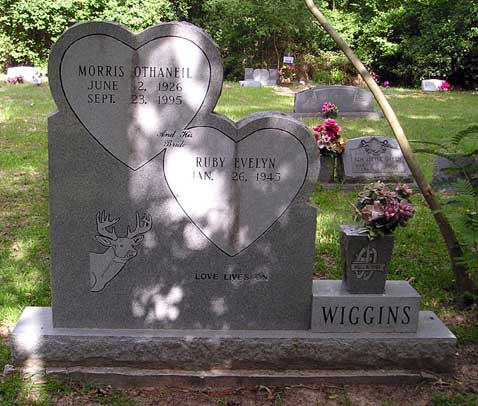 Morris Othaneil Wiggins
June 2, 1926
Sept 23, 1995
and his Bride
married Aug 8, 1961

Ruby Evelyn Wiggins
Jan 26, 1945