The Courier
June 9, 2011

The new flag raised recently at the home of the Lone Star Honor Flight group was donated by the family of a World War II veteran and is dedicated to his military service.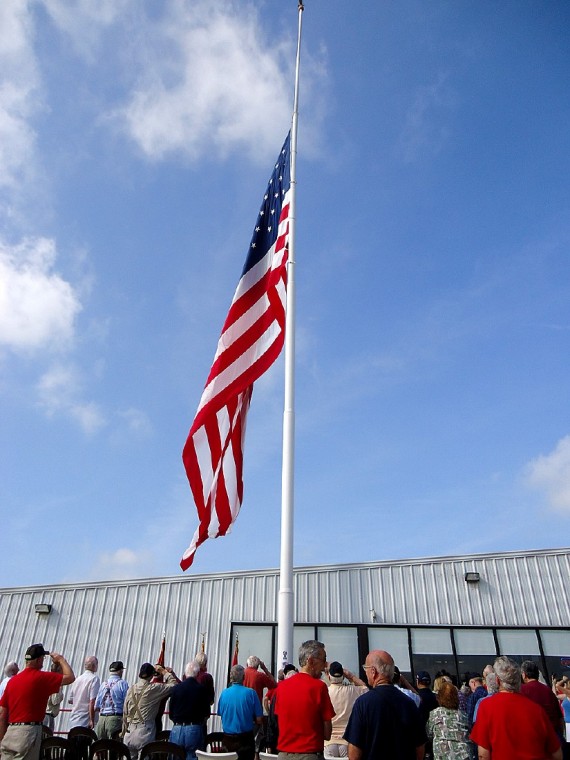 The 30-foot-by-60-foot flag displayed on Texas 105 between Conroe and Montgomery was purchased by Howard and Helen Frank, of Conroe, to honor the service of Howard's uncle Ernest Hildebrandt, who lives in New Waverly.
"Like a lot of men who came back at the end of the war, Ernest didn't receive a whole lot of recognition," Howard Frank said of his uncle. "I've heard about what Lone Star has done to recognize World War II veterans and thought this would be a fitting tribute."
Hildebrandt, 86, enlisted in the Army Air Force in November 1943. He was trained as a Morse code operator and after a stint as an infantryman served in the U.S. Army radio and signal corps.
Hildebrandt was aboard one of the troop ships in Tokyo Bay on Sept. 2, 1945, when Japanese officials formally surrendered during ceremonies aboard the USS Missouri. He was discharged Feb. 21, 1946.
Frank had praise for Jack McClanahan for organizing a formal ceremony dedicating the flag in Hildebrandt's honor – including a color guard and a vocalist to sing the national anthem. He donated approximately $1,500 to purchase the new flag.
"He was completely blown away and surprised by the dedication ceremony," Frank said. "He had no idea what was going to happen."
Joining the more than 100 regular participants at the weekly event for World War II and other veterans were nearly 20 members of Hildebrandt's extended family.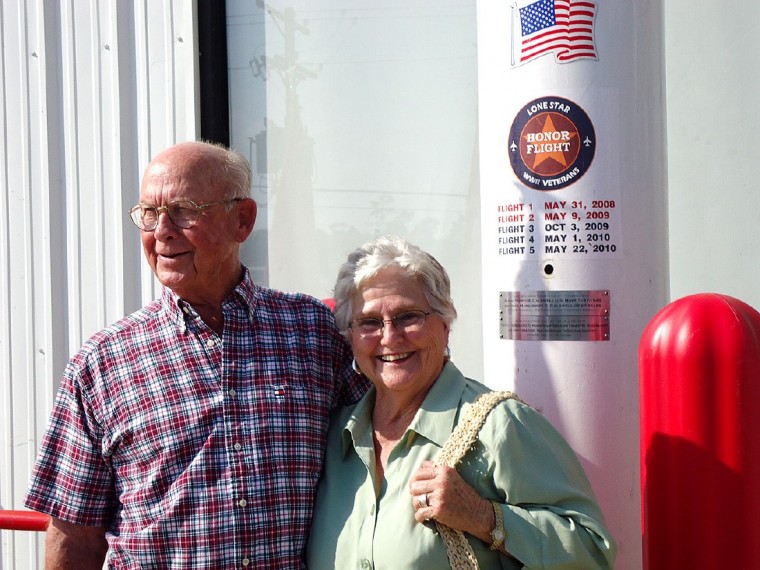 Frank Hildebrandt and his wife Anna
"It was a pretty special event for him," Frank said.
Prior to the ceremony, Hildebrandt had not been a regular participant in LSHF activities. He did not accompany any of the five flights transporting area veterans to Washington, D.C., to see military memorials and monuments built in their honor.
"He had a bad knee and was concerned he might slow the group up," Frank said. "I think he would go now if they were still doing the trips."
Frank has accompanied Hildebrandt to LSHF's weekly gatherings and said he has enjoyed the camaraderie of spending time with other World War II veterans.
"This has been a rewarding experience for my uncle and the whole family," Frank said. "If you have relatives who served in World War II, this is something they will really enjoy."
For more information about Lone Star Honor Flight, visit www.lonestarhonorflight.com.