Some Files require
Adobe Reader

Striking It Rich:
The Pelham Humphries Story
by James W. Petty
AG, CGRS, BA
(Genealogy)
A Case Study in Genealogy Fraud
The following case study in genealogy fraud involves a land grant in Jefferson County Texas for Pelham Humphries...the same land where oil was found in 1901 at Spindletop. The land grant and the GIS Map are the only documentation of Pelham Humphries existence.
The Pelham Humphries story originally appeared in Heritage Quest Magazine, Volume 18, No. 4, Issue 100, Jul/Aug 2002 and was used with permission from James Petty who currently operates Heirlines Family History & Genealogy in Salt Lake City, UT. The photos and artwork in the article were used with permission from Leland Meitzler (the former editor of Heritage Quest Magazine) and current editor of Family Roots Publishing Company located in Bountiful, Utah.
Striking It Rich:
The Pelham Humphries Story
a case study in genealogy fraud
Here is a GIS map from the Texas Government Land Office of the original land grant given to Pelham Humphries: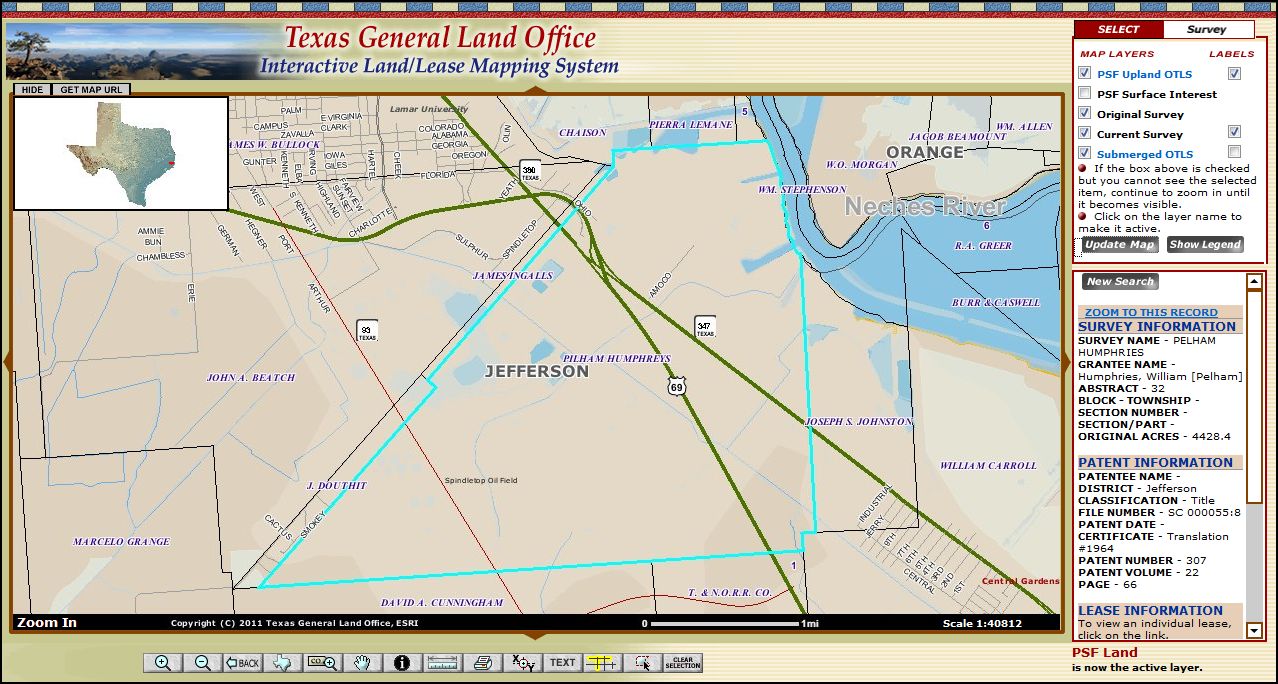 The following is the information found on the Texas Government Land Office page for Pelham aka William Humphries. I have included the PDF files found on the GLO here for your convenience.

County:

Jefferson

Abstract Number:

32

District/Class:

Title

File Number:

SC 000055:8
English Field Notes
JAV-33

Original Grantee:

Humphries, William [Pelham]

Patentee:

Title Date:

14 Feb 1835

Patent Date:

Patent No:

307

Patent Vol:

22

Certificate:

Translation #1964

Part Section:

Survey/Blk/Tsp:

Acres:

4428.4

Adj Acres:

Remarks:

Marsh on the west bank of the Neches; joins Veatch. See 393 Federal Reporter, 2nd Series, (1968), pp. 67-75. Also Civil Action B-89-00423-CA in the U.S. District Court for the Eastern District of Texas, Beaumont Division.
| Home | |Top of Page |