Montgomery County Historical Commission Youth Advisory Board member, Ross Ohendalski and fellow Youth Advisory Board (YAB) member Robert Lynch (both seniors at Covenant Christian School), worked hard on Saturday to clean the Carroll cemetery, located adjacent to the historic Richard Williams cemetery east of Willis.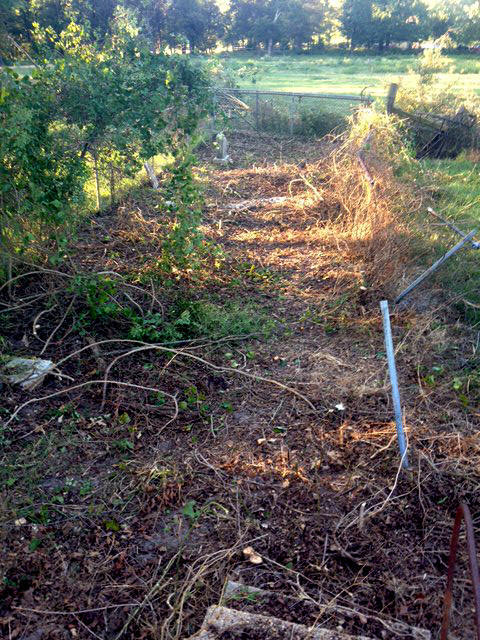 This small Carroll family cemetery has tombstones going back to the 1880's but has been overgrown with dense underbrush and small trees for many years. As part of his Eagle boy scout project, Ross has planned and organized the restoration of the Richard Williams cemetery and tombstones.

Over the next few weekends, Ross will be heading up the project of laying a crushed stone path to and round the Richard Williams family tombstones, cleaning them and preserving them. I understand Covenant Christian high school students have been invited to help. Also members of the Historical Commission's Youth Advisory Board are invited to assist.

For more information on the project, you are invited to contact Ross Ohendalski at 936-697-4783 or rossoccs@yahoo.com.
Update on Eagle Scout Cleanup Project of historic Richard Williams Family Cemetery
Larry Foerster, Chairman
Montgomery County Historical Commission
September 20, 2015
Montgomery County Historical Commission's Youth Advisory Board (YAB) member Ross Ohendalski is making great strides with his Eagle Scout Project–the cleanup of the historic Richard Williams Cemetery east of Willis.

With the help of fellow YAB members Robert Lynch and John Taylor, also seniors at Covenant Christian High School, Ross has installed a granite protective base path around the line of historic family cemetery headstones and cleaned the headstones with a D2 stone cleaner. Ross reports that they will return to complete the cleaning of the headstones and other work to finish his Eagle Scout project.

By way of comparison, I thought you would like to see the Richard Williams headstone BEFORE and AFTER cleaning with the D2 cleaner designed for gentle removal of weather buildup and moss on old headstones.

Richard Williams fought in the Texas Revolution in 1834-1835, served as a captain in The Somerville Expedition to repel a invading Mexican army in 1842, and served as a Montgomery County Commissioner about 1849. He was also one of the signers of a petition in 1837 to create Montgomery County.

Ross appreciates the financial support of the Chaparral Genealogical Society in Magnolia, Richard Molk, and the Montgomery County Historical Commission.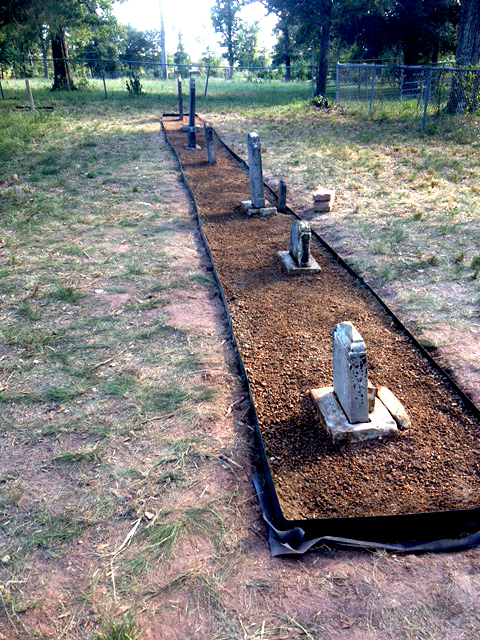 Richard Williams Cemetery after Cleanup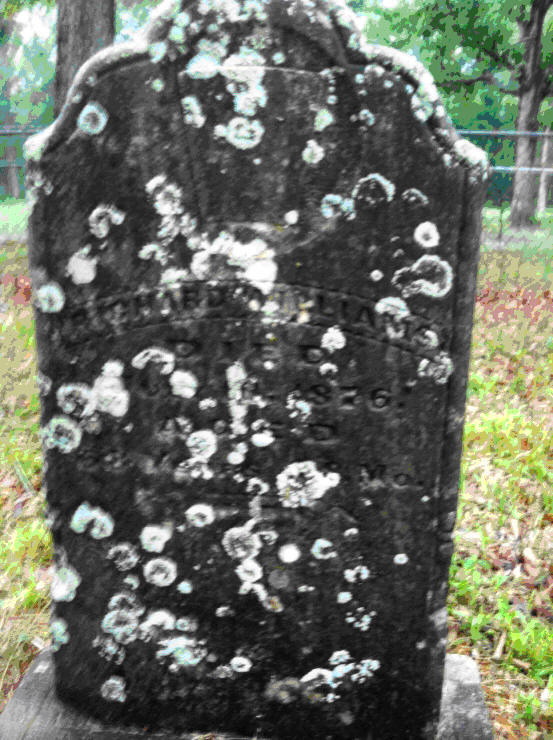 Richard Williams Tombstone before cleaning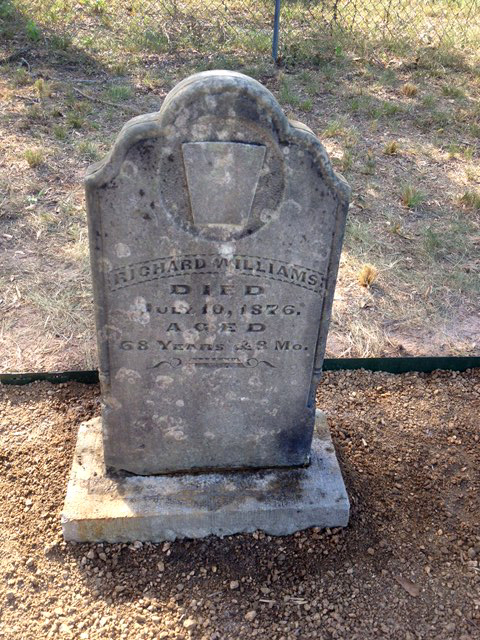 Richard Williams Tombstone after cleaning with D2 Cleaner
fffff
Photos of Richard Williams and Carroll Cemetery Restoration for Montgomery County Historical Commission by Ross Ohendlaski for his
Eagle Project October 2015
fffff
Short Biography of Richard Williams
by Larry L. Foerster, Chairman
Montgomery County Historical Commission
April 22, 2012
Richard Williams was born in February 1808 in Milledgeville, Baldwin County, Georgia to the marriage of James Edward Williams and Nancy Hill. Williams arrived in Texas in 1834 as a single man from Georgia to presumably find his fortune in this new land. His life symbolizes the unsung volunteer Texian soldier who helped Texas win its independence.
It appears that after Richard Williams arrived in Texas in 1834 at the age of 26, he fought in several battles of the Texas Revolution, including the "Bexar campaign" in 1835 at the battle known as the "Grass Fight" where he was severely wounded by a canister shot while serving in Captain John M. Bradley's company. The shot struck a pistol at his side (thus his life was saved.) He remained nearby until the city of San Antonio was taken. His next term of service was in the mop-up campaign subsequent to the Battle of San Jacinto (April 21, 1836), after his marriage to Mary Miller in January 1836.
Richard Williams married Mary Miller on January 26, 1836 in Washington County (now Montgomery County), Texas. Mary Miller was the 3rd daughter of James Miller (who was born in Tennessee in 1792 and died in Texas in 1830) and Ruth ("Ruthie") Shannon, daughter of early Montgomery County settlers Owen Shannon and wife Margaret A. Montgomery Shannon, who lived northwest of what today is known as Dobbin.
It is reported that the Republic of Texas gave Richard Williams a large tract of land for his service in the War, and he and his wife Mary settled in the Washington Municipality east of what would become the Danville community. He also reportedly received land in Travis County. (Today this land is in northern Montgomery County along the Walker county line.) He built a cabin near the present site of the family cemetery on a hill in a grove of cedars overlooking Peach Tree Creek, and he operated at various times a farm, a sawmill, gristmill, and cotton gin.
It appears that Richard Williams and his wife had settled on his land by late 1837, since he was one of several citizen land owners in what was then Washington Municipality in October 1837 to petition the Republic of Texas for a new county with the Brazos River as the dividing line. The Act creating Montgomery County was passed on December 14, 1837.
The Tax Rolls of Montgomery County in 1838 (as compiled by Mary Peoples) shows that in June 1838 Richard Williams was listed as a property owner, but the rolls do not identify how many acres he owned.
Richard Williams and Mary Miller Williams reportedly had 13 children, only two of whom are known to be buried at the Richard Williams Cemetery: Leila Jacinto Williams (2nd child) died at age 3 on March 8, 1842, and Sam Houston Williams (3rd child) died reportedly in 1852. [NOTE: The Texas Historical Marker at the Cemetery identifies the Williams' as having only 10 children, that Leila Jacinto Williams was the 3rd child, and that Sam Houston Williams died in 1852.]
In October 1842, soon after the death of his young daughter Leila Jacinto Williams in August, then Captain Richard Williams lead a Montgomery County volunteer militia for the Somervell Expedition, organized by Alexander Somervell to invade Mexico at President Sam Houston's order. Along the way Williams became severely ill and left the force before it reached Mexico, thereby avoiding the fate of many of the men in the Expedition who were later captured and killed by the Mexican army as part of the ill-fated Mier Expedition. (One of the volunteers under Capt. Williams was William Henry Hulon, husband of Phoebe Reese Spillers, daughter of John and Frances Conger Spillers. Hulon was a farmer who raised his family of 7 children near the Danville community and later at age 46 joined the Confederate Danville Mounted Riflemen in May 1861.)
According to the Montgomery County Commissioners' Court Minutes in January 1845, the Court appointed Richard Williams, along with John Park, Jonathan H. Ridgeway, A H White, and Joseph Lindley, to mark and lay out a road commencing near Joseph Lindley's property, "running to Burches ferry on San Jacinto and make report of their actings and doings at the next term of this Court."
Montgomery County Commissioners Court Minute Book records that Richard Williams was serving as Montgomery County Commissioner by 1849. According to the October 15, 1850 Federal census for Montgomery County, Richard Williams at age 42 owned property valued at $5000 (a significant sum for that time), was married to Mary (age 32) and had 7 living children ages 13 to 2 years. (Leila Jacinto had died in 1842)
Stories from William's descendants, as reported in the Conroe Courier in February 27-28, 1972, describe an incident where he shot 3 Federal soldiers after the Civil War as they were traveling across his property. He claimed he mistook them for Indians. Legend has it that Williams buried the three soldiers under his cabin where their ghosts continued to haunt the place.
In the 1872 Texas Almanac, Richard Williams was reported by J. H. Shepherd (himself one of the Montgomery County veterans of the Texas Revolution) to be "about 60 years old…looks as young as twenty-five years ago;" and at times suffered from his wound at the Grass Fight in 1835.

Richard Williams died on October 10, 1876 at age 68, and was buried on his property in the one-half acre family burial site alongside at least two of his children: Leila Jacinto Williams and Sam Houston Williams. His wife Mary Miller Williams died on November 9, 1894 and is buried next to her husband. Part of the original Williams tract was purchased by Gene and Christina Molk in 1952 where they operated a family dairy farm for many years. The Williams burial site was largely neglected until about 1975 when the Montgomery County Historical Survey Committee fenced the site, and a Texas Historical Marker was placed at the cemetery.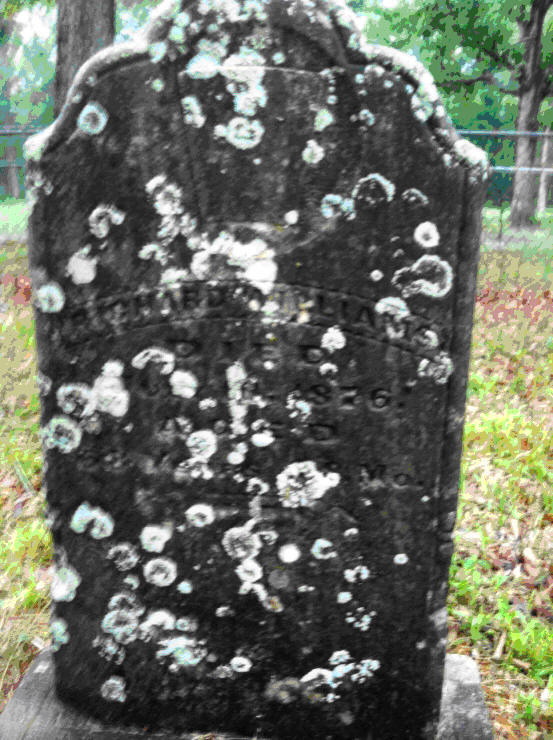 Richard Williams Tombstone
There are reportedly 70 unmarked graves in the unfenced area of the cemetery and there is a separate fenced but neglected area where members of the Carroll family are buried, with markers dating back to the 1880's. Gene and Christina Molk, along with their daughter, are also buried in a separate section of the burial site, about 30 feet away from the Williams family tombstones. (These tombstones are in relatively good condition but desperately need to be cleaned.)
It is believed (but not yet confirmed) that the 1842 tombstone of Richard Williams' three-year old daughter, Leila Jacinto Williams, is the oldest known legible tombstone in Montgomery County.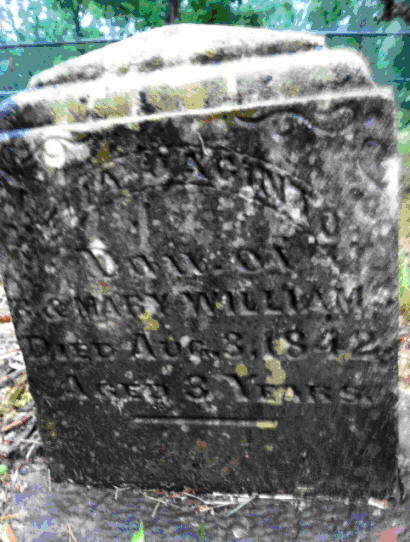 Leila Jacinto Williams Tombstone
The Richard Williams Cemetery is located about 6 miles east of Willis off of FM 1097 East on private property near the Montgomery-Walker county lines.