Sanders Cemetery
Montgomery County Texas
Sanders Cemetery is located one mile west of Magnolia, just off FM1774.
Sanders Cemetery Marker Dedication
December 2, 2017
Larry Foerster, Chairman of Montgomery County Historical Commission – We had a beautiful day for a marker dedication at the Sanders Cemetery north of Magnolia. Commissioner Riley spoke along with Sharon Russell, marker chair for our county historical commission. Some photos are attached.
Also attending were Constable David Hill and his deputies, Magnolia City Council member John Bramlett, members of the sponsoring Chaparral Genealogical Society, and family members of those buried in the cemetery.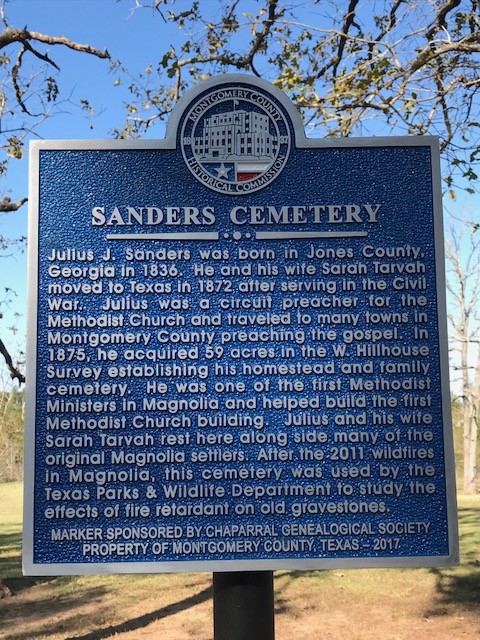 Sanders Historical Marker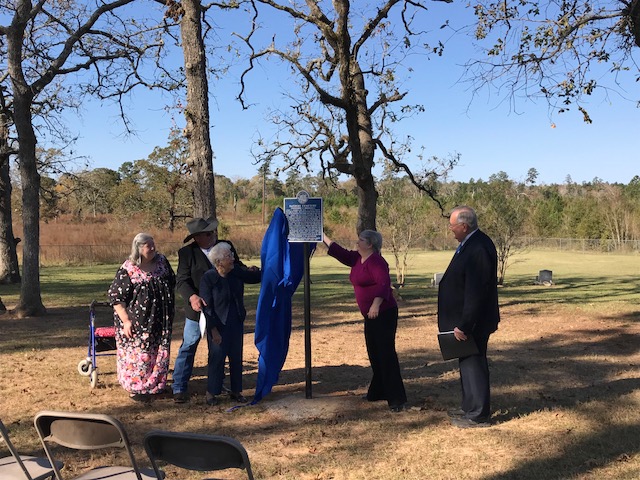 Celeste Graves Unveiling the Marker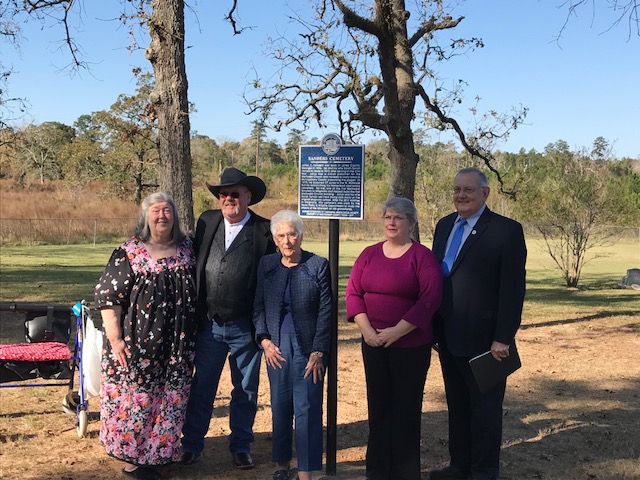 Some Attendees to the Dedication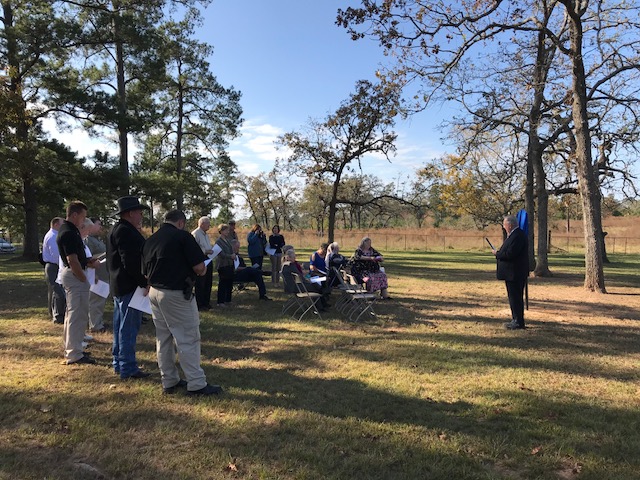 Larry Foerster speaking to the attendees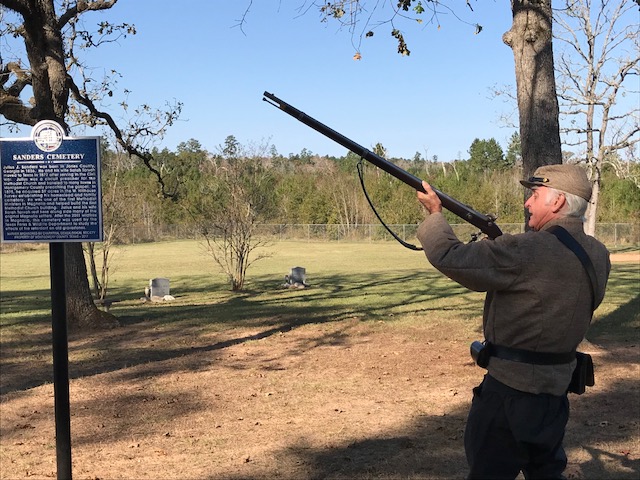 Saluting Honoring the Dedication of the Historical Marker
Transcription of Sanders Cemetery

Permission given by Celeste Graves to put on online May 14, 2003. Copied by Celeste Graves and Tarvah McGinty July 23, 1985 exactly as shown on tombstone.
NAME
DOB
DOD
NOTES
APPLEWHITE, Gerald
Oct 21, 1938
Aug 29, 1978
Double Marker
BENNETTE,
Mary
aged 88 years
-
She Hath Done What She Could
CHANDLER,
(W)hitman C.
Oct 11, 1887
Feb 18, 19(52)
TEXAS SFA 113 SPRUCE SQ.

WORLD WAR I

CHANDLER, Edwin Foster
Apr 8, 1889
Jan 16, 1971
Double Marker

Foot Marker = Texas CWT U.S. Navy WW I & II

CHANDLER, Virginia Mary
Nov 12, 1889
Feb 10, 1979
Double Marker
DUPREE,
Franklin G.
Mar 8, 1858
May 14, 1907
Here Lies A True and Loving Husband and a Good Father Woodmen of the Work Memorial
BENNETT,
Annie A.
Mar 26, 1917
Feb 16, 1955
Wife of G. M. She was the Sunshine of our Home
BAREFIELD,
A. D. "Doc"

1892
1926
-
VICKERS,
Annie

1892
1921
-
CHANDLER, Reubin

Apr 6, 1896
Aug 18 1910
-
CHANDLER,
Mary E.

Sept 19, 1856
Feb 10, 1936
Mother
CHANDLER,
John Geo.

-
1902
Father
DUPREE,
Clara L.

Aug 30, 1874
Aug 22, 1943
Mother
GAYLE,
Minnie ELVERTON

1884
1926
GALE,
James Camden

Oct 17, 1845
Dec 17, 1913
He is at Rest in Heaven
GRAVES,
James W. IV

Feb 19, 1973
Dec 31, 1974
-
LAWSON,
Willie G.

May 9, 1881
Oct 30, 1895
at rest
LAWSON,
Elmer

1899
1902
-
MINER, Lee
Sept 16, 1876
Jan 1, 1933
-
SANDERS, Claudia

age 10 years
-
SISTER Now I Lay Me Down to Sleep
SANDERS,
Willie May

Jun 20, 1881
Jan 17, 1963
-
SANDERS,
Terrell Weldon

Oct 13, 1911
Sep 18, 1973
Uncle Terrell
WILBURN,
Lelia YELVERTON
Jan 19, 1908
Jan 5, 1937
Another Link is Broken In Our Household Band But a Chain is Forming In a Better Land
YELVERTON, RUBY
Oct 19, 1893
Sept 18, 1900
Daughter of M/M H. C. Yelverton
HERREN,
DAVE
-
-
Father, no dates husband of Josie L. CHANDLER
LAWSON,
A. A.

1850
1925
OUR FATHER
LAWSON,
James H.

1882
1974
OUR DAD
MINER,
Edith

Oct 25, 1883
Dec 18, 1955
-
SANDERS,
Sarah T.
Apr 22, 1847
Jan 4, 1918
Mother
SANDERS, J. J.
Apr 2, 1836
Dec 12, 1927
MY DADDY He is Not Dead But Sleepeth
TRAYLOR,
Bertie

1886
1966
-
YELVERTON, Sallie

Jul 23 1863
Mar 12, 1959
MOTHER
YELVERTON, Henry C.

Oct 5, 1872
Oct 2, 1935
-
YELVERTON,
Lee Roy

Nov 18, 1898
Jun 22, 1951
-
YELVERTON, Fannie

-
-
-
YELVERTON, Kenneth

-
-
-
YELVERTON, Forest

1902
1979
-
YELVERTON, Elizabeth

-
-
-
YELVERTON, Violet

-
-
-
YELVERTON,
Cecil

-
-
-
YELVERTON,
K. C.
-
-
-