Some Files require
Adobe Reader

Zion Cemetery
Montgomery County Texas
aka Mt. Zion Cemetery
aka Golden Cemetery

From Conroe take IH45 south to Sawdust Road. Turn right and go about 1.06 miles. Turn right onto Harper. The cemetery is on right about one block. Key Map 251U.
Boy Scout to Transcribe & Photograph
Mt. Zion As Eagle Scout Project
Carson Stanley of Boy Scout Troop #428 in the Woodlands, Texas has chosen Mt. Zion Cemetery as his Eagle Scout Project. Here are photos of the Troop's Clean Up day on January 10, 2009 to clean up the debris after Hurricane Ike.

On February 8, Troop #428 transcribed over 120 headstones and photographed over 150 headstones. We're so proud of them. Here are some photos of the day.
Todd Beauregard's transcription
of Zion Cemetery

Photos by Teresa Kelley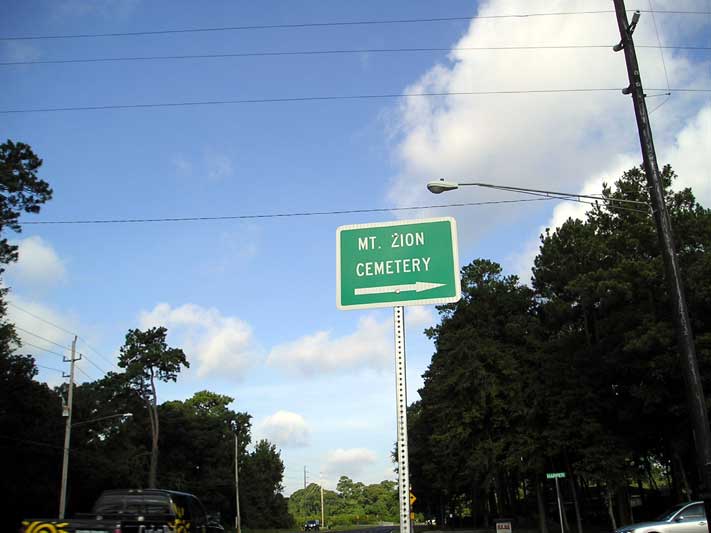 Mt. Zion Cemetery Sign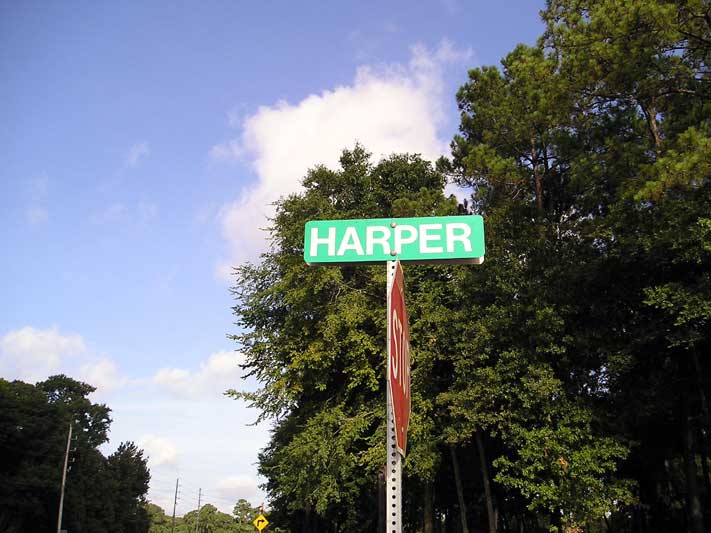 Zion Cemetery is located on Harper Lane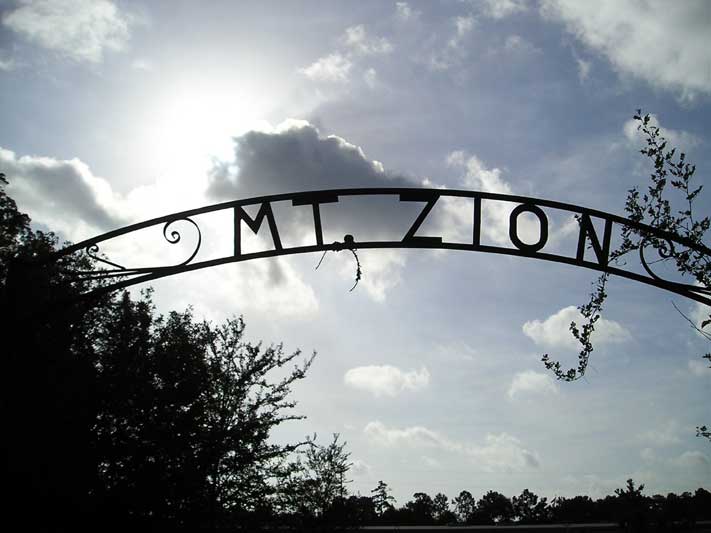 Entrance to Mt. Zion Cemetery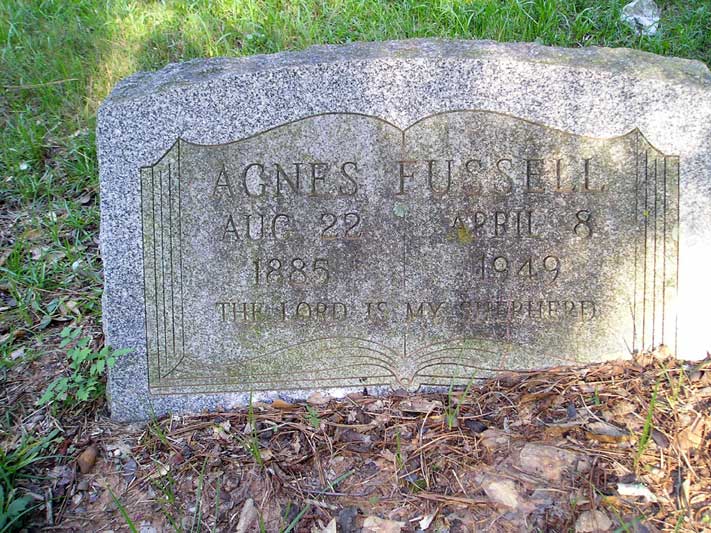 Agnes Fussell
b 22 Aug 22 1885 d 8 Apr 1949
The Lord is my shepherd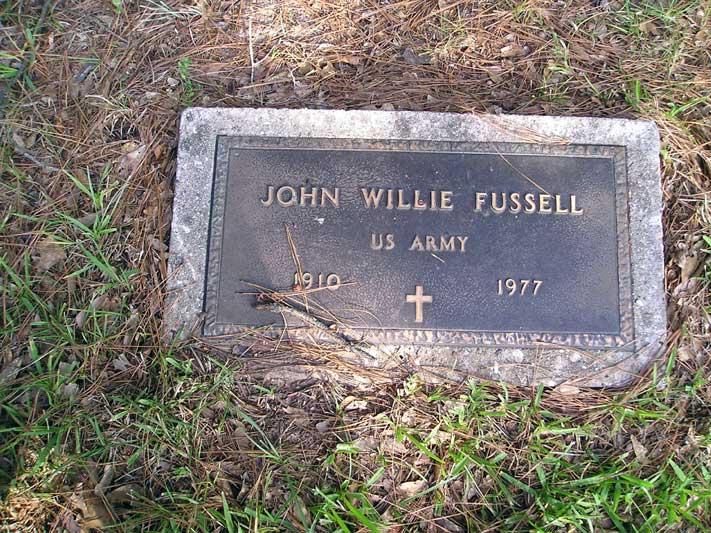 John Willie Fussell
US Army
1910 – 1977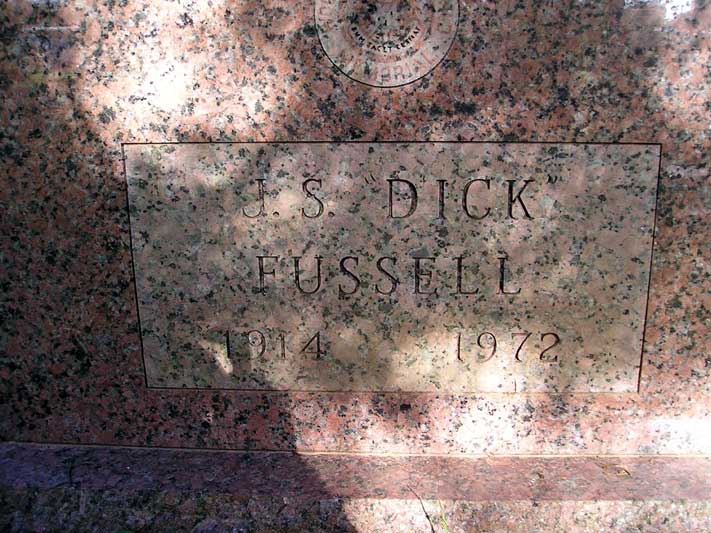 J S Dick Fussell
1914 – 1972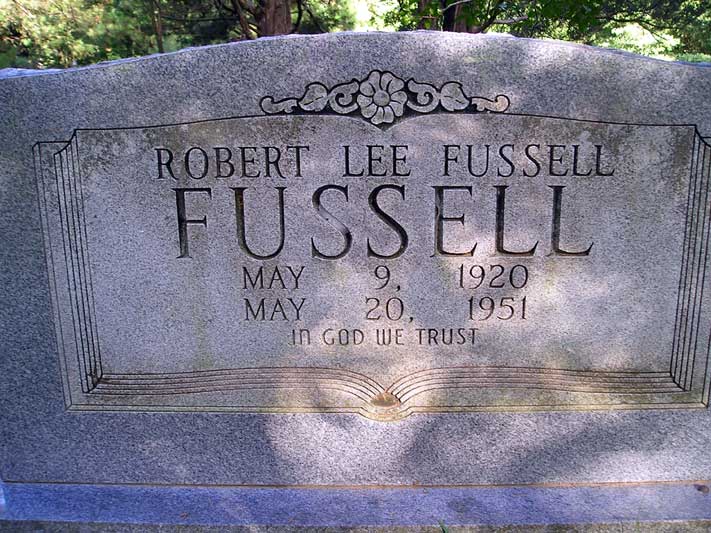 Robert Lee Fussell
b 9 May 1920 – 20 May 1951
In God We Trust
Mt. Zion is listed in the Montgomery County Texas Cemeteries book, Volume V.

Carson Stanley's Eagle Scout Project Transcription & Photos of Mt. Zion Cemetery

Transcription & Photos of Mt. Zion Cemetery, Montgomery County, Texas
aka Zion Cemetery or Golden Cemetery
by Carson Stanley for his Eagle Scout Project – May 2009
Boy Scout Troop 428, The Woodlands, Texas
*Additions by Jean Smoorenburg

HEADSTONES TRANSCRIBED AT MT. ZION CEMETERY, MONTGOMERY COUNTY, TEXAS


INDEX NUMBER
LAST NAME
GIVEN NAME
BORN
DIED
OTHER INSCRIPTIONS
NOTES

1

ALLEN
GRACE P
JULY 7, 1911
FEB. 9, 1977
IN MY FATHER'S HOUSE ARE MANY MANSIONS, I GO TO PREPARE A PLACE FOR YOU ST JOHN 14:2
Double Marker with Perry B Allen

1

ALLEN
PERRY B
APRIL 9, 1911
APRIL 19, 1979
HE FOUGHT THE BATTLE FOR LIFE AND LOST BUT HE SERVED HIS FAMILY AND COUNTRY WITH HONOR
Double Marker with Grace P Allen

2

ATKINS
CLIFFORD RAY
NOV. 23, 1952
DEC. 7, 1979
MY BELOVED HUSBAND

3

BARFIELD
BABY GIRL
AUG, 22 1978

4

BATTS
SONOMA ANN
NOV. 11, 1952
BABY

Texas Birth Index 1903-1997 states DOB Nov 19, 1952 Montgomery County, Father: Adonerum Judson Batts; Mother: Allie Sonoma Harper;*

5

BATTS

SONOMA HARPER

FEB. 2, 1933
JUL. 3, 1986
GOMMIE (ON BACK)

6

BELL

CHARLES B

1910
1937
EARTH HATH NO SORROW THAT HEAVEN CAN NOT HEAL

7

BLACKMAN
J M
MAR 22, 1844
SEP 16 - 1928

8

BLACKMAN
JAMES M
MAR 27 1844
SEP 16 1928
CO C 3 REGT TEXAS CAV; CONFEDERATE STATES ARMY

9

BLAIR
BLANCHE E
1913
1970
OF SUCH IS THE KINGDOM OF HEAVEN

10

BLAIR
DORIS ILENE
SEPT. 17, 1925
APR. 9, 1998
"HE WILL NEVER LEAVE US NOR FORSAKE US"

11

BLAIR

FELIX

1894
1976
PVT; US ARMY; WORLD WAR I; COLUMBIA GIVES TO HER SON THE ACCOLADE OF THE NEW CHIVALRY OF HUMANITY; FELIX BLAIR PFC I CO K 357TH INFANTRY SERVED IN THE WORLD WAR AND WAS WOUNDED IN ACTION; SIGNED, WOODROW WILSON
DADDY - Footstone

12

BLAIR

IRVIE LEE

JAN. 24, 1939
MAR. 3, 1941
OUR DARLING

13

BLAIR
JOHN W
JAN. 30, 1869
OCT. 11, 1905
Double marker with Mary L Blair

13

BLAIR
MARY L
JAN. 29, 1870
MAY 31, 1950
Double marker with John W Blair

14

BLAIR
R D
DEC. 10, 1902
NOV. 21, 1937
AT REST
Texas Deaths State File #56716 b 10 Dec 1902 Montgomery County TX d 21 Nov 1937 Pct 7 Montgomery County TX Father: John W Blair b AL Mother: Luella Martin b TX wife: Hulda E Blair *

9

BLAIR
ROGER B
1905
1993
OF SUCH IS THE KINGDOM OF HEAVEN
Double marker with Blanche E Blair

10

BLAIR, JR
ROGER BECK
JULY 28, 1927
FEB. 24, 1973
"HE WILL NEVER LEAVE US NOR FORSAKE US"
Double marker with Doris Ilene Blair

15

BLAIR, JR
ROGER BECK
JULY 28 1927
FEB 24 1973
TEXAS; EMFN US NAVY; WORLD WAR II KOREA
Military

16

BONEY
BERTHA MAE
JAN. 2, 1900
JAN. 21, 1987
Double marker with Lee James Boney

17

BONEY
HELEN
JAN. 27, 1924
FEB. 4, 2000
mama

18

BONEY
JO ANN
1953
1967
"JO"; OUR BELOVED DAUGHTER; REST IN PEACE; JOHN 3:16

16

BONEY
LEE JAMES
SEPT. 7, 1894
NOV. 4, 1972
Double marker with Bertha Mae Boney

19

BONEY
MARY ANN
JAN. 1, 1959
AUG. 6, 1960
OUR DARLING DAUGHTER

20

BONEY
VERNON ROBERT
SEP 17 1921
OCT 30 2002
CPL US ARMY; WORLD WAR II

21

BONIN
ADONIOUS J GOLDEN
OCT. 10, 1902
MAR. 21, 1993
PRECIOUS MEMORIES
Double marker with Deet O Bonin

22

BONIN
DEET
DEC 8 1887
DEC 16 1971
PVT US ARMY; WORLD WAR I
Military

21

BONIN

DEET O

DEC. 8, 1887
DEC. 16, 1971
PRECIOUS MEMORIES
Double marker with Adonious J Bonin

23

BONIN
JOHN W
OCT. 3, 1925
MAY 4, 1997
SEPT. 9, 1955
Double marker with Julie Ann Bonin

23

BONIN
JULIE ANN
MAY 31, 1937
MAY 19, 1978
SEPT. 9, 1955
Double marker with John W Bonin

24

BOUDREAUX
LENA M
1907
1939
AT REST

25

BRADLEY
MARGARET ANN
JUN. 18, 1944
DEC. 28, 1997
LOVING MOTHER, NANA & FRIEND

26

BROOKS
SUSAN RANDOLPH
AGED 52 YEARS
WIFE OF J. K. BROOKS; AND HER TWO SISTERS
Triple slab marker with Lucinda Fabers & Mary F Shell

27

BROWN
VIRGINIA RUBY
OCT. 15, 1932
NOV. 12, 2001
SHE IS AT REST IN HEAVEN

28F

BUDDE
No other inscription; it appears to be a family plot headstone

28

BUDDE
BENTON W
1928
1954
OUR DARLING

29

BUDDE
HENRY A H
JUNE 12, 1872
JULY 8, 1951
ASLEEP IN JESUS
Double marker with Mollie C Budde

30

BUDDE
LEO W
JUNE 26, 1902
APR. 29, 1968
Double marker with Margie Budde

30

BUDDE
MARGIE
NOV. 24, 1906
DEC. 28, 1977
Double marker with Leo W Budde

29

BUDDE
MOLLIE C
FEB. 15, 1872
FEB. 26, 1940
ASLEEP IN JESUS
Double marker with Henry A H Budde

31

BULLARD
CARL O Z
OCT. 15, 1910
APR. 27, 1985
Our Children ZANE MARY TOM RICK; MARRIED APRIL 4, 1944
Double marker with Mattie Ruth Walters Bullard; photograph of couple in center of headstone

32

BULLARD
FRANCES F SALTER
JULY 4, 1891
MAY 28, 1965
IN LOVING MEMORY

31

BULLARD
MATTIE RUTH WALTERS
SEPT. 9, 1925
SEPT. 14, 1995
Our Children ZANE MARY TOM RICK; MARRIED APRIL 4, 1944
Double marker with Carl O Z Bullard; photograph of couple in center of headstone

33

BURROUGHS
GLEN WAYNE
AUG. 5, 1937
DEC. 2, 1966

34

BURROUGHS
HOLLIS JOE
AUG 16 1941
JAN 20 1991
US MARINE CORPS
Military

35

BURROUGHS
OCIE ELLEN
AUG. 24, 1916
Double marker with Ralph Leon Burroughs; Died 2 Sep 2007 SSDI *

35

BURROUGHS
RALPH LEON
JAN. 4, 1914
FEB. 8, 1960
Doublemarker with Ocie Ellen Burroughs

36

CALLAHAN
CHARLES C
OCT. 6, 1890
SEPT. 3, 1968
MASONIC EMBLEM
Double marker with Nina E Callahan

36

CALLAHAN
NINA E
DEC. 6, 1898
JULY 12, 1976
MASONIC EMBLEM
Double marker with Charles C Callahan

37

CHAPIN
A WORTH
JUN. 5, 1915
DEC. 13, 1980
SWEETHEART; "POPS"
Double marker with L Gladys Chapin

38

CHAPIN
BABY BOY
AUG. 6, 1949
SON OF WORTH & GLADYS

39

CHAPIN
ELLEN ELANE
APR. 21, 1946
Sissy & Ronnie; A man who loved God so much that he wanted to teach children how to love God.
Double marker with Ronald Lee Chapin

37

CHAPIN
L GLADYS
MAR. 30 1920
NOV. 8, 2000
SWEETHEART; GRANNY
Double marker with A Worth Chapin

40

CHAPIN
MATTIE V
JULY 11, 1908
DEC. 7, 1934
AT REST

39

CHAPIN
RONALD LEE
SEPT. 27, 1944
AUG. 9, 2003
Sissy & Ronnie; A man who loved God so much that he wanted to teach children how to love God.
Double marker with Ellen Elane Chapin

41

CLARK
CHARLES L
FEB. 2, 1880
FEB. 9, 1959

42

CLARK
CHARLES LEGGETTE
February 9, 1959
79 Years 0 Months 7 Days
Metcalf Funeral Home marker

43

CLARK
DELLA
1886
1974
SISTER

44

COOK

JOHNNYE LEA

3-21-1943
3-15-2004
COOK (ON BACK)
Double marker with William Hull "Trey" Cook III

44

COOK III

WILLIAM HULL "TREY"

3-29-1952
COOK (ON BACK)
Double marker with Johnnye Lea Cook

45

COOKE
ARTHUR LEE
FEB. 11, 1871
MAR. 16, 1951

46

COOKE
B B
FEB. 1903
FEB. 1954
FATHER

47

COOKE
J P
NOV. 6, 1906
AUG. 19, 1974

48

COOKE
SUSIE A
AUG. 19, 1874
JUNE 17, 1934

49

COOKE
WILMA L
MAR. 1931
JAN. 1932

50

COOKE CHEATHAM
JEAN CARROLL
MAR. 23, 1936
NOV. 16, 1990
JOHN 3:16

51

COSBY, JR
B C BURT
JAN. 5, 1934
JULY 21, 1990

52

COSBY
BURTTRAN C
FEB. 26, 1908
FEB. 21, 1977
FATHER

53

COSBY
CINDY RELLA MATHEWS
13 JAN 1889
31 JUL 1957

54

CRANFORD
MARY JANE
OCT. 18, 1912
SEPT. 12, 1998
HAVE FAITH IN GOD

55

CURRY
MRS T C
AUG. 15, 1849
DEC. 15, 1911

56

DAUFIN
KATIE STEPHENS
MAR. 4, 1910
JUN. 11, 1999
MOTHER

57

DAVIS
MARY ELIZABETH
3-23-1951
Texas Deaths: File #19227; 36 years 8 months 8 days; died Harris Co TX; father: Newton Leggett born Lovelady TX mother: Katie McCarthy born Spring TX"

58

DAVIS
MAUDE M
JUNE 30, 1906
NOV. 3, 1997
Double marker with Riley L Davis

58

DAVIS
RILEY L
AUG. 5, 1908
MAY 17, 1970
Double marker with Maude M Davis

59

DAVIS
SAM
1910 (possibly)

60

DUNCAN
VELMA WALTERS
1915
1998
She fought the good fight and won.

61

EVANS
CHARLES W
DEC. 6, 1896
JAN. 22, 1970
THY KINGDOM COME; AT REST
Double marker with Pearl L Evans

61

EVANS
PEARL I
MAY 27, 1899
THY KINGDOM COME; AT REST
Double marker with Charles W Evans

26

FABERS
LUCINDA
AGED 42 YEARS
HER TWO SISTERS
Triple slab marker with Susan Randolph Brooks & Mary F Shell

62

FAIRCLOTH
LORRAINE
JUNE 20, 1920
MAY 17, 1977
DAUGHTER

63

FINDLEY

KELETA W

DEC. 15, 1917
JAN. 8, 2002
Double marker with Millard M Findley

63

FINDLEY

MILLARD M

MAY 29, 1910
JUNE, 5 1989
Double marker with Keleta W Findley

64

FROST

LEONA

FEB. 5, 1921
TOGETHER IN LOVE; MARRIED OCT. 20, 1937 (ON FRONT); FROST (ON BACK)
Double marker with Luther Frost; photograph of couple in center top of headstone

64

FROST

LUTHER

JULY 21, 1910
FEB. 17, 1986
TOGETHER IN LOVE; MARRIED OCT. 20, 1937 (ON FRONT); FROST (ON BACK)
Double marker with Leona Frost; photograph of couple in center top of headstone

65

FULLER
HULDA BLAIR
JAN. 11, 1908
JAN. 4, 1972
MOTHER; AT REST

66

FULLER
W F (BILL)
JUNE 6, 1907
SEPT. 20, 1987
MASONIC EMBLEM

67

FUSSELL
AGNES
AUG. 22 1885
APRIL 8 1949
THE LORD IS MY SHEPHERD

68

FUSSELL
J S "DICK"
1914
1972
WOODMEN OF THE WORLD MEMORIAL SYMBOL

69

FUSSELL
JOHN WILLIE
1910
1977
US ARMY
Military

70

FUSSELL
JULIUS S
OCT 12 1914
DEC 8 1972
TEXAS; PVT ARMY AIR FORCES; WORLD WAR II
Military; Texas Deaths State file #91547 Julius Sidney Fussell b 12 Oct 1914 Montgomery Co TX d 8 Dec 1972 Harris Co TX Father: John Fussell Mother: Agnes Armstrong Informant: Mrs. Frances Fussell *

71

FUSSELL

ROBERT LEE

MAY 9, 1920
MAY 20, 1951
IN GOD WE TRUST (ON FRONT); FUSSELL (ON BACK)
Texas Deaths State File #31578 b 9 May 1920 Montgomery Co TX d 20 May 1951 Livingston Polk Co TX Father: John Fussell b Harris Co TX Mother: Agnes Armstrong b Montgomery Co TX

72

GENTRY
JIM
MAY 2, 1942
SEPT. 3, 1942

73

GILMORE
L C "DICK"
FEB. 14, 1903
JAN. 1, 1956
OUR DARLIN'
"3" is reversed

74

GOLDEN
ALICE L
AUG. 31, 1908
OCT. 10, 1983
BELOVED DAD & MOM
Double marker with Jimmie Golden

75

GOLDEN
ALLICE P
JUNE 22, 1941
OCT. 9, 1941
BELOVED BABY DAUGHTER OF JIMMIE & ALICE GOLDEN

76

GOLDEN

ALLIE A McCANN

MAR. 8, 1882
OCT. 3, 1951
MOTHER; GONE FROM OUR HOME BUT NOT OUR HEARTS; GOLDEN (ON BACK)
Double marker with Eugene Henry Golden

77

GOLDEN
BABE HENRY WAYNE
APR. 21, 1952
JAN. 16, 1992

78

GOLDEN
BELOVED BABY SON OF JIMMIE & ALICE
OCT. 3, 1933

79

GOLDEN
CASSANDRA
APR. 17, 1959
Double marker with John W Golden, Sr

80

GOLDEN
CHARRA "DANNY"
MAR. 22, 1975
JUN. 24, 1991
Texas Death Index Charra Danyelle Golden d Harris Co TX*

81

GOLDEN
DIANNA F
DEC. 20, 1966
DEC. 20, 1966

76

GOLDEN

EUGENE HENRY

DEC. 7, 1876
SEPT. 27, 1962
FATHER; GONE FROM OUR HOME BUT NOT OUR HEARTS; GOLDEN (ON BACK)
Double marker with Allie A McCann Golden; Texas Deaths State File #56284 b 7 Dec 1876 TX d 27 Sep 1962 Father: Joseph Golden Mother: Talitha Tracey *

82

GOLDEN
GEORGE W
APR. 8, 1917
FEB. 8, 1935
SON; Gone, but not forgotten
Texas Deaths State file #9453 B 8 May 1917 Montgomery Co TX d 8 Feb 1935 JP6 Montgomery Co TX Father: Eugene H Golden Mother: Allie McCann *

83

GOLDEN
GEORGE W
OCT. 31, 1895
OCT. 27, 1966
Double marker with Lavada L Golden; photograph of couple in funeral home marker in front of headstone; Texas Deaths State File #74132 b 31 Oct 1894 Conroe TX d 27 Oct 1966 Baytown TX Father: John D Golden Mother: No Data Informant: Mrs. LaVada Golden *

84

GOLDEN
GUS T
DEC. 27, 1897
JULY 23, 1951
FATHER; ASLEEP IN JESUS

85

GOLDEN
JACK LEWIS
MAR. 7, 1921
JULY 19, 2004
LOVE ONE ANOTHER
Double marker with Lucia Guaspari Golden

86

GOLDEN
JAMES E
SEPT. 19, 1934
NOV. 19, 1995
"IT HAS BEEN A GREAT RIDE, NOW TAKING THAT LAST FLIGHT TO HEAVEN."

74

GOLDEN
JIMMIE
NOV. 13, 1903
JULY 14, 1992
BELOVED DAD & MOM
Double marker with Alice L Golden

87

GOLDEN
JIMMYE LYNE
MAY 17, 1957
MAR. 21, 1959
OUR ANGEL OF LOVE

88

GOLDEN
JODIE L
AUGUST 6 1906
FEBRUARY 13 1950
TEXAS; PFC; 721 AIR MAT SQ AAF; WORLD WAR II
Military

89

GOLDEN

JOHN W

JAN. 5, 1864
SEPT. 14, 1914

90

GOLDEN
JOHN W
APRIL 22, 1905
JANUARY 14, 1975
REST IN PEACE

79

GOLDEN, SR
JOHN W
NOV. 9, 1944
NOV. 10, 1993
Double marker with Cassandra Golden

91

GOLDEN

JOSEPH W

JULY 29, 1835
APRIL 28, 1885
IN MEMORY OF; A FAITH THAT SHINES MORE BRIGHT AND CLEAR WHEN LIFE'S LAST SPARK IS FLED, AND WITH A PURE AND HEAVENLY RAY LIGHTS UP A DYING BED

83

GOLDEN
LAVADA L
DEC. 5, 1902
OCT. 22, 1992
Double marker with George W Golden; photograph of couple in funeral home marker in front of headstone

85

GOLDEN
LUCIA GUASPARI
AUG. 27, 1928
LOVE ONE ANOTHER
Double marker with Jack Lewis Golden

92

GOLDEN
MABIN E
MAR. 31, 1928
JAN. 27, 1961

93

GOLDEN
MATILDA C
1869
1947
MOTHER
Texas Deaths State File #8205 b May 10, 1889 Goresbeck TX d 14 Feb 1947 Conroe TX; Father: Joe Harrison Mother Unknown*

94

GOLDEN
MINNIE L
FEB. 4, 1915
NOV. 8, 1915
OUR DARLING

95

GOLDEN
MOLLIE BIRDIE
APR. 19, 1900
MAR. 12, 1972
MOTHER

96

GREEN
CARL L "BO"
DEC. 1, 1930
MAR. 6, 2000
OUR BELOVED FATHER AND FRIEND

97

GREEN
DRURY LAWRENCE
JAN. 6, 1910
APR. 15, 1986
"IN LOVING MEMORY"
Double marker with Mary Lorene Green

98

GREEN

LORETA

NOV. 28, 1941
DEC. 10, 1941
Our Darling

97

GREEN
MARY LORENE
OCT. 6, 1911
JULY 1, 2002
"IN LOVING MEMORY"
Double marker with Drury Lawrence Green

99

GREGSON
CALLIE LEE
AUG. 20, 1912
MAR. 9, 1934
My Darling Wife

100

GRIFFIN
L D
1898
1965
Double marker with Lioness N Griffin; Texas Deaths State File # 25315; b 12 Jun 1898 Cass Co TX d 24 Mar 1965 Conroe Texas; father Joseph Franklin Griffin; Mother Nola Guinn*

100

GRIFFIN
LIONESS N
1902
1960
Double marker with L D Griffin; Texas Deaths State File #36534 b 26 Jun 1902 Montgomery Co TX d 28 Jun 1960 Houston, TX; father: E A. Budde Mother Mollie K. Nills*

101

GRIMMER
RICHARD LEVY
DEC 3 1902
OCT 9 1967
PVT US ARMY
Military

102

(GRISHAM)
ALICE FAY
FEB. 17, 1950
INFANT; REST IN PEACE
Last name determined from Texas death certificates; not listed on headstone; stone between Charles Leggette Clark and Pearl Johnson

103

GRISHAM
ARRA VALENTINE
FEB. 14, 1903
DEC. 2, 1985
MAMA
Double marker with Jack Coleman Grisham

103

GRISHAM
JACK COLEMAN
JAN. 28, 1900
JAN. 18, 1963
DADDY
Double marker with Arra Valentine Grisham

104

GRISHAM
RAYMOND D
JULY 11, 1942
APRIL 7, 1956
AT REST

105

GRISHAM
VELMA
MAY 25, 1923
APR. 27, 1999
Double marker with William Dee Grisham

105

GRISHAM
WILLIAM DEE
MAR. 23, 1920
OCT. 18, 1979
Double marker with Velma Grisham

106

GUERRERO, JR

JOSEPH JULIAN

NOV. 15, 1954
NOV. 19, 1954
OUR LITTLE ANGEL; LITTLE JOE

107

GUERRERO, JR

JOSEPH JULIAN

NOV. 15, 1954
NOV. 19, 1954
GUERRERO & BEYOND THE SUNSET (ON BACK)
Triple marker with Joseph Julian Guerrero, Sr & Rosalee Bell Guerrero

107

GUERRERO, SR

JOSEPH JULIAN

AUG. 27, 1923
JAN. 27, 1951; WWII 1943-1946; MASONIC SYMBOL (ON FRONT); GUERRERO & BEYOND THE SUNSET (ON BACK)
Triple marker with Joseph Julian Guerrero, Jr & Rosalee Bell Guerrero

107

GUERRERO

ROSALEE BELL

SEPT. 6, 1917
SEPT. 1, 1994
JAN. 27, 1951 (ON FRONT);GUERRERO & BEYOND THE SUNSET (ON BACK)
Triple marker with Joseph Julian Guerrero, Sr & Joseph Julian Guerrero, Jr

108

HAMILTON
COLLIN J
DEC 28 1928
APR 16 1987
SSGT; US AIR FORCE; KOREA
Military

109

HAMILTON
JOYCE L FONVILLE
1935
1997
OUR HEARTS REMEMBER

110

HANNA
CHAS W
AUG. 27, 1856
MAR. 2, 1947

111

HANNA
JOHN
1850
1900

112

HANNA
MABEL
AUGUST 11, 1905
MAY 31, 1921

113

HANNA

MARGARET J

MAY 1, 1865
NOV. 13, 1950

114

HANNA
RICHARD
1890
1893

115

HARPER
DOLORES MORTON
MAY 10, 1930
AUG. 25, 1966

116

HARPER

GEORGE ADDISON

JAN. 5, 1878
JULY 17, 1936
HARPER (ON BACK)

117

HARPER

GEORGE HARTFORD

JULY 8, 1905
NOV. 15, 1989
MARRIED OCT. 30, 1921 (ON FRONT); HARPER (ON BACK)
Double marker with Sadie M Golden Harper; SSDI GEORGE H HARPER 08 Jul 1905 15 Nov 1989 77380 (Spring, Montgomery, TX) (none specified) Texas; Texas Death Index George Harper Sr died 15 Nov 1989 Harris Co TX *

117

HARPER

SADIE M GOLDEN

OCT. 29, 1905
OCT. 22, 1987
MARRIED OCT. 30, 1921 (ON FRONT); HARPER (ON BACK)
Double marker with George Hartford Harper; SADIE M HARPER 29 Oct 1905 22 Oct 1987 (V) 77380 (Spring, Montgomery, TX) 77380 (Spring, Montgomery, TX) Texas; Texas Death Index Sadie Harper 22 Oct 1987 in Harris Co TX *

118

(HART)
SADIE ANGELA
NOV. 1, 1963
GREAT GRANDBABY OF GEORGE & SADIE HARPER
Last name determined from Texas death certificates; not listed on headstone; Texas Deaths State File #71935 b 1 Nov 1963 Conroe TX d 1 Nov1963 Conroe, TX 12 hrs. Father: Earl Hart Mother: Judy Darlene Whitehead*

119

HARVILL

J W

FEB. 29, 1872
MAY 23, 1923
AT REST
1920 Census TX Montgomery Co JP6 ED 112 shows a James W Harvill & wife Mary E with 5 children & mother Mary A Roach *

120

HARVILL
MARY E
MAY 20, 1871
JAN. 5, 1946
AT REST
Texas Deaths State File #2736 Mary Eliabeth Harvill b 20 May 1871 Harris Co TX d 5 Jan 1946 Houston TX Father: Gus Jones b MS Mother: Nancy Findley b MS *

121

HODGES
RUBY E
10-22-1923
9-4-2003
Metcalf Funeral Home marker

122

HOFFMAN
ANNABELL
1901
1905
also spelled Anabell Hoffman on older headstone

123

HOFFMAN
CLAUD
1903
1904

124

HOFFMAN
OLLIE
1899
1902

125

HOFFMANN
ANNIE FRIEDA GOEDECKE
OCT. 21, 19OO
MAY 5, 1997
IN MEMORY OF A LOVING MOTHER & GRANDMOTHER

126

HOFFMAN
KELLY FRANKLIN
9-8-1875
10-19-1915

127

HOFFMANN
WILLIE F
OCT 17 1897
MAY 8 1961
TEXAS; CPL US ARMY; WORLD WAR I
Military

128

HOLMES

INFANT SON OF B H & G A

DEC. 16, 1884
DEC. 16, 1884

129

HOLMES

MARY S

SEPT. 8, 1886
JUNE 5, 1887
DAUGHTER OF B. H. & G. A. HOLMES

130

HUDSON
CLEMMEAL MAUD "TIM"
MAR. 31, 1906
SEPT. 11, 1988
MOTHER

131

HUDSON
IDA MAUD
MAR. 2, 1882
MAR. 11, 1961
MAMA; GOD IS LOVE; AND HE THAT DWELLETH IN LOVE DWELLETH IN GOD, AND GOD IN HIM I JOHN 4:16

132

HUDSON
LEON
AUG. 8, 1902
DEC. 28, 1958
OUR LOVING FATHER

133

HUDSON
RAYMOND L
JUL 26 1929
AUG 14 2002
PFC US ARMY; KOREA
Military

134

HUDSON
RAYMOND L
JULY 26, 1929
AUG. 14, 2002
Gone But Not Forgotten

135

HYATT
EDITH I
AUG. 24, 1916
MAY 18, 2001
Double marker with Wallace W Hyatt

135

HYATT
WALLACE W
JAN. 8, 1911
AUG. 6, 2001
Double marker with Edith I Hyatt

136

ITES
JOE
JULY 10, 1873
AUG. 5, 1950

137

JOHNS
ERIA FAYE (GROUNDS)
MARCH 19, 1943
NOV. 5, 1991

138

JOHNS
JAMES OPAL
SEPT. 24, 1908
OCT. 29, 1992

139

JOHNSON
PEARL
FEB. 25, 1893
MOTHER

140

JONES
ALICE JOANN
JAN. 30, 1960
FEB. 3, 1960
THE LAST SENT BY GOD THE FIRST CALLED HOME.

141

JONES
CALLIE E
FEB. 17, 1927
SEPT. 3, 2006
MARRIED MAY 31, 1944
Triple marker with Jack T Jones and Michael Lee Jones

141

JONES
JACK T
MAY 4, 1912
DEC. 6, 2002
MARRIED MAY 31, 1944
Triple marker with Callie E Jones and Michael Lee Jones

141

JONES

MICHAEL LEE

SEPT. 29, 1956
FEB. 25, 1987
OUR SON
Triple marker with Callie E Jones and Jack T Jones

142

JONES
NONA LILLIAN
SEPT. 16, 1911
JULY 29, 2004

143

LANIER
VERLA P
FEB. 3, 1929
MAY 7, 1984

144

LOWE
JIM
OCT. 17, 1879
APR. 3, 1951
FATHER

145

LOWE
MAUDE
MAY 24, 1881
APR. 27, 1968
MOTHER

146

LOWE
SUSIE L
NOV. 26, 1893
FEB. 16, 1981
MOTHER
Double marker with Willie C Lowe

146

LOWE
WILLIE C
SEPT. 10, 1884
JULY 23, 1952
DADDY
Double marker with Susie L Lowe

147

MASON

WINNIE V GOLDEN

FEB. 4, 1915
I THEE WED JAN. 27, 1931 (ON FRONT); MASON & CHILDREN: JO MASON PREBLE, EDWIN E., RAYMOND L. (ON BACK)
Double marker with Wilford Mason; SSDI WINNIE VIOLA MASON 04 Feb 1915 29 Oct 2008 (P) 77581 (Pearland, Brazoria, TX) (none specified) Texas*

147

MASON

WILFORD

AUG. 4, 1913
JULY 27, 1994
I THEE WED JAN. 27, 1931 (ON FRONT); MASON & CHILDREN: JO MASON PREBLE, EDWIN E., RAYMOND L. (ON BACK)
Double marker with Winnie V Golden Mason; Lived in Livingston Polk Co TX*

148

MATHEWS
CALLIE LEE
NOV. 7, 1886
SEPT. 23, 1986
ASLEEP IN JESUS
Photograph in center top of headstone

149

MATHEWS
CHARLIE F
OCT. 22, 1909
JULY 2, 1987
Photograph in center top of headstone

150

MATHEWS
D W
MAY 26, 1878
NOV. 8, 1954
HE IS NOT DEAD, BUT SLEEPETH.
Photograph in center top of headstone

151

MATHEWS
JOSEPH DAVID
Funeral home marker

152

MATHEWS
JOYCE L
1948
1949
Texas Deaths State File #2288 Joyce Lee Mathews born 24 Jun 1948 Houston TX d 28 Jan 1949 Father: D W Mathews b Magnolia TX Mother: Lula Mae Barnett born Carthage TX*

153

MATHEWS
SANDRA KAY
SEPT. 22, 1971
GOD BLESS OUR BABY

154

MAY III
HUGH
1953
1954
SON OF HUGH & LUCILLE MAY

155

MAY, JR
WILLIAM L
FEB 25 1915
JAN 5 1968
TEXAS; PVT CO F 111 ENGRS 36 DIV; WORLD WAR II
Military

156

McCANN

K N

MARCH 11, 1877
JAN. 11, 1899

157

McCLESKEY
DELIA
SEPT. 16, 1906
JULY 26, 1907

158

McCLESKEY
H H
DEC. 23, 1881
Double marker with Jessie McCleskey

158

McCLESKEY
JESSIE
JUNE 1, 1881
SEPT. 13, 1954
Double marker with H H McCleskey; Texas Deaths State File #44881 born 1 Jun 1881 Spring TX d 13 Sep 1954 Houston TX Father: Harrison Walters Mother Unknown*

159

McGEE
CHARLIE R
AUG 14 1902
DEC (JAN) 4 1972
TEXAS; CMOMM US NAVY; WORLD WAR II
Military; it appears that that DEC was carved first with JAN inscribed later; Texas death certificate lists death date as Jan 4, 1972; Texas Deaths Name listed as Charlie Ramsey MCGee State File #04016 b 14 Aug 1902 Collins MS d 4 Jan 1972 Baytown TX; wife: Connie McGee*

160

McGEE
CONNIE OLA GOLDEN
NOV. 29, 1912
MAR. 19, 1975
IN GOD'S HANDS
Texas Deaths, State File #19849 b29 Nov 1912 Centerville TX d Baytown TX 19 Mar 1975 Father: Eugene H Golden Mother: Allie A McCann Informant: Mrs. Winnie Mason, sister*

161

MILLER
CHARLIE MARION
AUGUST 26, 1894
NOVEMBER 21, 1937
TEXAS; PVT 97 BALLOON CO.; AIR SERVICE
Military

162

MILLER
MOLLIE
MAY 16, 1896
JULY 24, 1937
WIFE OF C. M. MILLER; ASLEEP IN JESUS

163

MILLS
G W
AUG. 18, 1868
SEPT. 4, 1905

164

MILLS
JAMES A
MAY 7, 1832
DEC. 16, 1905

165

MILLS
JAMES A
MAY 7 1832
DEC 16 1905
CO G 1 REGT TX HEAVY ARTY; CONFEDERATE STATES ARMY
Military

166

MILLS
MARY
SEPT. 17, 1838
NOV. 25, 1919

167

MIZELL
AMY B
1898
Double marker with Thomas J Mizell; SSDI AMY B MIZELL 12 Aug 1898 18 Sep 2001 (P) 70546 (Jennings, Jefferson Davis, LA) (none specified) 435-01-8549 Louisiana *

167

MIZELL
THOMAS J
1886
1968
Double marker with Amy B Mizell; Texas Deaths State File #80219 Thomas Jefferson Mizell Sr b 23 Sep 1886 b TN d 14 Sep 1986 Conroe TX Father: W A Mizell Informant: Mrs. Amy Mizell, wife*

168

MOORE

JAMES T

OCT. 31, 1944
JUN. 28, 1995
"UNC" (ON FRONT); Gone Ropin (ON BACK)

169

MOORE
JAMES TAYLOR
OCT 31 1944
JUN 28 1995
SGT US MARINE CORPS; VIETNAM
Military

170

MOORE, JR

JAMES TAYLOR

MAY 22, 1969
JANUARY 24, 1990
PUNKIN

171

MORRIS
CHARLENE CALLAHAN
6-12-25
4-30-92

172

MURCHISON
MARTHA JEWEL
SEPT. 7, 1917
JAN. 20, 1985
SSDI MARTHA MURCHISON 07 Sep 1917 Jan 1985 77020 (Houston, Harris, TX) (none specified) Texas*

173

MURCHISON
WILLIAM HENRY
1913
1982
S1; US NAVY; WORLD WAR II
Military; SSDI WILLIAM MURCHISON 02 Dec 1913 Apr 1982 77020 (Houston, Harris, TX) (none specified) Texas *

174

NICHOLS
MARIE
1921
1956

175

OWENS
"TIPPER"
AUG. 18, 1932
AUG. 28, 1983

176

OWENS
LITHIA
1892
1944
MOTHER

177

PATTERSON
B J
SEPT. 28, 1926
OCT. 13, 1989
Double marker with Elaine Patterson

177

PATTERSON
ELAINE
APR. 23, 1937
Double marker with B J Patterson

178

PENNINGTON
LEEMON R
DEC. 4, 1931
FEB. 16, 1992
GONE HOME; married MAR. 9, 1957
Double marker with Leemon R Pennington

179

PENNINGTON
LEEMON RAY
JUNE 21, 1957
JUNE 20, 1980
BELOVED; SON & BROTHER; IN GOD'S CARE

180

PENNINGTON
LEEMON ROY
DEC 4 1931
FEB 16 1992
PFC US ARMY; KOREA
Military

178

PENNINGTON
WANDA GOLDEN
MAR. 28, 1937
GONE HOME; MAR. 9, 1957
Double marker with Leemon R Pennington; SSDI WANDA F PENNINGTON 28 Mar 1937 01 May 2003 77318 (HC) 77378 (Willis, Montgomery, TX) Texas *

181

POLASEK
FRANCES LOUISE
6/16/1932
12/29/1993
AGE 61
Metcalf Funeral Director marker

182

POLASEK
FRANCES
JUN. 16 1932
DEC. 29, 1993

183

POLASEK
RUDOLPH P
JULY 2 1926
MAY 5 1972
TEXAS; PVT US ARMY; WORLD WAR II
Military

184

POOLE
JAMES RAYBURN
1922
1991
SP5 US ARMY
SSDI JAMES R POOLE 28 Jun 1922 23 Jan 1991 (V) 77305 (Conroe, Montgomery, TX) (none specified) Texas

185

POWELL
C W
FEB. 20, 1917
JULY 3, 1917

186

POWELL
CHARLIE
FEB. 19, 1889
JAN.12, 1966

187

POWELL
LENA H
FEB . 24, 1899
JAN. 13, 1990
HAVE FAITH IN GOD

188

PRUETT

VETA L

AUGUST 1, 1932
JULY 16, 2007
Pace-Stancil Funeral Home marker, Cleveland, Texas

189

RICHEY

TEXANER

JAN. 19, 1856
AUG. 13, 1889
WIFE OF CHARLES RICHEY

189

190

RILEY
V DAYLE COOKE
SEPT. 24, 1932
APR. 20, 1989
WHY SEEK YE THE LIVING AMONG THE DEAD?

191

ROBINSON
ANNIE E
MAY 14, 1893
SEPT. 10, 1972
MOTHER; AT REST

192

ROBINSON
ELIZABETH GALLIMORE
MAY 27, 1933

193

ROBINSON
JOSEPH ENGLISH
DEC. 13, 1922
MAY 21, 1985

194

ROBINSON
JOSEPH E
DEC 13 1922
MAY 21 1985
TSGT US ARMY; WORLD WAR II
Military

195

ROBINSON
JOSEPH L
OCT. 11, 1881
AUG. 9, 1953
DADDY

196

ROBINSON

LAVADA M

OCT. 15, 1925
Mama
Double marker with Lloyd L Robinson

197

ROBINSON
LAWRENCE C
DEC. 16, 1910
NOV. 20, 1977
Double marker with Mildred C Robinson

196

ROBINSON

LLOYD L

APR. 30, 1919
FEB. 24, 1993
Daddy
Double marker with Lavada M Robinson

198

ROBINSON
LLOYD LESTER
APR 30 1919
FEB 24 1993
TEC 5 US ARMY; WORLD WAR II
Military

197

ROBINSON
MILDRED C
OCT. 15, 1916
MAY 13, 1978
Double marker with Lawrence C Robinson

199

ROBINSON
S B (BESS)
JAN. 11, 1883
NOV. 13, 1972

200

ROEBUCK
MILDRED
1918
1980
MOM; IN GOD'S CARE
SSDI MILDRED ROEBUCK 05 Jul 1918 Jul 1980 (not specified) 77302 (Conroe, Montgomery, TX) Arkansas *

200A

ROEBUCK
MILDRED
JULY 5, 1918
JULY 21, 1980
MOTHER
Texas Death Index comfirms DOD 21 Jul 1980 in Galveston TX*

201

ROUSE
MAVIS PAULINE
JAN. 23, 1912
APR. 27, 1959
BELOVED MOTHER

202

SANFORD
ALICE (WALTERS)
JULY 17, 1873
NOV. 21, 1951
MOTHER

203

SELL
RUBY H
OCT. 15, 1905
SSDI RUBY H SELL 15 Oct 1905 Sep 1996 (V) 77511 (Alvin, Brazoria, TX) 77017 (Houston, Harris, TX) Texas*

26

SHELL
MARY F
AGED 33 YEARS
HER TWO SISTERS
Triple slab marker with Susan Randolph Brooks & Lucinda Fabers

204

SIMMONS
ALTON A
1901
1985
FATHER; THEIR CHILDREN; ALTON JR. TIMMIE LUCILLE LAWSON TOMMY TOBY
Double marker with Anna Bell Simmons

205

SIMMONS

ALTON ANJIE

OCT 16 1927
JAN 14 1971
TEXAS; PVT ARMY AIR FORCES; WORLD WAR II
Military; Texas Deaths State File #03657 Died Houston TX Father: Ollen Simmons Mother: Annie Golden

204

SIMMONS
ANNA BELL
1910
1945
MOTHER; THEIR CHILDREN; ALTON JR. TIMMIE LUCILLE LAWSON TOMMY TOBY
Double marker with Alton A Simmons; Texas Deaths State File #39940 b 9 Aug 1910 d 29 Sep 1945 Greens Bayou TX Father EH Golden b Madison Co TX Mother: Allie McCann*

206

SINGLETON
FRANK W
DEC. 21, 1900
MAR. 8, 1977

207

SMITH
J W
DEC. 4, 1935
APRIL 26, 1999
OUR DAD; WE LOVE YOU

208

SORSBY
RUBY FAY BLAIR
1928
1999
Texas Death Index 22 Aug 1999 Harris County TX*

209

SPELL
M

210

SPELL
S
BABY

211

SPELL
S H
AGE 20
Possible inscription on another row but illegible

212

STEDMAN
CANDHIS MARIE
1987
1987
Funeral home marker

213

STEPHENS
HENRY
JAN. 19, 1904
SEPT. 15, 1962
THE LORD IS MY SHEPHERD

214

STEVENS

BEN SR

APR. 7, 1905
APR. 2, 1964
IN GOD WE TRUST (ON FRONT); STEVENS (ON BACK)
Double marker with Callie Etter Stevens

214

STEVENS

CALLIE ETTER

JUNE 23, 1907
MAY 3, 1996
IN GOD WE TRUST (ON FRONT); STEVENS (ON BACK)
Double marker with Ben Stevens, Sr

215

STONE
LAWRENCE E
MAR. 3, 1964
AUG. 12, 1984
SON

216

STOTHART
KATHERINE
NOV. 1, 1914
NOV. 28, 1917
DAUGHTERS
All Stothart family members are listed on one headstone

216

STOTHART
MARY IZORA CLOUD
OCT. 21, 1883
FEB. 27, 1958
MOTHER

216

STOTHART
ROBERT ALEX
OCT. 29, 1908
DEC. 15, 1955
SONS

216

STOTHART
SIDNEY CLOUD
DEC. 25, 1910
OCT. 19, 1973
DAUGHTERS

216

STOTHART
WILLIAM ALEX
SEPT. 15, 1875
JULY 18, 1918
FATHER

216

STOTHART
WILLIAM KENNETH
AUG. 9, 1916
APR. 12, 1991
SONS

217

STOWE
CLYDE EUGENE
1930
1982
Klein Funeral Home marker

218

STOWE
O E
SEP 21 1928
APR 8 2008
US ARMY; BRONZE STAR MEDAL; RED
Military

219

STOWE
OTTIS "RED" ELVIN
9-21-1928
4-8-2008
Funeral home marker SSDI OTTIS STOWE 21 Sep 1928 08 Apr 2008 (P) 77373 (Spring, Harris, TX) (none specified) Texas *

220

STOWE
TLITHA G
APRIL 27, 1900
DEC. 18, 1944
GOD BE WITH YOU TILL WE MEET AGAIN
Texas Deaths State File #58250 Tlitha Stowe b 27 Apr 1900 Madison Co TX d 18 Dec 1944 Montgomery Co TX Father: Eugene Golding b TX Mother: Alcie McCann b TXInformant: George Stowe: Metcalf Records show spelling Talitha Stowe wife of George L Stowe*

221

SWINDELL
CHARLIE G
MAY 5 1913
FEB 15 1971
TEXAS; PFC US ARMY; WORLD WAR II
Military; Texas Deaths State file #10472 b 5May 1913 OK d 15 Feb 1971 Houston Harris Co TX Father: James B. Windell Mother: Katy Plant Informant: Mrs. Hazel H Swindell *

222

SWINDELL
FLOYD R
AUG 29 1946
DEC 19 1969
TEXAS; SGT CO B 1 BN 1 BCT BDE; VIETNAM PH
Military; Texas Birth Index b 29 Aug 1946 Father: Harold Warner Swindell Mother: Juanita Angelina Harris;Georgia Deaths, State file #041763 died 19 Dec 1969 Ft Gordon GA*

223

SWINDELL
JUANITA A
JAN. 31, 1925
JULY 24, 1964
MOTHER
Texas Deaths State file #44111 Juanita Angelina Swindell b 31 Jan 1925 Montgomery Co TX d 24 Jul 1964 Deer Park Harris Co TX Father: William Wade Harris Mother: Talitha Golden Informant: O E Stowe

224

THEISS
RICKEY LEE
SEPT. 18, 1954
NOV. 28, 1970
MY SON

225

TRIBBLE
D B
1910
1939
SON

226

TRIBBLE
THELMA GRACE
APR 24, 1935

227

UNKNOWN

228

WADE
MICHAEL GLEN
MAY 21, 1955
MAR. 4, 1956
OUR ANGEL
Texas Birth Index 1903-1997 p 4134 Michael Glenn Wade b 21 May 1955 El Paso Co TX Father: Bobby Virgil Wade Mother: Mavis Laverne Davis; Texas Death Index d Harris Co TX State File #14120*

229

WALTERS
BEN F
JAN. 26, 1898
JAN. 5, 1923

230

WALTERS
BINGHAM W
OCT. 23, 1909
JAN. 28, 1984
WALTERS (ON BACK)
SSDI BINGHAM WALTERS 23 Oct 1909 Jan 1984 77373 (Spring, Harris, TX) 77373 (Spring, Harris, TX) Texas *

231

WALTERS
CHARLIE
JULY 27, 1890
SEPT. 12, 1947
AT REST
Texas Deaths State file #38568 Charles Fredrick Walters b 27 Jul 1890 Montgomery Co TX d 12 Sep 1947 Spring TX Father: W R Walters Mother: Jo Ann Jackson*

232

WALTERS
DIANNA LYNN
DEC. 21, 1969
OCT. 16, 1982
THY WILL BE DONE
Triple marker with Regina Kay Walters and blank; Texas Death Index died in Harris Co TX*

233

WALTERS
DOLLIE
JAN. 29, 1896
DEC. 31, 1938
AT REST

234

WALTERS
E P
AUG. 17, 1875
DEC. 16, 1932
FATHER; AT REST

235

WALTERS
EARL G
OCT 26 1919
JUL 12 1997
US ARMY; WORLD WAR II
Military; Texas Death Index d in Harris co TX; SSDI EARL G WALTERS 26 Oct 1919 12 Jul 1997 (V) 77087 (Houston, Harris, TX) (none specified) Texas *

236

WALTERS
EDWARD CLINTON
JULY 18, 1908
DEC. 16, 1972
IN LOVING MEMORY
Texas Deaths State file #98673 b 18 Jul 1908 Spring TX d 16 Dec 1972 Houston TX Father: Ed Walters Mother: Lula Liggin*

237

WALTERS
ELIZA JANE
AUG. 1, 1876
NOV. 28, 1934
MOTHER
Double marker with Wilson Wright Walters; Texas Deaths State File #71822 b 1 Aug 1874 Montgomery Co TX d 28 Nov 1934 Houston TX Father: James Mills b MS Mother: Mary Jane Evans b MS*

238

WALTERS
FRANK S
JAN. 31, 1884
AUG. 7, 1943
FATHER
Texas Deaths State File#37462 b 31 Jan 1884 Montgomery Co TX d Houston TX Father: Harrison Walters b MS Mother: Sarah Anne Long b Unknown*

239

WALTERS
HOWARD B
SEPT. 6, 1919
JUNE 22, 1981
IN LOVING MEMORY

240

WALTERS
IDA
FEB 1868
MAY 5TH 1924
MOTHER; AT REST

241

WALTERS
JOHN L
OCT. 3, 1903
OCT. 6, 1903

242

WALTERS

LULA B

MAR. 19, 1884
DEC. 25, 1950
DARLING MOTHER; AT REST
Texas Deaths State File #63098 b 19 Mar 1884 Robelone, LA d 25 Dec 1950 Spring TX Father: Samuel Leggin b TX Mother: Georgia Ann Theltman b TX*

243

WALTERS
MOLLIE REBECCA
JAN. 6, 1871
JAN. 6, 1936
JUNE 5, 1894
Double marker with Robert R Walters; Texas Deaths State file #4235 Mrs Mollie Walters b 6 Jun 1871 Montgomery Co TX d 11 Jan 1936 Montgomery Co TX Father: William Davis b MS Mother: Kreal b Don't know; Husband: R R Walters*

232

WALTERS
REGINA KAY
MAY 5, 1975
SEPT. 29, 1990
THY WILL BE DONE
Triple marker with Dianna Lynn Walters & Blank

244

WALTERS
RICHARD WESLEY
MAY 8 1821
SEPT 5 1887
CO C 7 MISS INF; CONFEDERATE STATES ARMY
Military

243

WALTERS
ROBERT R
FEB. 19, 1867
AUG. 8, 1946
JUNE 5, 1894
Double marker with Mollie Rebecca Walters; Texas Deaths State File #37954 b 19 Feb 1867 Spring TX d 9 Aug 1946 Conroe TX Father: Richard Walters b MS Mother: Mary Ann Walters MS*

245

WALTERS
SHANE KEITH MARTIN
NOV. 20, 1997
NOV. 20, 1997
I PRAY THE LORD MY SOUL TO KEEP

246

WALTERS
TOM CECIL
DEC 2 1909
MAY 25 1946
TEXAS; PFC 27 BASE UNIT AAF; WORLD WAR II
Military; Texas Deaths State File #23764 b 2 Dec 1909 Montgomery Co TX d 25 May 1946 Conroe TX Father: R R Walters b Montgomery Co TX Mother: Mollie Davis b TX*

247

WALTERS

W R

FEB. 9, 1848
FEB. 25, 1916

248

WALTERS
WILLIAM H