Some Files require
Adobe Reader

From Conroe, take Hwy 105 West to Montgomery, Texas. Turn right on Hwy 149; continue to sign on the right, "BAYS CHAPEL". Turn right to Bays Chapel Methodist Church. The cemetery is on the left after a curve.

Addition to directions by Gladys Chatham May. The road to Bays Chapel turns right off of 149 at the Longstreet Community Center, a white frame building. When you reach the Bays Chapel Church (on the left), take a right and go until you see the cemetery on the right.
The following photos of Bays Chapel Methodist Church were taken August 23, 2008 were contributed by Lisa Bass.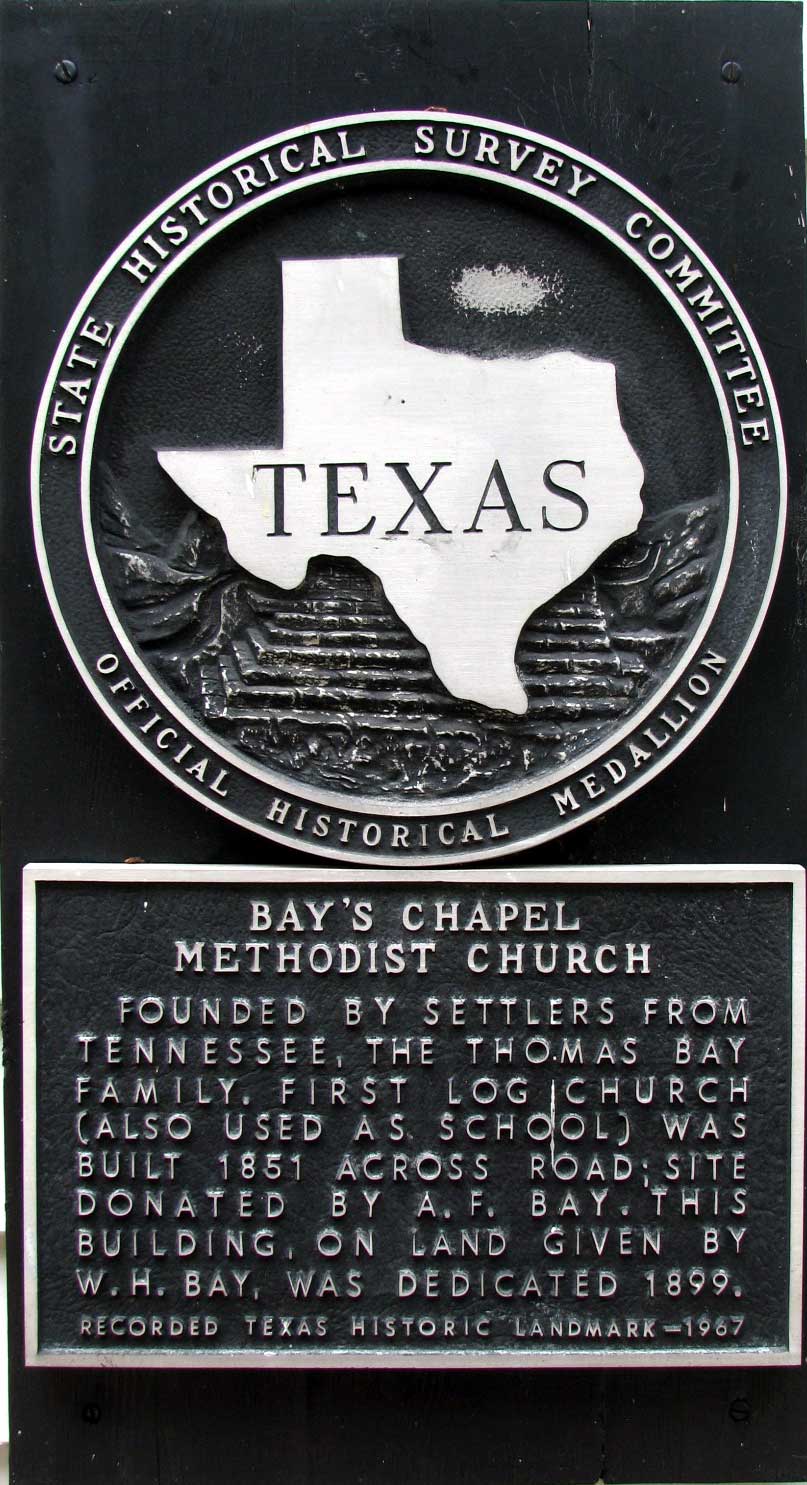 Bays Chapel Methodist Church
Historical Marker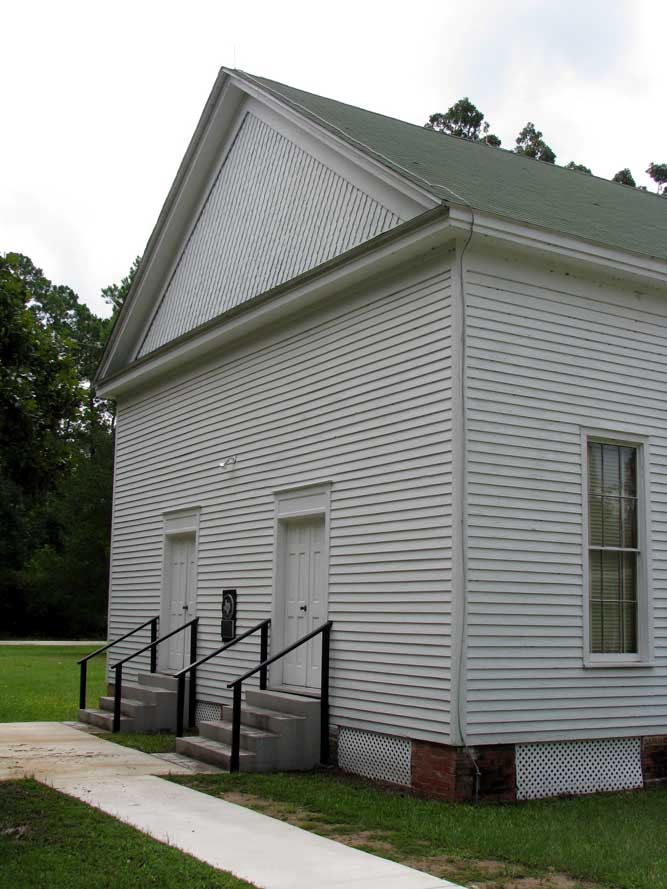 Bays Chapel Church - Front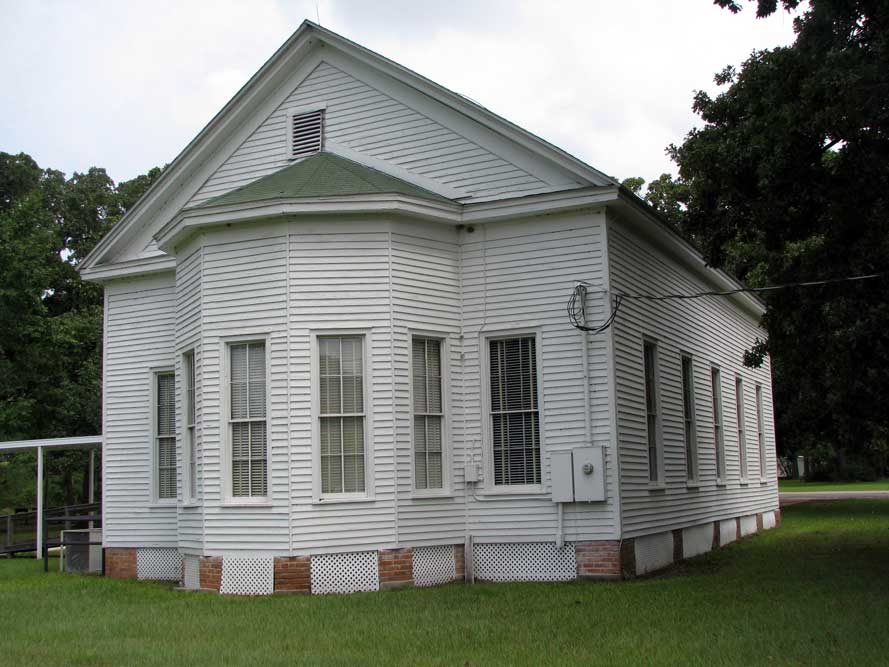 Bays Chapel - Rear

Person authorized to make grave locations:
Homer Pool – 936-874-2250
This transcription was done January 10, 2005. Submitted by Gladys Chatham May on October 25, 2004, these are not listed in the Vol. IV of the Montgomery County Texas Cemeteries collection of books. Click here, for lookups.

See also William Beauregard's transcription of this cemetery.
Name

Birth mm/dd/yyyy

Death mm/dd/yyyy

Notes
REAVES Olie B.

6/26/1921

12/8/1992
Double marker

Lillie G.

7/10/1922

-
HOKE, Weems M. Jr. "Buck"

7/2/1938

11/28/1996
Double marker
Patricia G. "Chris"

11/10/1953

7/5/1974
Pvt. US Army
HOKE, Velna W.

12/5/1914

4/17/2002
Buried by
husband Weems Hoke Sr.
CASEY, Gerald D.

1/15/1955

4/18/2002
Buried by mother Norma Hoke
FULGHAM,

11/1/1909

5/19/1995
Double marker
Ruth "Mema"
Buried by husband Hudson Fulgham
FULGHAM, Thomas A.

3/28/1943

-
-
TUCKER, Lois (Loyce)

1/24/1920

6/22/2004
-
NEVELS, Joseph B.

9/14/1956

9/30/1986
-
NEVELS, Emma Jewell

11/21/1926

5/16/1990
-
NICHOLS

3/26/1918

8/7/1985
Pfc US Army WWII
Joneve O. "Dad"

Catherine Hoke

9/4/1915

-

Double marker
TURNER, Mary O.

2/15/1894

8/28/1989
HARMAN

5/15/1920

4/25/1995
Double marker
John Cornelious

Waldine Meta

6/17/1923

-
Reunited in the circle
HOKE

4/20/1915

12/3/1987
Wed Feb. 4, 1952
Robert M.

Zelma L.

11/9/1903

4/17/1991
Double marker
KYLE

7/4/1958

6/22/2000
Wed Oct. 13, 1984
Robert

Cynthia

9/29/1959

-
Double marker
RIGELL, Milton Lee

12/13/1944

6/25/1980
HENDRIX

9/29/1899

2/10/1994
Double marker
Vivion A.

Alice K.

11/23/1909

1/10/2004
JOHNSON, Leola Louisa

5/18/1896

11/13/1984
Buried by
husband Henry Plumer Johnson
BAY

2/20/1925

8/10/2000
Double marker
Thomas Leonard Jr.

Bernice Cribbs

3/26/1915

-
BAY, Minnie Lou

5/2/1905

5/6/1985
-
GOODIN, Lewis B.

10/9/1899

7/8/1990
-
LARKIN

11/22/1910

7/22/1994
Double marker
William Patrick

Lavigne de France

12/31/1921

-
LONG, Alma B.

1890

6/17/1905
-
BAY, Olive

10/2/1892

8/19/1979
-
KEISLER

10/12/1907

3/4/1997
Double marker
Lester "Daddy"

Mary Katherine "Mama"

4/3/1913

5/18/2001
URY

3/24/1903

10/20/1988
Double marker
Lillian Norman

Hillman Rogers

1/17/1907

2/25/1998
BYNUM, Ruby Norman

8/1/1912

8/6/1990
-
KEISLER, Georgia N.

12/20/1900

12/14/1992
Buried by husband Edwin T. Keisler
HOKE

5/28/1922

5/10/2004
Double marker
Maggie Ruth

Lloyd Markle

2/14/1917

3/15/1999
BAY

Double marker

7/16/1907

2/13/1999
Horace Gideon

Olga Grisom

2/2/1915

7/26/2000
WELCH, Eva Harman

04/13/1896

4/1/1991
Buried by husband
Beamon N. Welch
WELCH, Billy Rolan

11/13/1934

2/7/1995
-
WELCH, Lori Lee

4/12/1962

2/25/2000
-
TERRY, Thomas Vineyard Jr.

6/23/1928

12/17/1982

contact:

Robin Terry Scott robinscott50@yahoo.com
TERRY, Ida Mae

12/21/1901

4/15/1981
Buried by Thomas V. Terry Sr.

contact: Robin Terry Scott robinscott50@yahoo.com

HARMAN

03/18/1889

8/23/1980
Double marker
Thomas Edward

Mattie Venora

03/04/1889

11/18/1986

KEISLER

12/01/1898

6/16/1983
Double marker
George H.

Alla Lee

3/8/1904

-
BRAME, David George

6/1/1955

7/4/1982
-
BRAME

1/2/1930

7/1/1992
Wed March 10, 1951
Donald S.

Bettye Joyce

12/27/1929

-
Double marker
HOKE

10/11/1918

-
Wed 1937
Phyllis Randall

William Henry

1/31/1915

4/2/2004
Double marker
GRAVES

9/11/1927

4/18/1983
Double marker
William S. "Bill"

Mary Brannon

10/31/1937

-
DOUGLASS

11/7/1913

2/7/1983
Double marker
Roland Houston

Josephine

7/10/1920

4/4/2002
HOGUE

12/19/1911

8/8/1985
Double marker
Charles H. "Red"

Zelma Harman

1/31/1913

-
COLE

-

-
Double marker
E. Thomas
Joyce Gaye
HOKE

8/13/1913

11/19/1996
Double marker
Thomas Rankin

Lorean Wright

12/22/1919

-
WRIGHT

03/05/1896

11/7/1987
Double marker
Mary M.

Jim P.

10/08/1890

8/31/1978
DESLOTTE, Marie Green

2/11/1926

2/22/1979
-
GREEN, James Levi

1909

6/8/1905
Lindley Robertson Funeral Home marker
TIROUX, Louise Dewoody

6/14/1916

8/1/2001
-
HENDRIX, Clement Otis Jr.

7/30/1924

6/18/2004
-
SATCHER, John H.

01/171902

2/19/1983
Buried by
wife Molly E. Satcher
MORRIS, Darrel Ray

11/6/1940

8/6/2001
-
GARNER

1/16/1921

-
Double marker
Emma Elizabeth

Jo Albert Lee
9/5/1911
1/4/1981
GARNER, Marion H. "Hank"
9/9/1946
5/14/2002
-
COLEMAN, Rufus E.
1/3/1911
8/22/1986
-
HARMAN, Mattie M.
10/27/1892
8/26/1984
Buried by
husband Nathaniel B. Harman
REAVES, Lucille
9/6/1900
1/27/1984
-
BRANDT, Melvin Charles
3/19/1934
3/16/1993
-
REAVES
7/14/1913
8/27/1998
Double marker
John A.
Dorothy E.
12/16/1917
10/7/1990

| Home | Top of Page | Montgomery County Texas Cemeteries |
| East Texas Cemeteries | Bays Cemetery, Rhodes Cemetery & Scott Cemetery |