Some Files require
Adobe Reader

Hickory Grove Cemetery Montgomery County Texas
Transcribed by Jane Sanford Keppler
January 24, 1999
From Conroe take FM 1484 (Airport Road) out about 9 miles Hickory Grove Cemetery is on the right The cemetery is in fairly good condition On the gate is a sign to contact Martha Welschhans at 936-756-3610 before a grave can be dug.

I started the transcriptions as you walk into the gate and go to the right corner I tried to go row by row, but there are numerous graves that are unmarked or illegible.

If you would like your name added as a contact on any of the people that is listed in any cemetery, please contact Jane Keppler

and/or Jean Smoorenburg

we will add this information. This would be a great way to find someone else that may be researching the name you are researching.
This cemetery, according to Montgomery County Texas Cemetery Book VI, was originally the C. B. Corley Survey, 3 82/100 acres, 1887 from J. G. Goldtwaitt and wife to Hickory Grove Baptist Church. According to the MCAD in 2009, the legal description is: A0138 CORLEY C B, TRACT 2G-1, ACRES 2.547. The cemetery is located on 129V in the Key Map Book. jhs

Name

Birth

Death

Notes

Phyrne Evangel Christian

Paul Richard Christian Jr(Rickey)

10-18-1894

06-23-1948

01-12-1994

11-22-1997

Linwood Law
10-12-1899
10-10-1986
Frankie B Hudnell

George W Hudnell

05-25-1904

03-15-1895

06-13-1987

12-01-1967

beloved wife & mother

TX-PVT CO A360 Inf WWI

Mildred E Meador Moore
08-06-1921
10-28-1993
Mother
Denzil Little
10-16-1917
04-30-1997
A Man of Honor
Louise Hill Little
08-15-1920
03-31-1988
-
Mollie Little
07-03-1895
06-14-1975
-
Otis Law
01-04-1902
03-04-1920
-
Baby Law
06-04-1904
06-04-1904
-
Morris M Law
10-31-1846
01-26-1914
CPL-6BTRY Maine-LT ARTY-Civil War
Vada Law
03-01-1874
05-04-1963
-
Nellie Little
08-06-1892
04-22-1980
-
Gladys Jones
01-16-1916
12-19-1985
-
E C Copeland
11-25-1884
10-19-1894
-
Paul Anton Christian
1894
1979
-
Dick Rigsby "Poppy"
12-09-1915
05-16-1993
Beloved husband & Daddy
Samuel R Redmon
01-01-1841
04-26-1912
-
Sally C Redmon
03-06-1848
02-19-1929
-
Mattie Meador

Lewis Meador

1906

1904

1909

1995

-
Florence Hales
11-10-1899
01-06-1916
-
Mollie Hales
09-15-1865
12-22-1950
-
W. H. Hales
29 Jan 1930
Husband, age 71 years
(added 20181001*)
John Allen Redmon
12-26-1883
08-14-1932
Father Contact Peggy Granddaughter
Katie Redmon
05-25-1885
11-04-1965
Mother contact Peggy Granddaughter
Mary Magaline Nichols Collins
06-08-1910
09-08-1969
J W Nichols
1888
1977
Lundy Nichols
1895
?
Amanda Redman
1876
1952
William Redman
1872
1937
Jack Shipp
1910
1980
James M Baldwin

Vernie N Baldwin

10-21-1916

05-16-1919

08-07-1981

n/a

Georgie Marie Hanson
10-25-1900
11-16-1900
daughter of WC & Ada Hanson
?? Hanson
??
??
not legible
Sarah Hanson
??
??
not legible
Carrie Few

W J Few

1877

1882

1959

1950

WJ Few is my wife's (Sandra J Savage-Ruyle) Great Uncle; He is her Grandmother's brother Please add our e-mail to the contact area sandyjruyle@comcast.net

Thank You

Donnie Ruyle & Sandra J Savage-Ruyle

My name is Evelyn (Few) Cherry W J & Carrie Few are my Grandparents. There should be another grave site there for Aaron Lanz Few who was my Uncle. He died as a small child in 1923 I was told by the caretaker that her records show that he would have been buried close to W J but there was an empty plot between them.

Dorothy Roach

Bob Roach

06-16-1928

08-25-1926

na

11-30-1991

J R Beakley
??
??
not legible
Lora Beakley
09-30-1882
11-30-1914
Betty Pauline McClain
10-21-1911
09-24-1997
Stella O McCrorey
10-31-1880
03-22-1971
William S McCrorey
08-29-1885
04-18-1966
Jackie Leon Roach
05-07-1934
12-09-1954
TX CPL-US Marine Corp Res
Gordon D Roach

Bernice W Roach

02-29-1904

11-03-1903

07-22-1981

08-05-1997

md 07-25-1923
??King
1878
1880
L Jewell Chambers Wood
12-06-1896
07-25-1985
Mother
Lucindy Chambers

G W Chambers, Sr

1849

1851

1919

1921

Benjamin Silvias Sweet

Susan Rebecca Sweet

1826

1834

07-21-1910

6-1903

CSA-CoG-FLA
born in GA
Contact Teresa Kelley
born in SC
William Anderson
04-06-1873
12-01-1933
Ella Mae Hibbard
1900
1964
Percy Hibbard
01-06-1890
01-31-1936
Pvt-315 Mil-Police Co-90 Div
William Earl Jezek, Jr
10-15-1872
09-05-1968
W C Yawn
10-15-1872
09-05-1968
Mattie Lee Martin
03-10-1909
12-01-1910
daughter of Jr
& Carrie Martin
Lee Martin
10-30-1891
09-11-1892
son of J R & CA Martin
?? Thomas
1882
1891
Charlie P Thomas

Irene A Thomas

08-04-1867

06-02-1875

12-05-1941

03-09-1954

Mamie H Thomas
08-04-1893
01-26-1896
Baby Joel Jeffcoat
11-04-1934
??
BUT my great grandfather, Willis Henry Hales, buried next to her, is not.

Please correct this by adding him.
Here is a picture of his headstone and verification of cemetery:
thank you,

Photos of Hickory Grove Cemetery by Teresa Kelley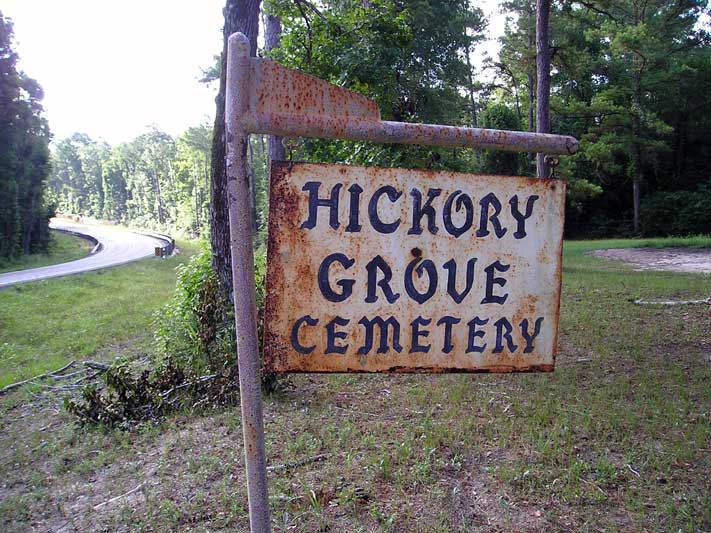 Hickory Grove Cemetery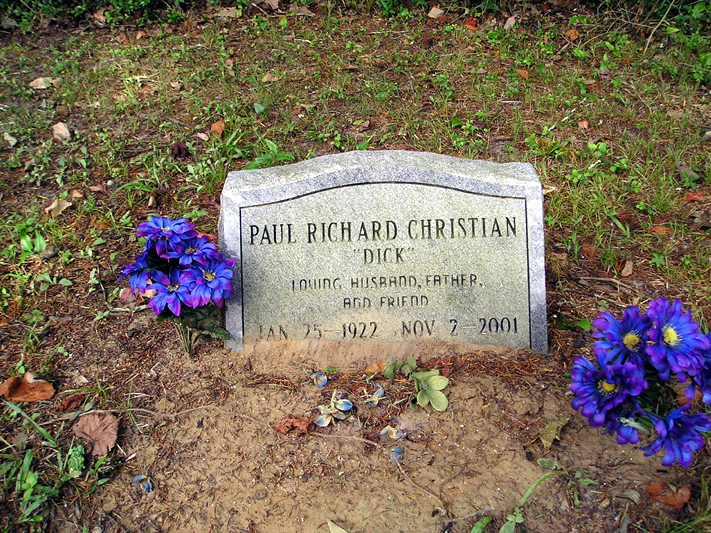 Paul Richard Christian
"Dick"
Loving Husband, Father, and Friend
25 Jan 1922 – 7 Nov 2001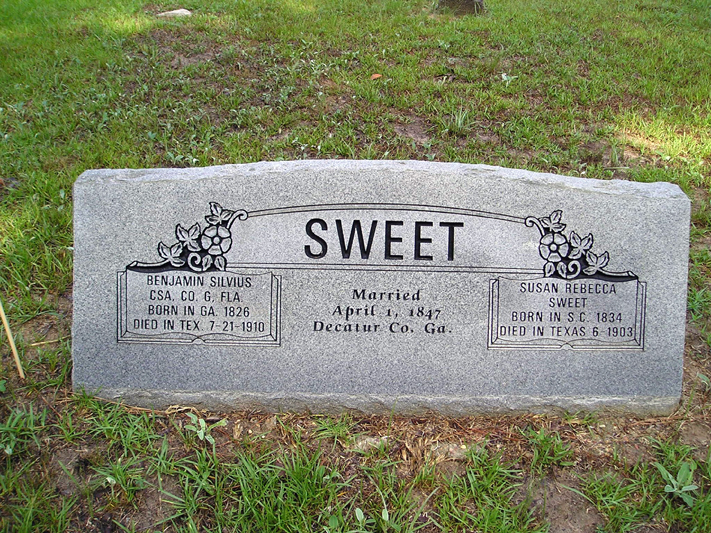 Benjamin Silvius Sweet
CSA Co G FLA
Born in GA 1826
Died in Tex 7-21-1910

Married
April 1, 1847
Decatur Co GA

Susan Rebecca Sweet
born in SC in 1834
Died in Texas 6 1903
Note: There is a grave to the left of Benjamin & Susan Sweet. The grave is of William Perry King b 17 Nov 1878 and died 17 Apr 1880.
This child was like one of their own. Per Teresa Kelley.
Story & Photos of Hickory Grove Cemetery
by Peggy Weatherred
Just a little story that I heard from a lady who lives or lived next door to the elementary school in Cut-N-Shoot. There was a flu epidemic in Montgomery County in the early 1900's. My grandparents, John and Katie Redmon and their children did not get sick but they did help take care of the sick and raised one or two kids as their own when their parents died from the flu.
We were trying to find Hickory Grove a few years ago and stopped to ask a lady directions. She knew where my grandparents were buried and gave us the directions. Then she told us that her father was one of the kids my grandparents took in.
My allergist told me that allergies are immunities gone wild. He told me this statement before I heard the story above that my family probably survived in plagues when others died.
Kinda cool.
Peggy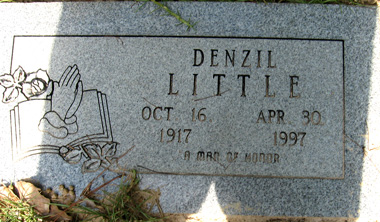 Denzil Little
Oct 16, 1917 – Apr 30, 1997
A Man of Honor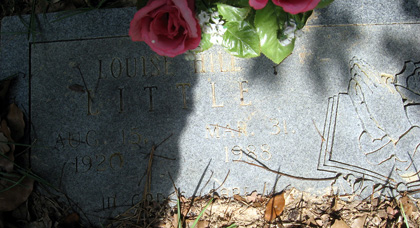 Louise Hill Little
Aug 15, 1920 – Mar 31, 1988


Mildred E "Meador" Moore
Aug 6, 1921 – Oct 28, 1998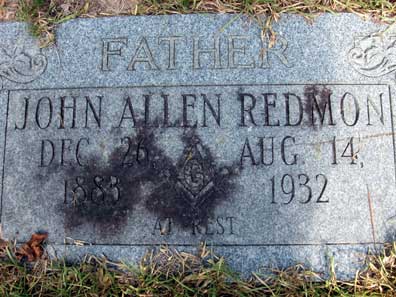 John Allen Redmon
Dec 25, 1883 – Aug 14, 1932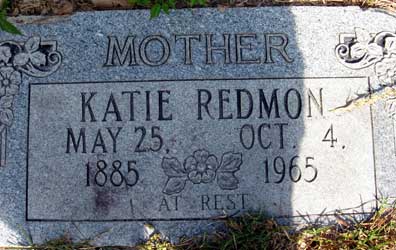 Mother
Kawtie Redmon
May 25, 1885 – Oct 4, 1965
At Rest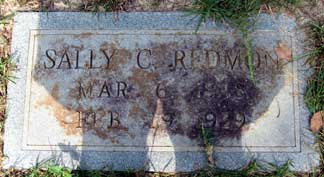 Sally C Redmon
Mar 6, 1848 – Feb 19, 1929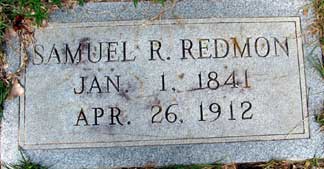 Samuel R Redmon
Jan 1, 1841 – Apr 26, 1912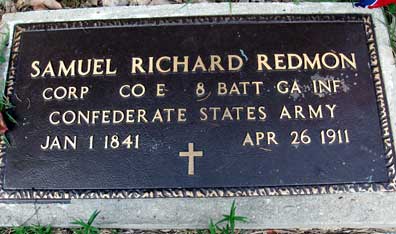 Samuel Richard Redmon
Corp Co # 8 Batt GA Inf
Confederate States Army
Jan 1, 1841 – Apr 26, 1911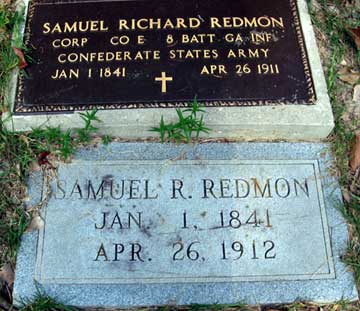 Overview of Two Redmon Stones
| Home | Top of Page |