Dr. Robin Montgomery has written a wonderful article in today's Courier about Montgomery County Historical Commission member Patricia Easley's search for her "Roots" going back to the early days of Stephen F. Austin's second colony in the 1830's.
But there is much more to this story that can be shared. I first met Patricia Easley and her brother Arnette over a year ago. The memorable experience I had that day was shared with many of you in the attached email from November 2014, along with photos of the lost cemetery of one of the earliest families in Montgomery County which pre-date the Texas Republic, along with the special discovery Patricia and Arnette made that day.
Patricia was immediately invited to participate in our Historical Commission and has become a valuable member.
Winston Churchill once said: "The longer you look back, the farther you can look forward." Reliving history is an amazing trip back to the future.
I hope you enjoy both narratives.
Larry
I had a wonderful experience today as I had an opportunity to step back in time over 180 years to the pre-Texas Revolution era when Anglo settlers were arriving in western Montgomery County to settle on leagues of land provided by the newly formed Mexican government under an empresario contract with Stephen F. Austin. Many of these settlers in Austin's second colony brought their African-American slaves with them. In my book Montgomery County, Texas Historical Timeline, I reference the following:
May 6, 1831: Raleigh Rogers receives a land grant of a league of land (4400+ acres) just south of what would become the town of Montgomery, side by side with Zachariah Landrum's land. By 1840 Raleigh Rogers and his wife Polly own 200 longhorn cattle and by 1850 they own one thousand head. Landrum raises purebred shorthorn cattle that he brought to Texas. The Rogers-Landrum land grants are along "Old Houston Road" which today is known as FM 149. Cotton is the cash crop tended by slaves.
Today I had the rare opportunity to visit the graves of Raleigh and Polly Rogers, along with their children…in a cemetery hidden in the woods south of Montgomery on part of the original Rogers land grant. The brick tombs with concrete inscriptions are impressive by even today's standards, and evidence settlers with the wealth and the means to use hand-made bricks when they constructed these tombs in the mid 1800's. This old graveyard is still impressive as it silently shares the history of a robust Texas pioneer family who made their mark on both Montgomery County and the Republic of Texas. [I am told Raleigh Rogers fought at the Battle of Bexar in 1835].
A few feet away from the Rogers family brick tombs are the resting places of their daughter Mary Rogers Yell who married Pleasant Yell. We discovered broken tombstones in the dirt nearby with their inscriptions unreadable. This family gravesite is even more historically precious, given its connection to the two individuals who were with me this morning. So let me take a moment to share another amazing story.
My trip to the Rogers family cemetery actually begins earlier this morning at another cemetery several 100 yards away but on the same tract of land—the Yell Pine Grove Cemetery. Sheran McCants has done extensive research on this African American cemetery which lies deep in the woods but nonetheless is faithfully maintained by the descendants of the Raleigh family slaves who honor their ancestors' memories. Patricia and Arnette Easley have family buried here and faithfully care for this cemetery with other African-American families.
Patricia Easley is an articulate and passionate historian in her own right, and along with her brother Arnette Easley, she has done extensive research on her family genealogy. I was very impressed this morning as she and Arnette walked me through this cemetery marked by stones of African-American freedmen (former slaves freed after the Civil War) and by black men who had honorably served their country in both WWI and WWII when Jim Crow laws curtailed their liberties. To me it was hallowed ground as we discussed the struggle that these former Montgomery County citizens experienced over the past 180 years. But their struggle was not in vain and the wonderful legacy they have left is demonstrated in the productive lives of Patricia and Arnette Easley and their families.
As we walked around the Yell Pine Grove Cemetery, Patricia shared how since 1981 she has methodically researched her family lineage, going back to her great-great grandmother who, as a young slave, was once given as wedding present to Mary Rogers by Mary's parents at her marriage to Pleasant Yell. Patricia and Arnette have a deep, deep appreciation for their roots, and few people today of any color have such a passion for their family history as Patricia Easley.
I like to say that "coincidence is when God chooses to remain anonymous." I believe it was more than a coincidence when Jim and Denise Harris happened to drive by as they were hauling a handsome 10-point buck that Denise had shot on the property a couple of hours earlier. Jim is a forester and caretaker of the property and he knew Arnette. (I later learned that he is the youngest brother of Roy Harris.) As we explained why we were visiting this cemetery, Jim mentioned that there was another cemetery on the same tract that was the Raleigh family cemetery. He and Denise were kind enough to take us there.
As we walked around the Raleigh family graveyard, Patricia and Arnette found the graves of Mary and Pleasant Yell. The moment was magical!! Here were the gravesites of the former owners of the Easley family descendants. It was an emotional moment for Patricia and Arnette, and I have to confess that I also had goose bumps as we were now connecting the dots of the Easley family legacy. The Easley's, the Harris's and I stopped and read each tombstone inscription—most of which were very faded from age.
As an amateur Montgomery County historian who has researched the early history of our county, it was a special moment for me to be walking among these tombstones. But for Arnette and Patricia Easley it was much more—a connection to their past and to their roots!! I was honored to share their joy as they stood next to the 100+ year-old gravestones of Pleasant and Mary Yell. It was as if they had come home.
I have attached a few photographs from our expedition today.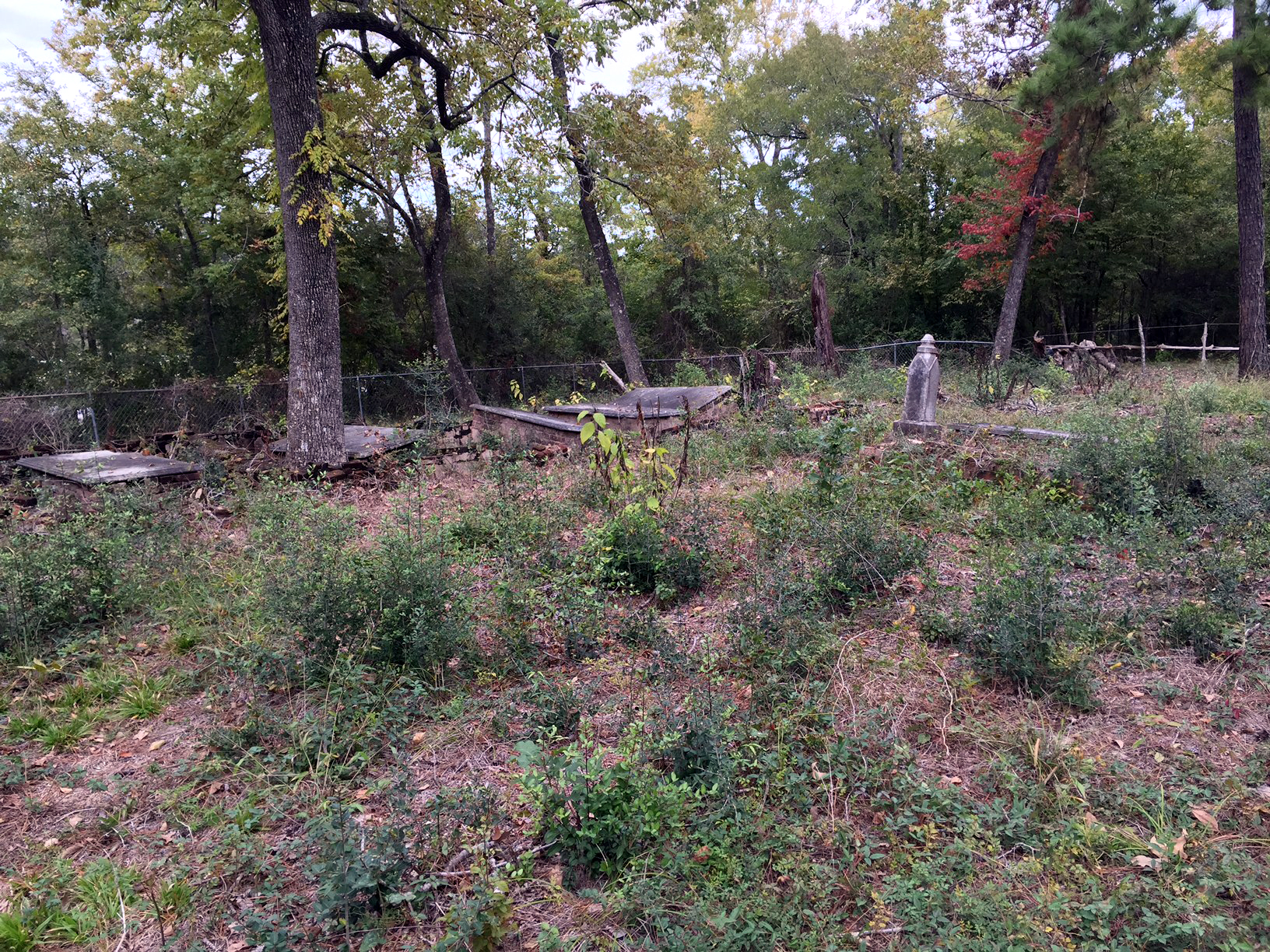 Yell Pine Grove Cemetery Section I - Rogers Cemetery
Photo taken 8 Nov 2014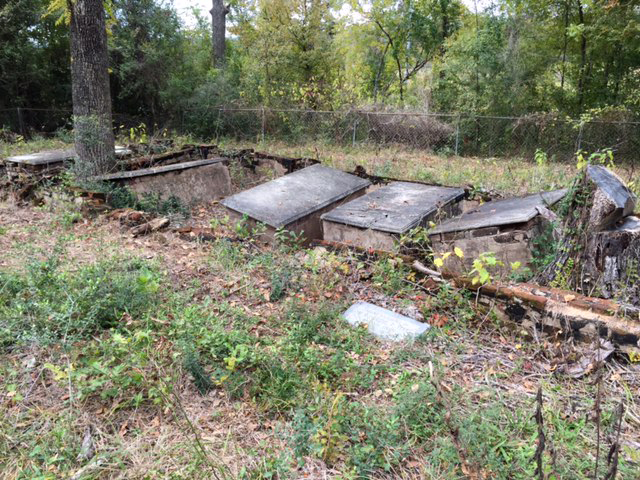 Rogers Family Tombstone Row in Yell Pine Grove Cemetery Section I
Photo taken 8 Nov 2014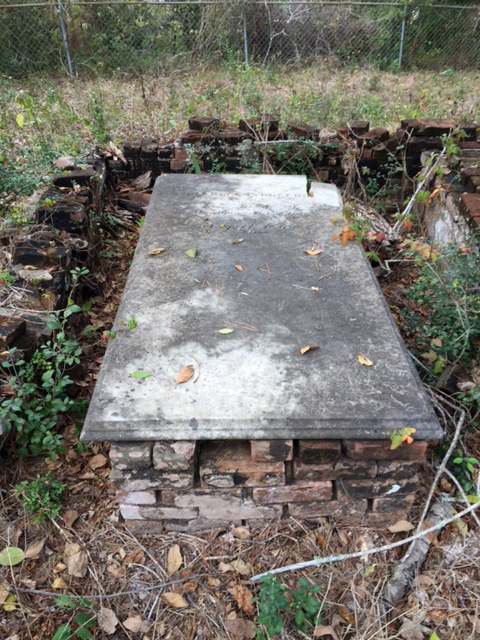 Raleigh Rogers Tombstone
Photo taken 8 Nov 2014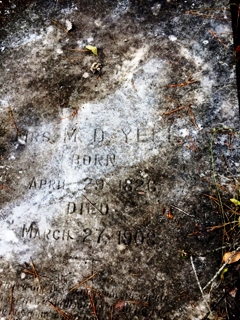 Mrs. Mary D. Yell
Born
April 29, 1826
Died
March 27, 1908

Arnette & Patricia Easley at tombstone of Pleasant Yell, Sr.
Photo taken Nov 8, 2014

Pleasant M. Yell Sr
Died
July 18, 1894
Aged
76 yrs 11 ms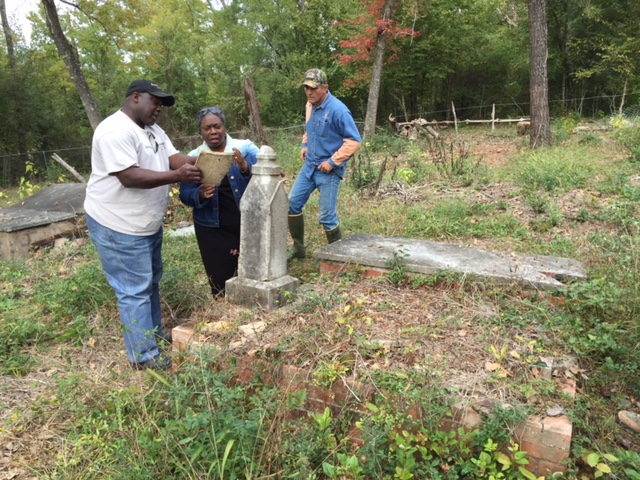 Annette and Patricia Easley with Jim Harris
at the tombstone of Pleasant and Mary Yell
Photo taken Nov 8, 2014
For more information go to Yell Pine Grove Cemetery.