What's New at the Library?


Montgomery County Memorial Library
in Conroe Texas

The Genealogy & History Room is located in the Central Library on the second floor. It contains the fourth largest genealogy collection in the state. For more information call 936.788.8363 ext. 6249.
Now a Family History Center!
Need to order films from the
Family History library in Salt Lake?
The Genealogy & History Room in Montgomery County Memorial Library is now a Family History Center.

First, be sure to create an account or sign in to your existing Family Search account. You can now order films online, so just choose "Montgomery County Memorial Library" as the family history center location to have your films sent. Great hours and new reader printers and a great staff to help you!

Be sure though to check to be sure that they the records you are requesting are not already online at www.familysearch.org.
Genealogy Basics Boot Camp
Inquire about the Next Boot Camp
CENTRAL LIBRARY Central Branch in
the Genealogy & Local History Room,
second floor, call 936-788-8361 ext 629

New Microfilm Collections at the Library
165 Reels of Microfilm from South Carolina
& The Revolution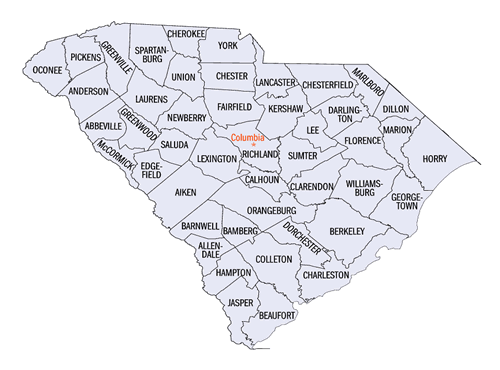 165 reels from South Carolina Department of Archives and History concerning activities growing out of the Revolution in South Carolina have been added to the collection. These are alphabetical order by name of soldier.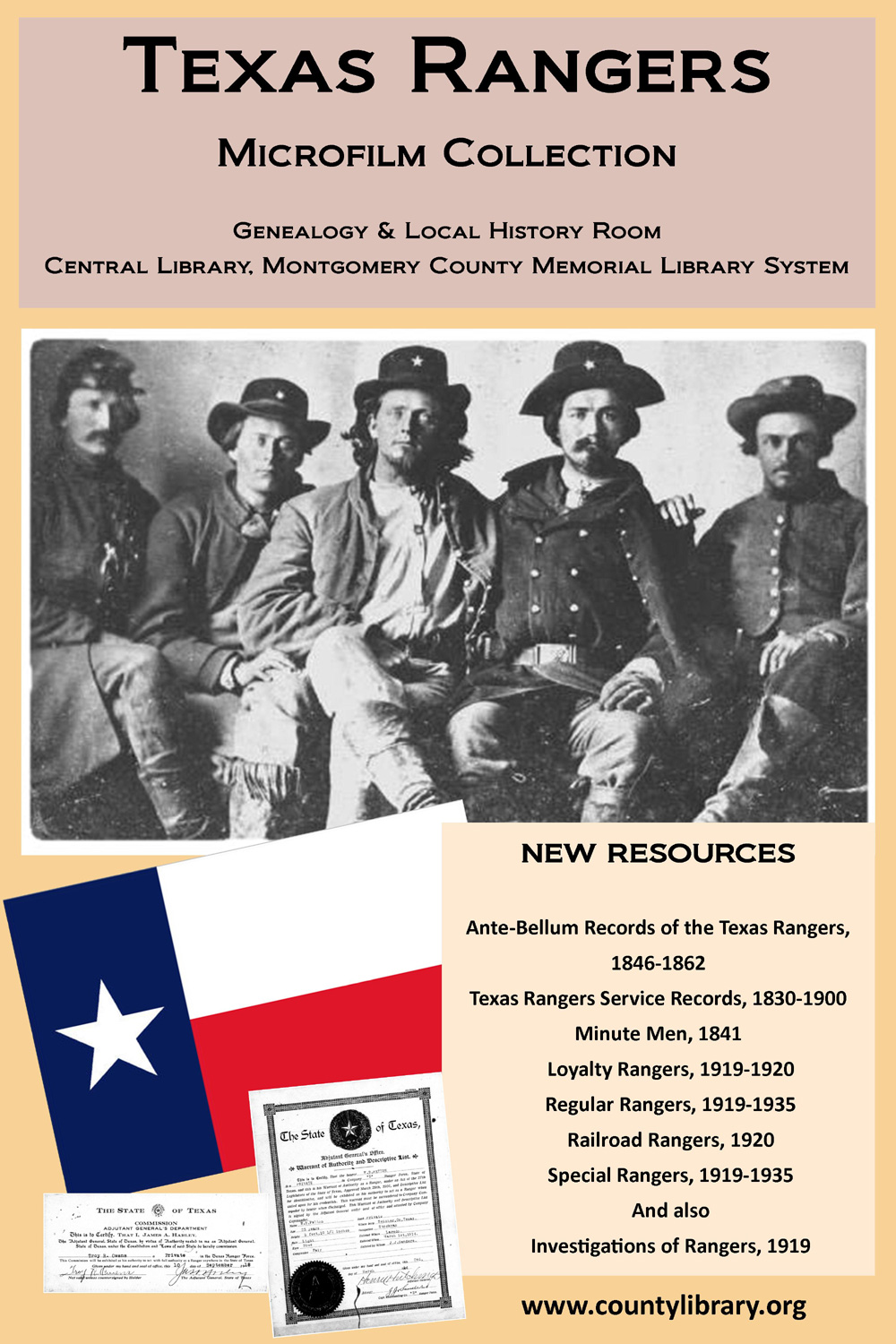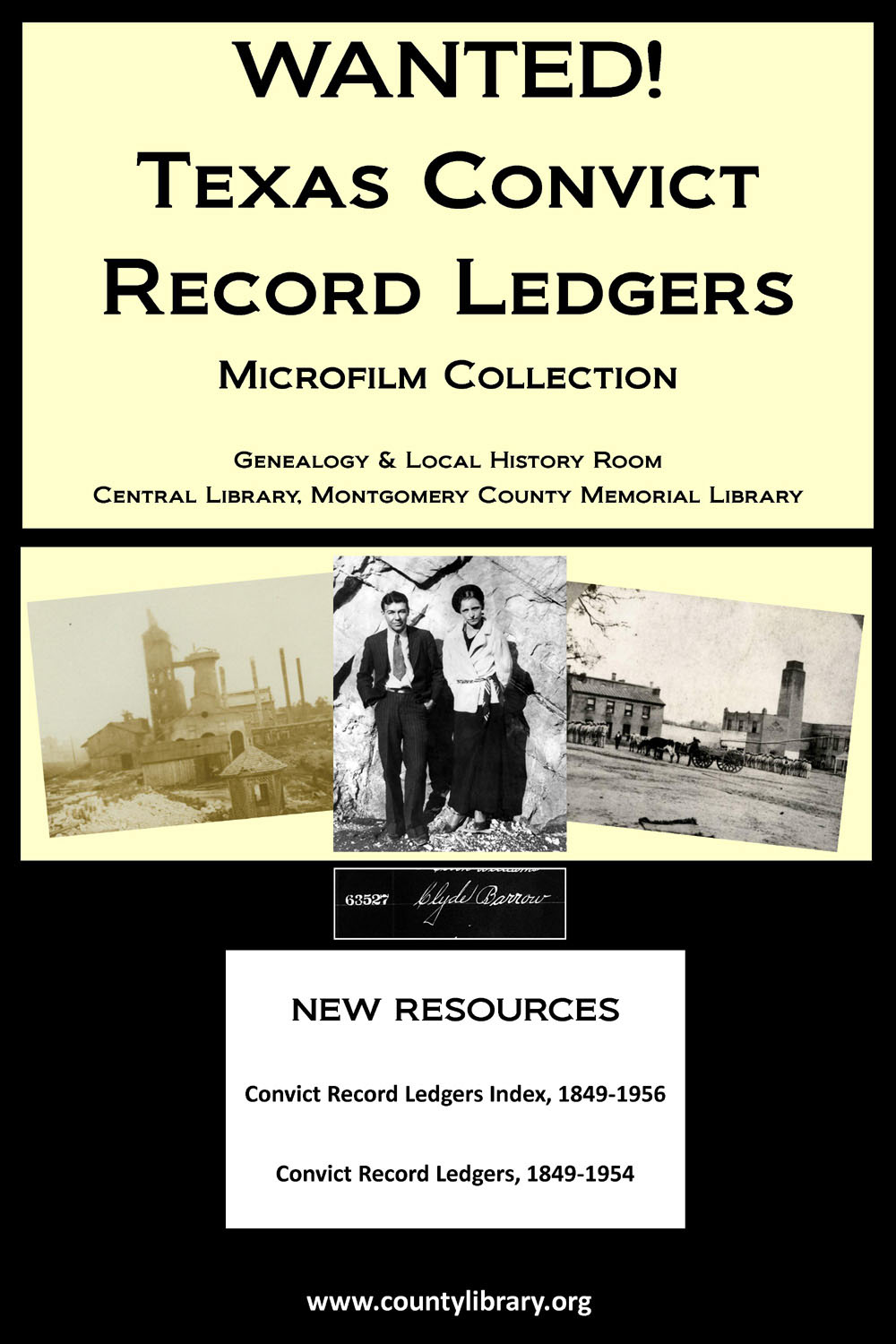 New Books on the Shelves in
the Genealogy & History Room
Please think of the Montgomery County genealogical library and
history room when making donations or memorial contributions.

November 30, 2013
State/
Area
Title/Contents
Author, Compiler, Publisher
| | | |
| --- | --- | --- |
| FC | Visitation of England and Wales Notes Volume 7, 1907 | Heritage Books |
| FH | The Cates of Lower East Tennessee | Elizabeth Cate Manly |
| AL | History of Escambia County Alabama | Annie C. Waters |
| AL | Tract Book Butler County Alabama | Barbara Perdue Middleton |
| AL | 1853 Tax List Butler County Alabama | Judy Atkins Taylor |
| AL | Papers of the Pike County Historical Society Vols. 39-51 Troy Alabama | Various |
| DE | Land Records of Sussex County Delaware Deed Book H No. 8 1742-1753 | Johnita P. Malone |
| FL | Education in Escambia County 1870-1982 (Florida) | School District of Escambia County |
| FL | The Heritage of Santa Rosa County, Florida | Santa Rosa County Heritage Book Committee |
| GA | The Southern Watchman, Athens, Georgia Civil War Home Front Coverage 1861-1865 (Clark) | Faye Stone Poss |
| GA | Jackson County, Georgia Deed Abstracts, Books E-G 1808-1822 | Faye Stone Poss |
| GA | Jackson County, Georgia Newspaper Clippings, Jackson Herald February 1881 to December 1882 | Faye Stone Poss |
| GA | Jackson County, Georgia Newspaper Clippings, Jackson Herald 1883-1885 | Faye Stone Poss |
| GA | Jackson County, Georgia Newspaper Clippings, Jackson Herald 1886-1890 | Faye Stone Poss |
| GA | Jackson County, Georgia Newspaper Clippings, The Forest News 1875-1881 | |
| GA | Early Jefferson County, Georgia Newspaper Clippings 1799-1811 | Faye Stone Poss |
| GA | Wilkes County (Washington), Georgia Newspaper Abstracts 1802, 1805-1809 | Faye Stone Poss |
| GA | Wilkes County (Washington), Georgia Newspaper Abstracts 1810-1815 Volume II | Faye Stone Poss |
| GA | Hancock County, Georgia Newspaper Abstracts Hancock Advertiser 1826-1830 | Faye Stone Poss |
| GA | Hancock County, Georgia Supplement to Early Newspaper Abstracts Farmer's Gazette 1803-1806 | Faye Stone Poss |
| GA | Hancock County, Georgia Early Newspaper Abstracts Farmer's Gazette 1803-1804, 1806-1807 | Faye Stone Poss |
| LA | South Louisiana Vital Family Records Volumes 9-15 (1930-1945) | Terrebonne Genealogical Society, Inc. |
| NH | Inhabitants of New Hampshire 1776 | Emily S. Wilson |
| OK | Eldorado Cemetery Jackson County Oklahoma Burials 1889-2003 | Deadmon and King |
| SC | South Carolina in the American Revolution | Eric G. Grundset for the NSDAR |
| SC | Tombee - Portrait of a Cotton Planter (Beaufort) | Theodore Rosengarten |
| SC | The Epitaphs in St. Paul's Cemetery Summerville South Carolina (Dorchester) | Parishioners of St. Paul's Church |
| TX | History & Reminiscences of Denton County | Ed. F. Bates |
| TX | North Franklin County - The Beginnings to 1918 Volume 1 | Franklin County Genealogical Society |
| TX | North Franklin County - Changing Times 1919-1925 Volume 2 | Franklin County Genealogical Society |
| TX | North Franklin County - Hard Times 1926-1934 Volume 3 | Franklin County Genealogical Society |
| TX | North Franklin County - The Exodus 1935-1945 Volume 4 | Franklin County Genealogical Society |
| TX | Franklin County Tax Rolls 1888-1889, 1891-1892, 1893-1894 | Indexed by Denise Ely |
| TX | Mount Vernon City Cemetery (Franklin) 2nd Edition | Franklin County Genealogical Society |
| TX | Hardin County, Texas Justice of the Peace Precinct #1 Criminal Docket 1887-1890 | Sam Houston Regional Library and Research Center (original on file) |
| TX | Outlaws in the Big Thicket (Hardin) | Wanda A. Landrey |
| TX | Probate Court Record of Births Not Previously Registered 1 Hardin County | Sam Houston Regional Library and Research Center (original on file) |
| TX | History of Hopkins County, Texas | Franklin County Genealogical Society |
| TX | Montgomery County Texas CSA | Frank M. Johnson |
| TX | Bridges Chapel Church Titus County TX | Ruby M Crossland Buie |
| TX | Pioneers and Heroes of Titus County | Traylor Russell |
| VA | Tombstone Inscriptions of Alexandria Virginia (Volume 5) | Wesley E. Pippenger |
| VA | Frederick County Virginia Marriage Bonds 1773-1850 | Joan Hackett & Rebecca Good |
October 31, 2013
State/
Area
Title/Contents
Author, Compiler, Publisher
| | | |
| --- | --- | --- |
| FH | Abercrombie -The Biography of J. S. Abercrombie | Patrick J. Nicholson |
| FH | History of the Kimball Family in America | Judith A. Kimball |
| Gen | Finding Your People - An African-American Guide to Discovering Your Roots | Sandra Lee Jamison |
| Gen | The Oxford Companion to Local and Family History | David Hey |
| Gen | Professional Genealogy - A Manual for Researchers, Writers, Editors, Lecturers & Librarians | Elizabeth Shown Mills |
| Gen | Black Genesis- A Resource Book for African-American Genealogy | James Rose - Alice Eichholz |
| Gen | They Became Americans - Finding Naturalization Records and Ethnic Origins | Loretto Szucs |
| Gen | Atlas of American History j- Revised Edition | James Truslow Adams |
| Gen | Biographical Directory of the American Congress 1774-1961 | U. S. Government Printing Office |
| Foreign | Visitation of England and Wales Vols. 1-6 (1896-1898 - 1902, 1903, 1906) | |
| Foreign | Visitation of England and Wales Vols. 2, 11, 13, 14-21 (1894, 1903, 1905, 1906, 1908, 1909, 1911 | |
| Foreign | 1914, 1917, 1919, 1921) | Howard & Crisp |
| Foreign | Plantagenet Ancestry of Seventeenth-Century Colonists Second Edition (England) | Davis Faris |
| AL | History of Butler County Alabama from 1815-1885 | John Buckner Little |
| AL | The History of Brewton and East Brewton, Alabama (Escambia) | John Appleyard |
| AL | Headstones & Heritages (Escambia) | McFarland & Shelton |
| GA | Georgia Courthouse Disasters | Paul K. Graham |
| GA | Abstracts of Georgia Land Plat Books A & B 1779-1785 Volume I | Nathan & Kaydee Mathews |
| GA | Georgia's 1832 Gold Lottery | Mary Bondurant Warren |
| GA | Patients and Staff of CSA Hospitals Newnan, Georgia 1863-1864 (Coweta) | Coweta County Genealogy. Soc. |
| GA | Vanishing Gwinnett - Gwinnett County, Georgia (Gwinnett) | W. Dorsey Stancil |
| GA | Jasper County, Georgia Marriage Records 1808-1850 | Frances T. Ingmire |
| GA | Georgia Newspaper Clippings - Wilkinson County Extracts Volume II 1852-1907 | Tad Evans |
| GA | Notes on Adair County, Kentucky or Judge Hurt's History of Adair County, Kentucky | John Steele |
| GA | Pulaski County Georgia Marriage Records, 1808-1956 | Tad Evans |
| KY | Diary of a Confederate Soldier - John S. Jackman of the Orphan Brigade | William C. Davis |
| MD | Studies in the Primary Sources of the Lower Eastern Shore Vol. 1 1648-1845 | G. Ray Thompson |
| MD | Somerset County, Maryland Orphans Court Proceedings 1777-1792 and 1811-1823 | David V. Heise |
| MD | Somerset County, Maryland Orphans Court Proceedings 1777-1792, 1823-1838 Vol. 2,1838-1852 Vol. 3 | David V. Heise |
| MD | Talbot County Maryland Land Records Books 2 through 15 | R. Bernice Leonard |
| MD | History of Talbot County Maryland Vols. 1 & 2 | Oswald Tilghman |
| MD | Worcester County, Maryland Orphans Court Proceedings - 2 vols. 1777-1816 | David V. Heise |
| NC | Ye Countie of Albemarle in Carolina | William S. Powell |
| NY | 7000 Hudson-Mohawk Valley (NY) Vital Records 1808-1850 | Bowman & Lynch |
| NY | 7000 Hudson-Mohawk Valley (NY) Vital Records 1808-1850 | Bowman & Lynch |
| OK | Pleasant Hill Cemetery Harmon County, Oklahoma - Burials 1903-1905 | Deadmon & King |
| OK | Antioch Cemetery near Eldorado, Jackson County, Oklahoma | Deadmon & King |
| OK | Oklahoma Genealogical Society Special Publication NO 6 Indian Territory 1890-1907 | Oklahoma Genealogical Society |
| PA | History of Bedford, Somerset and Fulton counties, Pennsylvania | Waterman, Watkins & Co. |
| SC | Old Waxhaw Graveyard (Lancaster) | Nancy Crockett |
| TN | Stewart County Tennessee Heritage Volume One | Stewart County Historical Society |
| TX | Southwest Writers Series | James W. Lee - Editor |
| TX | Journals of the Convention 1845 | Miner & Cruger - Printers of the Convention |
| TX | Great Roundup - Story of Texas and Southwestern Cowmen | Lewis Nordyke |
| TX | David Lipscomb - A Journalist in Texas 1872 | John Louis Robinson |
| TX | Fragile Empires - The Texas Correspondence of Swartout and Morgan 1836-1856 | Bass and Brunson |
| TX | Indians of Texas in 1830 | Jean Louis Berlandier |
| TX | Sawdust Empire - The Texas Lumber Industry 1830-1940 | Maxwell & Baker |
| TX | Tornado - Yearbook of Lamesa High School 1951, 1952, 1953, 1954 | Yearbook Staff |
| TX | Bastrop County, Texas Land Titles 1831-1877 | Robert Lee Thompson |
| TX | Fort Hood - The First Fifty Years (Bell) | Odie & Laura Faulk |
| TX | Franklin County Tax Rolls 1890, 1895, 1896 | Denise Ely - Indexer |
| TX | 1885-1886 Franklin County Tax Rolls | Denise Ely - Indexer |
| TX | Court Citations Franklin County Texas 1939-1941 | Heitt Kiett |
| TX | Franklin County School Census 1914-1915 | Phyllis Brown |
| TX | Yesterday in the Texas Hill Country (Mason) | Gilbert J. Jordan |
| VA | Southern Parish Land Processioning 1747-1784 ( Goochland, Cumberland, & Powhatan Counties) | Ann K. Blomquist |
| VA | Exiles in Virginia | Thomas Gilpin |
| VA | The Records of the Virginia Company of London - The Court Book 1619-1622 Volume I | Susan Myra Kingsbury, A.M. Ph. D. |
| VA | 1835 Gazetteer of Virginia and District of Columbia | Joseph Martin |
| VA | The Vestry Book of Southam Parish Cumberland County, Virginia 1745-1792 | Ann K. Blomquist |
| VA | History of the Brethren in Virginia | D. H. Zigler |
| VA | Virginia Land Grants - A study of Conveyancing in relation to Colonial Politics | Fairfax Harrison |
| VA | The Glebe Houses of Colonial Virginia | Willard J. Webb & Anne C. Webb |
| VA | Black Laws of Virginia | June Purcell Guild |
| VA | Marriages in the New River Valley Virginia | Therese A. Fisher |
| VA | Connections and Separations - Divorce, Name Change and other Genealogy. Tidbits from the Acts of the Virginia Assembly | Wesley E. Pippenger |
| VA | A Brief History of Roads in Virginia 1607-1840 | Virginia Genealogical Society |
| VA | The Memorialists - Antebellum History of Alleghany, Craig, and Monroe Counties of Western Va 1812-1860 | David Scott Turk |
| VA | Virginia and the French and Indian War | Hayes Baker-Crothers, Ph. D. |
| VA | Notes on the Settlement and Indian Wars of the western parts of Virginia and Pennsylvania 1763-1783 | Joseph Doddridge |
| VA | The Third Virginia Regiment of Foot 1776-1778 Vol. 1 A History | Joan W. Peters C. G. R. S. |
| VA | The Third Virginia Regiment of Foot 1776-1778 Vol. 2 Biographies | Joan W. Peters C. G. R. S. |
| VA | A Guide to Virginia Military Organizations in the American Revolution 1774-1787 | E . M. Sanchez-Saavedra |
| VA | Artisans and Merchants of Alexandria, Virginia 1780-1820 Volume 2 (Alexandria) | T. Michael Miller |
| VA | The Virginia Journal and Alexandria Advertiser Volume II (2/3/1785 to 1/26/1786)(Alexandria) | Pippenger and Munson |
| VA | Accomack Tithables 1663-1695 | Stratton Nottingham |
| VA | Legislative Petitions of the Town and County of Alexandria, Virginia | Wesley E. Pippenger |
| VA | Amelia County Road Orders 1735-1753 | Virginia Genealogical Society |
| VA | Albemarle County Road Orders 1783-1816 | Virginia Genealogical Society |
| VA | Bland County Virginia Survey Book I 1863-1926 | Hetherington |
| VA | The Papers of Col. Richard H. Gilliam of Buckingham County, Virginia | Carl C. Rosen |
| VA | Revolutionary Patriots Buckingham County, Virginia | Carl C. Rosen |
| VA | Caroline County Virginia - Bureau of Vital Statistics Death Records 1853-1896 | Herbert R. Collins |
| VA | Bible Records of Caroline County Virginia Families | Herbert R. Collins |
| VA | Caroline County Virginia Lost Marriage Register 1854-1865 Extant Marriage Register 1866-1868 | Kimberly C. Campbell |
| VA | Chesterfield County Virginia - Uncovered | Nancy C. Frantel |
| VA | Clarke County Virginia Death Register 1853-1896 with Birth Records 1855-1856 ent on Death Register | Patricia B. Duncan |
| VA | Clarke County Virginia Marriages 1836-1886 | Patricia B. Duncan |
| VA | Clarke County Virginia Will Book Abstracts Books A-I 1836-1904 -1A-3C 1841-1913 | Patricia B. Duncan |
| VA | Culpeper County Road Orders 1763-1764 - Final Report | Virginia Genealogical Society |
| VA | Cumberland County Virginia Tithable Lists for 1759 | Patti Sue McCrary |
| VA | Fairfax County Road Orders 1749-1800 | Virginia Genealogical Society |
| VA | Fairfax County Birth Registers 1853-1896 | Patricia B. Duncan |
| VA | Fauquier County Birth Registers 1853-1896 | Patricia B. Duncan |
| VA | Frederick County Road Orders 1743-1772 | Virginia Genealogical Society |
| VA | Fredericksburg, Virginia Death Records 1853-1895 | Robert A. Hodge |
| VA | Goochland County Road Orders 1728-1744 | Virginia Genealogical Society |
| VA | Highland County Virginia Death Records 1853-1898 | Woodrow Clay Hamilton, Jr. |
| VA | Abstracts of Loudoun County Virginia Register of Free Negroes 1844-1861 | Patricia B. Duncan |
| VA | Colonial Catoctin - 3 vols. Loudoun County | Roberto Costantino |
| VA | The Evolution of the Southern Backcounty - A Case Study of Lunenburg County VA 1746-1832 | Richard R. Beeman |
| VA | Families of Grace through 1900 Remembering Radford Vol. 1 (Montgomery) | Joanne Spiers Moche |
| VA | Norfolk, Virginia Registry of Free Negroes 1835-1861 Abstracts | C. Bernard Ruffin |
| VA | Louisa County Road Orders 1742-1748 | Virginia Genealogical Society |
| VA | Lunenburg County Road Orders 1746-1764 | Virginia Genealogical Society |
| VA | New Kent and Hanover County road Orders 1706-1743 | Virginia Genealogical Society |
| VA | Northampton County Virginia Record Books - not inclusive 1645-1719 | Mackey, Groves & Perry |
| VA | Northumberland County Virginia -Poll List for the Election of Burgesses for Period 1750-1774 | Bromley |
| VA | Marriages of Orange County Virginia 1757-1880 | Therese A. Fisher, A. G. |
| VA | Short Historical Sketches of Page County, Virginia and its People Vol. 2 | Robert H. Moore II |
| VA | Short Historical Sketches of Page County, Virginia and its People Vol. 1 | |
| VA | Patrick County Virginia Deed Index Abstracts 1791-1850 | Baughan & Pilson |
| VA | Patrick County Virginia Land Entry Book 7/1791 through 2/1796 & Abstracts of Grants in Patrick | |
| VA | County 1791 through 4/7/1890 | Baughan & Pilson |
| VA | Patrick County Virginia Superior Court Order Book May 1809-May 1831 | Baughan & Pilson |
| VA | Pittsylvania County, Virginia Register of Free Negroes and Related Documentation | Alva H. Griffith |
| VA | Princess Anne County Virginia Wills 1783-1871 | Anne E. Maling |
| VA | Prince William County, Virginia - General Index to Wills 1734-1951 | Joan W. Peters C. G. R. S. |
| VA | Prince William County, Virginia Patriots and Pensioners 1752-1856 | Joan W. Peters C. G. R. S. |
| VA | Register of Free Blacks Rockingham County Virginia 1807-1859 | Dorothy A. Boyd-Rush |
| VA | Spotsylvania County Road Orders 1722-1734 | Virginia Genealogical Society |
| VA | Men of Mark - officials of Stafford County, Virginia 1664-1991 | Jerrilynn Eby |
| VA | Poquoson Families, Vol. III The Topping, Rollins, and Carmines Families of the Poquoson District of York County, Virginia | Albert James Willett, Jr. |
| VA | | |
| VA | Poquoson Families, Vol. IV: The Amory, Insley, Firman and Firth Families of the Poquoson District of York County, Virginia | Albert James Willett, Jr. |
| VA | Poquoson Families Vol. V The Gilbert and Hopkins Families of the Poquoson District of York County, Virginia | Albert James Willett, Jr. |
| VA | Poquoson Families Vol. VI The Patrick, Evans and Lawson Families of the Poquoson District of York County, Virginia | Albert James Willett, Jr. |
| WVA | Pioneers and their Homes on Upper Kanawha | Ruth Dayton |
| WVA | A History of Seventh Day Baptists in West Virginia | Corliss Randolph |
| WVA | School Board Minutes Enumerations Lists and Account Records Barbour Co. West Virginia | Sharon W. Harsh |
| WVA | Aler's History of Martinsburg and Berkeley County West Virginia | Vernon Aler |
| WVA | The 1774 List of Tithables and Wheel Carriages in Berkeley County Virginia | William H. Rice |
| WVA | Wills of Berkeley County West Virginia and Other Estate Documents - An Index 1744-1880 | Morrow & Morrow |
| WVA | Miscellaneous Cabell County West Virginia Records 1814-1865 | Carrie Eldridge |
| WVA | Torn Apart - How Cabell Countians Fought the Civil War | Carrie Eldridge |
| WVA | An Index of the Estate Records in the basement of Hampshire Court House from 1754 to 1870 with a partial index from 1870 through 1884 | William H. Rice |
| WVA | Jefferson County(W) Virginia Personal Property Lists (1802-1813) - (1825-1841) | Patricia B. Duncan |
| WVA | Jefferson County (W) Virginia Death Register (1853-1880) - (1881-1903) | Patricia B. Duncan |
| WVA | A History of Jefferson County West Virginia 1749-1940 | Millard Bushong |
| WVA | Marriages of Jefferson County West Virginia 1801-1890 | J. Lester Link |
| WVA | Monongalia County, (West) Virginia Records of the District, Superior & County Courts Vol. 11 1819-1822) | Melba Pender Zinn |
| WVA | Pocahontas County West Virginia | William T. Price |
September 30, 2013
State/
Area
Title/Contents
Author, Compiler, Publisher
| | | |
| --- | --- | --- |
| FH | Alston - The Family of Gideon Branch and Nancy Elizabeth Crawley Alson | L. A. Alston Glasgow and E. B. Alston |
| | A History of the Lunt Family in America | Thomas S. Lunt |
| | From the Turn of the Century to the Space Age (Combs Family) | Gladys Morgan |
| Foreign | A Guide to Jewish Genealogical Research in Israel | Sallyann Amdur Sack, Ph. D. |
| Foreign | Spelling Variations in German Names | Roger P. Minert, Ph. D. |
| Foreign | Palatinate Place Name Indexes | Roger P. Minert, Ph. D. |
| Gen | Genealogical Proof Standard - Building a Solid Case | Christine Rose |
| GA | Bartow County, Georgia Biographies | George White |
| LA | Kendall of the Picayune | Fayette Copeland |
| MD | Out of the Past - Prince Georgians and Their Land | Lee Van Horn |
| NC | Southport (Smithville) A Chronology Vol. 1 1520-1887 (New Hanover) | Bill Reaves |
| NY | Historical Collections of the State of New York | Barber & Howe |
| RI | Kingston: A Forgotten History (Washington) | Christian M. McBurney |
| TX | Midland County Texas Census Records 1900 1900 1920 | Midland Genealogical Society |
| TX | Six Generation Charts Volume 1 (Midland) | Midland Genealogical Society |
| TX | Six Generation Charts Volume 2 (Midland) | Midland Genealogical Society |
| TX | Now You Hear My Horn - The Journal of James Wilson Nichols 1820-1887 | Catherine W. McDowell |
| TX | Pat Nixon of Texas - Autobiography of a Doctor | Pat Nixon |
| TX | My Only Lasting Words - The Recollections of Edmunds Travis | Mike Cox |
| TX | Force without Fanfare - Autobiography of K. M. Van Zandt | TCU Press Fort Worth |
| TX | The Guide to Loudoun - A Survey of the Architecture and History of a Virginia County | Eugene M. Scheel |
| TX | Ten More Texans in Gray | Dr. W. C. Nunn |
| VA | Thirty-nine Lashes - Well Laid On: Crime and Punishment in Southside VA 1750-1950 | Herman Melton |
| VA | Culpepper - A Virginia County's History Through 1920 | Eugene M. Scheel |
| VA | Property Lines from an Old Survey Book - Halifax County, Virginia 1741-1901 | Roger C. Dodson |
| VA | Early Marriages in the City of Danville, Virginia (1840 s - 1890 s) (Pittsylvania) | - |
| VA | Cemetery Records Pittsylvania County, Virginia Volume Four | VA-NC Piedmont Genealogical Society |
| VA | Pittsylvania County Tombstone Inscriptions Volume Five | VA-NC Piedmont Genealogical Society |
| VA | Register of Deaths in C. S. Prison Hospitals at Danville Va. (Pittsylvania) | VA-NC Piedmont Genealogical Society |
| VA | Pittsylvania County Virginia Inventories & Accounts Current 1770-1797 | Lucille C. Payne |
| VA | Wills of Pittsylvania Co. Virginia 1820-1880 | Mike K Williams |
| VA | Cemeteries of King George County, Virginia - Vol. 1 Church Cemeteries | King George Historical Society |
| VA | A Northumberland County Bookshelf or A Parcel of Old Books 1650-1852 | W. Preston Haynie |
| VA | This Was Prince William | R. Jackson Ratcliffe |
| VA | Fredericksville Parish Vestry Book 1742-1787 Vol. 2 | Rosalie Edith Davis |
| VA | Louisa County, Virginia 1743-1814 | Rosalie Edith Davis |
August 31, 2013
State/
Area
Title/Contents
Author, Compiler, Publisher
| | | |
| --- | --- | --- |
| Per | Pennsylvania Mennonite Heritage 24 Volumes | |
| Per | Mennonite Family History Volumes 22-30 | |
| Per | Mennonite Ten Year Index - Volumes 1-10 | |
| Per | National Genealogical Society Quarterly Volume 100 | |
| Per | New England Historical and Genealogical Register Volumes 165, 166 | |
| Per | Magazine of Virginia Genealogy Volume 50 | |
| Foreign | Map Guide to German Parish Registers (Volumes 1,2,4,9 through 24) | Kevan Hansen |
| Foreign | Plantagenet Ancestry Volumes 1-3 (England) | Douglas Richardson |
| Foreign | Magna Carta Ancestry Volumes 1-4 (England) | Douglas Richardson |
| Foreign | Royal Ancestry Volumes 1-5 (England) | Douglas Richardson |
| FH | The Promised Land (Eaddy Family History in South Carolina) | Elaine Y Eaddy |
| FH | The Vagabond Dreamer (Howard) | Elizabeth S. Howard |
| FH | The World of Col. John W. Thomason USMC | Martha Anne Turner |
| Gen | American Cattle Trails 1540-1900 | Garnet M. & Herbert O. Brayer |
| Gen | Far From Home | Schlissel, Gibbens & Hampsten |
| Gen | Lineage Book of the National Society of Daughters of Founders and Patriots of America (Volume 28) | - |
| Gen | Framers of the Constitution | Charleton, Ferris,Ryan |
| AL | Business Conditions, Logging, and Sharecropping (Butler) | William Frazer |
| AL | Mariah Baptist Church of Christ (Butler) | Richard Gibson, Phd. |
| AL | Probate Minutes Index Butler County Alabama | Barbara Perdue Middleton |
| AL | Cruising Through the Coosa River News 4 Volumes 1882-1925 (Cherokee) | John C. Awbrey |
| AL | Cruising Through the Coosa River News 1 Volume 1895-1915 (Cherokee)-Photographs | John C. Awbrey |
| IL | History of Hancock County Illinois | T. H. Gregg |
| KS | Early Days in Kansas (Osage) | C. R. Green |
| KY | Fulton County KY - Newspaper Abstracts, Volume 17 June thru August, & December 1906 | Laura Willis |
| KY | Kentucky Index of Biographical Sketches in State, Regional, and County Histories | Michael L. Cook, C. G. |
| LA | Diocese of Baton Rouge Baptisms 1901-1905 | Ann T. Boltin |
| NC | Carteret county North Carolina Marriage Abstracts 1755-1868 | John Vogt |
| NC | Orange County, NC Wills Volume 5 Aug 1800 - Feb. 1806 | Laura Willis |
| PA | Pennsylvania Archives Volume l & Vol XI ( 2nd Series) | Linn & Egle Editors) |
| PA | Pennsylvania Archives Volume l & Vol V ( 5th Series) | Thomas Lynch Montgomery |
| TN | Land Grant Genealogy - the Second Atlas 1779-1804 Supplement 3 | Warioto Press |
| TN | Land Grant Genealogy - the Third Atlas 1779-1804 Supplement 4 | Warioto Press |
| TX | Annual Report of the American Historical Association Volume II - Three Parts Texas Diplomatic Correspondence | Washington Government Printing Office |
| TX | Texas Charter Members of the Huguenot Society Founders of Manakin in the Col. Of Va. Volume 1 | Texas Branch this organization |
| TX | Lone Star Lawmen | Robert M. Utley |
| TX | Reminiscences of the Boys in Gray 1861-1865 | Mamie Yeary |
| TX | Brownsville - A Pictorial History (Cameron) | Ruby Woolridge & Robert B. Vezzetti |
| TX | George Washington Diamond's Account of the Great Hanging at Gainesville 1862 (Cooke) | Sam Acheson and Julia O'Connell |
| TX | Texas Land Survey Maps for Duval, Fannin, Montgomery, Stephens, Tarrant) | Gregory A. Boyd, J. D. |
| TX | Pilgrimage to Gonzales (Gonzales) | San Antonio Conservation Society |
| TX | The Finest in the Land - Petroleum Club of Houston (Harris) | Jack Donahue |
| TX | Henderson County, Texas in the Civil War | Carolyn Reeves Ericson |
| TX | Castro-Ville & Henry Castro Empresario (Medina) | Julia Nott Waugh |
| TX | Once in a Lifetime (MISD yearbook 1999-2000) | Montgomery Independent School District |
| TX | Jonas Memory Wallers Ledger of 1853 Millville, Texas (Rusk) | Jonas Wallers |
| TX | A City On A Hill (Williamson) | Jewel R. Johnson |
| VA | Index to Virginia Estates 1800-1865 Volume 10 | Wesley E. Pippenger |
| VA | The Story of Germanna Descendants in Reunion At Siegen Forest Virginia 1962,69,72,73 | Huffman & Holizclaw |
| VA | The Germanna Record Volumes 1-4, 6-7, 9-13 | Huffman & Wayland |
| VA | Vestry Book of King William Parish, Virginia 1707-1750 | The Huguenot Society of the Founders of Manakin |
| VA | Laying the Hoe (Stafford) | Jerrilynn Eby |
July 31, 2013
State/
Area
Title/Contents
Author, Compiler, Publisher
| | | |
| --- | --- | --- |
| SC | A Historical Account of the Protestant Episcopal Church in South Carolina 1820-1957 | Albert Sidney Thomas |
| SC | The Papers of Henry Laurens Volumes 1-13 (1746-1778) | University of South Carolina Press |
| SC | The State Records of South Carolina - Journals of the Privy Council 1783-1789 | Adele Stanton Edwards |
| SC | The Letterbook of Robert Pringle Volumes 1 & 2 (Charleston) | Walter B. Edgar |
| SC | History of Charleston County South Carolina | Thomas Petigru Lesesne |
| SC | The History of Grace Church, Chrleston South Carolina - The First Hundred Years 1846-1946 | William Way |
| SC | History and Reminiscences of Denton County South Carolina | Ed. F. Bates |
June 30, 2013
State/
Area
Title/Contents
Author, Compiler, Publisher
| | | |
| --- | --- | --- |
| FH | Bloss, Pyles, Ross, Sellards | Harry Leon Sellards, Jr. |
| FH | Frasher/Frazier Family History and Their Kinsmen | Harry Leon Sellards, Jr. |
| FH | Hatfield and Phillips Families of Eastern Kentucky and Southwestern West Virginia | Harry Leon Sellards, Jr. |
| FH | Their Life in the Land (Jackson, Thompson, Lett, Copley, Wilson & Williamson) | Harry Leon Sellards, Jr. |
| Gen | Encyclopedia of Ephemera | Maurice Rickards |
| FC | Archivos Parroquiales de Nuestra Senor De Guadalupe de Reynosa Tamaulipas, Mexico Matrimonios Volume #2 1790-1811 | Lee James Nichols |
| FC | 1799 Census of Villa de San Juan Bautista DE Cadereyta del Nuevo Reyno de Leon (Mexico.) | Zelma Murphree |
| FC | Deaths of Nuestra Senora de la Asuncion 1833-1844 Marin, N.L. Volume II | Aida Martinez |
| FC | Deaths of Iglesia de Nuestra Senora de la Asuncion 1802 to 1832 Marin, N. L. Volume I | Los Bexarenos Genealogical Society |
| FC | 1881 Census of the Municipalidad de Nava, Coahuila | Donald May |
| FC | 1886 Censo del Colonia de Pan | Donald May |
| FC | 1875 Cenzos de Villa de Fuente, Gugedo and Villa de Rosales, Coahuila | Donald May |
| FC | 1879 Censo de Guerrero, Coahuila | Donald May |
| FC | 1875 Censo de Guerrero, Coahuila | Donald May |
| FC | 1875 Census of the Municipalidad de Nava, Coahuila | Donald May |
| FC | 1882 Census of the Voters of the Municipalidad de Parras | Donald May |
| FC | Censuses of 1867 & 1875 for Santa Rita de Morelos | Donald May |
| FC | Libro Entierros de la Mision de Santa Rosa de Nadadores 1718-1804 | L. M. Sanchez |
| FC | From the Republic of the Rio Grande | Beatriz de la Garza |
| NA | Handbook of South American Indians Volumes 1-5 | Smithsonian Institution |
| IL | Mary Little Deere Chapter of the DAR - Gen. Records Volumes II-IV | Mary Little Deere Chapter NSDAR |
| IN | The Early History of Scott County Indiana 1820-1870 | Carl R. Bogardus, Sr. |
| NM | Land Grants & Lawsuits in Northern New Mexico | Malcolm Ebright |
| NC | Early Settlers of Reddies River (Wilkes Co.) | Paul W. Gregory |
| NC | Historical Sketches of Wilkes County | Wilkes Genealogical Society |
| NC | The Levi Absher Ledger (Wilkes County) | Wilkes Genealogical Society |
| NC | Abstract if Reddies River Church Membership 1798-1889 (Wilkes Co. ) | Paul W. Gregory |
| NC | 1782 Tax List Wilkes County, North Carolina Volume I | Wilkes Genealogical Society |
| NC | Wilkes County North Carolina Taxables Volume II & III 1784-1790 | Wilkes Genealogical Society |
| NC | Will Books 3 & 4 Wilkes County North Carolina 1811-1848 | Wilkes Genealogical Society |
| NC | Wilkes County North Carolina Court Minute Abstracts March 1778- Oct 1784 Jan 1785-Nov 1788 | Wilkes Genealogical Society |
| NC | Wilkes County North Carolina Deed Books D( 1784-1800),F-1 (1778-1807)G-H( 1782-1815) | Wilkes Genealogical Society |
| NC | Cemetery Records Wilkes County Area Volume I | Wilkes Genealogical Society |
| NC | The Heritage of Wilkes County North Carolina Volume II 1990 | Wilkes Genealogical Society |
| NY | New York in the American Revolution | Eric G. Grundset for the NSDAR |
| SC | Heads of Families-First Census of the United States -1790 | Government Printing Office |
| TX | The Trail Drivers of Texas | J. Marvin Hunter |
| TX | Mexican Texas in the Union Army | Jerry D. Thompson |
| TX | The Daughters - A Dozen Decades of DRT | Daughters of the Republic of Texas |
| TX | Hill County Texas Volume 7 - Deaths, Obituaries, Weddings, Births | - |
| TX | Texas Land Surveys of Texas (Angelina, Dallas, Harrison,Henderson, Montgomery, and Wise Counties ) | Arphax Publishing Co. |
| TX | Census of Liberty County Texas 1855 | - |
| TX | Index of Conroe Courier Obituaries 1994-2002 (Montgomery) | Jim Laird |
| VA | Crossroads of the Past: A History of Haymarket, Virginia (Prince William) | Robert L. Crewdson |
| VA | Clifton: Brigadoon in Virginia (Fairfax) | Nan Netherton |
| VA | Fairfax County, Virginia Deed Abstracts 1742-1768 / 1772-1777 - 4 Volumes | Ruth and Sam Sparacio |
| VA | Fauquier County Virginia Minute Books 1759-1783 - 14 Volumes | Ruth and Sam Sparacio |
| VA | Goochland County Virginia Land Tax Books 1789-1794 | The Ancient Press (Sparacio) |
| VA | Loudon County Virginia Will Abstracts 1757-1800 - 7 Volumes | The Ancient Press (Sparacio) |
| VA | Louisa County Virginia Orders 1742-1772 Not inclusive - 8 Volumes | The Ancient Press (Sparacio) |
| VA | Middlesex County Virginia Deed Abstracts 1679-1720 - 5 Volumes | The Ancient Press (Sparacio) |
| VA | Northumberland County Virginia Order Book 1652-1679 - 7 Volumes | |
| VA | Orange County Virginia Orders 1747-1763 - 10 Volumes | The Ancient Press (Sparacio) |
| WY | The History of Albany County, Wyoming to 1880 | Lola M. Homsehr |
May 31, 2013
State/
Area
Title/Contents
Author, Compiler, Publisher
| | | |
| --- | --- | --- |
| Gen | DAR Lineage Books Volumes 100-151 | NSDAR |
| KY | History of Shelby County, Kentucky | George L. Willis, Sr. |
| MD | Prince George's Heritage ( Prince George) | Louise Joyner Hienton |
| MS | L'Allegro (Hinds) Volume 2 1908 - Volume 8 1914 | Students of Mississippi College |
| OH | 1881 History of Licking County Ohio Its Past and Present | N. N. Hill, Jr. |
| OH | History of Western Ohio and Auglaize County | C. W. Williamson |
| OH | Census of 1807 Butler County Ohio | Heiss and Mayhill |
| PA | A Biographical History of Lancaster Pennsylvania 1872 | Alex. Harris |
| SC | Twentieth Century Sketches of the South Carolina Conference M. E. Church, South | Watson B. Duncan, A. M. |
| VA | Manumission Wills of Accomack County, Virginia | Richard H. Smith, Jr. |
| VA | Manumission Deeds of Accomack County, Virginia | Richard H. Smith, Jr. |
| VA | Louisa County Virginia Deed Books E & F 1774-1790 | Rosalie Edith Davis |
| VA | Louisa County Virginia, Tithables and Census 1743-1785 | Rosalie Edith Davis |
| VA | Louisa County Records You Probably Never Saw of 18th Century Virginia | John G. Bell |
| VA | Fauquier County, Virginia Deeds 1759-1778 | John K. Gott |
April 30, 2013
State/
Area
Title/Contents
Author, Compiler, Publisher
| | | |
| --- | --- | --- |
| Gen | Confederate Military History Volumes I-XVII; Indices Volumes 1 &: 2 | (A Library of the Confederate States History) |
| Gen | War of the Rebellion - Official Records of the Union and Confederate Armies Series I, II, III, IV | |
| Gen | Supplement to Above Entry Parts I, II, III | Broadfoot |
| Gen | Indices as Appropriate | |
| Gen | The Union Army - Illustrated Volumes I-IX | Broadfoot Publishing Com any |
| TX | Sam Houston Elementary 1997 (Montgomery) - annual | CISD |
| TX | Montgomery Middle School 2002 (Montgomery) - nnual | MISD |
| TX | Montgomery Junior HIgh 2003 (Montgomery)-annual | MISD |
| TX | Montgomery High School 2002, 2003, 2004, 2005 (Montgomery) -annuals | MISD |
| TX | The Woodlands High School 2006 (Montgomery) - annual | MISD |
| TX | Parker County Divorces 5/1/1893-11/18/1897 | Munnerlyn and Tidwell |
| TX | Montgomery County News | Narcissa Martin Boulware |
| TX | Houston Post Newspaper Index 1977-1982 (Harris) | Bell and Howell |
March 31, 2013
State/
Area
Title/Contents
Author, Compiler, Publisher
Foreign

The Russian Officer Corps in the Revolutionary and Napoleonic Wars, 1792-1815
Alexander Mikaberidze
Foreign

Jacobites of 1715 & Jacobites of 1745 North East Scotland
Frances McDonnell
IN
Abstracts of the Records of the Society of Friends in Indiana-Index
Willard Heiss
IN
Abstracts of the Records of the Society of Friends in Indiana Volume 7 Pts. 4,5,6
Willard Heiss
GEN
Living Descendants of Blood Royal (in America)
Count d'Angerville
GEN
The Roster of Union Soldiers 1861-1865 (33 Volumes)
Janet B. Hewett
GA
The Story of Freemasonry
Ed. & Hist. Comm. of the Grand Lodge of GA
GA
Raburn County, Georgia, Newspapers, 1894-1899
Dawn Watson
MD
Maryland Bible Records Volume 6: Eastern Shore
John J. Winterbottom
MD
Maryland Bible Records Volume 7 Harford, Baltimore, and Frederick Counties
Henry C. Peden, Jr.
MD
Prince George's County Maryland - Indexes of Church Registers 1686-1885 Volume 1
Protestant Episcopal Church
MO
The History of Buchanan County Missouri
Union Historical Company
NC
Petitions for Land Grant Suspensions in North Carolina 1776-1836 Parts 1 & 2
Dr. A. B. Pruitt
NC
Corrections or Alterations to Land Grants in NC (1714-1873) & TN (1778-1796)
Dr. A. B. Pruitt
NC
Abstracts of Sales of Confiscated Loyalists Land and Property in North Carolina
Dr. A. B. Pruitt
NC
Colonial Petitions for Land Resurveys-Some Land Warrants 1753-1774-Caveats of Land
NC
Warrants 1767-1773 In North Carolina
Dr. A. B. Pruitt
NC
Cherokee Land Surveys 1820 & 1827
Dr. A. B. Pruitt
NC
Sherriff's Sales to North Carolina Governor
Dr. A. B. Pruitt
NC
North Carolina Regiments 1861-1865 Volumes 1-5
Walter Clark
NC
North Carolina Troops 1861-1865 Volumes 16-18
Brown & Coffey
NC
Surry County, North Carolina Deeds Books D, E, and F 1779-1797
Mrs. W. O. Absher
NY
New York - Old and New
New York Commercial
NY
Notable New Yorkers of 1896-1899
Moses King NY, NY
OH
History of Ashtabula County, Ohio-Index
Williams Brothers
OH
History of Ashtabula County, Ohio-Index
Williams Brothers
PA
Dutch and Swedes on the Delaware 1609-64
University of Pennsylvania Press
SC
South Carolina Marriages Volume VII 1794-1877 Implied in the Misc. Records and Settlements of South Carolina
Barbara R. Langdon
SC
Anderson County Cemeteries Volumes 2,4,5,6,7,8,9
Anderson County Chapter of SC Gen. Society
SC
Yearbook - 1882 City of Charleston SC
-
SC
The Independence Republic (Horry)
Dr. Goff Bedford
SC
Abstracts from The Pickens Sentinel Pickens, South Carolina 1875-1915
Judy Chandler Ballard
SC
The South Carolina Regimental Roster Set (10 Volumes)
Broadfoot Publishing Company
TN
White County, Tennessee Deed Abstracts Volume II 1820-1834 Volumes G and H
Joyce Martin Murray
TN
William Maclin Warrants and West Tennessee Commissioners' Decisions
Dr. A. B. Pruitt
TN
Tennessee Land Entries/Locations First Surveyor's District Volumes
1-5
Dr. A. B. Pruitt
TN
East Tennessee Board of Commissioners Minutes 1806-1818
Dr. A. B. Pruitt
TN
West Tennessee Survey 1783-1788
Dr. A. B. Pruitt
TN
Tennessee Land Entries John Armstrong's Office Pts. 1 & 2
Dr. A. B. Pruitt
TN
North Carolina Land Warrants in Tennessee Valid & Invalid
Dr. A. B. Pruitt
TN
Tennessee Land Warrants Volume 4 Parts 1,2,3 & Index
Dr. A. B. Pruitt
TN
Tennessee Land Entries Military Bounty Land Parts 1,2,3,4,5,6,7 and Index
Dr. A. B. Pruitt
TN
Tennessee Land Entries Washington County Parts 1-3, 1778-1796
Dr. A. B. Pruitt
TN
History of Jackson Tennessee
Kim Young
TN
Davidson County TN Land Entries 1824-1836 Land Surveys 1824-1852
Dr. A. B. Pruitt
TN
Washington County TN Land Entries 1802-1805, 1824-1875, & 1879-1904
Dr. A. B. Pruitt
TX
Aggieland (Yearbook of Texas A & M University 1968 & 1969)
-
TX
Winchester Warriors Texas Rangers of Company D 1874-1901
Bob Alexander
TX
Rawhide Ranger, Ira Aten- Enforcing Law on the Texas Frontier
Bob Alexander
TX
Texas Ranger John B Jones and the Frontier Battalion, 1874-1881
Rick Miller
TX
Captain John H. Rogers, Texas Ranger
Paul N. Spellman
TX
Yours to Command - The Life and Legend of Texas Ranger Captain Bill McDonald
Harold J. Weiss, Jr.
TX
The Mason County "Hoo Doo" War 1874-1902
David Johnson
TX
Nassau Plantation -the Evolution of a Texas German Slave Plantation (Fayette)
James C. Kearney
TX
Antebellum Jefferson, Texas (Marion)
Jacques D. Bagur
TX
Cemeteries of Sabine County Texas Volume 1 1840-2005
Weldon McDaniel
TX
Cemeteries of Sabine County Texas Volume 2 1850-2005
Weldon McDaniel
TX
Cemeteries of Sabine County Texas Volume 3 1861-2005
Weldon & Beth McDaniel
TX
Cemeteries of Sabine County Texas Volume 5 1861-2005
Doris Barlow & Weldon McDaniel
VA
Journals of the House of Burgesses of Virginia 1742-1747 1748-1749
H. R. McIlwaine
VA
Revolutionary Warriors & Widows of Henry, Franklin, Patrick & Floyd Counties of VA
C. Leon Davis
VA
Northampton County Chancery Causes 1721-1816 (Volumes 1-6)
Gail M. Walczyk
VA
Fairfax County in Virginia - A Pictorial History
Ross and Nan Netherton
February 28, 2013
| | |
| --- | --- |
| Title/Contents | Author, Compiler, Publisher |
| | | |
| --- | --- | --- |
| Foreign | Genealogical Studies of Cadereyta Jimenez, Nuevo Leon, Mexico Volumes 1-3 | Michael A. Carrillo |
| Foreign | Jewish Roots in Poland | Miriam Weiner |
| Foreign | Hebrew Subscription Lists | Berl Kagan |
| Foreign | Pinkes Bendin - A Memorial to the Jewish Community of Bendin (Poland) | - |
| Foreign | Juden in Monchengladbach (Germany) | Gunter Erckens |
| Foreign | Anuario Conmemorativo Numbero Uno (Ukraine) | Nechemias Zucker |
| Native American | Thrilling Adventures Among the Indians | John Frost |
| Native American | History of the Indians of North and South America | George C. Rand & Avery |
| Native American | Archaeology of the Arkansas River Valley | Warren K. Moorehead |
| Native American | Reprints in Anthropology Volume 27 | Southern Methodist University |
| Native American | Through the Country of the Comanche Indians in the Fall of the Year 1845 | John Howell Books |
| Native American | The Alex Justiss Site - A Caddoan Cemetery in Titus County Texas (Caddo) | Milton Bell |
| Native American | Caddo - A Survey of the Caddo Indians in Northeast Texas and Marion County 1541-1840 | Mildred S. Gleason |
| Native American | The Hasinais | Herbert Eugene Bolton |
| Native American | Reprints in Anthropology Volume 27 (Caddo) | Southern Methodist University |
| Native American | The Northern Paiute Indians of California and Nevada | Ruth Underhill |
| Native American | The Quapaw Indians - A History of the Downstream People | W. David Baird |
| Native American | Studies of California Indians | C. Hart Merriam |
| Native American | Antiquities of the Southern Indians | Charles c. Jones, Jr. |
| Native American | Etowah Papers | Warren K. Moorehead |
| Native American | Prehistoric Indian Settlements of the Changing Mississippi River Delta | William G. McIntire |
| Native American | Eagle Hill: A Late Quaternary Upland Site in Western Louisiana | Gunn & Brown |
| Native American | Occupation and Settlement in the Uplands of West-Central Louisiana | Gunn & Kerr |
| Native American | The American Indian of North Carolina | Douglas L. Rights |
| Native American | Picture Writing of Texas Indians | A. T. Jackson |
| Native American | Indians of the Rio Grande Delta | Martin Salinas |
| Native American | Indians of the Upper Texas Coast | Lawrence E. Aten |
| Native American | River Basin Surveys Papers | Frank H. H. Roberts, Jr. |
| Native American | Handbook of South American Indians Volumes 1, 2, 3, 4, 5 | Julian H. Steward |
| Native American | Handbook of North American Indians Volume 10 | Smithsonian Institution |
| | | |
| General | Beta Theta Pi Catalog 1917 | James T. Brown |
| General | Report of United States and Mexican Boundary Survey Volumes I & II | William H. Emory |
| General | Associated Daughters of Early American Witches Roll of Ancestors | Kimberly Ormsby Nagy, MD |
| GA | Savannah's Old Jewish Community Cemeteries | B. H. Levy |
| MA | Agawam Massachusetts - A Town History | Edith LaFrancis |
| LA | Lagniappe 1951 (Louisiana Polytechnic Institute) | Frances Anderson |
| NM | New Mexico's Buffalo Soldiers 1866-1900 | Monroe Lee Billington |
| OH | Ohio Archaeological and Historical Publications Volume V | Ohio Archaeological and Historical Society |
| OK | The Intruders - The Illegal Residents of the Cherokee Nation 1866-1907 | Nancy Hope Sober |
| TX | Spain, Mexico and the Lower Trinity - Early History of the Texas Gulf Coast | John V. Clay |
| TX | The George C. Davis Site Cherokee County, Texas | Newell and Krieger |
| TX | Camp County Texas in the Civil War | Joe & Carolyn Ericson |
| TX | Cass County Texas in the Civil War | Carolyn & Joe Ericson |
| TX | Hardin County Timeless Treasures | Renee Wells and Nancy Thompson |
| TX | Marion County Texas in the Civil War | Joe & Carolyn Ericson |
| TX | Titus and Franklin Counties in the Civil War | Carolyn & Bonnie Ericson |
| TX | The Great Galveston Disaster | Paul Lester |
| TX | Native Houstonian, A Collective Portrait (Harris) | Ann Quin Wilson |
| TX | Colonizing Projects in Texas South of the Nueces, 1820-1845 | Le Roy P. Graf |
| VA | Hanover County Virginia Will Book 1 Circuit Court 1862-1895 - Will Book 1 1862-1868 | June Banks Evans |
| VA | Hanover County Virginia Old Wills 1785-1893 - Will Book Circuit Court 1852-1865 | June Banks Evans |
| VA | Long Ago in Lunenburg on Stony Creek of the Meherrin | June Banks Evans |
| VA | Lunenburg County Virginia Deed Books 21,23,24,26,27,33,34,35- 1806-1856 not inclusive | June Banks Evans |
| VA | Lunenburg County Will Books 1,3,4 -1746-1791 not inclusive | June Banks Evans |
| VA | Lunenburg County Virginia Minute Book 1817-1819 | June Banks Evans |
| VA | Lunenburg County Virginia Minute Book 1822-1824 | June Banks Evans |
| VA | Lunenburg County Virginia Guardian Accounts 1791-1810 | June Banks Evans |
| VA | Lunenburg County Virginia Guardian Accounts 1828-1851 | June Banks Evans |
| VA | Lunenburg County Virginia Register of Marriages 1850-1872 | June Banks Evans |
| VA | Lunenburg County Virginia Order Books 2, 2 1/2 A, 2 1/2 B thru 8 1748-1762 inclusive | June Banks Evans |
| VA | New Kent County Virginia Deed Book I 1864-1872 | June Banks Evans |
| VA | New Kent County Virginia Will Book 1 1864-1887 | June Banks Evans |
| VA | New Kent County Virginia Will Book 2 1880-1938( Part 1 to December 1924) | June Banks Evans |
January 31, 2013
State/
Area
Title/Contents
Author, Compiler, Publisher
| | | |
| --- | --- | --- |
| Foreign | Marriages of San Fernando de Austria 1777-1812 & Records of Presidio San Saba 1757-1781 (Coahuila) | Daniel Gomez & Frances Gomez |
| Foreign | Matrimonios en la Catedral de Monterrey Libros 1 Y 2 1667-1781( Nuevo Leon) | Jose Francisco Garza Carrillo |
| Foreign | Marriages of Sagrario Metropolitano Nov. 1776-31 January 1781 Monterrey Nuevo Leon | Aida Martinez |
| Foreign | General Trevino Nuevo Leon Mexico-Extracts-Birth Records-Civil Registry 1869-1883 Volume 1 | Eduardo J. Hinojosa Gonzalez |
| Foreign | Matrimonios de Sagrario Metropolitano, Monterrey, N. L. May 7, 1791 to Dec. 6, 1795 | Aida Martinez |
| Foreign | Marriages of Sagrario Metropolitano :Nuestra Senora de Monterrey 3 Feb 1781-4 May 1791 Located at Monterrey, Nuevo Leon | Aida Martinez |
| Foreign | Marin, Nuevo Leon Mexico Estractos Bautismales de la Parroquia de San Antonio de los Martinez (1802-1814) Volume I | Jose Gonzales & Eduardo J. H Gonzalez |
| Foreign | Marriages of Monterrey, N. L. 1667-1740 | Concepcion Robles & Mickey Garcia |
| Foreign | Mier in History reprint of Mier in la Historia (Tamaulipas) | Antonio Ma. Guerra |
| Foreign | Marriages Cruillas, Tamaulipas 1822-1897 | Irma Garza Cantu |
| Foreign | Jews of the Kaisiadorys Region of Lithuania | Rolandas Gustaitis |
| Foreign | Jewish Vital Records, Revision Lists and Other Jewish Holdings in the Lithuanian Archives | Rhode and Sack |
| Foreign | Genealogical Gazetteer of the Kingdom of Hungary | Jordan Auslander |
| Foreign | Polish Sources at the Central Archives for the History of Jewish People (Poland) | Volovici, Medykowski, Assouline and Lukin |
| Foreign | Stones of Remembrance (Poland) | Rosenstein and Weber |
| Foreign | Jewish Bialystok (Poland) | Mimi Sheraton |
| Gen | Sourcebook for Jewish Genealogies and Family Histories | Zubatsky and Berent |
| Gen | A Practical Guide to Jewish Cemeteries | Nolan Menachemson |
| KY | Taylor County Kentucky Marriages Mar. 1848 to Aug. 1874 | Dwayne Wilson |
| KY | Green County Circuit Court Minute Book Quarter Sessions 1794-1801 | Green County Historical Society |
| KY | Green County , Kentucky Abstracts of Deed Book 9 1819-1821 | Barbara Wright |
| KY | Green County, Kentucky Court Minute Books Books 2, 3 1794-1804 | Barbara Wright and Carolyn Scott |
| KY | Taylor County Kentucky Abstracts of Circuit Court Cases Volume 1 | Barbara Wright |
| NJ | The Old Jewish Cemeteries of Newark (Essex) | Alice Perkins Gould |
| NY | The Lost Synagogues of Brooklyn (New York) | Ellen Levitt |
| NY | The Lost Synagogues of The Bronx and Queens (New York) | Ellen Levitt |
| PA | The Jewish Quarter of Philadelphia | Harry D. Boonin |
| SC | Genealogical Abstracts from Marion South Carolina Newspapers 1858-1886 | Gloria Calhoun |
| SC | Genealogical Abstracts from Marion South Carolina Newspapers 1858-1886 | Gloria Calhoun |
| SC | Genealogical Abstracts from Marion South Carolina Newspapers 1858-1886 | Gloria Calhoun |
| SC | Genealogical Abstracts from Marion South Carolina Newspapers 1858-1886 | Gloria Calhoun |
| SC | Genealogical Abstracts from Marion South Carolina Newspapers 1858-1886 | Gloria Calhoun |
| TX | 1835 Sabine District, Texas Census | Helen Gomer Schluter |
| TX | Memories of Early Texas (Bexar) | Jose Maria Rodriguez |
| TX | History of Montgomery County Texas - Volume II | Montgomery County Genealogical & Historical Society, Inc. |
| TX | Amarillo College Yearbooks - 1957, 1958, 1961 (Potter) | - |
| TX | Le Mirage 1962 West Texas State College (Randall) | - |
| VA | Abstracts of Account Books of Edward Dixon, Merchant of Port Royal VA Volumes I & II 1743-1752 ( Caroline) | Ruth & Sam Sparacio |
| VA | Deed Abstracts of Fairfax County, Virginia 1742-1750, 1761-1768, 1783-1784 - 3 volumes | Ruth & Sam Sparacio |
December 31, 2012
State/
Area
Title/Contents
Author, Compiler, Publisher
| | | |
| --- | --- | --- |
| NA | Cherokee Citizenship Commission Dockets 5 Volumes 1880-1884 & 1887-1889 | Jeff Bowen |
| AL | DeKalb County, Alabama, Wills and Estates 1836-1929 2 Volumes | Dorothy Smith Duff |
| AL | DeKalb County, Alabama, Probate Court Records, 1836-1930 | Dorothy Smith Duff |
| NC | Chowan County North Carolina marriage abstracts 1741-1869 | John Vogt |
| NC | Stokes County North Carolina marriage abstracts 1788-1868 | John Vogt |
| SC | A Place Called St. John's (Charleston) | Jordan and Stringfellow |
| SC | Marion County South Carolina Abstracts of Deeds Volume Two Books F-I & K 1811-1823 | Utley and Sutcliffe |
| SC | One Hundred and One Cemeteries in Marion County South Carolina | Marion County Historical Society |
| SC | The Narrative History of Union County South Carolina | Allan D. Charles |
| TN | The First Southwest - The Third Atlas - Cumberland and Duck River Settlements | Masters & Puryear |
| TX | Guide and Index to the Texas Adjutant General Service Records 1836-1935 Vol 1 | Anthony Black and the Texas State Archives |
| TX | A Guide to the holdings of the Texas Newspaper Collection - Texas University at Austin | Eugene C. Barker Library |
| TX | From Jamestown to Texas (Austin) | Betty Smith Meischen |
| TX | Kerr County Texas Divorce Records 1856-1990 | Gloria G. Dozier |
| TX | Kerr County Texas Probate Records 1856-2002 | Gloria G. Dozier |
| TX | The Early History of Montgomery Texas (Montgomery) | Kameron K. Searle, J. D. |
| TX | School Yearbooks (Cryar Intermediate 2005-2006), (B. B. Rice Elementary 1998-2004) | - |
| VA | The Virginia Papers 5 Volumes (Volumes 1ZZ thru 5ZZ of the Draper Manuscript Collection) | Craig L. Heath |
| VA | Virginia's Mother Church - 2 Volumes | George M. Brydon, D. D. |
| VA | Abstracts of Virginia's Northern Neck Warrants & Surveys-Vol. 3 & 4 | Peggy Joyner |
| VA | Accomack County, Virginia Court Order Abstracts 1676-1678 Volume 5 | JoAnn Riley McKey |
| VA | Amherst County Virginia Land Tax Books 1782-1788; 1789-1791 - 2 volumes | Ruth & Sam Sparacio |
| VA | Augusta County Virginia Land Tax Books 1782-1788: 1788-1790 - 2 volumes | Ruth & Sam Sparacio |
| VA | Caroline County Virginia Order Book Abstracts 1770-1788 - 16 Volumes | Ruth & Sam Sparacio |
| VA | Essex County Virginia Order Book Abstracts 1695-1702 - 2 Volumes | Ruth & Sam Sparacio |
| VA | Fauquier County Virginia Land Tax Books 1783-1791 - 2 Volumes | Ruth & Sam Sparacio |
| VA | Goochland County Virginia Land Tax Books 1782-1794 - 2 Volumes | Ruth & Sam Sparacio |
| VA | Hanover County Virginia Land Tax Books 1782-1796 - 3 Volumes | Ruth & Sam Sparacio |
| VA | Lancaster County Virginia Deed Books 1710-1714 | Ruth Sparacio |
| VA | Lancaster County Virginia Deed Book 1706-1710 | Ruth & Sam Sparacio |
| VA | Lancaster County Virginia Deed Abstracts 1701-1706 | Ruth & Sam Sparacio |
| VA | Lancaster County Virginia Deed & Will Abstracts 1654-1661 | Ruth & Sam Sparacio |
| VA | Lancaster County Virginia Deed & Will Abstracts 1661-1702 | Ruth & Sam Sparacio |
| VA | Lancaster County Virginia Deed & Will Abstracts 1652-1657 | Ruth & Sam Sparacio |
| VA | Loudoun County Virginia Fee Book Abstracts 1762, 1764, 1765 | Ruth & Sam Sparacio |
| VA | Middlesex County, Virginia Record Book Abstracts 1721 - 1813 | Ruth & Sam Sparacio |
| VA | Orange County, Virginia Land Tax Books 1782-1790 | Ruth & Sam Sparacio |
| VA | Orange County, Virginia Land Tax Books 1791-1795 | Ruth & Sam Sparacio |
| VA | Orange County, Virginia Chancery Suits Abstracts 1831-1845 | Ruth & Sam Sparacio |
| VA | Orange County, Virginia Will Book 1821-1838 | Ruth & Sam Sparacio |
| VA | Orange County, Virginia Abstracts 1778-1795 - 3 Volumes | Ruth & Sam Sparacio |
| VA | Orange County, Virginia Deeds 1795-1797 | Ruth & Sam Sparacio |
| VA | Orange County, Virginia Deed Book 1797-1802 - 3 Volumes | Ruth & Sam Sparacio |
| VA | Spotsylvania County, Virginia Order Book Abstracts 1724-1730 - 4 Volumes | Ruth & Sam Sparacio |
| VA | Spotsylvania County, Virginia Order Book Abstracts 1730-1751 -10 Volumes | Ruth & Sam Sparacio |
| VA | Stafford County Virginia Land Tax Books 1782-1792 | Ruth & Sam Sparacio |
| VA | Washington County Virginia Deed Book I 1778-1797 | Donald Helton |
| VA | Washington County Virginia Deed Books 12-20 9 Volumes (1834-1852) | Jack Hockett |
| VA | Washington County Virginia Minute Book 1 Jan 1777-Aug 1784 | Hockett & Helton |
| VA | Washington County Virginia Minute Book 2 Jan 1819-1821 | Hockett & Helton |
| VA | Washington County Virginia Minute Book 3 May 1837- April 1839 | Hockett & Helton |
| VA | Washington County Virginia District Court Deed Book B 1801-1840 | Thomas & Jane Colley |
| VA | Washington County Virginia Survey and Commissioners' Certificates 1781-1797 | Thomas Colley |
| VA | Abstracts of Washington County Virginia Circuit Court Will Book 1840-1903 | Jack Hockett |
| VA | Washington County Virginia Unrecorded Marriage Licenses 1850-1902 | William R. Wheeler |
| VA | Washington County Virginia 1890 Personal Property Tax List | Hockett & Helton |
| VA | Washington County Virginia Marriage Licenses 1881-1890 | William R. Wheeler |
| VA | York County Virginia Records 1659-1662 | Benjamin B. Weisiger, III |
| VA | York County Virginia Records 1665-1672 | Benjamin B. Weisiger, III |
| VA | York County Virginia Records 1672-1676 | Benjamin B. Weisiger, III |
| Home | Top of Page |
| Montgomery County Memorial Library - Genealogy |
| What's New at the Library 2009 and Earlier |
| What's New at the Library in 2010 |
| What's New at the Library in 2011 |
| What's New at the Library in 2012 |