What's New at the Library?


Montgomery County Memorial Library in Conroe Texas
MCMLS Genealogy Programs: Winter 2018

The Genealogy Department at the Central Library in Conroe is pleased to announce the following workshops and presentations for Winter 2018. Please note that programs in the month of January will be held at various library branches and NOT at the Central Library Genealogy department.

Anyone can register by heading to the calendar http://www.countylibrary.org/calendar.htm and clicking on the event.

Genealogy Programs at Other MCMLS Locations for January 2018 and Genealogy & Local History Room Programs for February 2018 – PDF

The Central Library 2nd Floor is Open again!
January 26, 2018

Good Morning Everyone,

I wanted to let you know that we have finished with the carpeting project at the Central Library, and the second floor is now open to the public. HOORAY!

We have missed seeing you all this month here in the Genealogy Department, and hope you can come in soon to continue your research. We thank you for your patience through this large project!

Best regards,

Carl Smith

Montgomery County Memorial Library System

Please feel free to contact the Genealogy & Local history department with any questions or for more information at
936-788-8363 x 6249 or librarygenealogy@countylibrary.org.

Thank you for your patience and understanding during this renovation period.

Cordially,

Carl Smith

Genealogy Librarian
Montgomery County Memorial Library System

The Staff


Renee Kernan, Carl Smith, Genealogy Librarian,
Pat Nichols and Nelson Kornegay
Registration is recommended due to limited space. Please contact the Genealogy Department at

936-788-8363 x6249
,
stop by in person, or go online to
http://www.countylibrary.org/calendar.htm
to register!
Join the Genealogy department as we delve into the history and background of some of the more prominent fraternal societies. Come learn about what kinds of records are available for these organizations and how they may help accentuate the stories of your individual ancestors.
Exciting News: New Preservation Pad Made It's Debut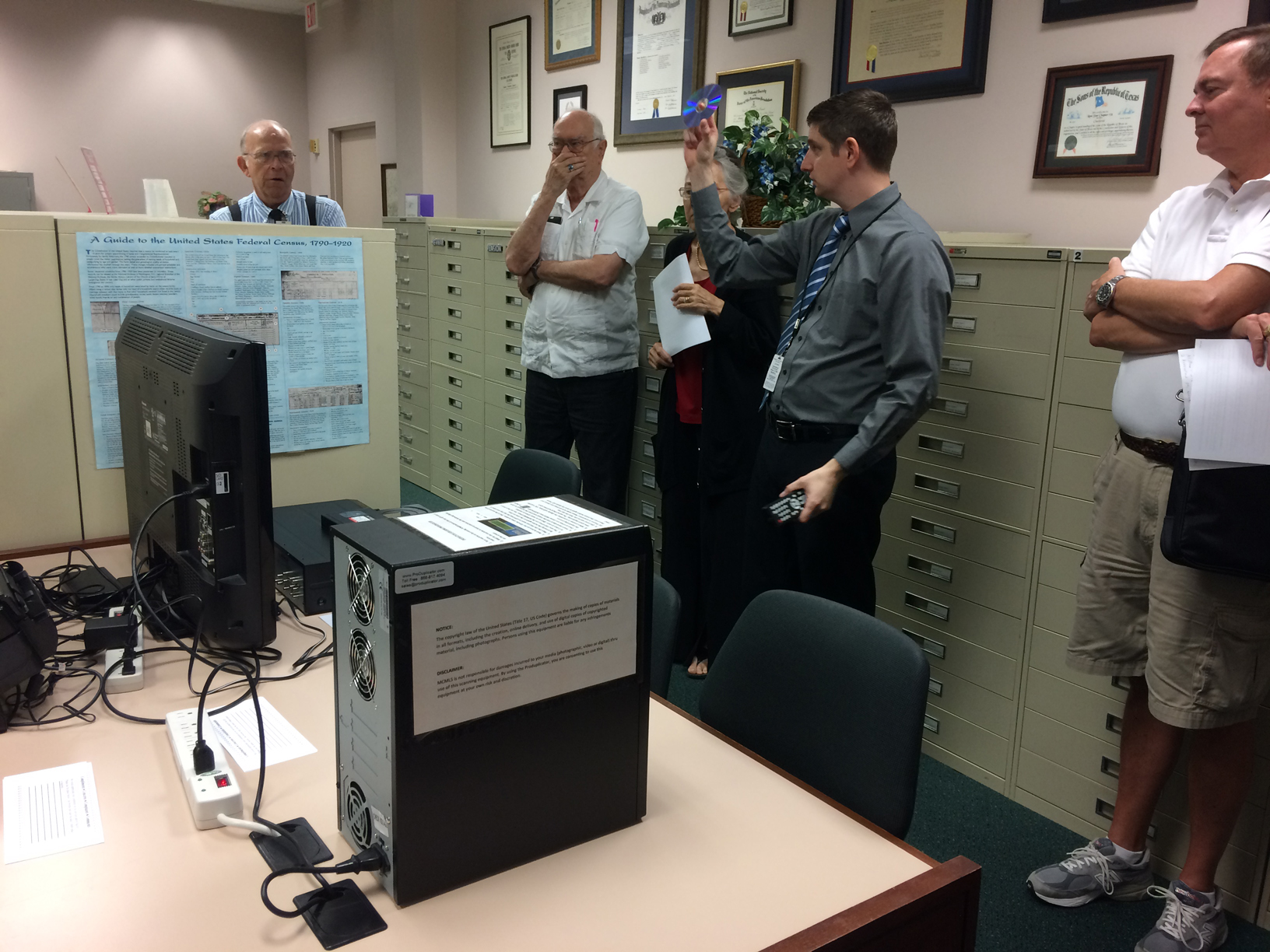 Genealogy & Local History Room, the Genealogy & Local History Room at the Central Library of Montgomery County Memorial Library System is pleased to announce a new service for the public: The Preservation Pad. The MCMLS Genealogy department recognizes that the photos and documents of today are the historical records of future generations. The library's Preservation Pad is here to help individuals convert their print, photographic, and analog media into a digital format thereby helping to preserve and share precious family memories and moments for generations to come. The Preservation Pad is set up into four distinct stations with state of the art equipment to help you in this process:
Kodak High Speed Photo Scanner& Kiosk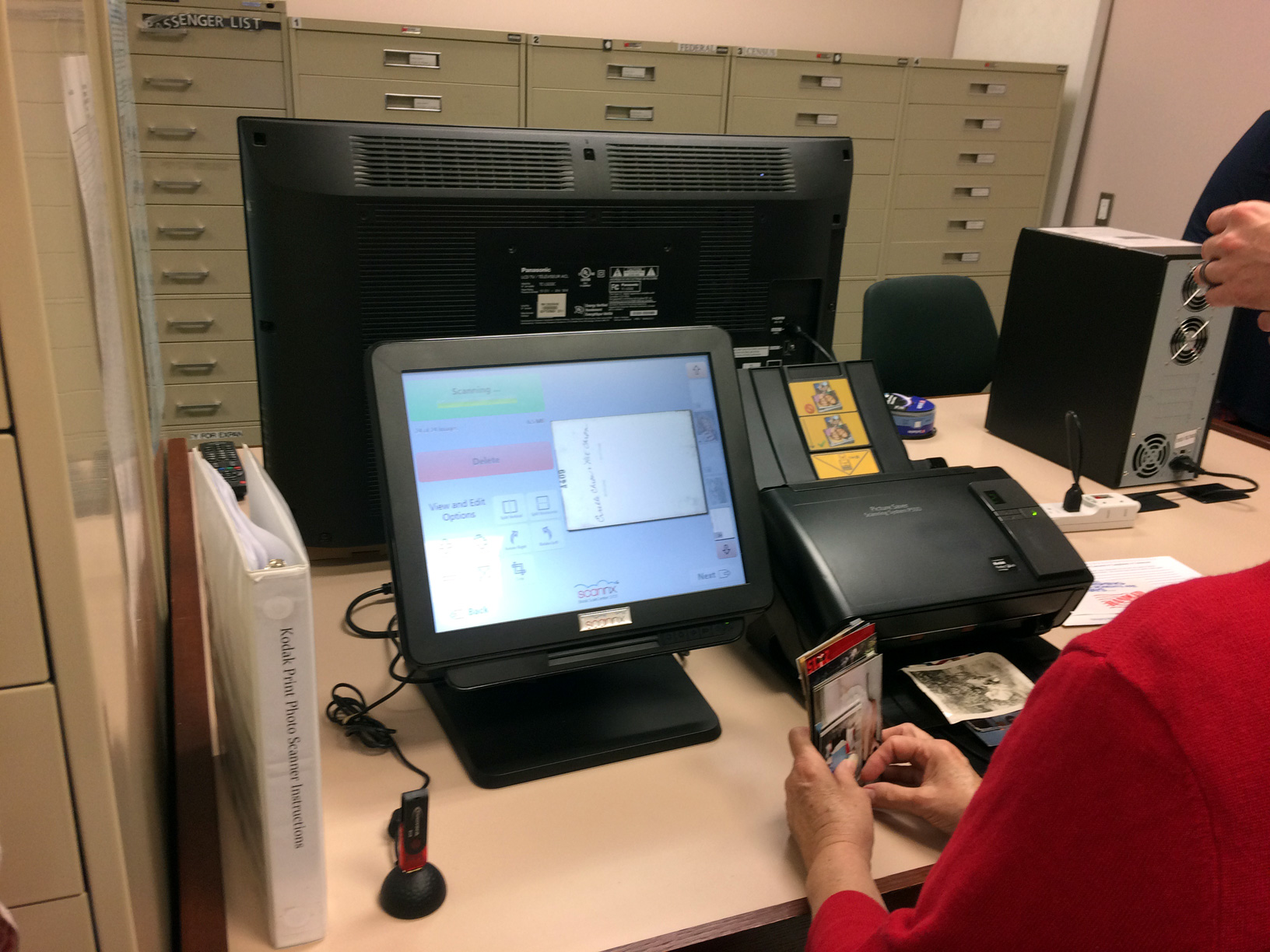 Got shoeboxes or photo albums stuffed with print photographs? The new Kodak High Speed Photo scanner will help you convert those prints into a high-resolution digital image format. With an easy to use touch-screen interface as well as a scanner capable of scanning 50 photos per minute, you will be able to create digital copies of all those photographs in no time flat. Just bring in a spare USB flash drive and your photos to get started! Does single and double sided scans for those photos that are identified!
Wolverine F2D Mighty Scanner
Want to convert those old slides or negatives into a digital image? Our small but powerful Wolverine F2D Mighty Scanner is capable of handling 35mm, 100mm, 126K, 127K slides and negatives, as well as old 8mm / Super 8 film strips, converting them into a digital JPEG image format. Just bring in your old photographic media along with your USB Flash drive to get started!
Funai VHS-to-DVD Converter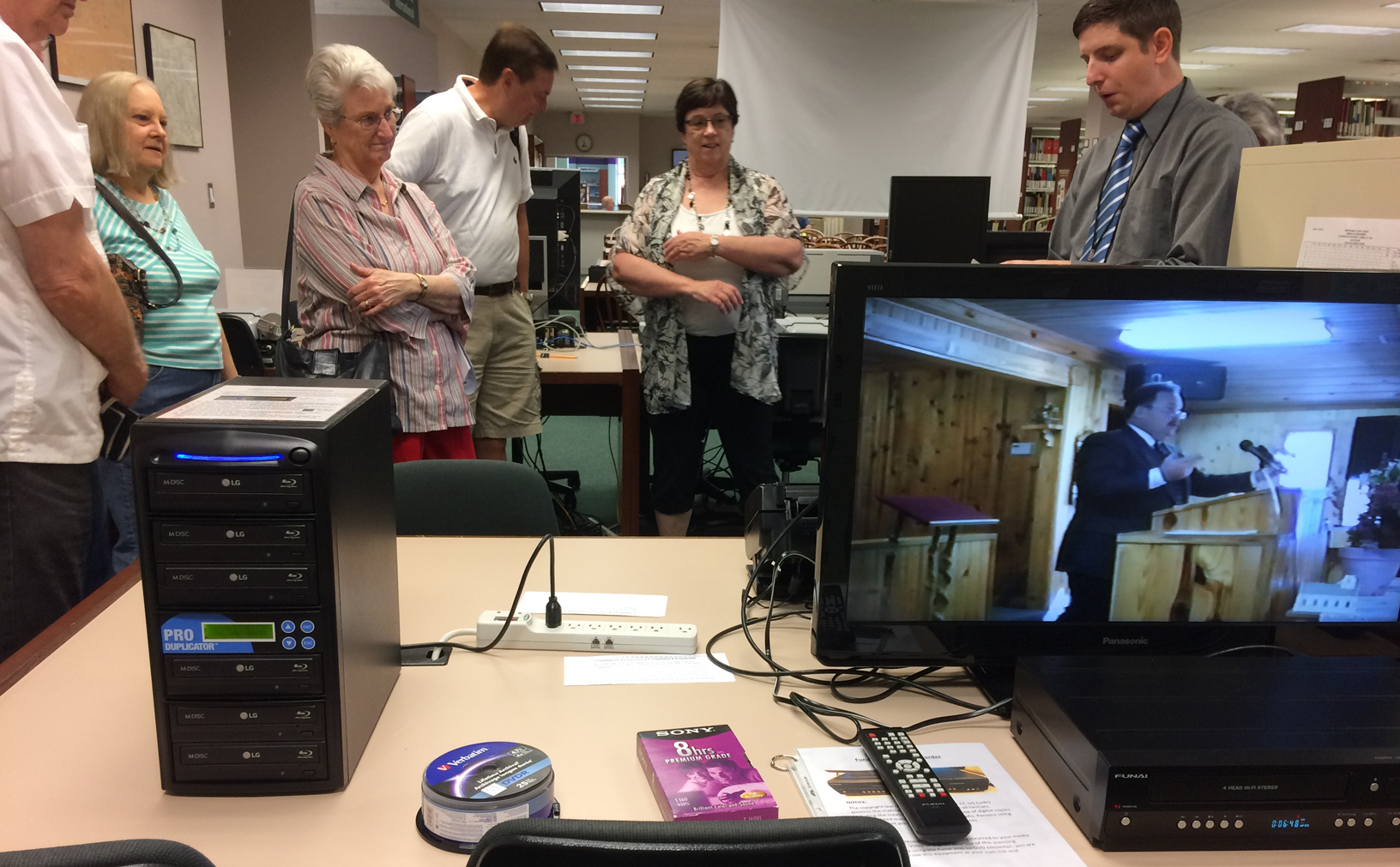 The year 2016 marked the end of an era: The last VHS player was manufactured in July 2016. The time is ticking for those who have those old home videos saved onto VHS cassette tapes to convert them over to a DVD format. The Preservation Pad's Funai VHS-to-DVD Converter, literally the last of its kind, is here to help you do just that. Just bring in your old VHS tapes along with a blank DVD –R/-RW disk to get started. (Note: Our player can't read positive DVD discs (DVD +R/ +RW). Please double check your disc type before coming in to use the converter!)
DVD/Blu-Ray / M-DISC Produplicator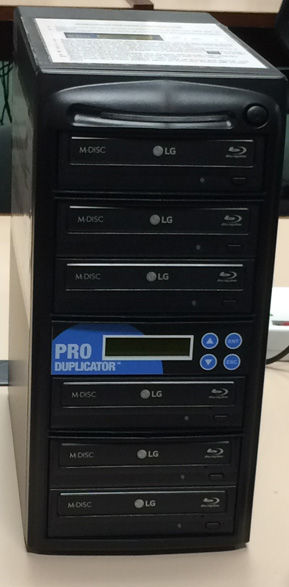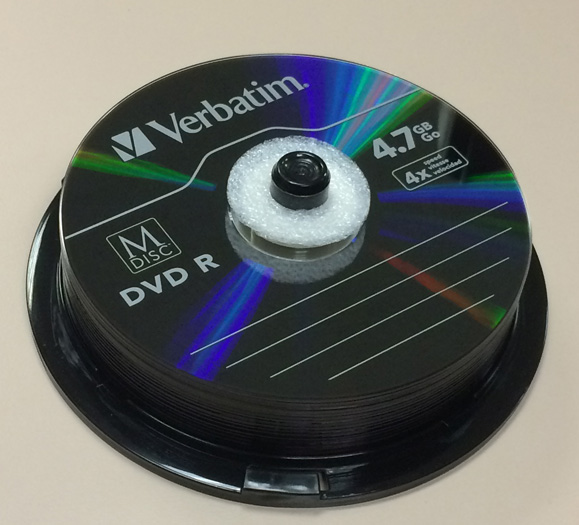 So you just finished converting those old home videos or photos and burned them onto a new DVD. Want to make some copies to share with family or friends? Our Produplicator is a disc-duplicating machine that can make up to five copies of a CD, DVD or Blu-Ray disk at once. It is also equipped with a powerful burner that can copy a normal DVD or Blu-Ray disk onto the new M-Disc archival media format that is capable of lasting up to 1,000 years without any degradation to data. Just bring in your source DVD along with a few blank discs to get started! The M-Discs come in various capacities.
If you are interested in using any of the machines in the Preservation Pad, we ask that you please contact the Genealogy Department to set up a reservation first by calling 936-788-8363 ext. 6249 or emailing us at librarygenealogy@countylibrary.org. Due to anticipated high demand for our new equipment, reservations will be made at a first-come-first served basis. Thank you!
New Microfilm Collections at the Library
See the new Microfilm Additions as of December 31, 2013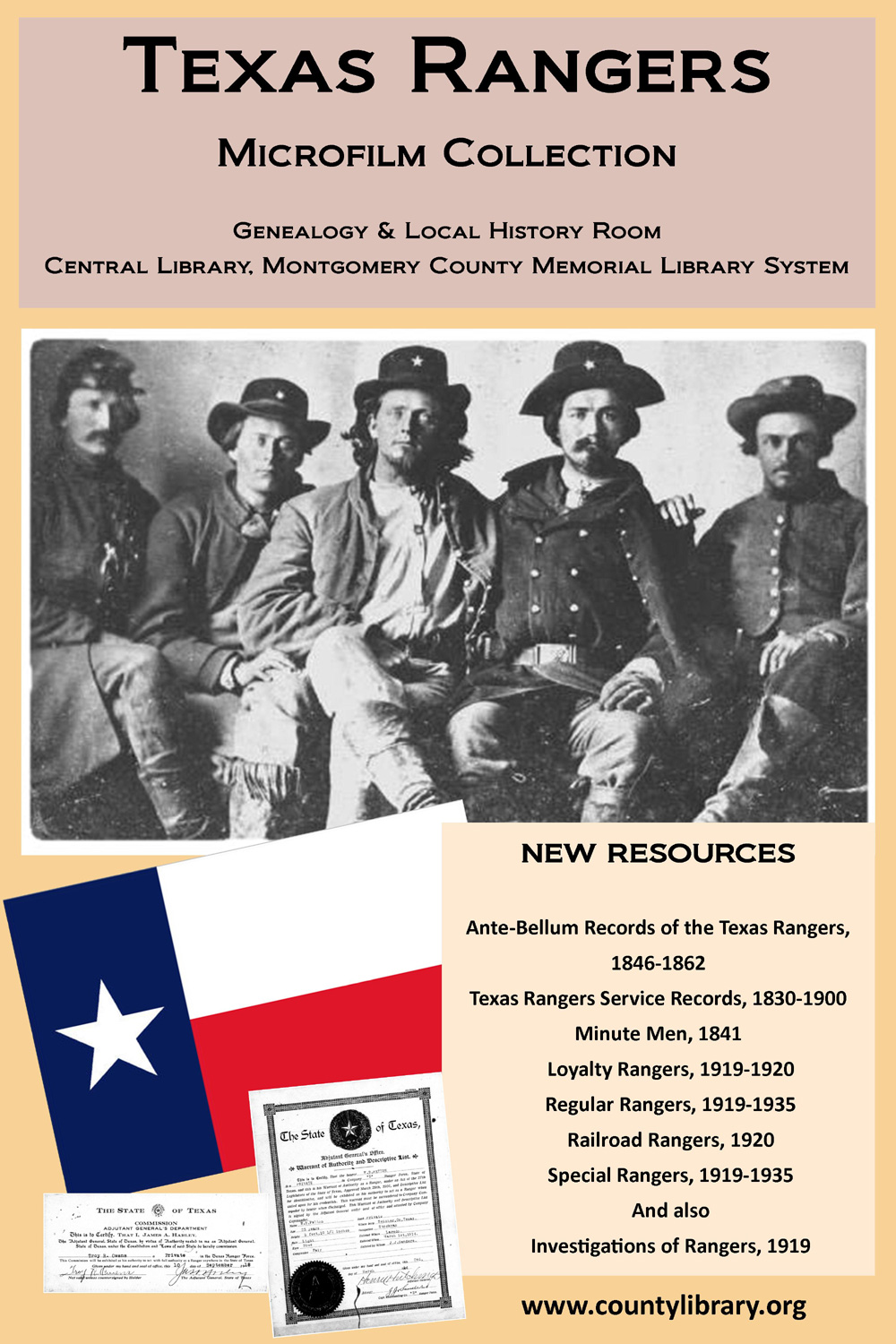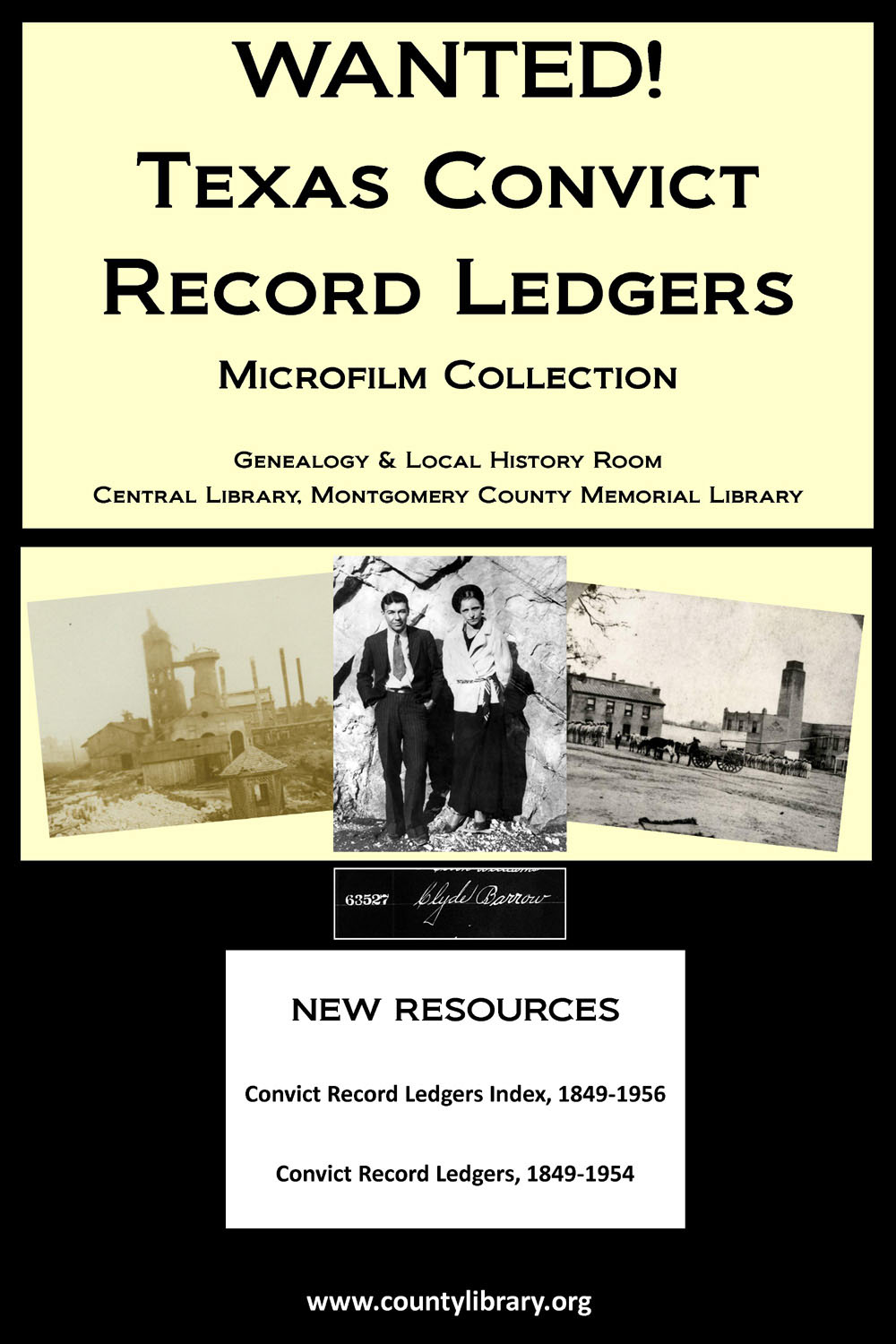 New Books on the Shelves in
the Genealogy & History Room

March 31, 2017
Location
Title
Author
Call Number
GEN
African American women confront the West, 1600-2000
305.896073 Bro 1600-2000
GEN
Black cowboys in the American West: on the range, on the stage, behind the badge
305.896073 Bro
GEN
An empire for slavery: the peculiar institution in Texas, 1821-1865
Campbell, Randolph B.
306.362 Cam 1821-1865
GEN
Destiny road: the Gila Trail and the opening of the Southwest
Faulk, Odie B.
978 Fau
GEN
Fertile ground, narrow choices: women on Texas cotton farms, 1900-1940
Sharpless, Rebecca
305.4 Sha 1900-1940
GEN
The horse soldier, 1776-1943
Steffen, Randy
357.1814 Ste v. 1, 1776-1850; 357.1814 Ste v. 2, 1851-1880; 357.1814 Ste v. 3, 1881-1916
GEN
Official army register for 1904
United States Adjutant-General's Office
355.2 Adj
Per - SC
Dutch Fork digest: a genealogical newsletter
Per SC Dut v.31
Per - TX
East Texas Historical Journal
Per TX Eas v.10 #2; Eas v.14 #2; Eas v.15 #2; Eas v.24 #2; Eas v.25 #1; Eas v.6 #2; Eas v.7 #2
GA - Morgan County
Rambles through Morgan County: her history, century old houses and churches, and tales to remember
Hicky, Louise McHenry
975.8595 Hic
MO - Atchison County
The 1904 atlas of Atchison County, Missouri.
977.8113 Nor 1904
MO - Buchanan County
Buchanan county, Missouri, marriages of African descent, 1865-1874.
977.8132 Nor 1865-1874
MO - Buchanan County
Buchanan County, Missouri, marriages, 1866-1875.
977.8132 Buc 1866-1875
MO - Buchanan County
Buchanan County, Missouri, marriages, 1876-1881.
977.8132 Buc 1876-1881
MO - Buchanan County
Buchanan County, Missouri, marriages, 1885-1888.
977.8132 Buc 1885-1888
MO - Buchanan County
Buchanan County, Missouri, marriages, 1889-1891.
977.8132Buc 1889-1891
MO - Buchanan County
St. Joseph, Missouri death notices from the Catholic tribune.
Cox, Kenneth D.
977.8132 Dea 1916-1921; 977.8132 Dea 1921-1925; 977.8132 Dea 1925-1928
MO - Holt County
1876 Holt County, Missouri, special census.
977.8115 Nor 1876
MO - Worth County
1876 special census, Worth County, Missouri: Fletchall, Smith, Union Townships.
977.8825 Nor 1876
MS - GEN
Mississippi marriage records thru 1900
Wiltshire, Betty Couch
929.3 Wil Ha - He Males; 929.3 Wil I - J Males
MS - Perry County
Military history of Perry County, Mississippi: American Revolution to World War II
McSwain, Robert J.
976.2175 McS
NC - Perquimans County
Perquimans County Historical Society year book.
Perquimans County Historical Society
975.6144 Per 1971; 975.6144 Per 1962-1965; 975.6144 Per 1965-1969; 975.6144 Per 1972-1974
NM - Bernalillo County
Register of city hotels, Albuquerque, New Mexico
Henry, Howard W.
978.961 Gen 1893; 978.961 Gen 1896
NM - Colfax County
The national historic Saint James Hotel, Cimarron, New Mexico: customer ledger
St. James Hotel (Cimarron, N.M.)
978.922 Hen v. 1 1871-1875; 978.922 Hen v. 2 1875-1890; 978.922 Hen v. 3 1887-1902
NM - GEN
1885 territorial census for the territory of New Mexico
310 Tho v. 1; 310 Tho v. 2; 310 Tho v. 3
NM - GEN
Fort Bascom: Soldiers, Comancheros, and Indians in the Canadian River Valley
Blackshear, James Bailey
978.9 Bla
NM - GEN
National news from the telegraph lines: tidbits of news stories in the Albuquerque Daily Citizen, Albuquerque, New Mexico, 1892,1893,1894,1895,1896
Henry, Howard W.
070.44 Hen 1892-1896
NM - GEN
New Mexico vital statistics index of the Albuquerque Daily Citizen Newspaper: being the births, marriages, divorces, and deaths for the years 1888-1896, inclusive
929.31 Hen 1888-1896
NM - GEN
Pre-1895 surname index of various newspaper microfilm holdings at the Special Collections Library: the Acorn, the Albuquerque Advance, the Albuquerque Weekly Review, the Evening Review, the Gallup Gleaner, New Mexico Weekly Press, the Rio Abajo Weekly Press
070.44 Hen Pre-1895
NM -Colfax County
Records of the Methodist Episcopal Church, Colfax County, New Mexico, 1867-1918
978.922 Hen 1867-1918
TN - GEN
Legacies of our great grand mothers: early Tennessee women
Daughters of the American Revolution Tennessee Society
973.3 Ten v. 1
TN - GEN
973.3 Ten v. 2
TX - Bexar County
San Antonio and its beginnings: comprising the four numbers of the San Antonio series with appendix
Chabot, Frederick C. (Frederick Charles)
976.435 Cha 1691-1731
TX - Brewster County
Big Bend country: a history of Big Bend National Park
Maxwell, Ross A.
976.4932 Max
TX - Collin County
Texas takes
Summers, L. C. (Luther Compton)
976l4556 Smi
TX - Coryell County
Police record A: Coryell County, Texas, founded March 15, 1854
Henry, Howard W.
976.4515 Hen v. 1; 976.4515 Hen v. 2
TX - Dallas County
Sketches of a growing town: episodes and people of Dallas from early days to recent times
976.42811 Pay
TX - El Paso County
United States Army Training Center, Air Defense, Fort Bliss, Texas.
976.496 USA
TX - GEN
Riding Lucifer's Line: Ranger deaths along the Texas-Mexico border
Alexander, Bob
347.016 Ale
TX - GEN
Crusade for conformity: the Ku Klux Klan in Texas, 1920-1930.
Alexander, Charles C.
976.4062 Ale 1920-1930
TX - GEN
Black Texans: a history of African Americans in Texas, 1528-1995
Barr, Alwyn.
305.896 Bar 1528-1995
TX - GEN
Stephen F. Austin, empresario of Texas
Cantrell, Gregg
929.2 Can
TX - GEN
Texas Lions, 1917-67: a history of 50 years of Lionism
Hyer, Julien C. (Julien Capers)
369.5 Hye 1917-1967
TX - GEN
Cotton and conquest: how the plantation system acquired Texas
Kennedy, Roger G.
306.3 Ken
TX - GEN
Texas after Spindletop: the saga of Texas, 1901-1965
McKay, Seth Shepard
976.4062 McK
TX - GEN
Defender of America's Gulf Coast: a history of Ellington Field, Texas, 1917-2007
Morrow, Kathryn Black.
355.009 Mor 1917-2007
TX - GEN
The Texas Army: a history of the 36th division in the Italian campaign
Wagner, Robert L.
940.53 Wag
TX - Montgomery County
Tiger boogie: Conroe Tiger football: a town, a team, a love story
Taylor, Kevin
976.4153 Tay
TX - Robertson County
A history of the Grace United Methodist Church of Bremond, Texas: and reminiscences, 1868-1978
Turner, James L.
976.4239 Tur 1868-1978
TX - Tarrant County
Fort Worth: a sesquicentennial celebration
Pellecchia, Michael
976.4531 Pel
TX - Tarrant County
Fort Worth: outpost, cowtown, boomtown
Rich, Harold
976.4531 Ric
TX - Wilbarger County
Wilbarger County
976.4746 Wil
VA - Augusta County
Second marriage record of Augusta County, Va., 1813-1850.
Augusta County (Va.)
975.5916 DAR 1813-1850
VA - Augusta County
Naturalization records, Augusta County, Virginia, 1753-1902
Bushman, Katherine Gentry
975.5916 Bus 1753-1902
VA - Augusta County
The registers of free blacks, 1810-1864 Augusta County, Virginia and Staunton, Virginia
975.5916 Bus 1810-1864
VA - Augusta County
Mills of Augusta County
Downs, Janet Baugher
975.5916 Dow
VA - Augusta County
St. John's Church register: German Reformed and Lutheran, Augusta County, Virginia: (1748) 1786-1872
Joyner, Peggy S.
975.5916 Joy 1748, 1786-1872
VA - GEN
Gibraltar of the Shenandoah: Civil War sites and stories of Staunton, Waynesboro, and Augusta County, Virginia
Moore, Robert H.
975.59 Moo
VA - GEN
Great Valley patriots: western Virginia in the struggle for liberty: a Bicentennial project sponsored by Augusta County Historical Society, Staunton, Virginia
Wilson, Howard McKnight
973.3 Wil
VA - Stauton County
Our century together: 100 years of photos, memories and News leader front pages
News leader (Staunton, Va.)
975.5911 New
December 31, 2016
| | | | |
| --- | --- | --- | --- |
| Location | Title | Author | Call Number |
| | | | |
| --- | --- | --- | --- |
| FH - Davis Family | Finding fathers: Lost. Found. Remembered: a family history | Davis, Clyde | 929.2 Dav |
| FH - Davis Family | | | 929.2 Dav ADDENDUM |
| FH - Erwin Family | Carolina pioneers and their descendants | Miller, Annie Elizabeth | 929.2 Mil |
| FH - Hochstetler Family | Hochstetler | Showalter, John R. (John Roland) | 929.2 Sho v. 1 |
| FH - King Family | King family history. | Hartzler, H. Harold (Harrod Harold) | 929.2 Har v. 1 |
| FH - King Family | | | 929.2 Har v. 2 |
| FH - Kohl (Cole) Family | Kohl (Cole) family history: with related families Sheeler, Roth, Sweigart, Soulliard, Beam, and Messner | Soulliard, Sue Kohl | 929.2 Sou |
| FH - Landis Family | A combined LandisLandes genealogy report of the descendants of Hans Landis and Katharina Schinz: featuring new data from Dr. Werner Baumann, a Swiss historian and expert on early Hirzel Farm families, their hofs where LandisLandes families lived, he provided information for up to eight generations of LandisLandes descendants | Wenger, Samuel E. (Samuel Esbenshade) | 929.2 Wen |
| FH - Palmer Family | A world turned upside down: the Palmers of South Santee, 1818-1881 | | 929.2 Tow 1818-1881 |
| FH - Wicker Family | Our Wicker family: descendants of Matthias Wicker, immigrant from Germany to South Carolina, 1752 | Wicker, Eleanor Clyburn | 929.2 Wic |
| FH - Zook Family | Revised ZugZuckZouckZook genealogy | Zook, Harry D. | 929.2 Zoo |
| Foreign - Russia | Swiss Russian Mennonite families before 1874 from the Michelsdorf, Michalin, Eduardsdorf, Horodyszcze, Waldheim, Zahoriz, and Kutusovka congregations | Krehbiel, James Woodrow | 929.3 Kre |
| Foreign -Switzerland | Anabaptist families from Langnau, Switzerland, 1749-1875: an abstract of Anabaptist families living in the Bishopric of Basel who were entered in the Heimat Register of Langnau (Canton Bern), Switzerland, including family data representing the years 1749 to 1875 | Peden, Monty C. | 929.2 Ped 1749-1875 |
| General | The Old West | Time-Life Books | 978 Tim v.19; 978 Tim v.3; 978 Tim v.4; 978 Tim v.7 |
| Per - AR | The Carroll County Historical Society quarterly. | Carroll County Historical Society (AR) | Per AR Car v. 61 |
| Per - General | The New England historical and genealogical register. | | Per GEN New v. 170 |
| Per - LA | New Orleans genesis. | | Per LA New 54 |
| Per - MA | The Berkshire genealogist. | | Per MA Ber v. 37 |
| Per - NC | Eswau Huppeday. | | Per NC Esw v. 36 |
| Per - SC | The South Carolina magazine of ancestral research. | | Per SC Sou v. 44 |
| Per - TX | České stopy = Czech footprints: quarterly publication of the Texas Czech Genealogical Society. | | Per TX Ces v. 16 |
| CT - Hartford County | Connecticut colonists: Windsor 1635-1703 | Holbrook, Jay Mack | 974.62 Hol 1635-1703 |
| CT - Windham County | History of Windham County, Connecticut | Larned, Ellen D. (Ellen Douglas) | 974.645 Lar v. 2 1760-1880 |
| CT - Windham County | | | 974.645 Lar v.1 1600-1760 |
| GA - Barrow County | Winder in the news: newspaper accounts of Winder, Georgia, 1893-1915 | | 975.8195 Pos 1893-1915 |
| GA - Jackson County | Jackson County, Georgia newspaper clippings: Jackson Herald | | 975.8145 Pos|v. 4 1891-1895 |
| OH - Tuscarawas County | A brief history of Tuscarawas County, Ohio | Richardson, Julius Miller | 377.166 Ric |
| OH - Tuscarawas County | Index to Tuscarawas County, Ohio Common Pleas journal | Libert, Ray | 977.166 Lib v. 3, 1826-1831; 977.166 Lib v. 4, 1831-1837 |
| OH - Tuscarawas County | Tuscarawas County, Ohio marriages. | | 977.166 Tus v. 1 (Bks. 1-2-3), 1808-1844 |
| PA - General | Palatine origins of some Pennsylvania pioneers | Burgert, Annette K. | 929.2 Bur |
| PA - General | Grossgartach, Wuerttemberg, to Pennsylvania: some early colonial German immigrants | Burgert, Annette K. | 943 Bur |
| PA - Lancaster County | A new index, Lancaster County, Pennsylvania, before the federal census | Hawbaker, Gary T. | 974.815 Haw v. 1-2, 1780 |
| PA - Lancaster County | | | 974.815 Haw v. 3, 1750; 974.815 Haw v. 4, 1718-1726 |
| SC - Charleston County | Long Island South: stories of Sullivans Island and the Isle of Palms, two of South Carolina's barrier beaches | Wannamaker, W. W. | 975.791 Wan |
| SC - General | Charleston blockade: the journals of John B. Marchand, U.S. Navy, 1861-1862 | Marchand, John B. (John Bonnett) | 808.883 Sym 1861-1862 |
| SC - Kershaw County | A history of Kershaw County, South Carolina | Inabinet, Joan A. | 975.761 Ina |
| SC - Lancaster County | Confederate records, Lancaster District, South Carolina: gleaned from South Carolina Department of Archives and History and the Lancaster ledger | Jeffcoat, Frances Reeves | 975.745 Jef |
| SC - Laurens County | The scrapbook: a compilation of historical facts about places and events of Laurens County, South Carolina. | | 975.731 Lau |
| TN - General | The Swiss presence in the history of Tennessee | Page, H. Dwight | 949.4 Pag |
| TN - Haywood County | County court minutes, 1826-30 | Tennessee, County Court (Haywood County) | 976.8223 WPA 1826-1830 |
| TX - General | Guide and index to Texas Confederate pension application and payment records, 1899-1979 | Black, John Anthony, | 973.7 Bla v. 1, A - D; 973.7 Bla v. 2, E - M; 973.7 Bla v. 3, N - Z |