The Genealogy & History Room is located in the Central Library on the second floor. It contains the fourth largest genealogy collection in the state. For more information call 936.788.8363 ext. 6249.

Carl Smith's Programs at the
Genealogy & History Room
Through October 2016

Registration is recommended for all programs.
Please contact the Genealogy Department at
936-788-8363 x6249, or stop by in person, or
go online, www.countylibrary.org to register!

*GENEALOGY - Finding Your Civil War Ancestors

Central Library, Genealogy, Genealogy & Local History Room, Thursday, August 23, 3 -4:30 PM or call 936-788-8363.

Chances are if you have ancestors who resided in the United States during the 1860s, they or their relatives fought in the American Civil War. More than 3 million Americans were directly involved in the conflict, a number that hasn't been surpassed by any other war to date.

Join the Genealogy Department for a special presentation on Finding Your Civil War Ancestors. Come learn more about the history and records that contain the stories of your valiant veteran ancestors for fought to protect the ideals they held true!

* Conroe Community Cemetery Restoration Project, Tues. Sept 6, 2016, 3:00 - 4:30 pm, Genealogy & Local History Room—Central Library—Conroe

Join us for a special presentation by Jon Edens, a seasoned local genealogist and creator of the Conroe Community Cemetery Restoration Project. Come learn about one of Conroe's "hidden" cemeteries and the efforts being made to restore this historical treasure and connect individuals to their ancestors who were buried in its hallowed ground.

* Genealogy Triage: Come & Get Your Vital Records Checked, Wed., Sep 21, 2016, 3:00 - 4:30 pm, Genealogy & Local History Room—Central Library—Conroe

The Genealogy doctor is in the house! Vital records (Births, marriages, and deaths) are some of the core record types utilized by genealogists. Whether you are new to genealogy or just getting started, come join our Genealogy Librarian for a special clinic covering the ins and out of vital records.

Participants are encouraged to bring examples of vital records from their personal research to glean additional information and receive personalized assistance in deciphering their records.

* State-wide Genealogy Lock-in October 21, 2016 at Waco-McLennan County Library, Waco, Texas. In celebration of October as Family History Month, Montgomery County Memorial Library System will be joining the Genealogy Center of the Waco-McLennan County Library in its 16th Annual Genealogy Lock-in. This state-wide initiative to provide educational and research opportunities for family historians takes place on October 21.This is the 6th year that the Waco-McLennan County Library has spearheaded the collaborative effort to organize, provide and share programs remotely with libraries and genealogy societies across the state of Texas.

Additionally, to help those researching their ancestors during the event a select list of genealogical/historical resources will be available for look-ups by participating libraries.

For a complete list of participating libraries, or to view additional programming being offered in conjunction with the Genealogy Lock-in visit wacolibrary.org or ctgs.org.


MCMLS will host a morning workshop for all interested participants:

9:30 – 11 am: No Taxation Without [Genealogical] Representation! Learn about utilizing tax records in your genealogical research.

11 am – Noon: Break for lunch

MCMLS will also be participating in the following Programming hosted by the Waco-McLennan County Library, which will be broadcast remotely to the MCMLS Genealogy Department:

Noon – 1:30 pm: Genealogy 101: How to Get Started in Locating Your Ancestors: a beginners' class for the novice family historian.

1:40 pm: Preservation Tips for Family Historians:
Learn how to preserve your family documents/photos.

2:50 pm: Genealogical Resources of the Texas General Land Office: Learn about Texas land records.
Now a Family History Center!
Need to order films from the
Family History library in Salt Lake?
The Genealogy & History Room in Montgomery County Memorial Library is now a Family History Center.

First, be sure to create an account or sign in to your existing Family Search account. You can now order films online, so just choose "Montgomery County Memorial Library" as the family history center location to have your films sent. Great hours and new reader printers and a great staff to help you!

Be sure though to check to be sure that they the records you are requesting are not already online at www.familysearch.org.
Microfilm Collections at the Library
165 Reels of Microfilm from
South Carolina & The Revolution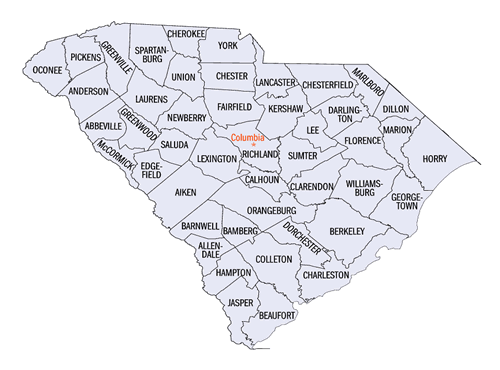 165 reels from South Carolina Department of Archives and History concerning activities growing out of the Revolution in South Carolina have been added to the collection. These are alphabetical order by name of soldier.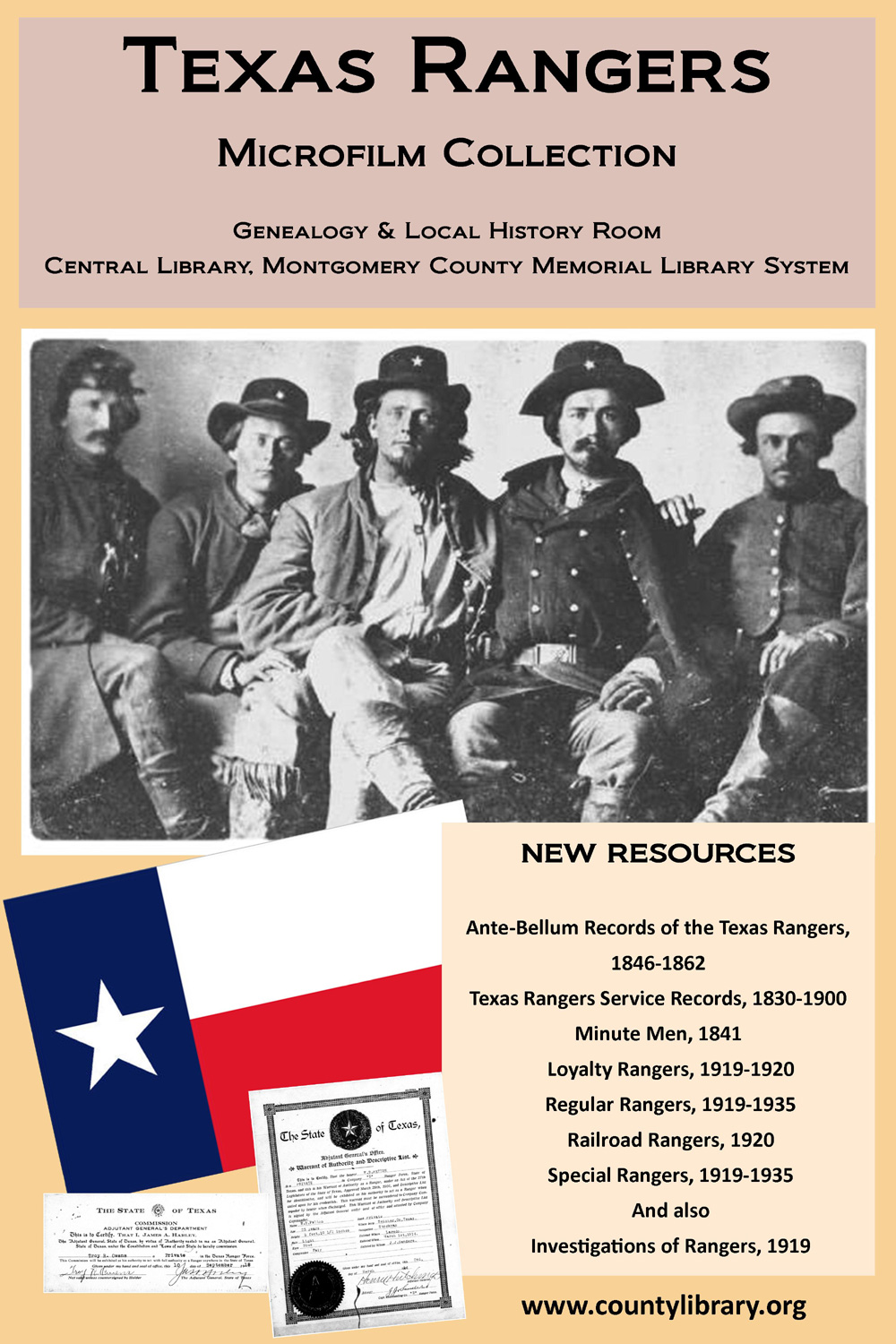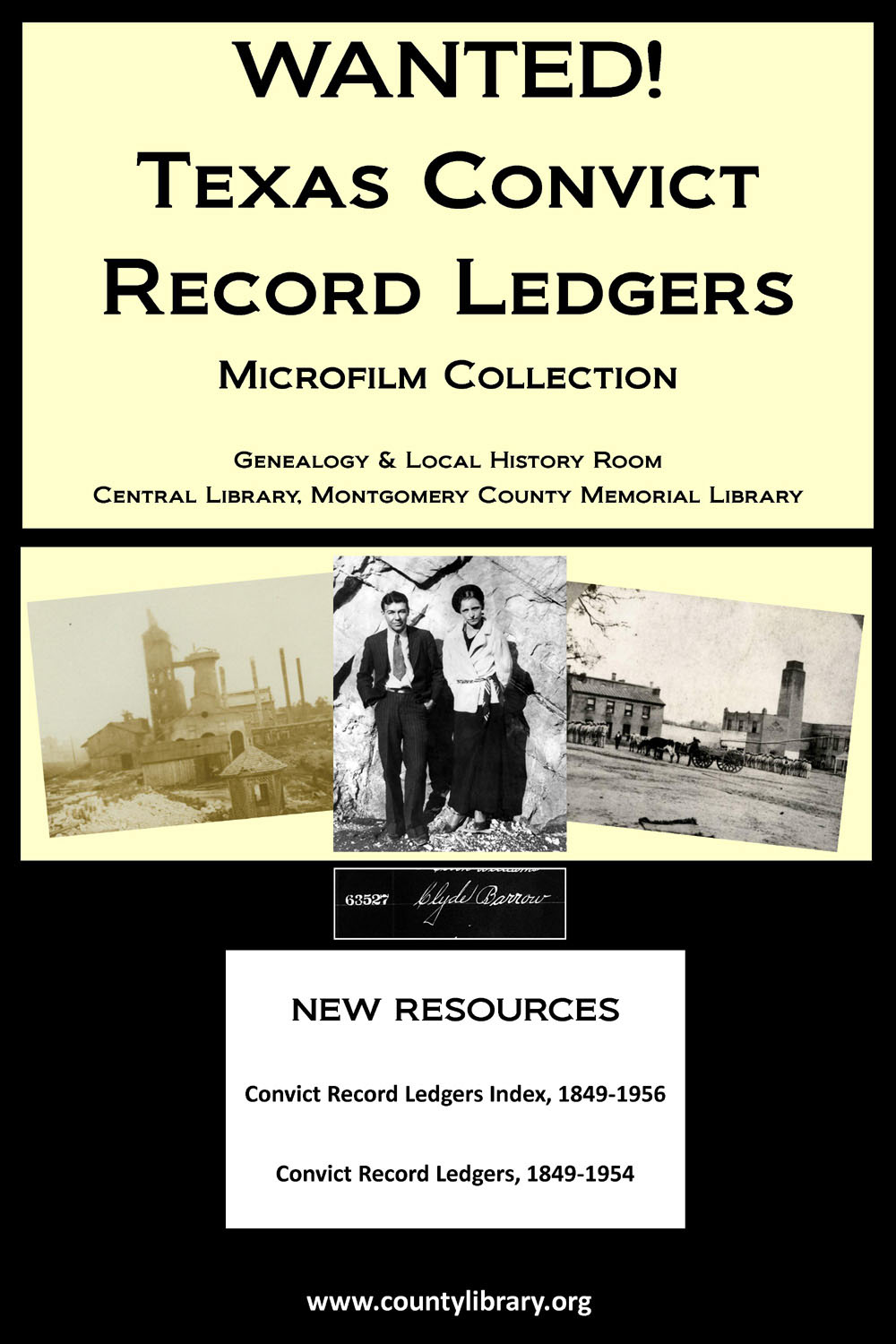 New Books on the Shelves in the
Genealogy & History Room

Please think of the Montgomery County genealogical library and history room when making donations or memorial contributions.
June 2016 - New Format with Call Number
| | | |
| --- | --- | --- |
| Call Number | Title Contents | Author, Compiler, Publisher |
| | | |
| --- | --- | --- |
| 262.22 Han v.25 Saxony I | Map guide to German parish registers | Hansen, Kevan M. |
| 262.22 Han v.26 Saxony II | Map guide to German parish registers | Hansen, Kevan M. |
| 262.22 Han v.27 Kingdom of Prussia | Map guide to German parish registers | Hansen, Kevan M. |
| 262.22 Han v.28 Kingdom of Prussia | Map guide to German parish registers | Hansen, Kevan M. |
| 262.22 Han v.29 Kingdom of Prussia | Map guide to German parish registers | Hansen, Kevan M. |
| 262.22 Han v.3 Mecklenburg Grandduchies | Map guide to German parish registers | Hansen, Kevan M. |
| 262.22 Han v.30 Hannover I | Map guide to German parish registers | Hansen, Kevan M. |
| 262.22 Han v.31 Hannover II | Map guide to German parish registers | Hansen, Kevan M. |
| 262.22 Han v.32 Hannover III | Map guide to German parish registers | Hansen, Kevan M. |
| 262.22 Han v.5 Kingdom of Wurttembery I | Map guide to German parish registers | Hansen, Kevan M. |
| 262.22 Han v.6 Wurttemberg II | Map guide to German parish registers | Hansen, Kevan M. |
| 262.22 Han v.7 Wurttemberg III | Map guide to German parish registers | Hansen, Kevan M. |
| 262.22 Han v.8 Wurttemberg IV | Map guide to German parish registers | Hansen, Kevan M. |
| 975.737 Wel Bk. 46 | Edgefield County, South Carolina, deed books | Wells, Carol |
| 976.4153 McC 2011 | Claymore. | Woodlands High School (The Woodlands, TX) |
| 976.4153 Mon 2007 | The bruin. | |
| 929.107 Dow | NextGen genealogy : the DNA connection | Dowell, David R. |
| 975.551 Sch|Bk. 2 1709 - 1717 | Princess Anne County, Virginia. (includes processions from 1724-1732) | Schoettle, Michael |
| 975.6147 Dai v. 5 | Chowan County cemeteries and Chowan and Perquimans County Bible records | Dail, Louise Jordan |
| 976.8115 Mou | Holt County, Missouri records. | |
| 976.855 v. 3 1805 - 1811 | Davidson County, Tennessee, wills & inventories. | |
| 977.8466 Mou | St. Clair County, Missouri records. | |
| 977.856 Mou | Miller County, Missouri records. | |
| 977.897 Mou | Scott County, Missouri records. | |
| 977.844 Mou | Vernon County, Missouri records. | |
| 975.551 Sch 1691-1778 | Princess Anne County, Virginia, list of earmarks and brands, 1691-1778 | Schoettle, Michael |
| 975.551 Sch Bk. 1 1691-1708 | Abstracts of Princess Anne County, Virginia deed book | Schoettle, Michael |
| 975.551 Sch Bk. 2 1708-1714 | Abstracts of Princess Anne County, Virginia deed book | Schoettle, Michael |
| 975.552 Del Bk.3 1810-1820 | City of Norfolk, Virginia will book | Deluise, Kristina Steinlein |
| 975.552 Gab 1706-1850 | Norfolk County, Virginia, extant marriage bonds, 1706-1850 | Gable, Sharon Rea. |
| 975.5782 Dou 1855-1880 | Giles County, Virginia, register of births, 1855-1880 | Douthat, James L. |
| 975.5916 Cra 1740-1749 | Augusta County, Virginia baptism records : Rev. John Craig, 1740-1749 | Craig, John |
| 976.5785 Dou 1772-1776 | Land grants in Fincastle County, Virginia, 1772-1776 | Douthat, James L. |
| 976.5785 Dou Bks. A-B1773-1783 | Montgomery County, Virginia Plott book | Douthat, James L. |
| 976.5785Dou Bk. C1783-1788 | Montgomery County, Virginia Plott book | Douthat, James L. |
| 976.896 Dou 1836-1837 | Sullivan County, Tennessee: 1836 civil districts, 1837 tax list in the civil districts | Douthat, James L. |
| 976.896 Dou | Sullivan County, Tennessee early tax list, 1796, 1797, 1811-1812 | Douthat, James L. |
| 975.551 Sch Bk. 1 1691-1709 | Princess Anne County, Virginia, order book no. 1, 1691-1709 | Schoettle, Michael |
| Per AL Val v. 50 | Valley leaves | |
| Per - NY - New v. 144 #4, v. 145 #2-4 | The New York genealogical and biographical record. | |
| Per - NY - New v. 146 | The New York genealogical and biographical record | |
| Per GEN Nat v. 101 | National Genealogical Society quarterly | National Genealogical Society |
| Per GEN Nat v. 103 | National Genealogical Society quarterly | National Genealogical Society |
May 2016
State
Area
Title Contents
Author, Compiler, Publisher
| | | |
| --- | --- | --- |
| FH | A Pictorial Chronicle of Williams and Held Families | Joan Whitemyer |
| FH | Your Family and Mine - Meredith, Aldermann, Brodnax, and Trube | Mattie Trube |
| FH | Spencer Family (11 volumes) 1994 -2008 | Spencer Historical and Genealogical Society |
| FH | Head Family History | Idress Head Alvord |
| FH | Lockwood Volume III | |
| FH | Emancipation of Eight Generations (Chambers) | James Hill |
| FC | The Quakers of Ballitore (Ireland) | Kildare Heritage Project |
| FC | East Prussians from Russia | Michael Anuta |
| FC | Mexican-American Genealogical Research | Schmal & Morales |
| FC | Hombres Y mujeres de America | Carlos Vega |
| FC | Jose Maria de Jesus Carvajal, a Mexican Revolutionary | Joseph E. Chance |
| NA | European and Native American Warfare 1675-1815 | Armstrong Starkey |
| NA | Historic Contact | Robert S Grumet |
| PER | St. Clair County Genealogical Society Illinois v 33 through Volume 38 | Society |
| PER | North Carolina Journal Volume 40, 41 | Society |
| PER | New England Historic and Genealogical Register Volume 169 | Society |
| PER | South Carolina Magazine Of Ancestral Research Volume 42, 43 | Society |
| PER | The Mayflower Quarterly Volume 80, 81 partials | Society |
| GEN | Tracing Your Hispanic Heritage | George Ryskamp |
| GEN | Directory of Scots Banished to the American Plantations 1650-1775 | David Dobson |
| GEN | The New York Magazine Marriages and Deaths 1790-1797 | Scott & Gibbons |
| GEN | Bibles, Bibles, Bibles A Collection of 18th and 19th Century Family Bible Records | Ericson & Davis |
| GEN | Frontier Justice | Wayne Gard |
| GEN | Migration from the Russian Empire Volume. 3,4,5 1886-1890 | Ira Glazer |
| GEN | Reading American Handwriting | Kip Sperry |
| GEN | Publish a Memoir | Dina Carson |
| GEN | Publish Your Family History | Dina Carson |
| GEN | Set Yourself Up to Self-Publish | Dina Carson |
| GEN | Publish a Source Index | Dina Carson |
| GEN | From Across the Spanish Empire | Leroy Martinez, J. D. |
| AL | Old Land Records of Jackson County Alabama | Margaret Cowart |
| CA | California Pioneer Register and Index 1542-1848 | Hubert Bancroft |
| DE | Delaware Runaways, 1720-1783 | Joseph Boyle |
| DE | Colonial Delaware: Wills and Estates to 1800: An Index | Donald Virdin |
| DE | Some Pioneer Delaware Families | Donald Virdin |
| DE | Delaware Bible Records Volume 1-3 | Donald Virdin |
| DE | Delaware Bible Records Volume 4 | Donald Hebir |
| DE | Delaware Bible Records Volume 5 & 6 | Virdin & Hall |
| DE | Colonial Delaware Records 1681-1713 | Bruce Bendler |
| DE | Colonial Delaware Soldiers and Sailors 1638-1776 | Henry C. Peden, Jr. |
| GA | The Georgian Database | Jeanette Holland Austin |
| LA | South Louisiana Vital Family Records Volume 16, 17, 18 | Terrebonne Genealogical Society |
| LA | Louisiana's Jewish Immigrants from Bas-Rhin, Alsace, France | Carol Mills-Nichol |
| MD | White Maryland Runaways 1720-1774 | Joseph Boyle |
| MD | Maryland Runaways 1775-1781 | Joseph Boyle |
| MS | Family Maps of Choctaw County MS | Gregory Boyd |
| MS | Family Maps of Smith County MS | Gregory Boyd |
| PA | Pennsylvania Counties - Mifflin, Perry, & Juniata Counties | Barbara Rebok |
| PA | White Pennsylvania Runaways, 1720-1749 | Joseph Boyle |
| NY | Descriptive Inventory of the N.Y. Collection | Eakle & Gunn |
| TN | Windows to the Past | |
| TN | Heritage Jefferson County | |
| TX | Zapata County Marriage Records 1982-2007 | Jo Quezada |
| TX | The World War II Fallen of Texas | Alfred Evens |
| TX | Easy Search for Milam Ancestors | Dorothy Brown Crawford |
| TX | The Texas Frontier and the Butterfield Overland Mail 1858-1861 | Glen Ely |
| TX | Texas Land Survey Maps for Bowie County TX | Gregory Boyd |
| TX | A History of Fairview United Methodist Church (Nacogdoches) | Rector and Ericson |
| TX | Red River County in 1890 | Johnie Lee |
| TX | San Antonio Cemeteries Historic District (Bexar) | Frank and Linda Faulkner |
| TX | El Paso Prenuptial Investigations from the Catholic Archives of Texas, 1707-1853 | Hendriks and Martinez |
| TX | A Sketchbook of Trinity County Texas | Trinity County Historical Commission and Historical Society |
| VA | A Concise History of Frontier Virginia and the Southern Highlands 1740-1760 | James L. Tucker |
April 2016
State
Area
Title Contents
Author, Compiler, Publisher
| | | |
| --- | --- | --- |
| FC | Origen de los Fundadores de Saltillo, Coah & Nuevo Leon | Guillermo Leal |
| FH | Genealogy of Glover Clans | - |
| FH | Kinfolk (Yates Family)) | Opal London Cox |
| Gen | Scots in the Mid-Atlantic States 1783-1885 | David Dobson |
| Gen | French-Canadian Genealogical Research | John P. DuLong |
| Gen | Strangers and Pilgrims Travellers and Sojourners | Jeremy Banks |
| Gen | Military Desertions during the American Revolution - 1775-1783 - two volumes | Joseph Boyle |
| Gen | Emigrants in Chains | Peter Coldham |
| Gen | More Emigrants in Bondage 1616-1775 | Peter Coldham |
| Gen | Colonists in Bondage | Abbot Smith |
| Gen | Virginia in the American Revolution | E. G. Grundset |
| Gen | The Great Migration Directory Immigrants to New England, 1620-1640 | Robert Anderson |
| MA | A Surname Guide to Massachusetts Town Histories | Longver& Oesteerlin |
| MA | The Town Records of Roxbury MA 1647-1750 (Suffolk) | Dunkie & Lainhart |
| MA | Biographical Review of Leading Citizens of Berkshire County MA | Biog. Review Pub. Company |
| MA | Review of Leading Citizens of Hampshire MA | Biog. Review Pub. Company |
| PA | German Immigrant Servant Contracts - Port of Philadelphia 1817-1831 | Farley Grubb |
| VA | A History of St. Mark's Parish Culpeper County, Virginia | Philip Slaughter, D. D. |
| VA | 1815 Directory of Virginia Landowners Culpeper County | Roger Ward |
| SC | Nichols Iowa Centennial Book 1884-1984 (Muscatine) | - |
| TX | An Archeological Survey of the Proposed Montgomery Plaza, LTD Project Montgomery Co. Texas | William E. Moore |
| TX | Just Visitin' Old Texas Jails | Joan Upton Hall |
March 2016
State
Area
Title Contents
Author, Compiler, Publisher
| | | |
| --- | --- | --- |
| FH | The Barber Family | Heritage Press |
| IN | Henry County 1821-1871 | Elwood Please |
| NC | Year Book Pasquotank Historical Society | Edna M Shannonhouse |
| SC | One Heroic Hour at King's Mountain | Pat Alderman |
February 2016
State
Area
Title Contents
Author, Compiler, Publisher
| | | |
| --- | --- | --- |
| FH | Phillips Family Finder | Wilma Ingersoll |
| GEN | John Howland of the Mayflower Volumes 3 & 4 | Elizabeth Pearson White |
| GEN | Mayflower Families Through Five Generations Volume 22 Family of William Bradford | Lainhart and Wakefield, |
| GEN | Mayflower Families Through Five Generations Volume 23 Family of John Howland in 3 Parts | Lainhart and Wakefield, Fiske |
| GEN | Mayflower Families Through Five Generations Volume 24 Descendants of Elder William Brewster | Merrick & Bartley |
| TX | Woodlands High School Claymore 2007 (Montgomery) | CISD |
| TX | The Alcalde 1928 (Walker) | Sam Houston College |
January 2016
State
Area
Title Contents
Author, Compiler, Publisher
| | | |
| --- | --- | --- |
| FH | The Bloomfield Family | Linda Hale |
| AL | DeKalb County Alabama Grantor Deed Index 1835-1895 | Dorothy Smith Duff |
| AL | DeKalb County Alabama Grantee Deed Index 1835-1895 | Dorothy Smith Duff |
| NC | Craven County North Carolina marriage abstracts 1780-1867 | John Vogt |
| NC | Richmond County North Carolina marriage abstracts 1783-1868 | John Vogt |
| NC | Orange County North Carolina marriage abstracts 1782-1868 | John Vogt |
| NC | Rockingham County North Carolina marriage abstracts 1785-1868 | John Vogt |
| NC | Onslow County North Carolina marriage bonds 1748-1867 | John Vogt |
| VA | Richmond County, Virginia Marriage References and Family Relationships 1692-1800 | F. Edward Wright |
| Home | Top of Page |
| Montgomery County Memorial Library - Genealogy |
| What's New at the Library 2009 and Earlier |
| What's New at the Library in 2010 |
| What's New at the Library in 2011 |
| What's New at the Library in 2012 |